Follow us on Telegram for the latest updates: https://t.me/mothershipsg
A former Ngee Ann Polytechnic student has taken to Instagram on June 9, 2021, to share that the institution's lecturer, Tan Boon Lee, had a few years ago used curriculum time to discuss religion -- Islam, in particular -- at length and in an off-putting manner.
The woman, Nurul, claimed that the incident took place on July 28, 2017.
https://www.instagram.com/p/CP5eqamH5Hd/
The Instagram post received more than 10,000 likes in just eight hours of being published.
Tan was recently in the news after he was identified as the 60-year-old man who confronted an interracial couple on the streets of Singapore just because the man and the woman did not belong to the same ethnic group.
NP has since issued a statement saying Tan has been suspended.
He is assisting with investigations, the police said.
Political leaders in Singapore from both sides of the aisle have swiftly condemned Tan's views as racist and bigoted.
What ex-student claimed
The former NP student posted six photos in total in support of her revelation.
A few of the photos were culled from her Instagram Stories close to four years ago, which showed her candid reactions then to the things Tan had allegedly said during curriculum time.
One photo showed a response by another NP student, Merick, who called Tan's conduct in class "really unprofessional".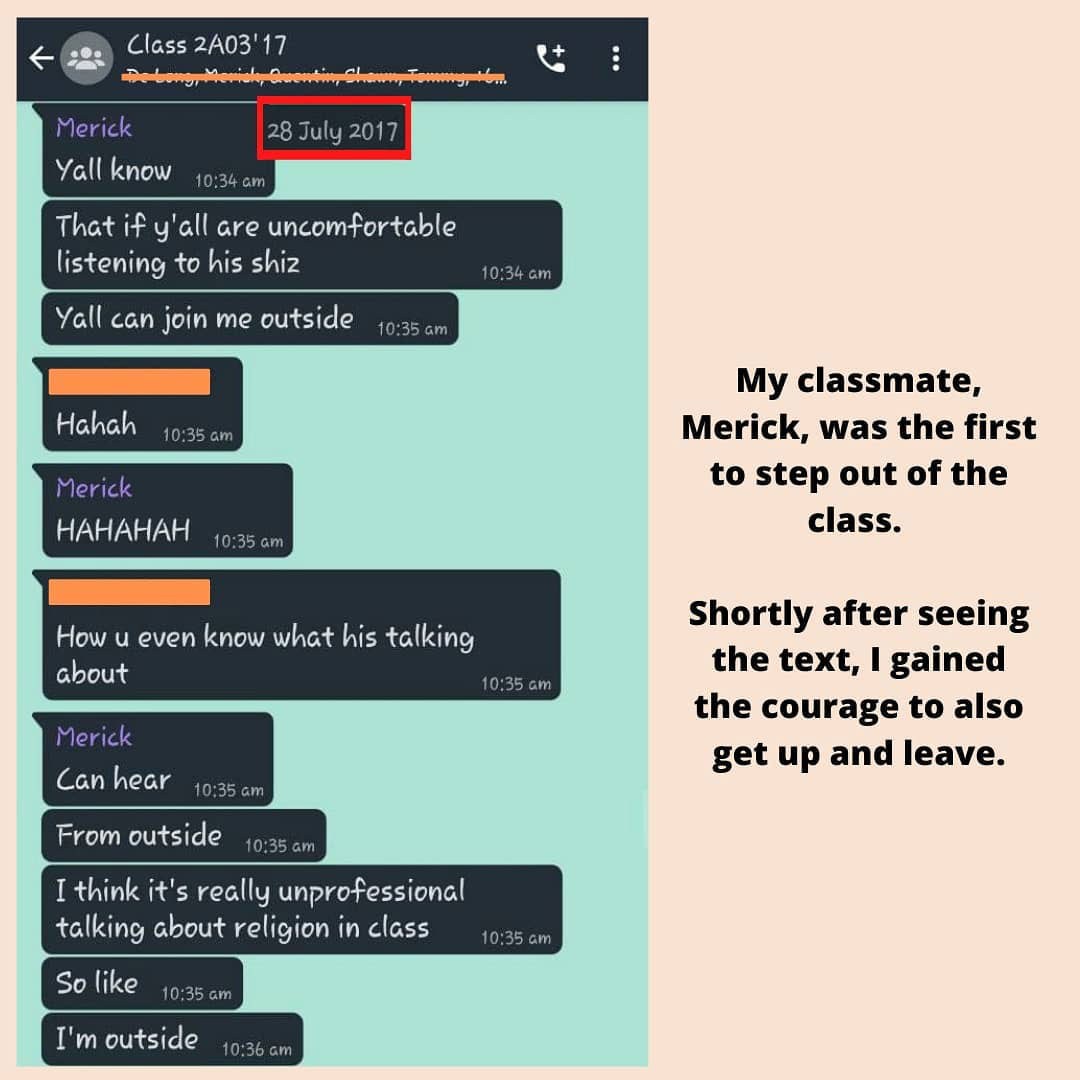 Students walked out
Nurul's post was accompanied by a caption recounting what happened in class that day that caused her and another student to walk out.
She described Tan's statements in class about religion as "a full-on discourse about Islam which escalated so badly".
She wrote that she eventually got up and left the class before it was over to go outside, as she saw her friend, Merick, walk out first.
She and her friend did not agree with Tan's views and the way he was speaking to the students in the capacity as their senior lecturer.
Nurul said she was dumbfounded about how to deal with the situation, and clarified with Mothership.sg that she was only 18 years old then.
Her Instagram post had said she was only 17 years old at that time.
As one of the evidence to show what she said really happened back then, Nurul posted a photo she said she took after she walked out.
That image showed her sitting outside of the class.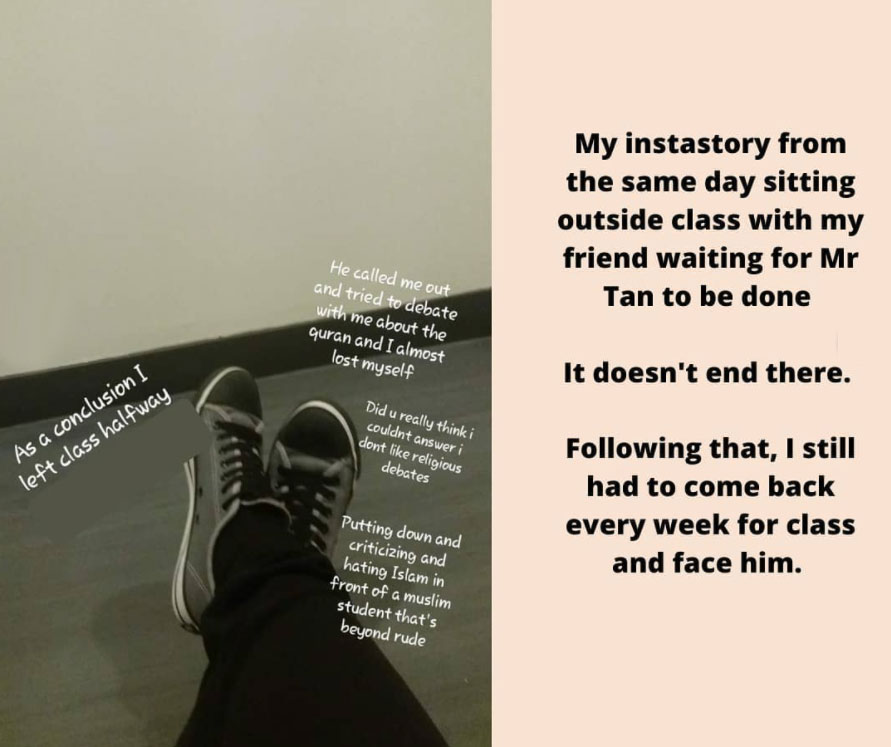 The photo also said that she had to continue to attend Tan's class after the incident that week.
Another claim she made was that she built up the courage to report the matter to the school, but nothing came out of it.
Was put in a spot
Nurul also claimed that she was the only Muslim in class that day, and Tan had allegedly even asked her point-blank if she agreed with what he said about Islam.
She wrote: "He even pointed to me... and asked if I agreed with what he was saying."
"I could barely open my mouth amidst his continuous sweeping statements. I was barely 17, fresh out of 10 years of madrasah trying to assimilate into the new secular environment."
Provided proof of being Tan's student
As proof that she had attended the classes taught by Tan, Nurul even uploaded a copy of her timetable that showed Tan as the lecturer of a programming module that school term.
Nurul also explained that she became determined now to reveal what had happened to her those years ago after she saw Tan's identity become public, following his confrontation with the interracial couple.
She wrote: "The day his identity was revealed, I resolved to reveal my story. My ex-classmates did their best to help me find evidence. More people are coming out to testify."
In her Instagram caption, Nurul also hit back at Tan, saying that his approach to engaging others about their faith was the cause of strife instead.
She wrote:
I strongly believe that understanding different faiths is a fundamental aspect of social harmony. Taking the information at face value and making these kinds of sweeping misconceptions may lead to a false understanding of what Islam truly means. This lack of understanding causes certain strife, prejudice, and racism in what we see today.
Update
In response to Mothership.sg's queries, Nurul clarified that the incident took place during the second semester when she was in year two of her studies reading electronic and computer engineering.
According to her, she heard from other friends from NP that Tan brought up conversations about other religions, such as Christianity, in other classes.
What agitated Nurul, she said, was that Tan allegedly remained "calm and composed" when he spoke about such topics.
Nurul also revealed that her Instagram posting is a group effort as her friends who did not do anything back then are now helping her put together evidence after they reflected on what happened on hindsight.
Nurul also said NP has reached out to meet her personally.
It is also understood that a police report has been filed with regards to Nurul's latest revelation.
Update 2
NP has issued a statement saying the school will not hesitate to terminate Tan.
All photos via Nurul except screen shot of Tan Boon Lee via Dave Parkash.
If you like what you read, follow us on Facebook, Instagram, Twitter and Telegram to get the latest updates.