Follow us on Telegram for the latest updates: https://t.me/mothershipsg
A rare corpse flower recently bloomed in Singapore, leading many passers-by to admire the sight.
However, the corpse flower's disappearance on June 7 left many members of the public, who hoped to see the flower in person, frustrated and upset.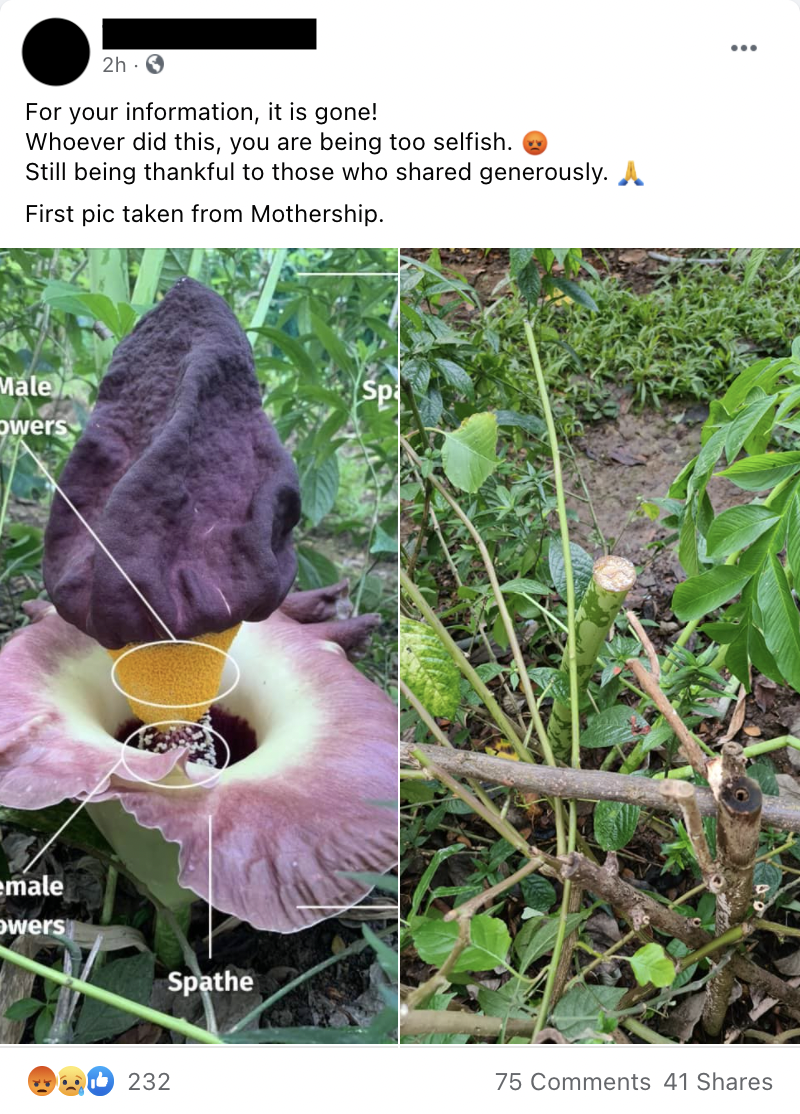 Member of Parliament Lim Wee Kiak said that he was sad to hear that the flower had gone missing.
However, Lim announced that the corpse flower's roots had been relocated to a gated community garden, where it will be protected.
Protected
In a Facebook post on June 9, Lim said that gardeners had uncovered the corpse flower's roots, or more specifically the elephant foot yam's tubers.
The corpse flower belongs to the elephant foot yam plant. Its roots are also a tuber, the plant's food storage system that grows underground.
In Lim's photo, a man can be seen lifting up a sizeable tuber.
This tuber, which Lim said belonged to the plant of the vanished corpse flower, was transplanted to a gated community garden, where it will be protected and cared for.
Under the gardener's watch, Lim hoped that the plant will thrive and bloom again.
"I hope under their care, the plant will bloom again so we all can once again enjoy the beautiful sight of this huge flower."
Lim also said that discussions between Sembawang Town Council and NParks for a garden or sanctuary in Sembawang are underway.
Lim hopes to "cultivate and grow" more plant species from the Arum family in such a protected area.
Mothership has reached out to NParks for a statement and will update the article accordingly.
Arum family
The elephant foot yam plant, from which the corpse flower sprouted, is a part of the Arum genus family.
Arum, or Araceae, are a family of monocotyledonous or grass-like flowering plants.
The flowers grown on a spadix, a spiky flowering head containing all of the flower's parts.
A large and leaf-like sheath, a spathe, can typically be found enclosing or encircling the spadix.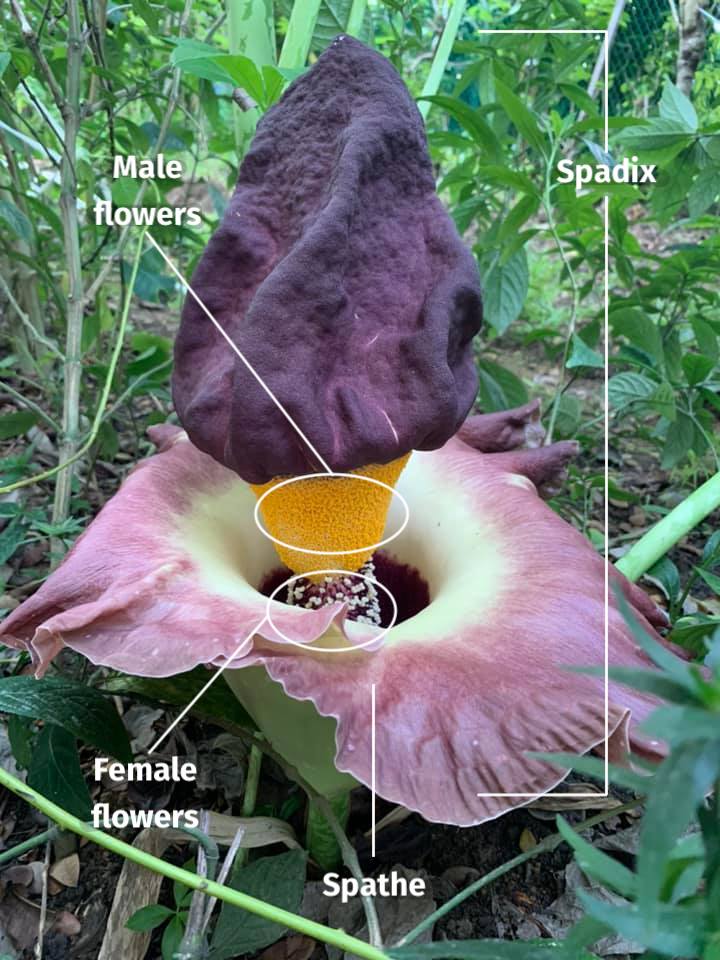 Like the elephant foot yam's corpse flower, many Arum species develop beautiful leaves and flowers and are cultivated for its decorative abilities.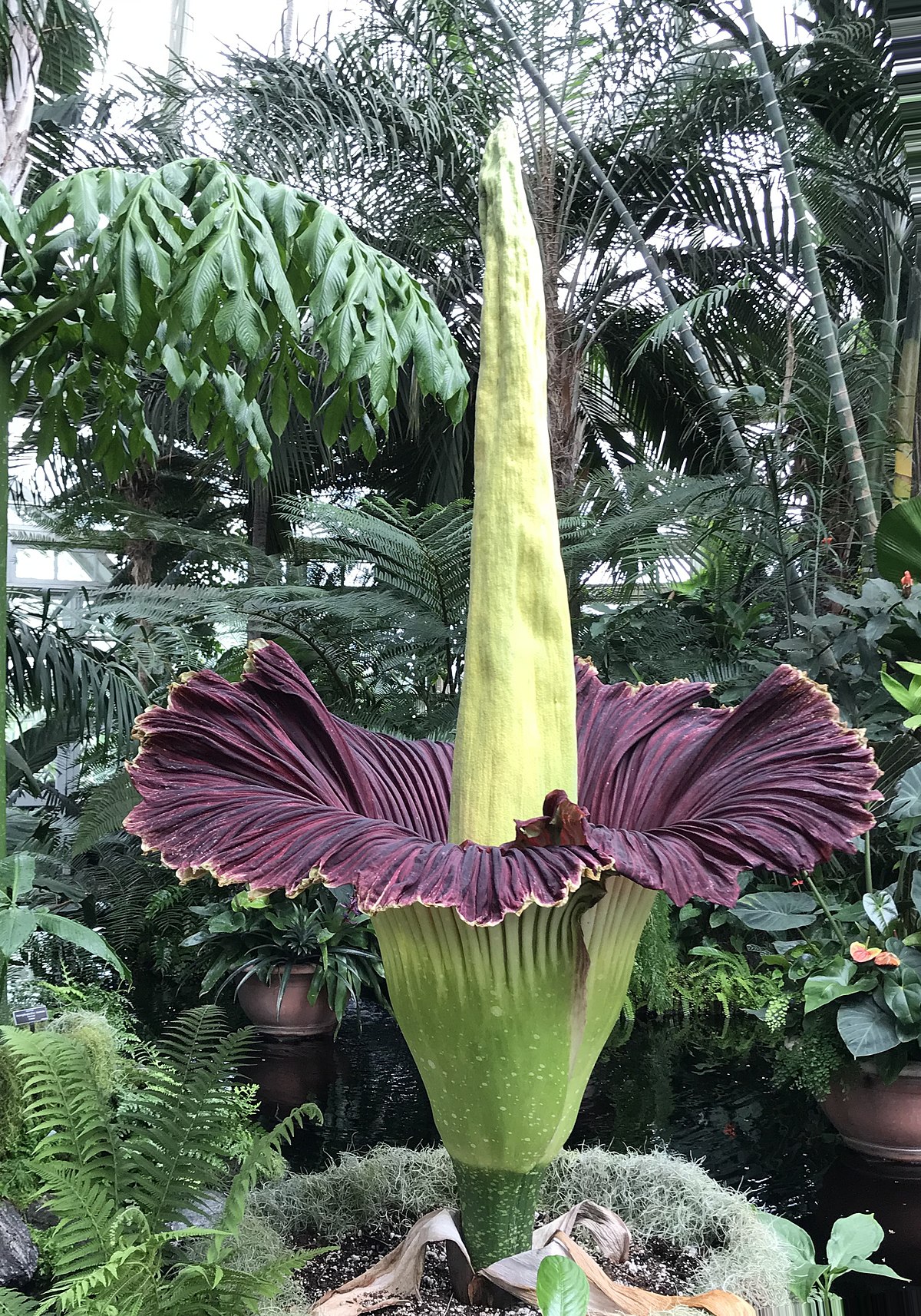 For example, the Amorphophallus John Tan, a first of its kind hybrid corpse flower, bloomed in the Cloud Forest conservatory at Gardens by the Bay.
According to Today's report, the flower measured 2.05m at the time of flowering on Sep. 17, 2013,
The flower was named after Gardens by the Bay's Board Director John Tan Jiew Hoe.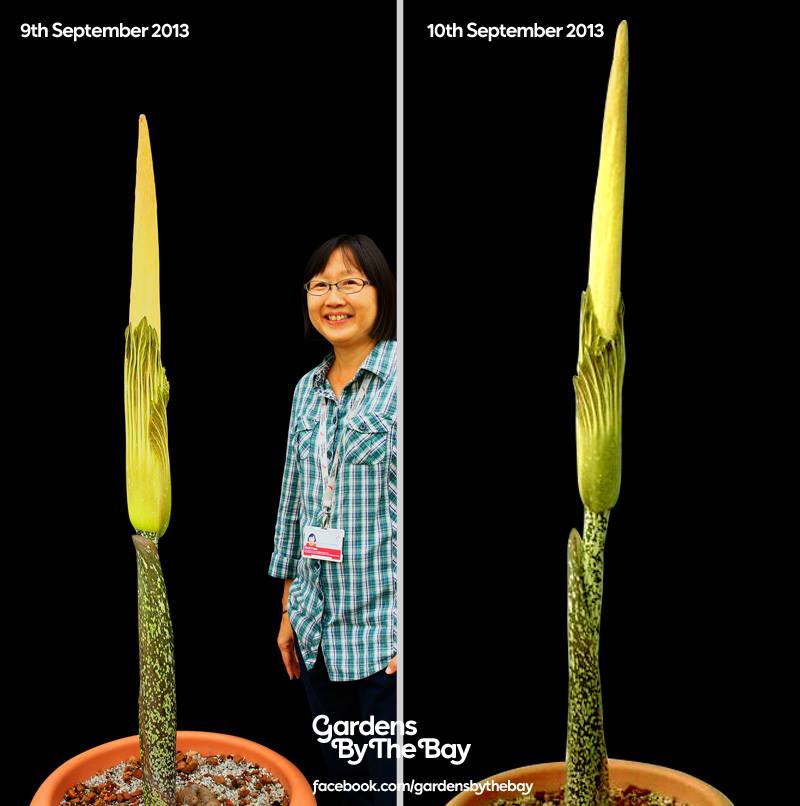 You can read Lim's post below:
Related stories:
Top image from Lim Wee Kiak/FB

If you like what you read, follow us on Facebook, Instagram, Twitter and Telegram to get the latest updates.