Follow us on Telegram for the latest updates: https://t.me/mothershipsg
Singaporean private tutor Hindocha Nita Vishnubhai, 55, was brisk walking along Chua Chu Kang Drive on the morning of May 7, when she was stopped by a man.
She did not know him, nor him, her.
The man confronted Nita, demanding that she pull her mask up.
Nita said that she had been exercising; that was why her mask was lowered.
However, the man then allegedly verbally abused her, used a racial slur and proceeded to kick her in the chest.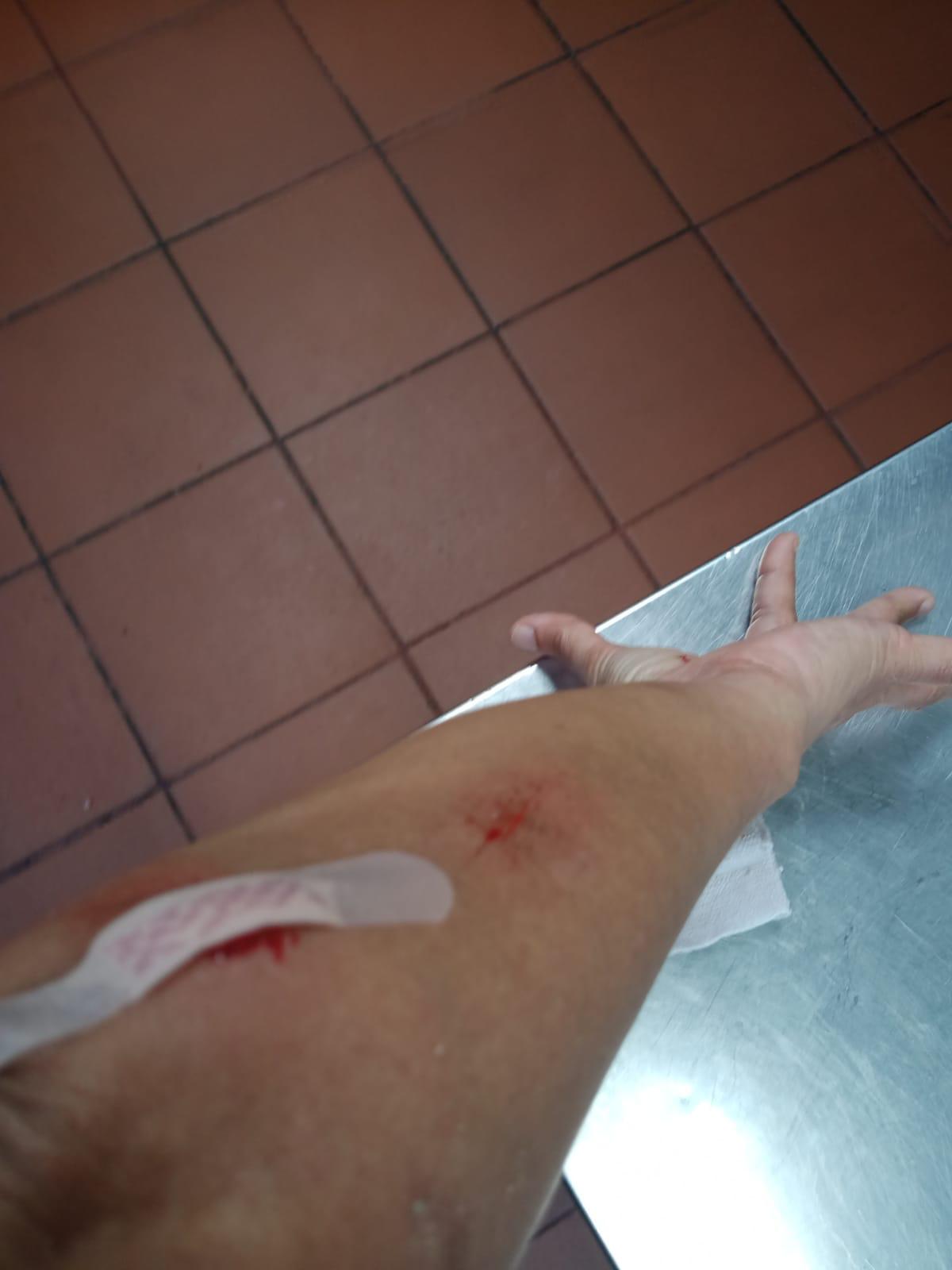 The kick toppled Nita, causing her to suffer abrasions and cuts to her left arm.
Nita recounted to Mothership that she was too shocked to react.
"After the incident, many asked me why I had not taken his photo. I did none of it as I was in deep shock; I was in disbelief. I knew that people disliked Indians, but to this extent it was beyond my belief. I did not know what to do."
Photos of Nita's wound — crusted on the outside but exposing the raw flesh inside — coupled with the horrifying account of the senseless attack were later shared by Nita's daughter, Parveen Kaur, 28, on Instagram and it went viral.
Many ministers, including PM Lee, came out to condemn the racist attack. And on May 11, the assailant was arrested for assault and using racial slurs against a Singaporean woman.
It's been two weeks since the incident, but both Parveen and Nita are still deeply shaken; during our video call, Nita broke down twice as her emotions overwhelmed her.
The aftermath of a racist attack
Things happened quickly after the incident went viral. Nita said that the police called her down the day the man was arrested.
An investigation officer asked her some questions then brought her to the scene of the assault at Choa Chu Kang.
But it was a seemingly small gesture that Nita still recalls with great clarity: The investigation officer, a Chinese woman, had chosen to sit beside her in the car when they were travelling to Choa Chu Kang.
She was touched.
"After the incident, I felt very sad that I'm ostracised, [an] outcast. I know people fear Indians, and people don't want to come near Indians," Nita said, before pausing to fight back tears.
"I didn't [even] want to tell my daughter of the attack, because everything is so sensitive you know? Anger I don't have, but I still have a lot of fear. I am very scared still, daily."
Referring to the footpath that she takes to work, she added, "Now I fear, I don't want to walk [on] that side, I walk [on the] opposite side instead."
Aside from switching her walking route, Nita is now more vigilant about her surroundings, like having eyes on the back of her head, she said.
Her family always assures her that there's no need to be scared, said Nita. Singapore is a fair country and that assault was a one-off incident.
"I'm confident as well that our justice system is very fair. But after that day, it's [just] no longer [as much] of a reassurance. Maybe I'm resolved to accept myself as a third-class citizen all my life."
As Singaporean as it gets
Nita arrived in Singapore in 1989.
And in the three decades that she has called this place home, she served as an Army regular for nine years, lectured at a college, and even gave birth here.
But, even though Nita is now a Singaporean, she is frequently confronted with the clear distinction that some Singaporeans make between being a citizen and being a "true blue Singaporean".
People regularly ask her, rather pointedly, where she comes from, perhaps as a response to her accented English.
Nita said as she teared up again:
"Over the years, my inferiority complex built. Maybe my culture is different, I come from a poor country and poor family, I came here for money. [So it's like] ok lah you take me into your country, you give me citizenship, so I must respect you."
And so when she was assaulted at Choa Chu Kang Drive, Nita's first thought was not to seek justice for herself, but to ask, "Why I kena like this", and count her blessings that she only suffered a kick to the chest and not something much worse like a fatal strike to her neck.
Parveen, who only found out about the attack the day after during their Mother's Day dinner, said that she felt very disheartened and angry on her mother's behalf.
"I felt like maybe she's lost a bit of her voice over the years with the micro-aggression and everything, so it didn't feel as alarming as it was. Like she felt that she didn't have a right to be angry."
Nita does not think Singapore is a racist country. However, she feels that some individuals can be very careless with their remarks or are, in her words, "race-insensitive".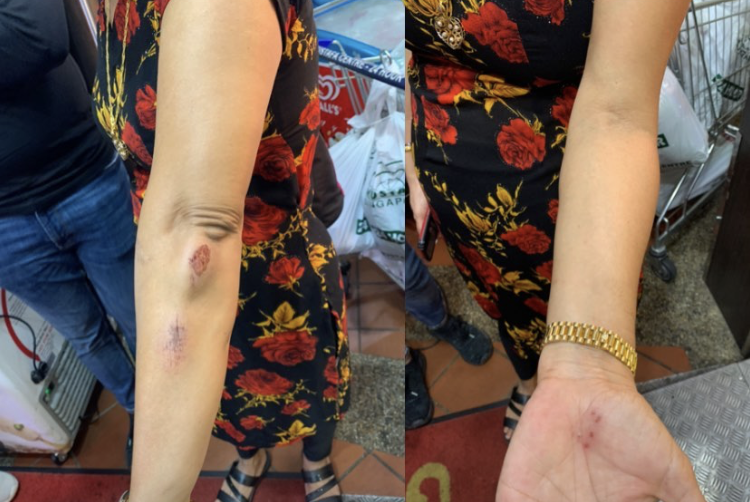 Racism exacerbated by Covid-19 pandemic
The attack on Nita was the most violent act of racism that she had ever encountered, but it isn't the only racist behaviour ever done to her.
Being Indians in Singapore, both mother and daughter said that they have been on the receiving end of various insensitive behaviour, in other words, micro-aggression.
Drawing on a past experience, Parveen said that she once received body soap from her best friend for her eighteenth birthday.
Attached was a note which had been meant as a joke: "Because you're Indian".
"Back then I'd thought it was a joke too, [as] it had become the norm that these undignified comments are okay.
More physical examples of micro-aggression came from Nita, who explained that the onset of the Covid-19 pandemic and the surge in cases in India have only made these incidents more pronounced.
People would visibly adjust their masks upon spotting her. In the train, commuters would avoid sitting next to her or even get up if she takes the seat next to them.
Parveen has also been questioned on many occasions if she or her family had gone anywhere, or if they had met Indians who had been to India.
She understands that these might be genuine questions that arise from a place of fear, but she is irked by how it feels like racial profiling.
"It's also scary, mainly because of all the online hate. It's hard to imagine that there are people behind it and that they believe what they say."
Compassion & kindness: A Singaporean reaction to the assault
There's some good that came out of this senseless assault.
Parveen and Nita share that they are overwhelmed by the support that they have received from friends, family and even strangers after the incident went viral.
Nita has received over 500 messages from students, friends, colleagues, and bosses — people whom she had worked with in the last 20-30 years.
Some of her students even texted her immediately upon hearing about the attack to ask if she was okay as they were worried for her.
"I'm very touched that a lot of people reached out to me. I'm also very touched that our ministers are talking about it, although it [race] is a difficult and unpleasant topic.

I want to leave this case to the Police and I trust that they will do fair justice to me and past victims. I'm truly very grateful that we are Singaporeans and that our country cares."
And while the attack on her mother has left her shaken, Parveen is grateful for the friends who rallied around her and for the people who shared her post and talked about it.
Their actions had amplified her mother's story and made her feel seen and heard.
"It gave me a lot of solace that I was not being too sensitive," said Parveen.
"I [also] just want to thank the majority of Singaporeans for not downplaying what happened to my mother.

It's only because of people who made such cases visible that it opened up discussion to what's actually happening on the ground in Singapore.

A lot of people were compassionate and kind in the comments. I'm thankful that happened and that was the Singaporean reaction to such a thing happening."
The man who kicked Nita has not been charged; when Mothership contacted the Police, we were informed that investigations are still ongoing. However, Nita said that she has forgiven him:
"I forgive as I believe he'd already learnt his lesson. If I'm so much under stress as a victim, he's a culprit, he'd surely be under stress. It's enough that he paid already. I can forgive him."
All images courtesy of Parveen Kaur and Hindocha Nita Vishnubhai
If you like what you read, follow us on Facebook, Instagram, Twitter and Telegram to get the latest updates.