Follow us on Telegram for the latest updates: https://t.me/mothershipsg
Singapore's approaching the end of the second week of Phase 2 (Heightened Alert).
The period of tightened measures was announced to last for four weeks, from Sunday, May 16, through to Sunday, June 13, 2021.
This means that we're about halfway through, with two more weeks to go till June 13.
There's another reason why this halfway point is significant: It's the point in time where the authorities are expecting numbers to come down.
The Multi-Ministry Taskforce co-chair Lawrence Wong said on May 18 that the impact of the tightened measures could only materialise "one to two weeks later, because of the time lag in these measures".
After all, Wong explained, some of the new cases were likely "seeded" one to two weeks ago, due to the incubation period of the virus.
How are we doing two weeks in?
Here are some indications of whether the tightened measures are working.
Are unlinked cases falling?
In Apr. 2020, two weeks into the Circuit Breaker, Prime Minister Lee Hsien Loong noted that the number of unlinked cases had not fallen, indicating a "hidden reservoir" of cases in the undetected community.
Thus, PM Lee announced, the Circuit Breaker would be extended for a further four weeks.
This year, two weeks into Phase 2 (Heightened Alert), the number of unlinked cases has fallen.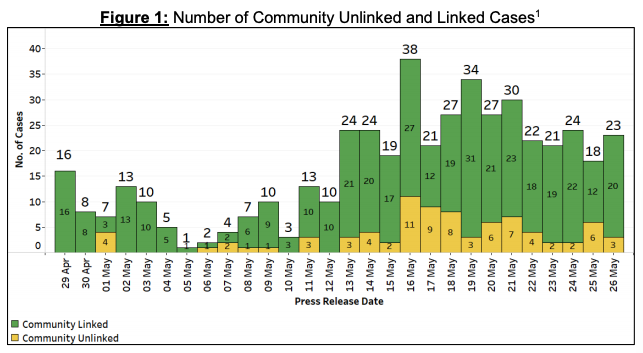 Can unlinked cases be linked subsequently?
The number of unlinked cases is falling, but each unlinked case still requires extensive contact tracing work.
This is to identify close contacts, and to establish whether the unlinked case could potentially be linked to other cases and/ or clusters.
In turn, this allows the authorities to take appropriate measures to guard against further spread.
What is happening at JEM and Westgate shopping malls is an example of this.
MOH said on May 22 that it was investigating cases of Covid-19 infection amongst individuals who worked in the two adjacent malls.
The identification of JEM and Westgate as the site of potential ongoing transmission allowed the authorities to do more testing, and to close the two malls as a precautionary measure, till June 5.
A total of 60 cases have since been linked to the cluster, including six who were detected through testing operations for workers and visitors at JEM and Westgate, and eight who tested positive while in quarantine.
Are infections being ringfenced?
MOH's criteria for closing a Covid-19 cluster requires "no more cases linked to the cluster for the past two incubation periods (28 days)".
Prior to that, however, we can look for indications that potential Covid-19 outbreaks have been contained, or, "ringfenced".
A major cluster at the start of Phase 2 (Heightened Alert) at TTSH saw hospital wards being locked down. There was also extensive testing of all staff, patients, and recent visitors to the hospital.
And in an unusual move, the public places visited by the cases linked to the cluster at TTSH during their likely infectious period were closed for cleaning for two days.
These measures can be said to have succeeded, with Health Minister Ong Ye Kung saying on May 22 that TTSH "is getting back on its feet", after resuming patient admissions from May 18 with nearly all previously-quarantined staff back at work, and no new cases for more than 14 days.
Similar actions — where locations are identified as the possible site of a potential outbreak, and large groups are pre-emptively tested — have also been taken at Changi Airport, at two HDB blocks in Hougang and Pasir Ris, as well as at JEM and Westgate.
Is activity being reduced?
Tightened measures such as the ban on dining in would definitely reduce activity overall.
However, the tightened measures might not have 100 per cent of the intended effects.
This is because some may choose ignore the rules, or try to find loopholes.
For example, the Ministry of Manpower (MOM)'s inspections have already found breaches of the rule that companies cannot get employees who can WFH to work on-site.
The ministry has promised stricter enforcement against such companies, as well as confidentiality for whistle-blowers.
Thus, it is necessary to ensure that the tightened measures work as intended, through enforcement action and public education.
What comes next, after Phase 2 (Heightened Alert)?
Singapore's "performance" in the above-mentioned areas in the next two weeks will have some impact on what will happen next, after Phase 2 (Heightened Alert) comes to an end on June 13.
But, aside from the case numbers and the tightened restrictions, there are other developments to watch for in the next few weeks and months — such as Singapore's vaccination policy, as well as the overall global situation — which will also have an impact on what life in Singapore looks like after Phase 2 (Heightened Alert), and even beyond.
Vaccination policy
The government is also considering giving "as many people as possible" one dose of Covid-19 vaccine first, Health Minister Ong Ye Kung said on May 16.
Ong also said on May 16 that the government will be studying the severity of the disease among those who are vaccinated, or those who have been infected by vaccinated individuals, sharing that in the current outbreak, none of those who had at least one dose of the vaccine required intensive care.
Is it possible that the relaxation of certain measures will be made contingent on a certain percentage of the population getting at least the first dose of the Covid-19 vaccine?
If so, this would be similar to how a 70 per cent take-up rate for the TraceTogether token was made a precondition for Singapore to enter Phase 3 in 2020.
After all, vaccinated individuals already receive certain "perks" such as not needing to go for pre-event testing (PET) before attending large events like concerts and weddings, in recognition of the reduced risk that they will contract or spread Covid-19.
Global situation and Covid-19 variants
As more becomes known about Covid-19, its existing variants, as well as potential future variants, Singaporeans may well have to expect the unexpected.
Even assuming the numbers do fall sharply in the next few weeks, those hoping to simply return to the previous states in Phase 3 (Heightened Alert), Phase 3, or even Phase 2 might be disappointed.
"All the precautions we are used to, in fact, may not be sufficient to safeguard against the spread of the virus," said Wong on May 18, explaining the need for tightened measures under Phase 2 (Heightened Alert).
He cited "growing evidence" that the new Covid-19 variants can spread through aerosolised particles as the reason for this.
The authorities have since issued guidelines on ventilating both air-conditioned and naturally ventilated spaces.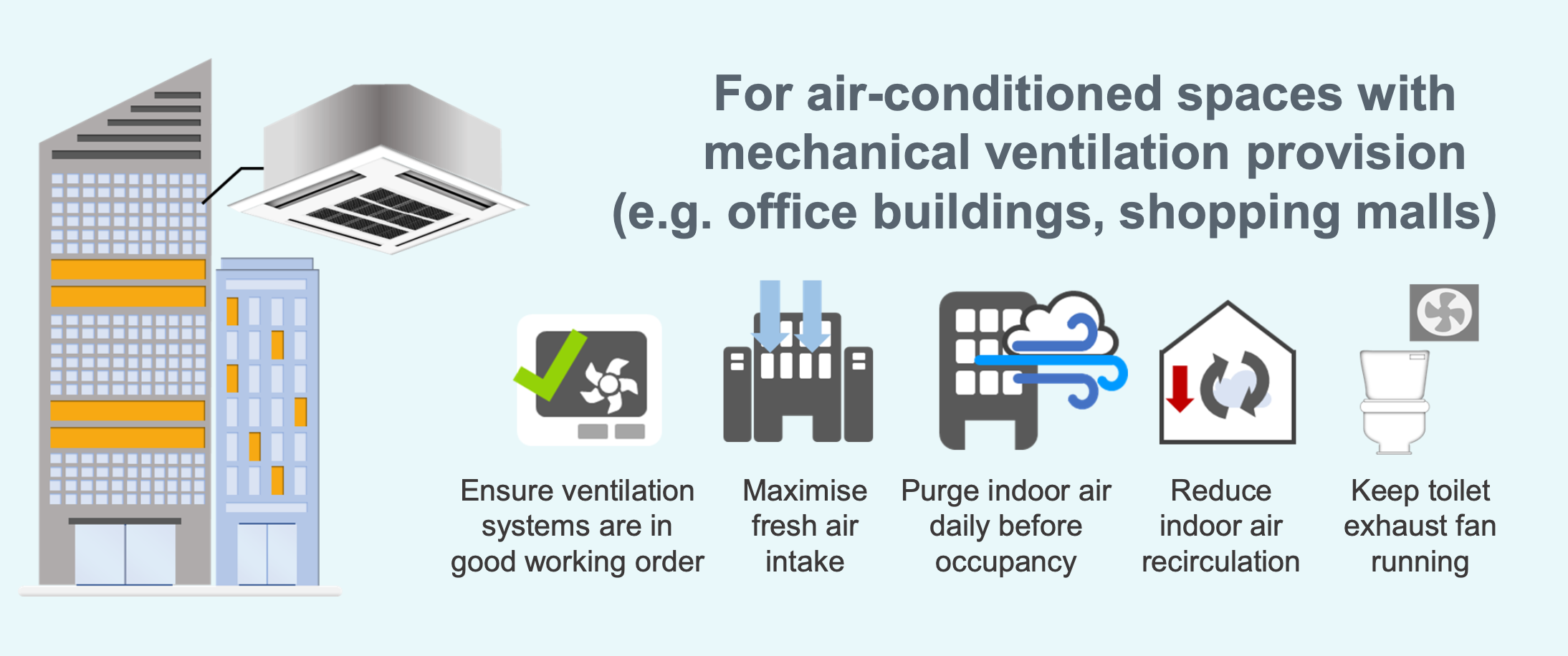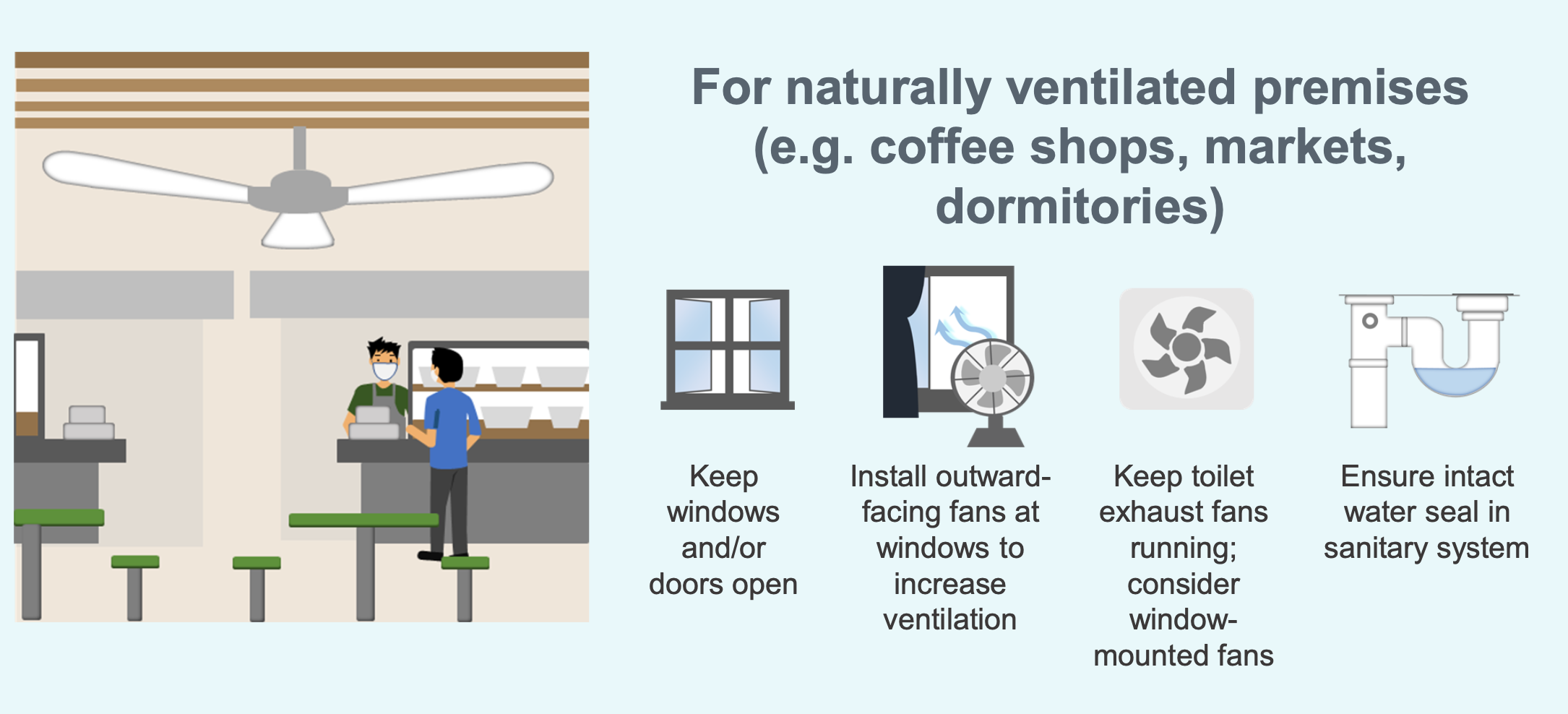 Thus, it may be the case that some restrictions from Phase 2 (Heightened Alert) — such as the banning of indoor "mask-off" activities, dining in, and indoor exercise — may not be so easily relaxed.
And the authorities will impose a new requirement for Singapore citizens and permanent residents wanting to return to Singapore, in view of the worsening global situation, with emergence of new and potentially more infectious variants.
From May 29, those coming into Singapore must test negative before they are allowed to depart.
Whether even stricter measures than these will be needed to combat future mutations of Covid-19 is something only time will tell.
Top image by Syahindah Ishak & Lean Jinghui
If you like what you read, follow us on Facebook, Instagram, Twitter and Telegram to get the latest updates.