Follow us on Telegram for the latest updates: https://t.me/mothershipsg
Two accidents involving lorries ferrying migrant workers occurred in the second half of April 2021. One of the accidents left two passengers dead.
On Friday (May 7), the Land Transport Authority (LTA) issued a response to media queries on the recent lorry accidents.
Accidents on Apr. 20 and Apr. 24
Early on the morning of Apr. 20, an accident occurred between a lorry and a stationary tipper truck on the Pan Island Expressway (PIE).
Responding to Mothership's queries, the Singapore Civil Defence Force (SCDF) said that two people were found trapped at the rear compartment of a lorry, and were rescued by SCDF officers who used hydraulic rescue equipment.
All 17 lorry passengers — migrant workers between the ages of 23 and 46 — were sent to the hospital, where two subsequently died from their injuries.
The 36-year-old male lorry driver has been arrested for careless driving causing death.
Four days later, on Apr. 24, an accident involving a lorry occurred along Upper Bukit Timah Road.
A 35-year-old male lorry driver and nine other male lorry passengers, aged between 26 and 50, were conscious when conveyed to Ng Teng Fong General Hospital.
An LTA spokesperson said that the Traffic Police is currently investigating the two recent accidents involving lorries ferrying passengers.
Number of lorry injuries and deaths has been falling: LTA
Since the late-2000's, advocacy groups such as Transient Workers Count Too (TWC2) had been advocating for migrant workers to be transported in enclosed vehicles, rather than in the backs of open-air goods vehicles such as lorries and trucks.
According to an LTA spokesperson, in 2009 and 2010, the government introduced a series of measures to enhance the safety of workers riding in lorries.
The measures included:
Lowering the maximum height of seated workers to further reduce the risk of falling off

Increasing the penalties on drivers and owners for non-compliance with any of the safety rules

Mandating that lorries be fitted with canopies and higher side railings if they were to carry passengers on the deck
Since then, the LTA spokesperson said, the number of people onboard lorries and who were injured or killed in road traffic accidents has been falling.
Originally, the government also planned to require employers to provide double the minimum deck space required per seated worker, to reduce the number of workers that can be transported on lorries.
However, after feedback from employers, LTA announced in a press release on Jul. 25, 2011 that it decided that it would not be implementing that requirement.
According to annual traffic statistics (link opens PDF) released by the police, the numbers of fatalities of drivers or passengers of lorries, tipper trucks, and trailers in road accidents between 2008 and 2019 are:
2008: 5

2009: 8

2010: 9

2011: 15

2012: 11

2013: 9

2014: 6

2015: 8

2016: 3

2017: 5

2018: 1

2019: 3
The number of passengers and drivers of lorries, tipper trucks, and trailers injured in road accidents during the same time period are:
2008: 525

2009: 472

2010: 580

2011: 531

2012: 574

2013: 647

2014: 578

2015: 554

2016: 540

2017: 524

2018: 547

2019: 449
LTA provided the following charts to illustrate the trends for lorries and all motor vehicles over the past decade:
Do note that the 2020 accident rates were significantly lower for all motor vehicle types due to lower traffic volumes arising from Covid-19 restrictions, LTA said.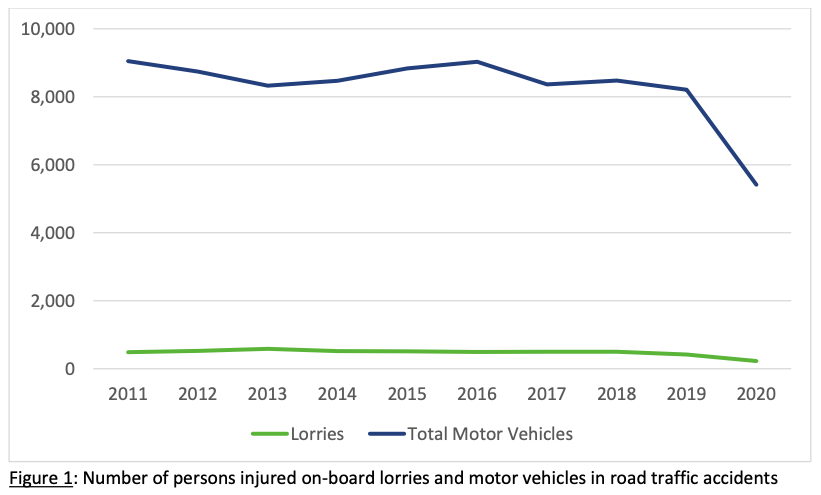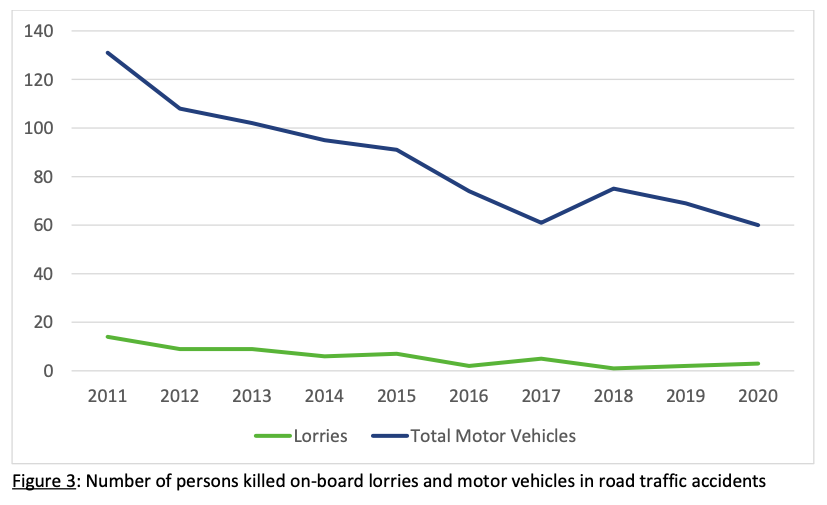 Here are the same statistics, per one thousand lorries or motor vehicles: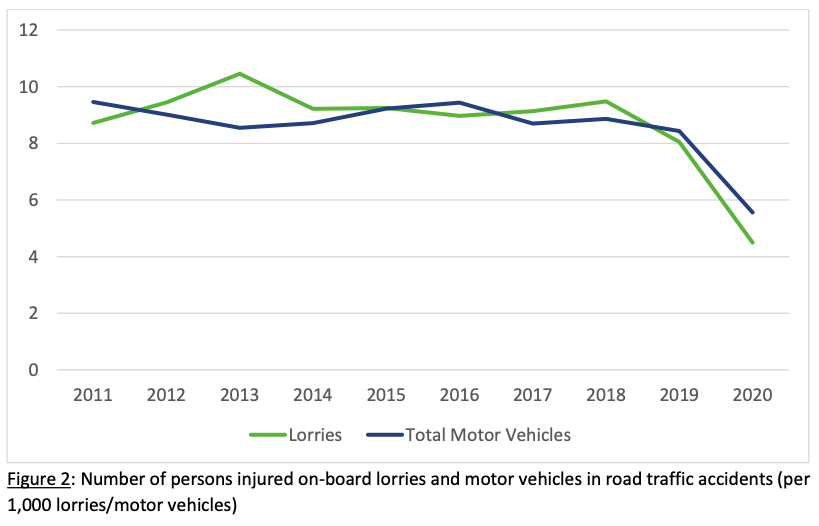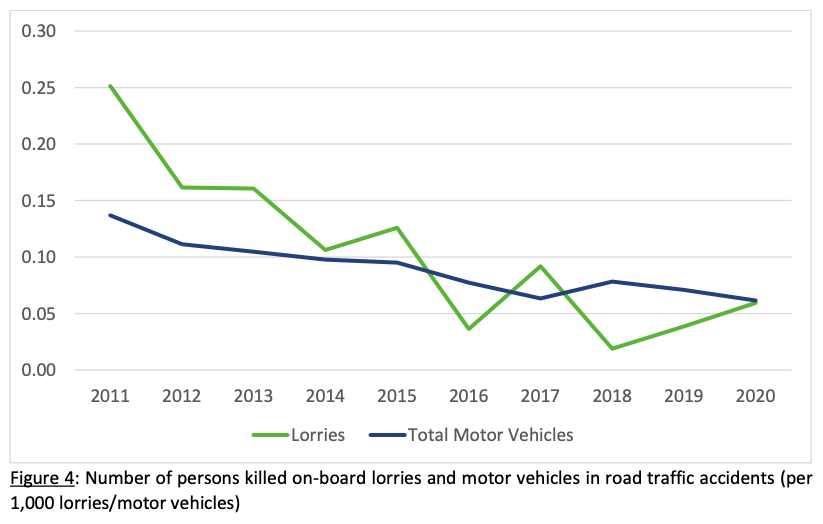 Not uncommon practice in other countries
The LTA spokesperson also added although there are "different practices", it is "not uncommon" for goods vehicles such as lorries to be used to carry passengers in other countries as well:
"For example, countries such as Canada, Thailand and the USA allow for passengers to be ferried on the rear deck, with varying degree of safety restrictions."
Stephanie Chok, a volunteer with TWC2, told The Straits Times that for some other countries, such as Bahrain, it is illegal to transport workers in the backs of lorries.
Top photos via ItsRainingRaincoats video and Wanbao.
If you like what you read, follow us on Facebook, Instagram, Twitter and Telegram to get the latest updates.