Follow us on Telegram for the latest updates: https://t.me/mothershipsg
The Covid-19 crisis in India has escalated in the past month, with the country reporting several hundred thousand new cases per day and the total number of cases surpassing two million on May 4.
Hoping to raise money to support efforts in the fight against Covid-19 in India, one Singapore-based couple started a dollar-for-dollar matching crowdfunding campaign that has raised more than S$192,000 from donors around the world in just 11 days.
Started campaign because of concern for family & friends in India
Singaporean permanent residents (PRs) Prantik Mazumdar and Dipti Kamath told Mothership that they started the fundraiser because of deep concern for their family, friends, colleagues, and loved ones living in India.
Prantik has been been living in Singapore for 20 years, coming here initially to complete his Bachelor's Degree in Computer Engineering from the National University of Singapore's (NUS) School of Computing. He became a PR in 2007.
In 2014, Dipti joined him after completing her Bachelor of Medicine, Bachelor of Surgery (MBBS) in Bangalore, India, and became a PR in 2016.
She is a doctor now at the National University Hospital (NUH) in the Accident & Emergency (A&E) division, and has been on the frontlines of the fight against Covid-19 in Singapore.
Prantik elaborated on their motivation to help the country's fight against the pandemic:
"In the last two weeks, every day we have been waking up to the unfortunate news of numerous loved ones who have tested positive and many who have succumbed to untimely deaths.

A lot of this is because the healthcare system in India has been heavily overloaded and there has been a massive shortage of hospital beds, oxygen cylinders and concentrators, and other basic medical equipments."
He explained that this made them feel very helpless.
They decided to provide help from the outside by galvanising and mobilising the Indian diaspora, as well as their friends, colleagues, and network in Singapore, through a campaign on local crowdfunding platform Milaap, which was founded in Singapore by two NUS School of Computing alumni.
Partnering with organisations to provide oxygen concentrators
Prantik and Dipti are partnering with two organisations — Swasth Alliance and ACT Grants — that are currently focusing on procuring and delivering oxygen concentrators from overseas to India.
Their original goal was to raise US$12,500 (S$16,711) through the campaign, and pledged to personally match the donations one-for-one, in order to contribute a total of US$25,000 (S$33,422). This would allow them to purchase between 20 to 30 oxygen concentrators.
Within 48 hours, they had already tripled their goal, hitting more than S$100,000.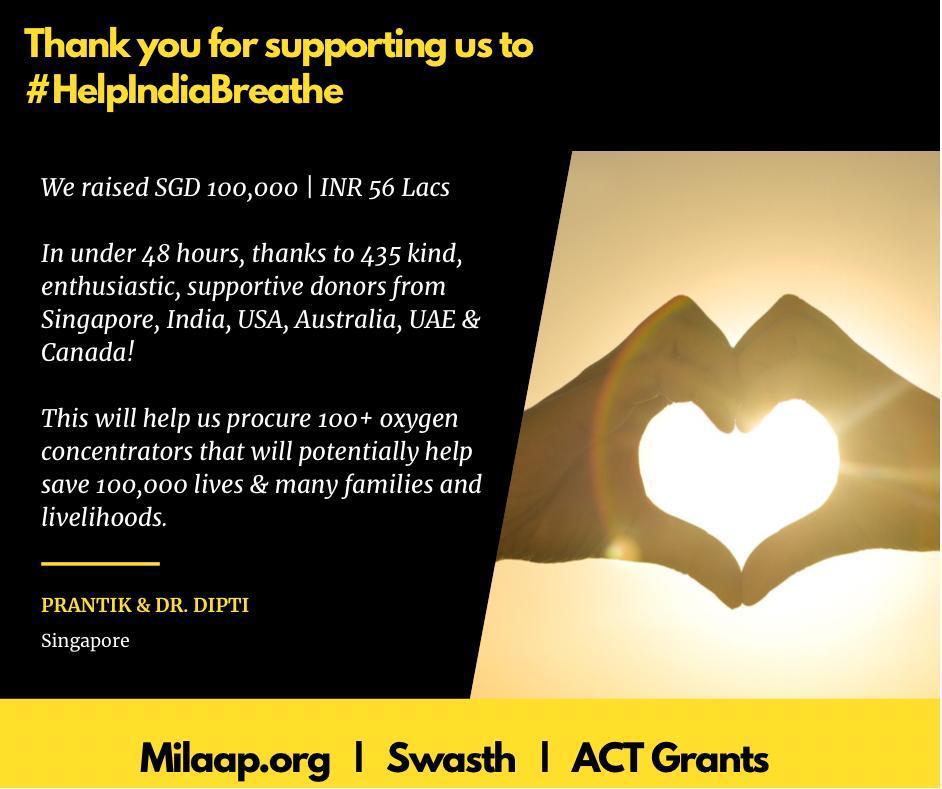 11 days after their campaign launched on Apr. 25, the couple has raised over S$190,000 from more than 900 donors. The donors come from all over the world – Singapore, Indonesia, Malaysia, India, Australia, New Zealand, U.S., Hong Kong, UK, and Dubai.
Prantik told Mothership that the donations range from S$2 to S$10,000, and that many donors are acquaintances or even strangers.
He added that a few friends even reached out to contribute in their own meaningful ways; two artists offered to created personalised digital portraits for top donors and sharers, and a recent MBA graduate from HEC Paris volunteered to run free MBA admission prep classes for every eligible candidate who donated.
In an update on Milaap about one week after the campaign began, Prantik and Dipti said that the first deployment of oxygen concentrators had landed in Delhi, and were being deployed across the country.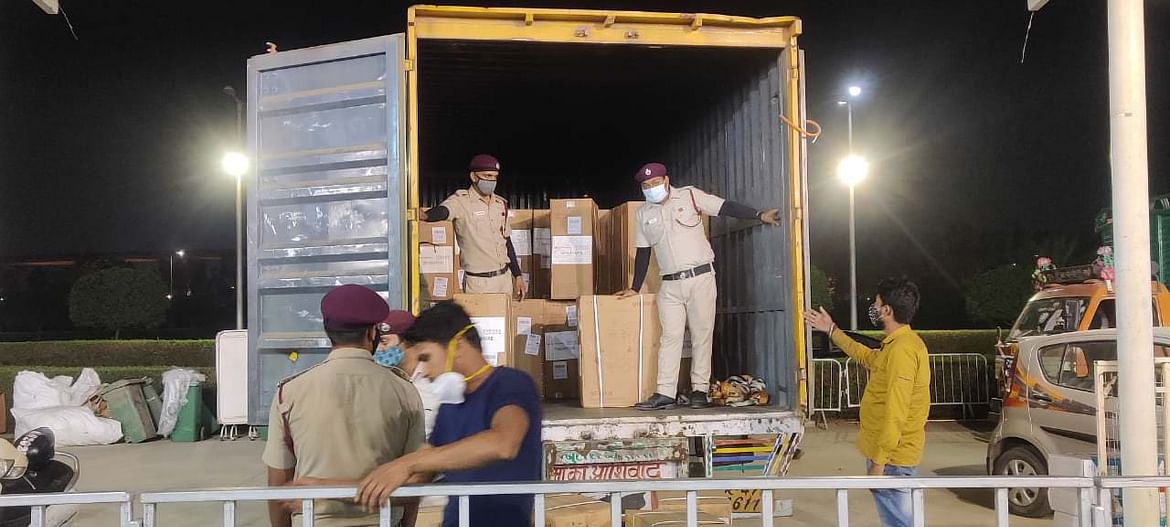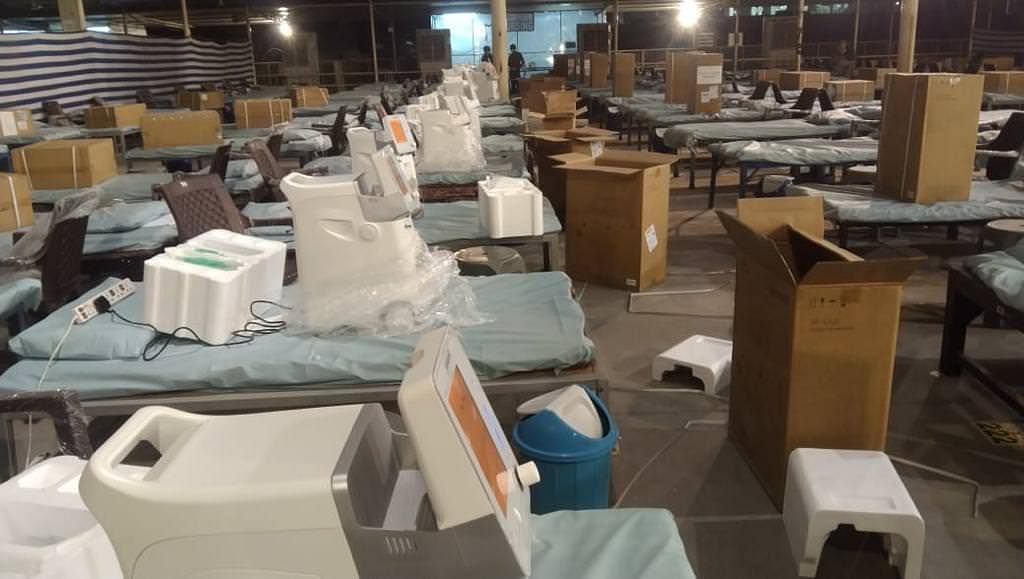 People interested in helping can donate on Milaap
Those keen on contributing to the fundraiser can do so on the campaign page on Milaap. Donations can be made via debit card, credit card, or Netbanking.
Prantik said that it has been "incredible" to see organisations and institutions in Singapore, such as Temasek and Giving.sg, helping not only with fundraising, but also the procurement, logistics and delivery of the oxygen concentrators to India.
"Likewise for our fundraiser, a lot of the donors are friends, colleagues and associates from Singapore from different walks of life," he said.
Prantik also shared:
"One thing that we would definitely like to share with our friends in Singapore is that the scene on the ground is far worse than what is being shared in the media and in this fight against Covid, no one is out of the woods till everyone is.

[H]ence we must continue to do our bit to help out countries like India, Brazil and others that are experiencing a very difficult 2nd wave."
He said, "It's fulfilling to realise that we as individuals have the power to create ripples as long as we have good intentions; think big but start small; have the courage, conviction and commitment to go the distance and take the pain to educate & influence one more person in our circle."
Top photos courtesy of Prantik Mazumdar and via Milaap. 
If you like what you read, follow us on Facebook, Instagram, Twitter and Telegram to get the latest updates.