Follow us on Telegram for the latest updates: https://t.me/mothershipsg
Sambar deer are one of the more elusive animals native to Singapore.
One hiker however was in the luck to spot not just one Sambar deer but two of them during daytime recently.
Female Sambar deer sighted
In a video shared to the Singapore Wildlife Sightings group on May 23, the hiker Lim Junior shared that he saw the two does (female deer) along the Mandai Trail.
In the video, the bolder doe can be seen making its way forward initially.
However, like a deer caught in a headlight, the doe came to a stop when it caught sight of Lim.
Lim's appearance seemed to have interrupted the pair's journey.
Both does stood at a standstill, looking intently at Lim, the video shows. After a few seconds, the one standing nearer to Lim gave up on the staring competition and retreated back into the woods.The doe threw Lim a final look over its shoulder before conceding that it is best to make a U-turn.
Meanwhile, the other doe continued to stare Lim till the end of the video.
Less than 20 Sambar deer in Singapore
The Sambar deer (Rusa Unicolor) are native to Singapore but they were once thought to be extinct in Singapore during the 1940s, due to poaching and habitat loss.
The Singapore Biodiversity Records 2014 suggested that the deer reappearance could be attributed to a lineage of animals that had escaped from the Singapore Zoo. This explains why Sambar deer are sighted in Mandai area.
In 2017,the Nature Society (Singapore) estimated that there were fewer than 20 Sambar deer in Singapore.
Here's a clear photo taken by another lucky nature lover in Singapore who had a close encounter with a doe: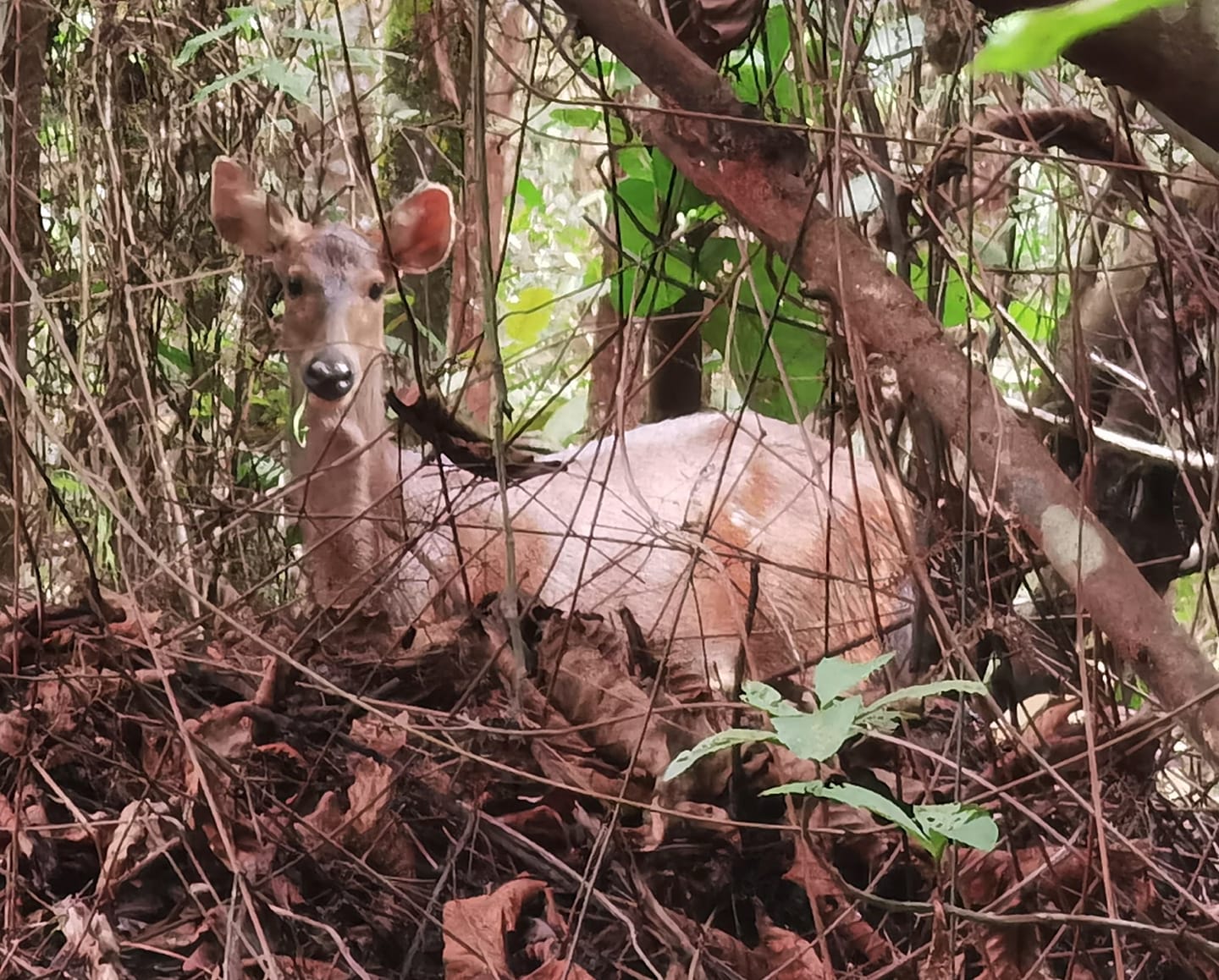 According to the National Parks Board, the Sambar Deer is amongst the world's largest deer species, following after the moose and the elk.
Stags or bucks – male deer – can grow up to two metres tall and weigh up to 260kg while does or hinds – female deer – are smaller in size. Only the males have antlers with three tines, meaning that the antlers tend to have three branches.
As crepuscular creatures, Sambar deer are active in the early morning or after dark. Their diet consists largely of vegetation like grass shoots, leafy foliage, shrubs and trees.
The deer can be found in wooded habitats in countries like India, Sri Lanka, Malaysia, Indonesia and the Philippines.
Related stories:
Top image screenshot from Lim Junior/FB and courtesy of Zhou Linlin

If you like what you read, follow us on Facebook, Instagram, Twitter and Telegram to get the latest updates.