If you've read the "Teenage Textbook" novel or watched the 1998 movie of the same name, you would remember Sissy Song, the popular best friend of Lee Mui Ee.
However, the actress who plays the character in the new series adaptation, Chen Yixin, thinks she's very much the opposite of the character she plays.
In a phone call with Mothership, the 21-year-old laughed as she said:
"The biggest difference [between Sissy and I] is that she's popular and I really wasn't popular in school. I was uncool and introverted, which is really the opposite of Sissy."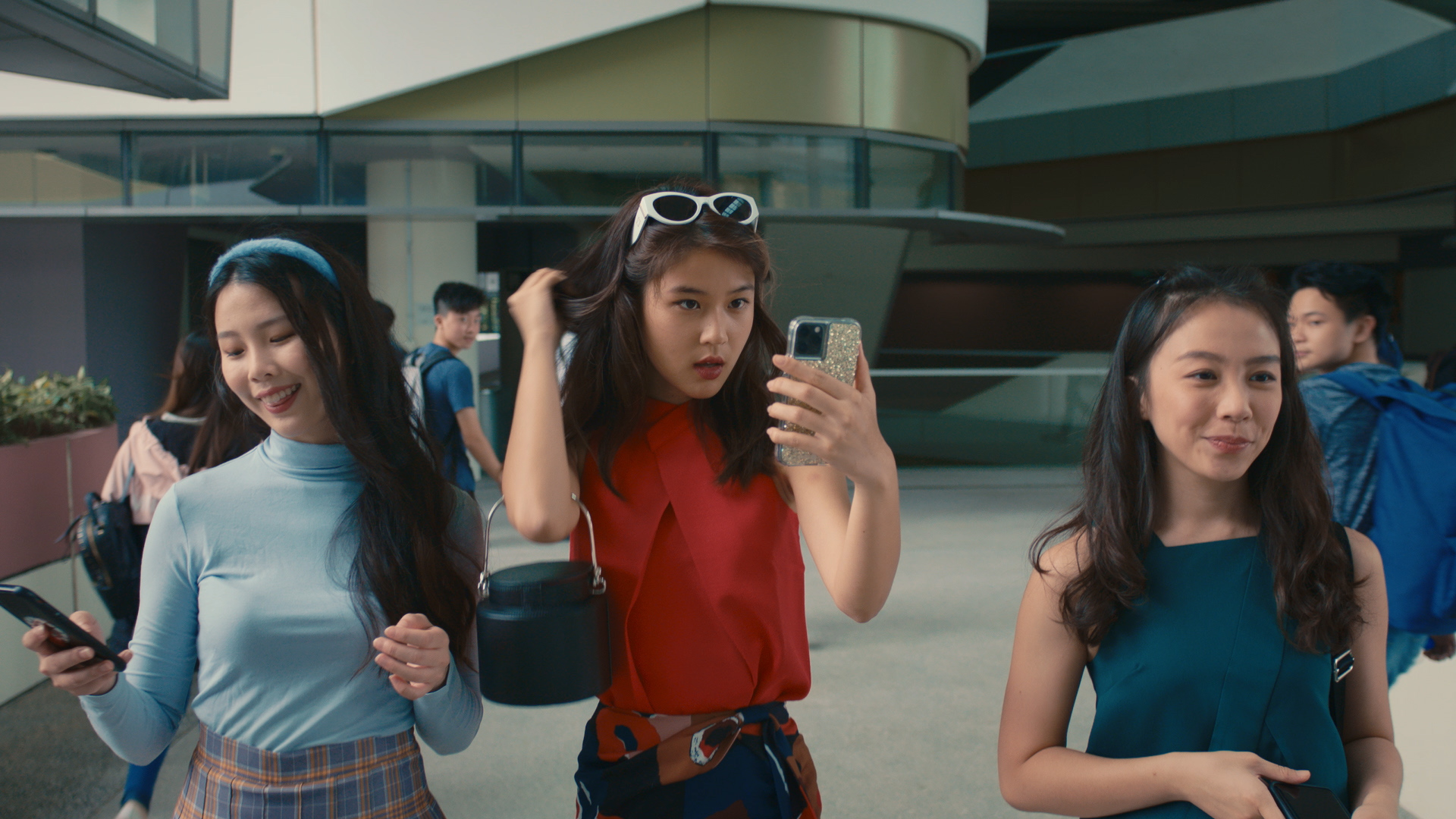 Why, you wonder?
The answer, as Yixin told us, is that she tried to be very low-key in school, as many people recognise her as the daughter of celebrity couple Edmund Chen and Xiang Yun.
"[In school] they do brand and identify me as my parents' daughter. I acted more reserved than who I actually am because I try to please people all the time. Knowing that people see me as Edmund Chen and Xiang Yun's daughter, then wah, lagi I cannot mess up their reputation."
Hands-on dad
On top of that, she also let us on in a very interesting nugget on her father: Edmund is a very hands-on dad.
Yixin said that he was so involved in her life that he was practically friends with all of her teachers.
She quipped: "Can you imagine how stressful that is? Teachers don't ask me about my homework, they just go straight to my dad!"
As we found out, Edmund isn't just a hands-on dad — he is also a protective one.
"My dad was more strict when I was younger so I would usually go home immediately after school. After school, I would have to attend tuition classes, especially for math, and that was mostly the routine back then.

So with that, I didn't really have the time to bond and communicate with my friends in school."
Being cool in school wasn't very important to her though, as she proudly told us that she loves having a close relationship with her parents.
Wanted to be a perfumer, not a performer
Coming from a family of actors, many of us may think that it only makes sense for her to follow in the footsteps of her parents and even her actor brother, Chen Yixi.
Since she was little, Yixin told us that she has played cameo roles, sometimes alongside her family members.
Little did we know, however, that she tried to avoid acting gigs when she was younger.
In fact, she once aspired to be a perfumer.
However, that's a career aspiration she has since shelved, as she humorously told us: "But I have sinus... and I was so bad at mathematics. I don't even know why I dreamed big."
On a more serious note, it was only when she picked up dancing in her teens when she found her love for performing.
Gradually, she seriously considered acting after enrolling into Singapore Polytechnic's Diploma in Applied Drama and Psychology, where she graduated from in 2020.
Worked harder to prove her worth
While others may see having family in the same industry as an advantage, Yixin personally found it daunting.
Instead, the second generation actress felt the need to work harder to prove her worth.
"That expectation from the public really made me feel like I have to work twice as hard, or maybe thrice as hard as the rest so people don't think that I get it easy. I'm really proud to say that for all the roles that I managed to get, I had to go through a lot of auditions."
It also helps to have parents who are experienced actors to mentor her, though, they have very different acting styles.
She described Edmund as more of a rule-breaker:
"He would tell me to just go there and feel the moment and just read the parts. But I'm like, what kind of advice is that... If I have the talent, then yeah, maybe that would work."
Xiang Yun, on the other hand, is more intricate in her craft, reading the script page by page and highlighting phrases along the way.
"She really does her homework... Not that my father doesn't put in any effort!" she quickly said.
First television role
And Yixin's hard work seems to have paid off, since she landed her first lead role on television in the Teenage Textbook series to act alongside Ong Yi Xuan, 987 DJ Chris Mak, and Gavin Teo.
The actress said that she had a good time at her first full-blown production and learnt a lot from the rest of the cast.
"It was really nice to bask in the environment because Yi Xuan and Krish (Natarajan) come from a theatrical background so their knowledge of acting is very different from the rest."
Yixin added that in the three months of filming, she was glad to be among her uplifting cast whom she has gotten close to.
And that probably includes Teo, who recently revealed in an Instagram post that they are dating.
Awwww.
Top image from Chen Yixin's Instagram page.
If you like what you read, follow us on Facebook, Instagram, Twitter and Telegram to get the latest updates.