Steve Chia, seasoned opposition politician and current secretary general of the Singapore People's Party (SPP), started his term in Parliament as a Non-Constituency Member of Parliament (NCMP) in the midst of tumultuous times.
It was 2001, and the general election originally scheduled for 2002 had been brought forward by then-Prime Minister Goh Chok Tong, in the wake of the Sep. 11 attacks.
The PAP achieved a historic high of 75.29 per cent of all votes cast in the Nov 2001 elections, which saw just 13 of the 23 wards being contested, and swept 82, or 96.47 per cent, of the 84 elected MP seats in Parliament.
There were just three opposition parliamentarians in Parliament in that term: Chiam See Tong, Low Thia Khiang, and Chia, who ran as a National Solidarity Party (NSP) candidate, and, at 30, was the youngest parliamentarian.
Undaunted by this, Chia went on to make full use of his NCMP seat, posing questions on topics ranging from National Service defaulters and "White Horses", HDB flats for singles, bus and train fare subsidies, down to more technical questions on organ transplants, just to name a few.
That was his only term as a parliamentarian and since then, Chia has not stopped trying, contesting (and losing) in every general election except for GE2015 where he bowed out of three-corner fight in MacPerson SMC.
Fast forward to June 30, 2020: It's Nomination Day for GE2020 and Chia and his team filed their papers and wasted no time in starting their campaign to win Bishan-Toa Payoh GRC.
Undoubtedly, it's been a busy day for all candidates, nonetheless Chia has agreed to meet us for a short chat.
At 8:30pm, Chia arrives at our office clad in a blue long sleeved shirt and jeans, having not yet had dinner, and with another appointment to rush off to after.
Still, he takes the time to retrace his journey with us; how he got started in politics, and how he's been able to sustain himself as an opposition politician for as long as he has.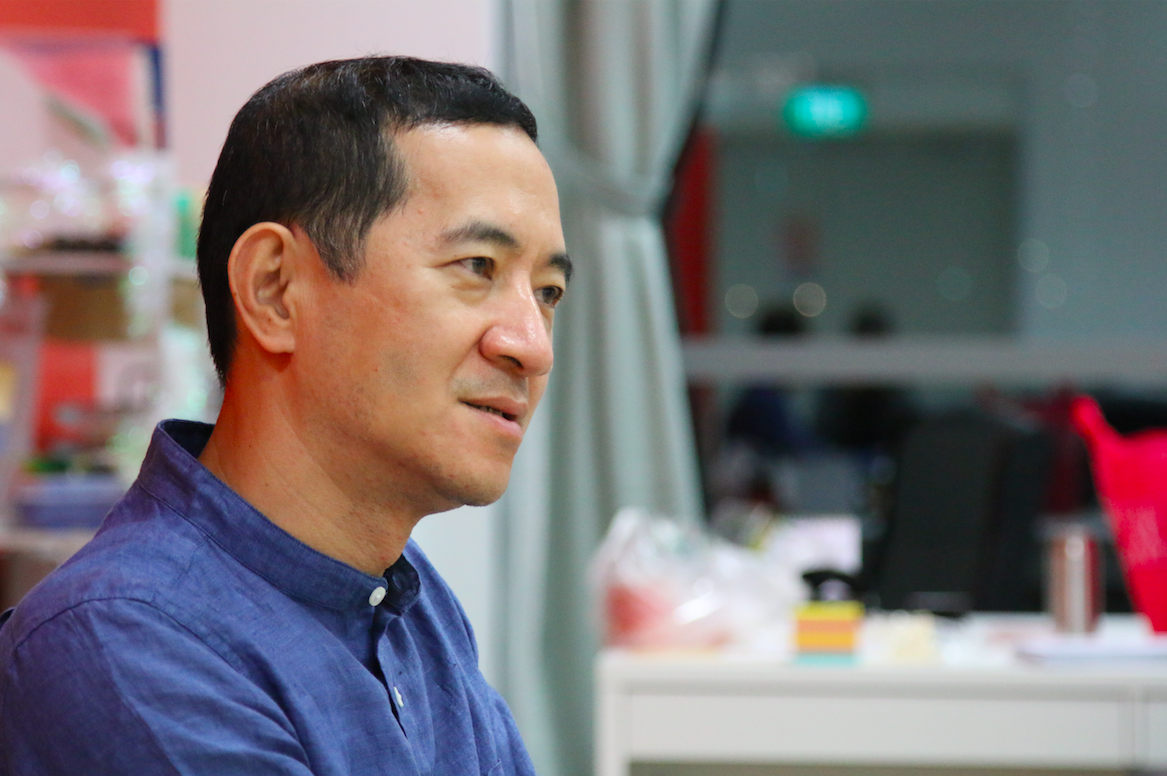 Joining the NSP as an undergrad
This year would have been 28 years since his first brush with politics, at a rally in 1992.
Then, as an NUS undergraduate, Chia came to know that one of his Psychology lecturers, Chee Soon Juan, would be contesting in a by-election in Marine Parade GRC as a Singapore Democratic Party candidate, and decided to attend one of Chee's rallies.
Fortunately or unfortunately, after receiving wrong directions, Chia wounded up at an NSP rally instead, and ended up joining the party as a member.
What transpired there, that had him so quickly convinced?
Actually, Chia says, there was "nothing fantastic about the rally". Rather, he was moved by the fact that party leaders spoke to him after the rally, kept in touch, and invited him to get involved.
The importance of representation
Chia's first brush with the abstract concepts of elections and democracy were quickly concretised, however, when he, as the president of the NUS Students' Union, led a group of student leaders to a largely-fruitless dialogue with ministers on the topic of a tuition fee hike.
It was this experience, shortly after his visit to the NSP rally, "where the policies impacted us", and which impressed upon Chia the importance of representation.
Chia still recalls how a decision was made without consulting the students, who returned to school from the summer break in 1992, only to find out that a decision had already been made, to roughly double the fees (albeit gradually), such that fees collected from students would cover 25 per cent of the universities' operating budget, after government subsidies.
Chia also recalls that the justification for the decision was along the lines of "oh, in Cabinet we discussed, and we decided that 25 per cent is a fair amount that students should pay".
Indeed, when then-education minister Lee Yock Suan was asked in Parliament for the rationale behind the 25 per cent figure (by veteran Workers' Party MP Low Thia Khiang, no less), he answered that "it [was] fair".
"The PAP [had] an overwhelming majority at that point in time," says Chia, and its decision to raise the fees had showed him that "they should not have the total say in what they want to pass in Parliament, without consulting the people".
"So that got me started," Chia explains, as the episode showed him that "we must take active citizenship of our lives. We must have a say in how policies are affecting us".
Discouragements strengthen his conviction
When asked about how his motivations have changed since those pivotal early experiences, Chia says, "I won't say that it has changed".
Instead, Chia tells us about the disappointment he has accumulated in each of his four unsuccessful contests (GE2020 will be his fifth):
"Every election when you contest, [and] you don't win, you're disappointed. You put in so much effort, you put in so much time, and everybody was telling you oh, they support you, they support you. But then when the vote was counted, you get 30-over per cent, it's discouraging."
But going through electoral failure has only served to strengthen his conviction.
"Then you ask yourself 'why are you doing that?' But then every time when the election comes, I contest, because I realised that politics is in my blood."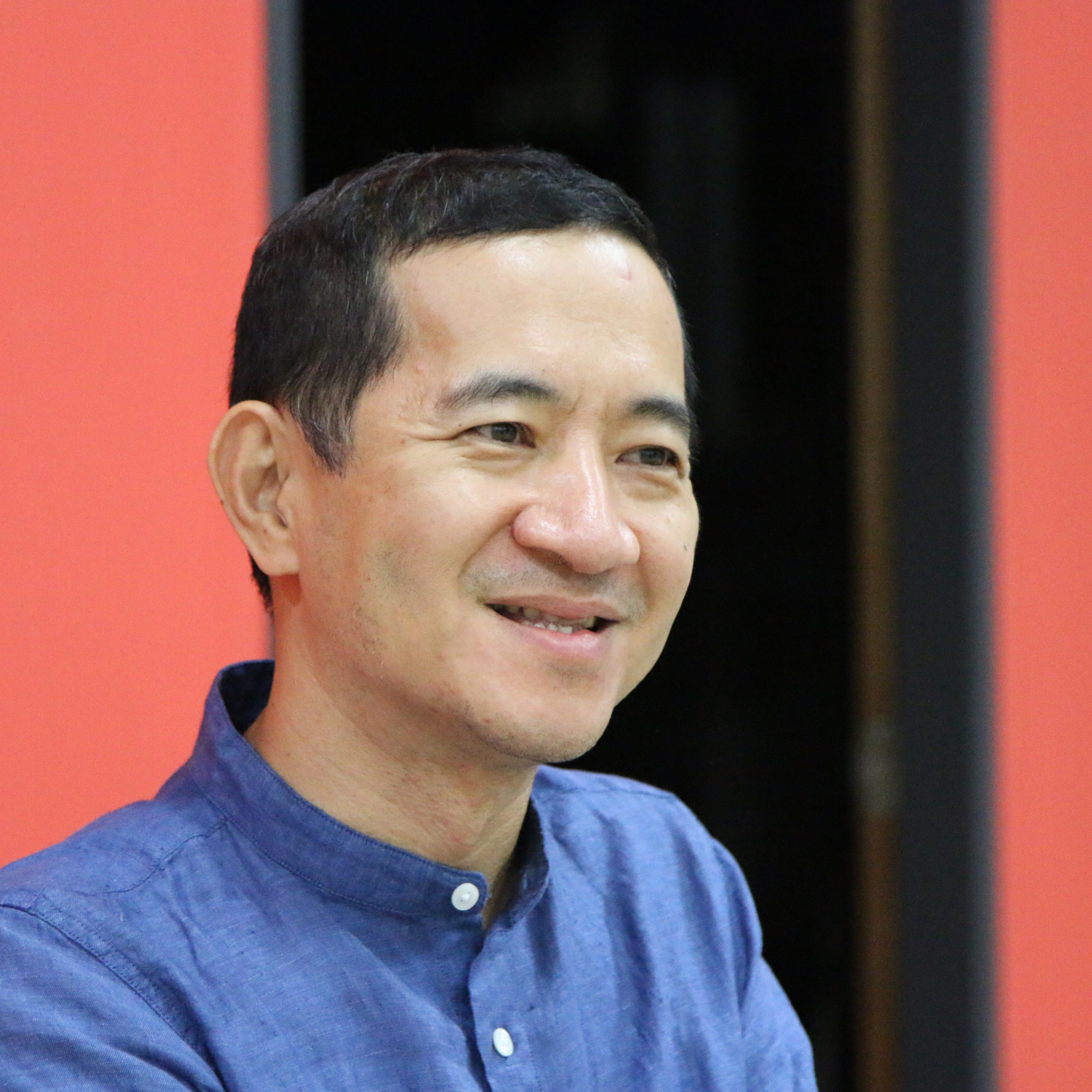 There was also a 2003 incident where Chia was investigated for outrage of modesty, causing sensitive personal issues to be dragged out into the public eye as it happened during his NCMP term. But, as he has requested that we do not go into it, it is not discussed in this interview.
The repeated experience with disappointment may have put off another man. Indeed, many MPs have dropped out of politics after having had more successes than Chia has had failures.
And yet, Chia says that it was after crossing 40 that he began to look back and reflect, realising his enduring desire to effect change.
"I want to contest because I want to make change, I still want to make an impact in society, in people's lives."
As natural as Chia makes it sound, his decisions have made him an outlier, both in terms of being one of a rare few who chose to join the opposition, as "there were not many people who dared to contest against the PAP", Chia says, and in terms of his relatively young age.
Chia sees that things have indeed changed since. Talking about the young candidates in GE2020 (Workers' Party's Raeesah Khan, 26, and the Progress Singapore Party's Choo Shaun Ming, 23), he says:
"I am very happy that they are starting younger and younger, and taking ownership of society.

I would encourage more young people to fight for their ideals, not just in terms of the PAP's standard track for career and housing, but to explore other areas. Politics is an area that they can develop and if they start young, and they are good, they will have a long journey to establish themselves"
Eschewing the "standard track"
Chia, a father of three, who is divorced, will be 50 next year.
The track Chia has chosen is anything but "standard", and he leads an unconventional, but comfortable lifestyle, having walked down a path he forged for himself.
"I started [in politics] young, and I don't have a normal career track. I became self-employed."
Chia has been a remisier and a trader whose income is from trades and investments.
"I won't say that I'm very rich, but I'm frugal," Chia says, and that has allowed him to stay involved in politics for as long as he has. After all, he points out, "If you're not doing well financially, it will be very difficult to sustain the interest in election and campaigning."
This non-standard track, Chia says, distinguishes him from politicians who may have started off taking care of their careers before moving into politics.
"At some point in time, they are too established in their career that they lost the idealism, the fire to want to make change."
Contesting as a non-PAP candidate: like running in a marathon
Much like his introduction to politics, Chia had an unconventional start in sports as well.
He began his career as a marathoner and triathlete when he was nearly 40, after realising that he would be "out of breath all the time" when climbing stairs.
"I realised, 'oh no, I can't continue [like this], I'm already 40, I should do something'," Chia said.
In spite of endurance racing being something Chia picked up later in life, he has taken it all the way, experimenting with different diets and training, such as high-intensity interval training (HIIT).
In October 2019, he completed a Half Ironman — a variant of the triathlon involving 1.9km of swimming, 90km of cycling, and a 21.9km run. Chia completed this in just over 6 hours, placing seventh in his age category, and qualified for the World Championship.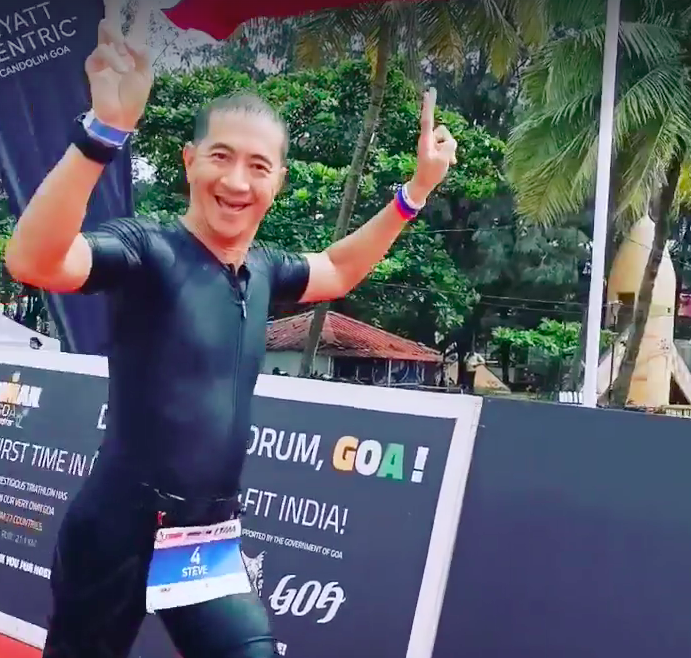 Chia's race for GE2020
This GE2020, one particular factoid has been cited by Chia and the SPP, perhaps as a suggestion that they, if given seats in Parliament, will have no hesitation in speaking up on issues.
It is Chia's claim to being the MP who asked the highest number of questions out of all the MPs in the 10th session of Parliament, during which Chia served his NCMP term.
(While the claim is difficult to verify, a search for Chia's full name in the official records of Parliamentary speeches in the 10th session yields 236 results, a good 30 per cent more than Amy Khor's 181. Khor had "confessed" in Parliament to being a "debataholic" who "always relish[ed] taking on an issue in Parliament".)
Chia is contesting in Bishan-Toa Payoh, a four-member GRC where Chia and his team (Williiamson Lee, Osman Sulaiman, and Melvyn Chiu) will take on returning People's Action Party MPs Chee Hong Tat, Chong Kee Hiong, and Saktiandi Supaat, led by defence minister Ng Eng Hen.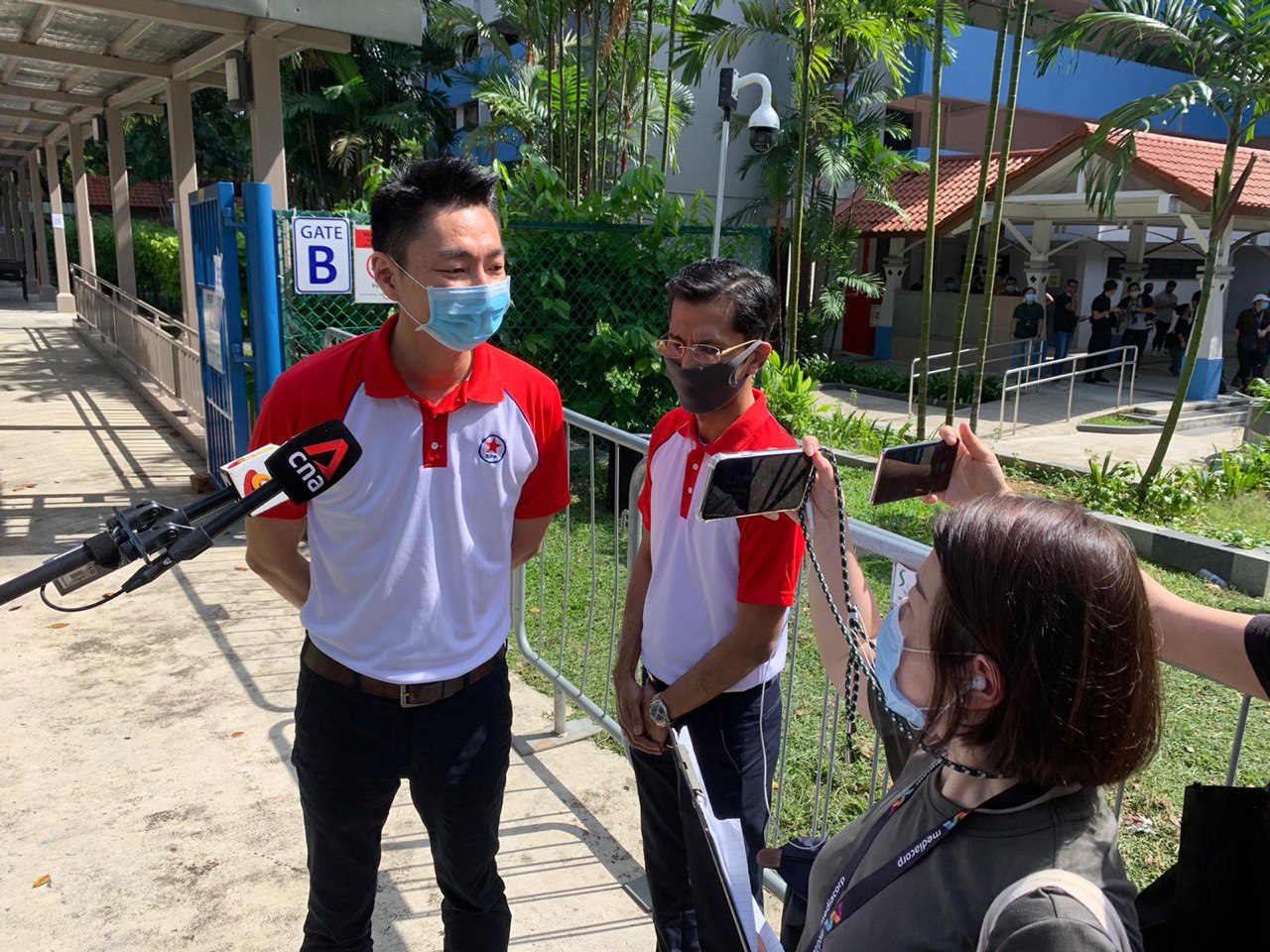 The importance of pacing
As some opposition parties have conceded, the state of the opposition as of now is such that the most realistic goal for the opposition (at least for GE2020) is to work towards being able to deny the PAP a two-thirds supermajority in Parliament, with which its MPs can pass amendments to the constitution without requiring any opposition votes.
After all, it is unlikely that the PAP will not form the government after GE2020.
The more realistic target, which contemplates that most opposition candidates will not win seats in GE2020, is something Chia is conscious of as well, having spoken about it in his Nomination Day thank you speech.
But this is perhaps where Chia's pursuits in sports are paying off, beyond the health benefits, and his newfound fitness — they seem to have influenced his political philosophy as well.
In a Dec. 2019 Facebook post, Chia compared being a non-PAP candidate to running a marathon, explaining the importance of pacing:
"Too fast and you'll burn-out before the finishing line. Too little effort, and you'll be seen as a non-serious contender."
It isn't so clear what exactly this finishing line might look like for Chia.
However, it seems clear enough that as a long-time opposition candidate, he is in it for the long haul, with no plans of throwing in the towel anytime soon.
After all, as he's said, politics is in his blood.
Top photo by Joshua Lee
If you like what you read, follow us on Facebook, Instagram, Twitter and Telegram to get the latest updates.