Mediacorp has received flak recently after it allegedly portrayed a gay character negatively in their Channel 8 drama "My Guardian Angels" which was released in April 2020.
They have since apologised and explained that they had "no intention to disrespect or discriminate against any persons or community".
Drama characters slammed for being homophobic
Chase Tan, the actor who played the role of the gay character had earlier apologised in an Instagram post on July 3, and clarified that it was not his intention to disrespect anyone.
However, the artistes who acted as the parents in the drama, Kym Ng and Brandon Wong, have stayed silent amid the online backlash.
In the past few days, Instagram users have taken to the comment section of their Instagram accounts to express their unhappiness after the characters played by Ng and Wong were slammed for making homophobic remarks in the drama.
Here are some comments on Ng's Instagram page:


Some have also taken to Ng's official fan club Instagram:


Here are some comments on Wong's Instagram page: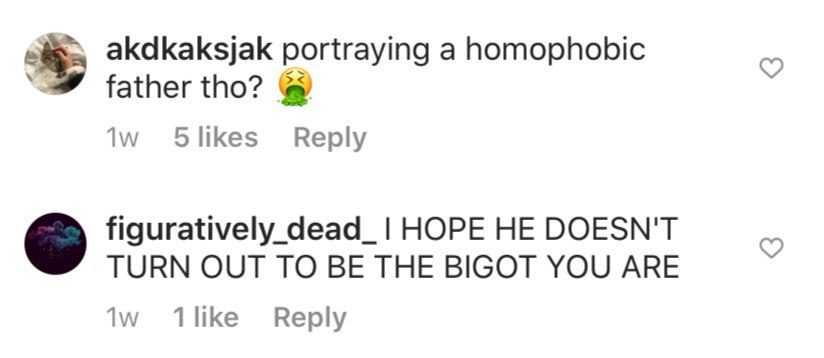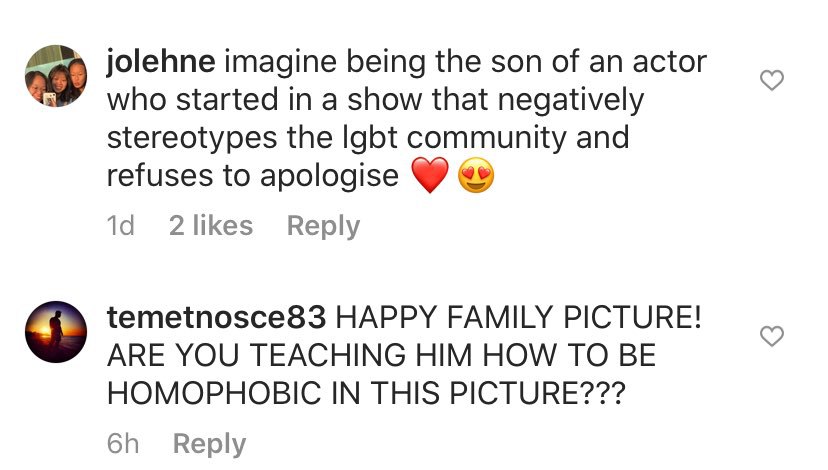 Instagram page Heckin' Unicorns have also urged both artistes to apologise: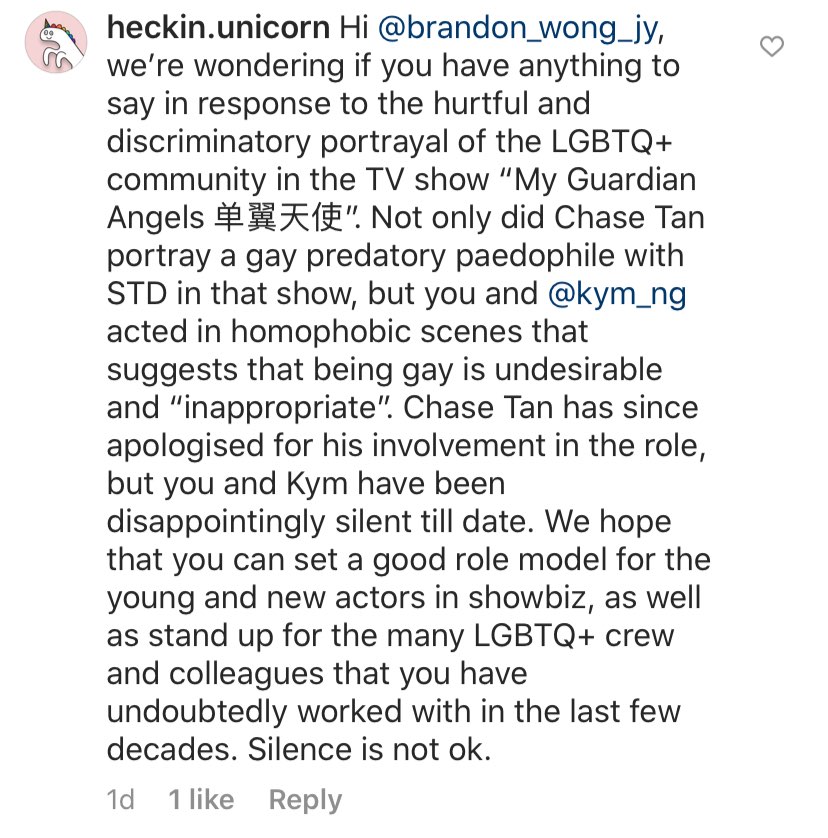 Mediacorp urges public not to make personal attacks on actors
In response to Mothership, Mediacorp released a statement to appeal to members of the public to refrain from making personal attacks on Ng and Wong.
Mediacorp said:
We would also like to appeal to members of the public to refrain from making personal attacks on Kym Ng and Brandon Wong, the Mediacorp artistes who portrayed the characters of the parents. Both Kym and Brandon have received many abusive messages and comments over their roles in this drama. We would like to reiterate that they have played these roles in their professional capacities, and there was no intention on their part to cause any offence.
Clarifies further on characters and subplot
In their statement, Mediacorp also provided clarifications on the characters involved and the subplots.
They explained that the storyline was intended to depict the "real struggles that parents face in communicating with their children on topics such as relationships and sexual orientation" and to encourage young people to speak up for themselves if they encounter sexual predators.
Mediacorp also reemphasised that it is not their intention to depict LGBTQ community in a bad light.
Here's their clarification in full:
We would also like to provide clarifications on the specific characters and subplots highlighted in the social media posts regarding this matter.

The first sub-plot involved parents who were concerned that their young son may be in a relationship with another boy. It depicted the overly protective mother spying on her son and eventually finding out that he was instead interested in a girl who lived nearby. When she expressed her disapproval with his choice, the father character responded that she should just be glad he was interested in a girl. This scene reflected the parents' attitudes and reactions. This storyline aims to depict the real life struggles some parents face in communicating with their children on topics such as relationships and sexual orientation.

The second sub-plot involved a paedophile who was a coach of a male basketball team. The intention and overall message of this sub-plot is to encourage young people to be aware of potential dangers, and not be afraid to speak up and protect themselves. Mediacorp has hitherto depicted paedophiles preying on young girls in other dramas.

In both scenarios, there was no intention to depict the LGBTQ community in a negative light.
According to the Infocomm Media Development Authority broadcasting rules, films that depict a homosexual lifestyle should be "sensitive to community values". They "should not, promote or justify" a homosexual lifestyle.
Films are allowed to have subplots containing homosexual theme or content but will have to be M18 rated.
Related article:
Top photo via MeWatch screengrab
If you like what you read, follow us on Facebook, Instagram, Twitter and Telegram to get the latest updates.