People around the world, including many in Singapore, have spoken out about the death of George Floyd, an African-American man who died after being pinned to the ground by a police officer's knee for nearly nine minutes.
However, some have pointed out that Singaporeans speaking up about the situation in the U.S. is a stark contrast to many people's silence about, or even active participation in controversial issues surrounding race still prevalent in Singapore.
Memes calling out racism in Singapore
A number of viral memes have surfaced that call out apparent "virtue signalling" by some people.
The term refers to the sharing of messages, usually on social media, that demonstrate the sharer's apparent moral values without actually achieving much.
The memes respond to this by comparing the reactions in Singapore to the U.S. situation with their apparent disregard for racism and xenophobia in Singapore, or its perpetuation.
One such meme, posted by one Yogen Logan, showed two contradicting situations:
The first panel, labelled "Many locals doing this for Foreigners", illustrates people who have vocally shared their support for the Black Lives Matter (BLM) movement in the U.S., which campaigns against the violence and systemic racism faced by African-Americans.
The meme's second panel highlights the racism that minorities in Singapore endure, such as racial slurs, stereotypes, and jokes about skin colour.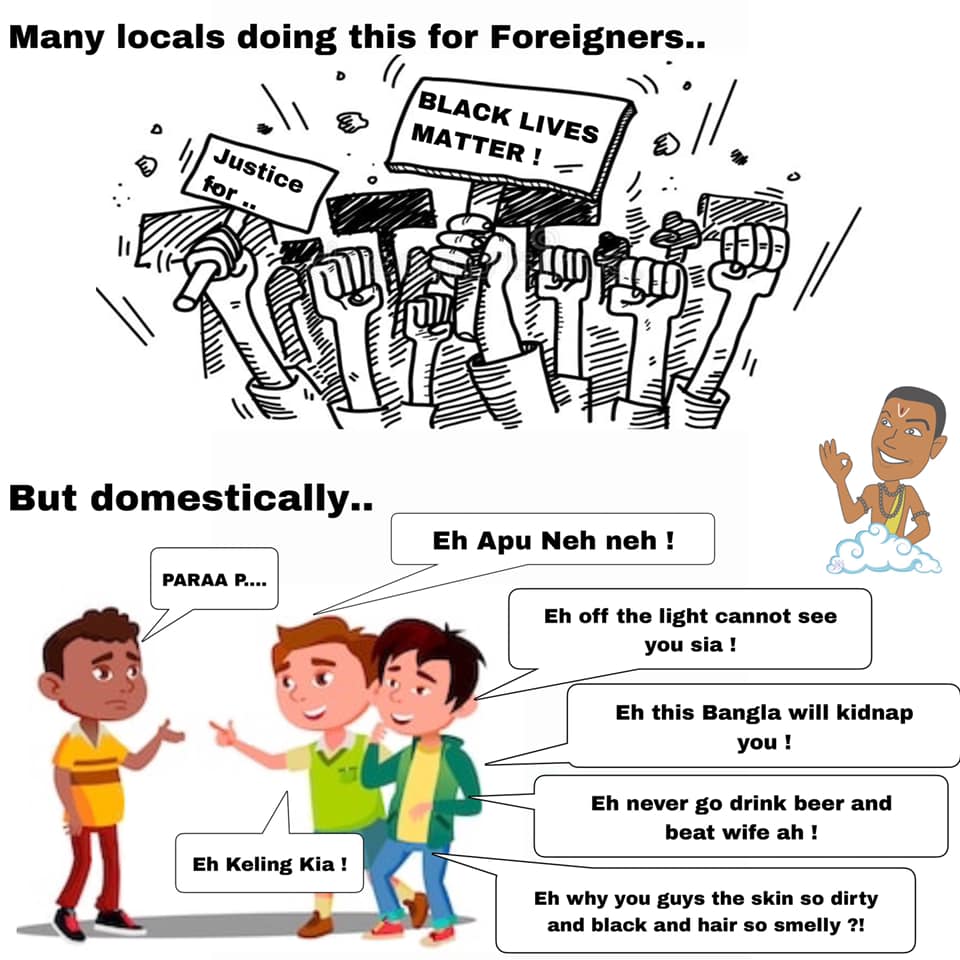 In his caption, Yogen noted that while the racism in Singapore is "not as bad" as it is in the U.S., "its existence cannot be neglected."
Another meme, posted by A Better World By Memes, made a similar point; that some Singaporeans have been happy to latch onto the BLM movement and show their support, while neglecting the racism and xenophobia that still exist here.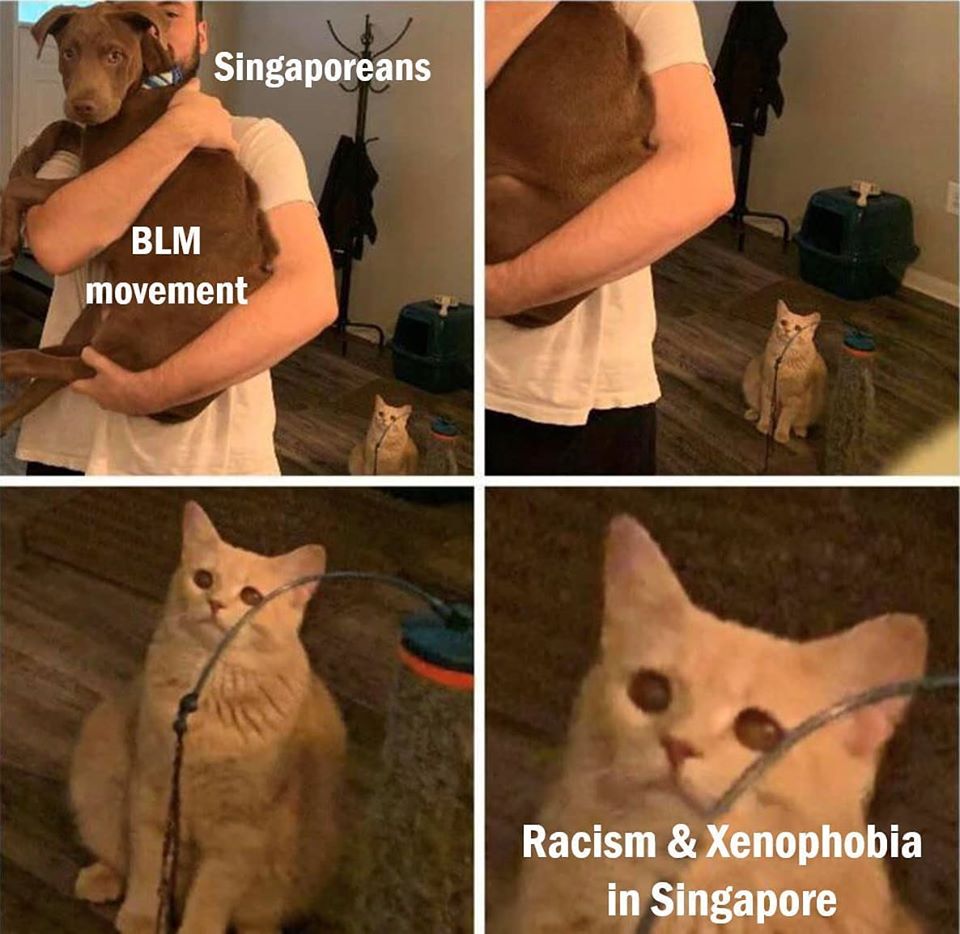 Memes also address Singaporeans' attitudes toward migrant workers
Another meme that noted a contrast in attitudes by some Singaporeans towards migrant workers was posted by A Better World By Memes featuring British chef and television personality Gordon Ramsay.
The frame captioned "Singaporeans to migrant workers in Singapore" shows Ramsay saying, "You f**king smelly", referencing stereotypes about migrant workers' cleanliness and hygiene.
Facebook page The Straits Times Comment Section shared a SpongeBob meme specifically addressing influencers in Singapore who have shared about Black Lives Matter, but who have not spoken up about the systemic abuse and mistreatment of migrant workers within Singapore.
The sarcastic caption labelled the act of supporting BLM while ignoring the situation of migrant workers in Singapore as virtue signalling.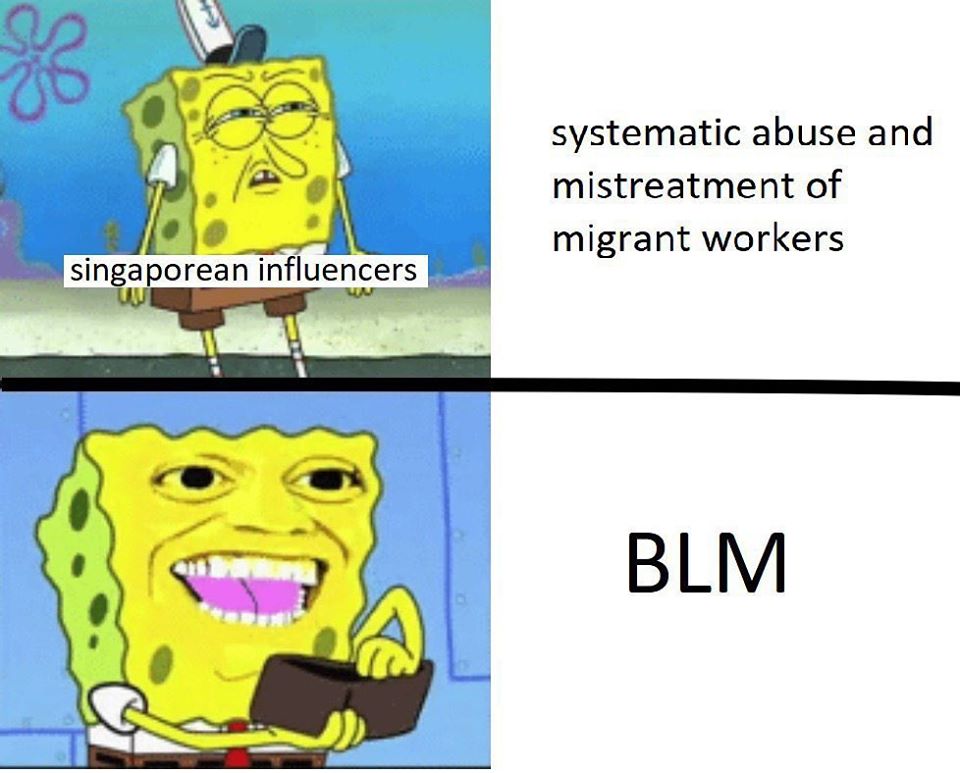 Wake Up, Singapore shared an Instagram post succinctly summing up the common theme; sharing Black Lives Matter content is good, but if you have done so, then you should not also be contributing to xenophobia and racism in Singapore.
Top images via Facebook / A Better World By Memes.
If you like what you read, follow us on Facebook, Instagram, Twitter and Telegram to get the latest updates.