A black man, identified as George Floyd, died in Minneapolis, Minnesota in the U.S. on Monday, May 25, after being pinned to the ground by a police officer with his knee, despite repeated pleas that he could not breathe.
The FBI is investigating, and four officers have been fired for their involvement in the death.
Video footage of the incident
In a 10-minute video taken by an onlooker and posted to Facebook, Floyd could be seen pinned to a ground by a police officer, identified later as Derek Chauvin, who had his knee on Floyd's neck.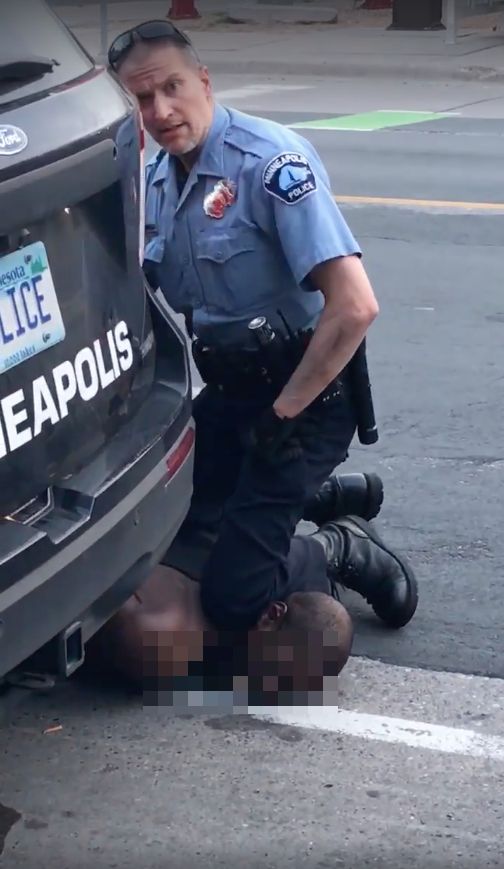 Another officer, Tou Thao, stood by and managed the onlookers that had gathered and were criticising the officers for their actions.
According to another video taken by an eyewitness, there were two other officers who could not be seen in the first video, as they were obscured by the police vehicle, also pinning Floyd down. The other two officers have yet to be identified.
https://www.instagram.com/p/CAqrLvYnfCq/
Chauvin continued kneeling on Floyd's neck and did not ease up throughout the majority of the 10-minute video, despite Floyd's constant gasps for breath and pleas that he could not breathe: "Please. Please, I can't breathe."
He repeatedly stated that he was in pain, and said, "They're gonna kill me. They're gonna kill me, man."
Onlookers pointed out to the officers that Floyd's nose was bleeding and that he was not resisting arrest.
One could be heard saying to Chauvin, "You've got him down, man. Let him breathe, at least, man," and telling Floyd to just comply and get into the police car.
Floyd replied saying that he would do so, but that he couldn't move.
Around four and a half minutes into the video, Floyd stopped crying out and became unresponsive, but the officer's knee remained pinned on his neck.
One onlooker could be heard saying, "Did they f*cking kill him?"
The bystanders repeatedly called for the officers to check Floyd for a pulse, as it had been several minutes since he had been responsive. They did not do so.
Once the paramedics arrived on the scene, Floyd remained unresponsive, but the officer kept his knee pinned on Floyd's neck until he was moved onto a gurney and into the ambulance.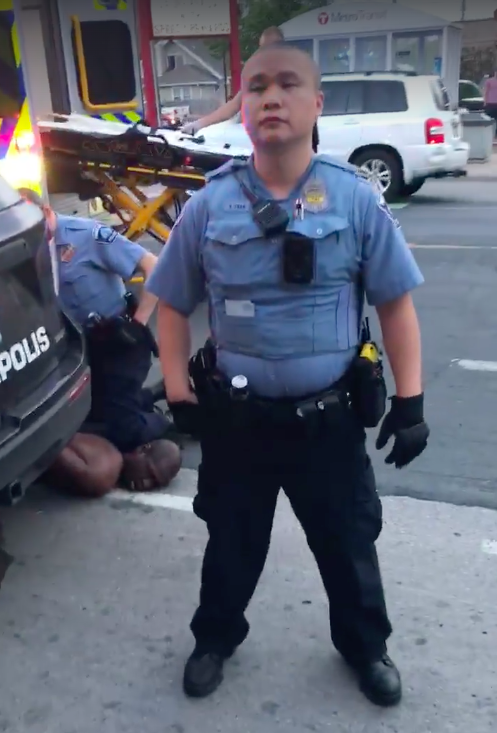 According to local police, he was taken to Hennepin County Medical Center, where he later died.
Police were called about forgery
The Minneapolis Police Department said in a statement that the officers had been dispatched at 8pm on Monday (May 25) to respond to a report of a forgery in progress.
Officers were told that the suspect was sitting on top of a blue car and appeared to be under the influence.
The police statement claimed that the suspect — who we now know was George Floyd — physically resisted the officers after he was ordered to step out of his car, and that officers noticed that he was "suffering medical distress" and called for an ambulance.
The statement did not include information about what kind of force the officers used to restrain Floyd when he was allegedly resisting arrest, but noted that "at no time were weapons of any type used by anyone involved in this incident."
However, security camera footage from a nearby restaurant that was posted by the Washington Post shows that in the moments leading up to Floyd's handcuffing, he did not appear to resist arrest.
The Minneapolis mayor Jacob Frey said in a tweet that the four responding officers have been fired, and stated that it was "the right call."
He also stated in a town hall that Chauvin had no reason to use the hold that he did:
"The technique that was used is not permitted; is not a technique that our officers get trained in on.

And our chief has been very clear on that piece. There is no reason to apply that kind of pressure with a knee to someone's neck."
Local Minneapolis news station KARE reported that the Police Officers Federation of Minneapolis issued a statement on Tuesday (May 26) that an investigation is underway, and asking the community to remain calm:
"Now is not the time rush to judgement and immediately condemn our officers. An in-depth investigation is underway. Our officers are fully cooperating.

We must review all video. We must wait for the medical examiner's report. Officers' actions and training protocol will be carefully examined after the officers have provided their statements.

The Police Officers Federation of Minneapolis will provide full support to the involved officers.

We ask that the community remain calm and let the investigation be completed in full."
The statement by the Minnesota Police Department also stated that the FBI are now investigating the incident.
Thousands protest Floyd's death
Thousands of people took to the streets of Minneapolis to protest the death of Floyd on Tuesday, May 26.
The protest began near the same intersection where Floyd had been laying with his neck pinned by Chauvin's knee, less than 24 hours after the video of the incident was posted, reported KARE.
In the morning and early-afternoon, activists, neighbourhood groups, and community organisers created memorials at the intersection, with messages such as "No Justice, No Peace," "RIP," and "Remember His Name."
Then, in the late-afternoon and evening, thousands arrived to the scene, bringing with them signs and bullhorns, according to KARE.
Many wore masks while organisers reportedly distributed face coverings to those who did not have them, in light of the Covid-19 situation.
Then, slightly after 6pm, organisers began the march to the Third Precinct, where officers in riot gear deployed tear gas on the crowds.
Here are some photos of the clashes between protestors and police by local Minneapolis media companies on Twitter:
Here are the latest photos from @CarlosGphoto coming in from the protest march over George Floyd's death, which turned into a clash between Minneapolis police and protesters. #georgefloyd https://t.co/pmcMibimEj pic.twitter.com/YMLKQS0Jhk

— Star Tribune (@StarTribune) May 27, 2020
Photos of today's George Floyd protest and clashes with police, from the photographers of Minneapolis Star-Tribune. https://t.co/9gznZVUNrS pic.twitter.com/nU1iNU4Z1D

— Matt Pearce 🦅 (@mattdpearce) May 27, 2020
Floyd's death and his words "I can't breathe" have been compared to the death of Eric Garner, a 43-year-old black man who died in New York City after being put in a chokehold by NYPD officer Daniel Pantaleo in 2014.
His last words were, "I can't breathe."
George Floyd repeatedly said the same thing that Eric Garner did, again to no avail. They couldn't breathe, but the cops didn't care. How many times must we as black people repeat ourselves, whether or not we are in a chokehold, for our lives to matter? https://t.co/n4aJENO9dx

— Jamil Smith (@JamilSmith) May 26, 2020
Pantaleo was only fired from the NYPD in August 2019, more than five years after the death of Garner. Pantaleo did not face any criminal charges.
Top photos via Facebook.
If you like what you read, follow us on Facebook, Instagram, Twitter and Telegram to get the latest updates.