Follow us on Telegram for the latest updates: https://t.me/mothershipsg
Home-based businesses were allowed to reopen on May 12 after a nationwide controversy.
One of the home-based businesses that resumed its operations is Fluffy Puffs Bakery by Singaporean singer-turned entrepreneur Sarah Aqilah.
However, things did not go smoothly for the 35-year-old who won the Suria reality singing competition 'Anugerah' in 2009.
"Rude seller"
On May 19, Facebook user Hardy Hzn wrote a long post accusing Sarah of being a "rude seller".
He had wanted to order some custard puffs from Sarah's bakery for his mother.
However, he claimed that Sarah consistently provided late replies and excuses.
Here are some of the texts he exchanged with her: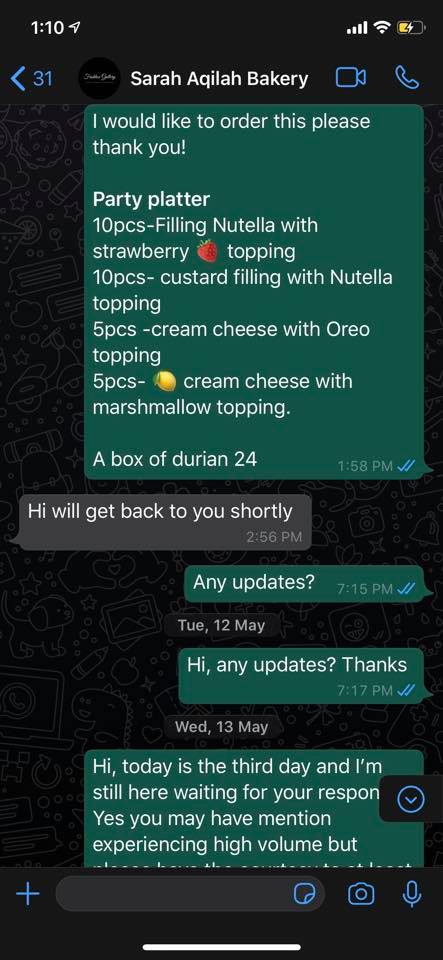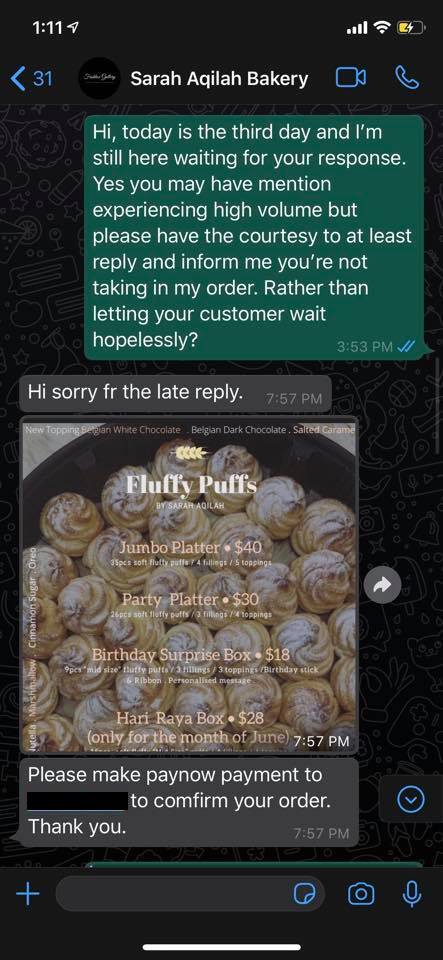 Gave the wrong price
When Sarah finally replied after three days, Hardy inquired about the price of his order.
However, Sarah gave him the wrong amount, which costs S$10 more.
Fortunately, Hardy spotted the error.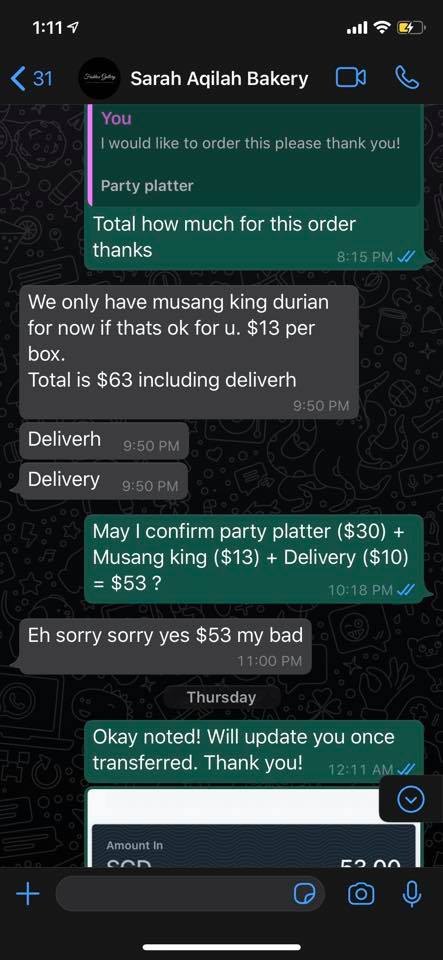 Delayed delivery
After the payment was made, Hardy experienced another issue — his delivery kept getting delayed.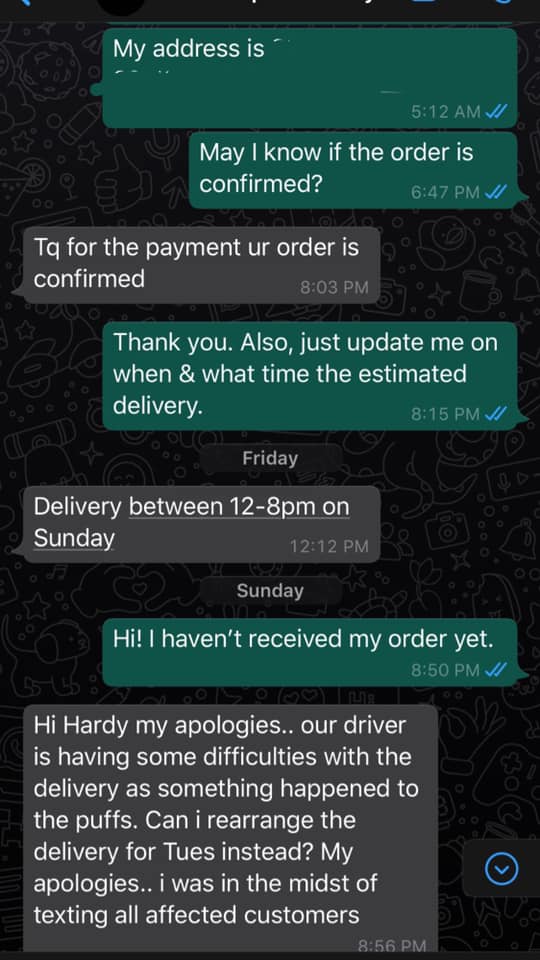 Gave him a refund, with an extra dollar
As he still did not receive his order after a few days, Hardy asked for a refund, which Sarah agreed to.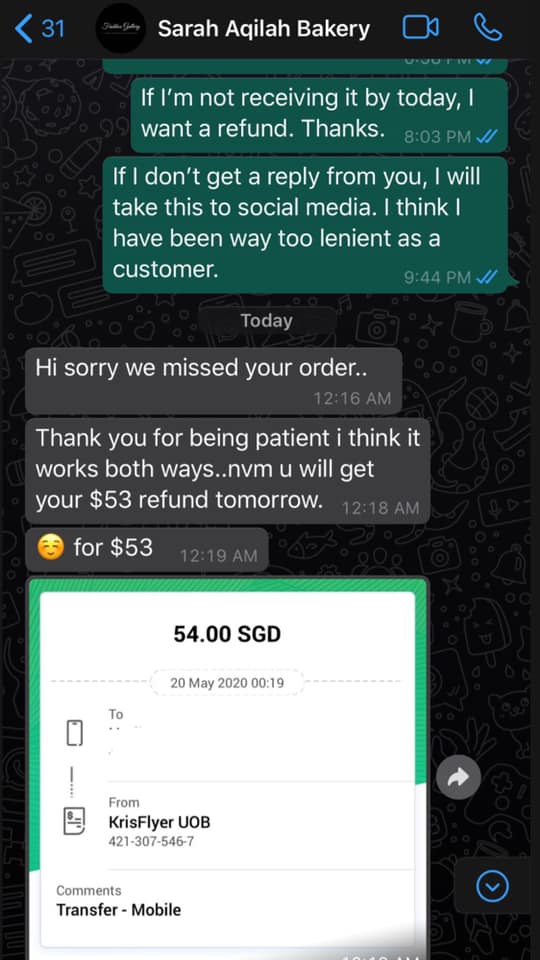 She had also given him an extra dollar, saying: "Take the $1 and treat yourself an ice cream (sic)."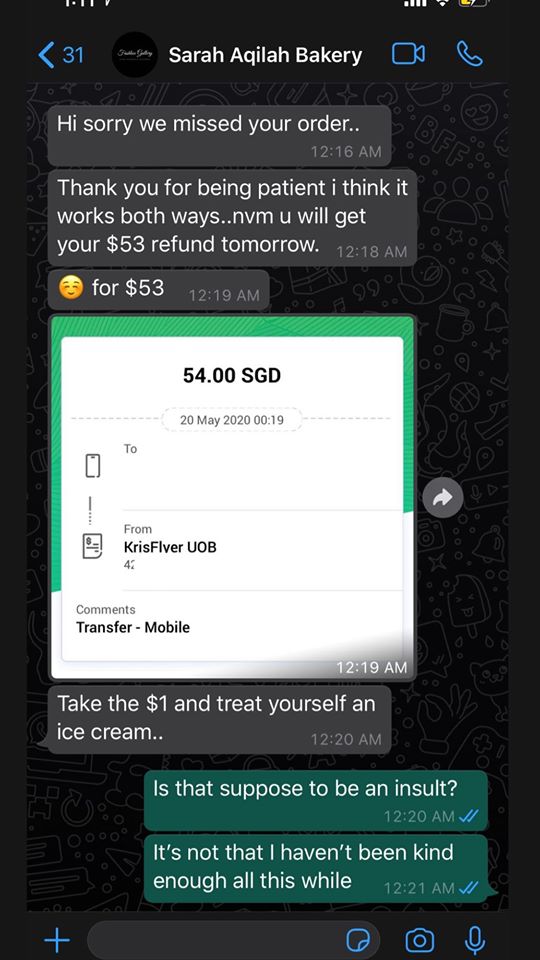 Hardy wrote in his post:
"Is this how you respond/do service recovery? Next time don't over promise! I think I have been way too kind in this matter and I don't know if those who ordered are also affected.

I'm sorry to say la even the Apek Ice Cream now selling @ $1.20! Go use that money to fund on your business so you don't miss out on your orders anymore. For those wondering, I transferred her back her useless $1. LOL!"
You can read the full Facebook post here:
Singaporeans expressed their disapproval
Hardy's Facebook post went viral online, garnering over 2,400 shares as of the time of writing.
In the comments section, many Singaporeans criticised Sarah for her actions. A few labelled her "rude".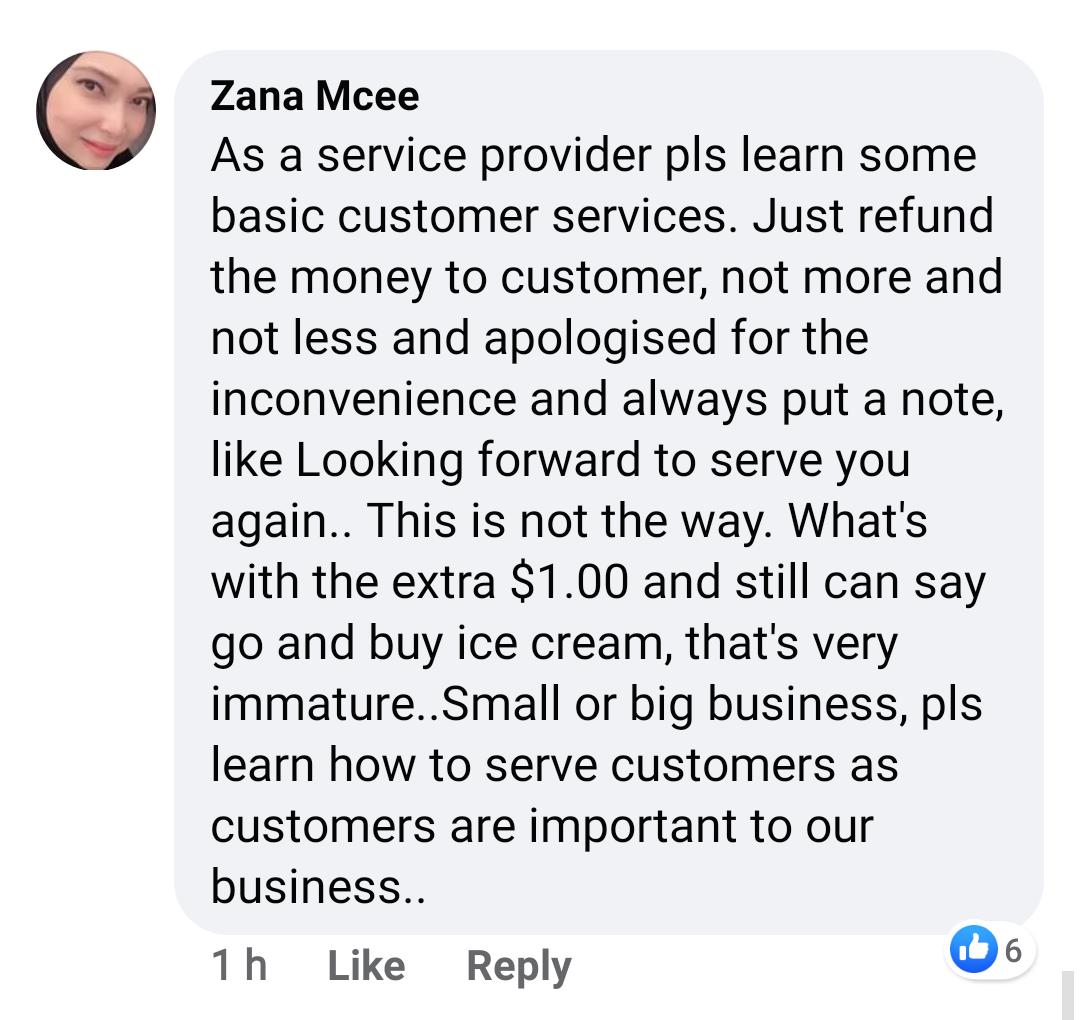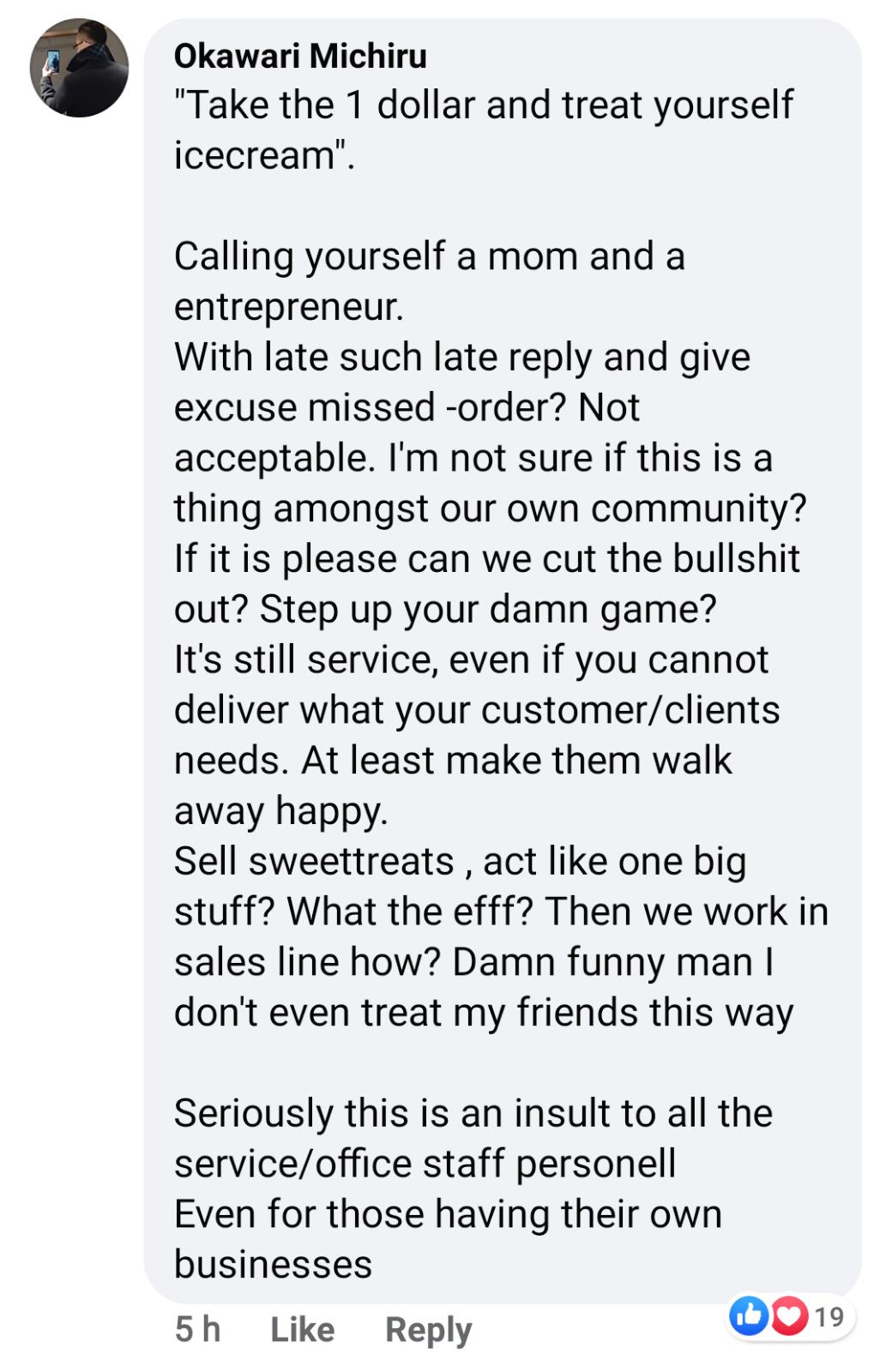 Privatised her Instagram account
Sarah subsequently uploaded this post on her Instagram account on May 20 morning: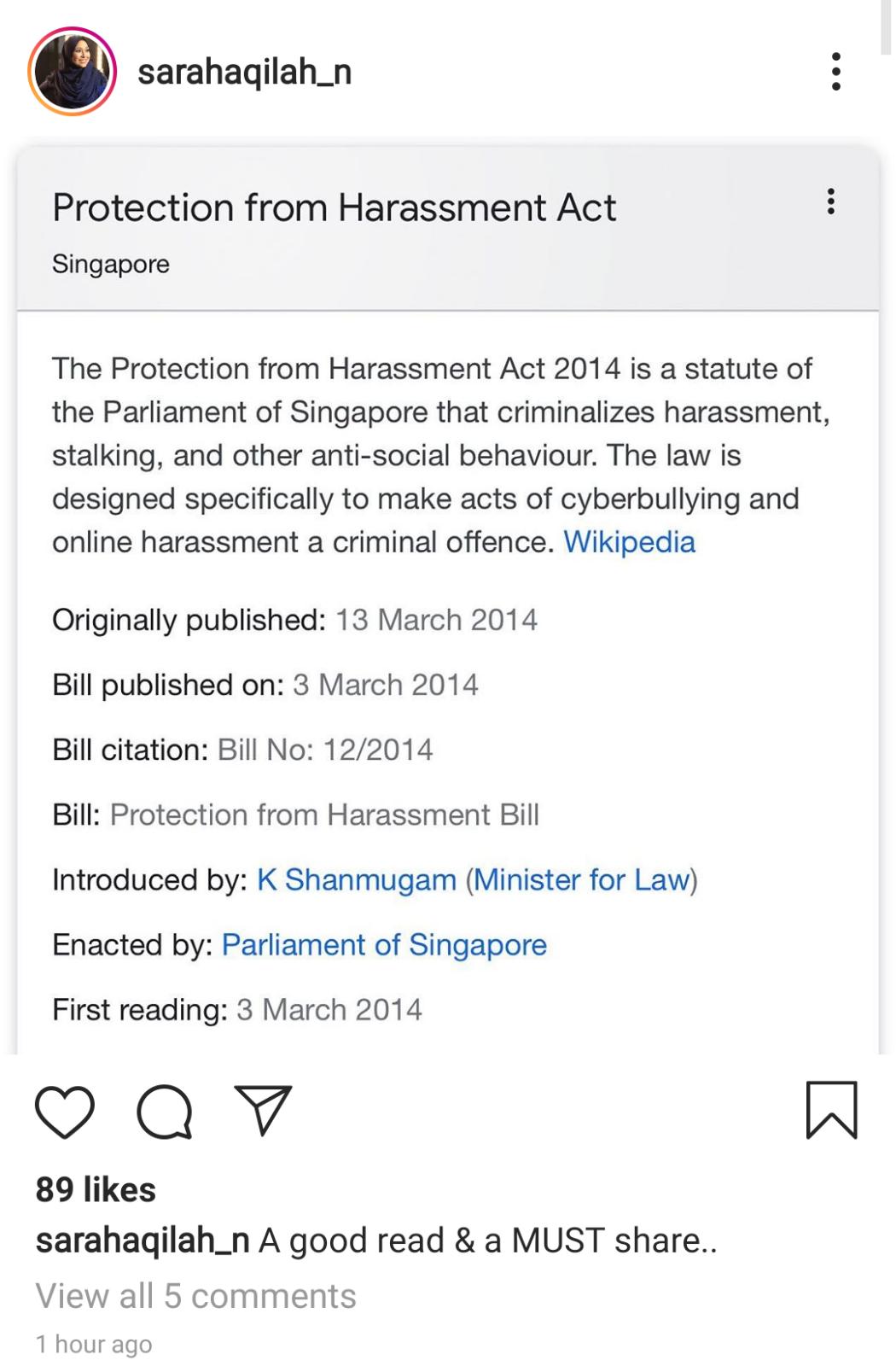 However, she has since made her Instagram account private as of 4pm on May 20.
Fined in 2019 for fraudulent evasion GST
In October 2019, Sarah was fined S$30,600 for fraudulent evasion of Goods and Services Tax (GST) on branded goods she brought into Singapore.
According to Singapore Customs, she did not declare a total of 141 pieces of branded goods worth over S$205,980 for GST payment.
She had bought the branded goods overseas between June 2015 and November 2017.
Top images from Sarah Aqilah/IG & Hardy Hzn/FB.
If you like what you read, follow us on Facebook, Instagram, Twitter and Telegram to get the latest updates.