Follow us on Telegram for the latest updates: https://t.me/mothershipsg
Temasek Holdings CEO Ho Ching thanked the Taiwanese government publicly for donating over 1 million medical masks to the Singapore government on Monday, Apr. 13.
Thanked friends in Taiwan
She expressed a "huge thank you to all that you have done", adding that she will be "forever grateful" to her friends in Taiwan.
She also said she will "treasure forever" others' "sincere" efforts to help, regardless of "success or failure".
The post, originally posted on Saturday, Apr. 11, has been substantially edited to reflect the added sentiments.
Taiwan responds to episode sparked by single comment
Taiwan's Ministry of Foreign Affairs (MOFA) has responded on Sunday, Apr. 12, to an online episode that unfolded after Ho made a single comment on her Facebook post on Apr. 11.
The foreign ministry said that discussions on the donation of surgical face masks to Singapore are still in progress between the two countries, CNA (Taiwan) reported.
Taiwan's MOFA said policies made by both sides are based on "official statements by the respective governments", and will not be affected by "comments made by any individual", Taiwanese's state-owned news agency CNA (Taiwan) reported.
Comment sparked disbelief among Taiwanese
On Saturday, Apr. 11, Ho shared an article by independence-leaning news outlet Taiwan News that talked about how Taiwan is donating a million masks to Singapore, as well as other countries.
The donation is part of its New Southbound Policy that aims to reduce the self-ruled island's dependence on mainland China.
To accompany her post, Ho had written a comment that says "Errrr ....".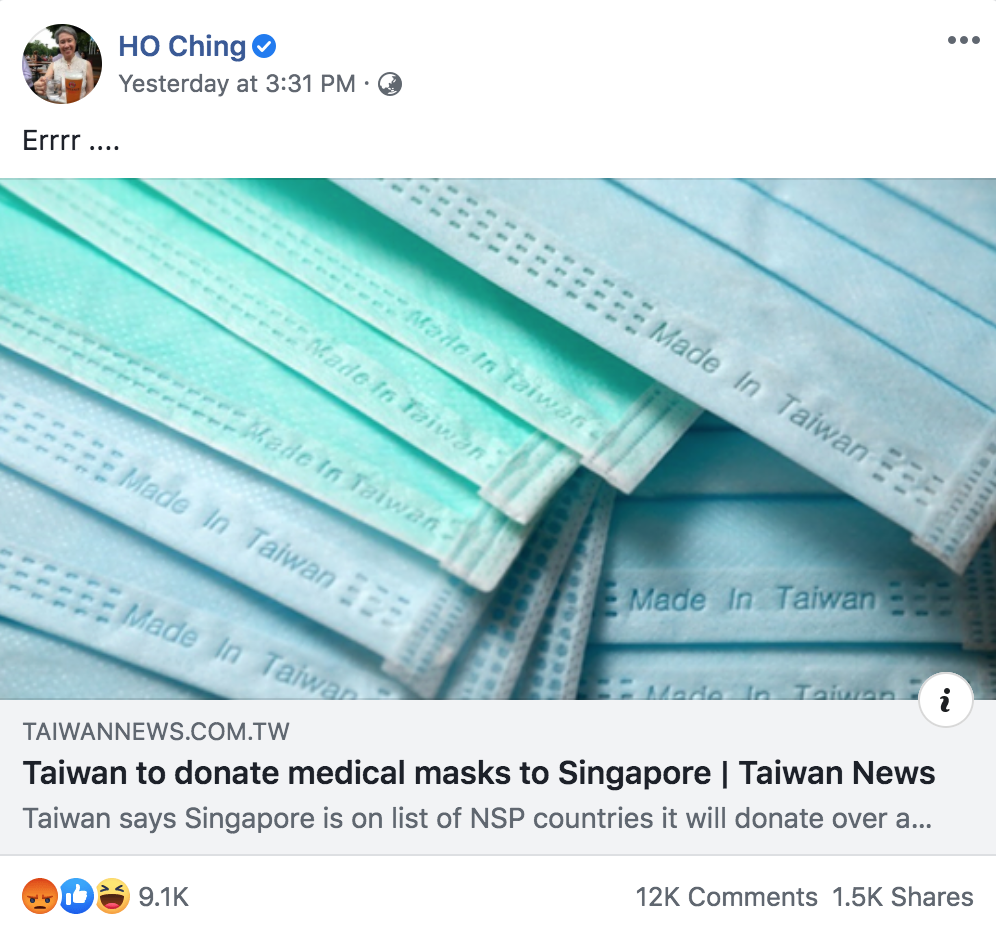 Her comment brought about a wave of comments from Taiwanese netizens, who felt that the comment was uncalled for.
This is because they largely perceived the donation as a sort of cooperation between friendly entities, and so it should not be viewed as a source of friction.


A day after the post, many commenters were still taking to Ho's newer Facebook posts, leaving similar comments that echoed her original comment in a mocking fashion.

However, several commenters sought to defuse the tension on her original post by thanking Taiwan for the kind gesture, and saying Singapore appreciates the help it receives and will in turn help others as well.




Some thought Taiwan's ban on mask export has affected Singapore's mask supplies
A commenter also tried to reassure Singaporeans by saying that Singapore's mask production lines in Taiwan have already been shipped back to the country in February this year.

His comment was not without sarcasm directed at those who had misunderstood the situation, and thought Singapore's supply of masks has been affected by Taiwan's ban on the export of surgical masks back in January.
It is unknown how such a misunderstanding might have arose, although the uncertainty surrounding the availability of masks in Singapore might have grown after the increased need for the commodity recently should people venture out of their homes to certain places.
Back in early February, Ho commented on the issue as well, saying that ST Engineering -- Ho was the engineering company's first Chairperson -- was trying to get its production lines back to Singapore from Taiwan, and that "if all goes well", the lines should be set up in Singapore by the end of February.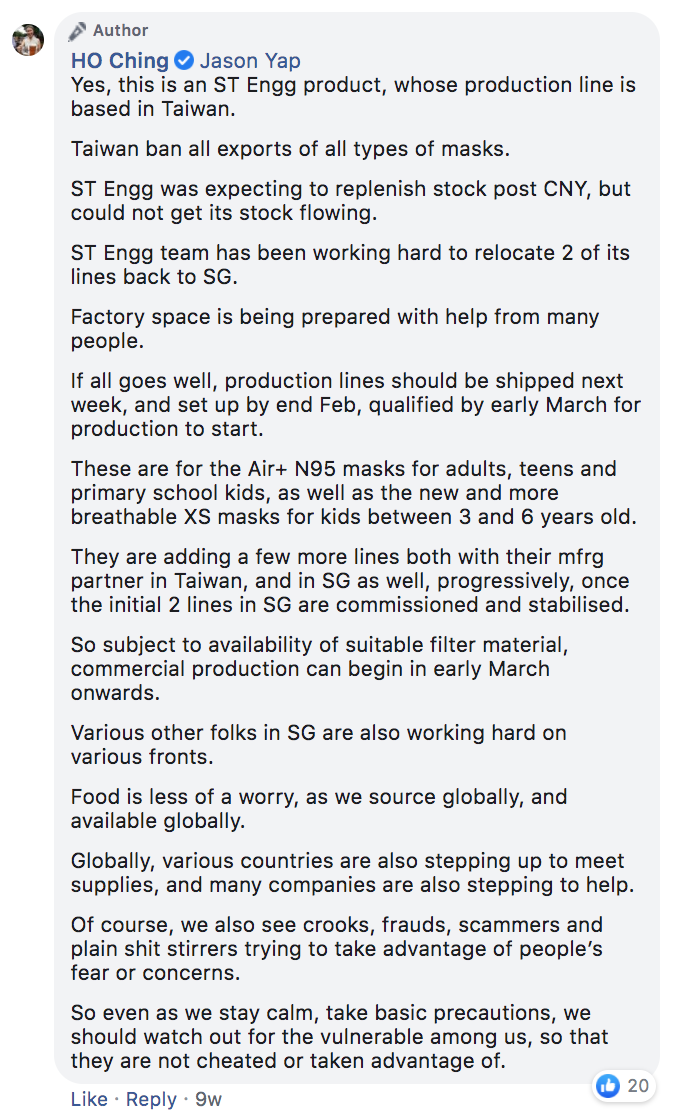 Taiwan says ST Engg has already moved mask production lines back to Singapore
The misunderstanding, which was further fanned by inflammatory posts from Singaporeans, was subsequently dispelled by Taiwan's Ministry of Economic Affairs.
An official from the ministry told CNA (Taiwan) that Singapore has already shipped its two mask production lines back as the ban only encompasses the export of masks, not machinery.
Yesterday, Taiwan's MOFA also urged the Taiwanese people to value the friendship between Singapore and Taiwan.
Ho shares her views on foreign affairs from time to time
Ho is fairly active on Facebook, sharing as many as 20 to 30 articles in a single day.
While she mostly shares the articles without commenting on them, she has occasionally used the social media outlet as a platform to air her views on both domestic and foreign issues.
For instance, Ho said it was "counterproductive" for China to suggest Asean member countries to lift travel curbs for Chinese nationals at a time when China is still imposing restrictions on its countrymen within its own borders.
Cooperation between Singapore & Taiwan
Taiwan's offer to donate masks to Singapore is not the only time when the former has extended its good will at a time when the world is overcome by the Covid-19 pandemic.
On March 29, Singapore's foreign minister Vivian Balakrishnan thanked the country's "Taiwanese friends" for letting Singaporeans board a commercial flight arranged by Taiwan's representative office in Peru.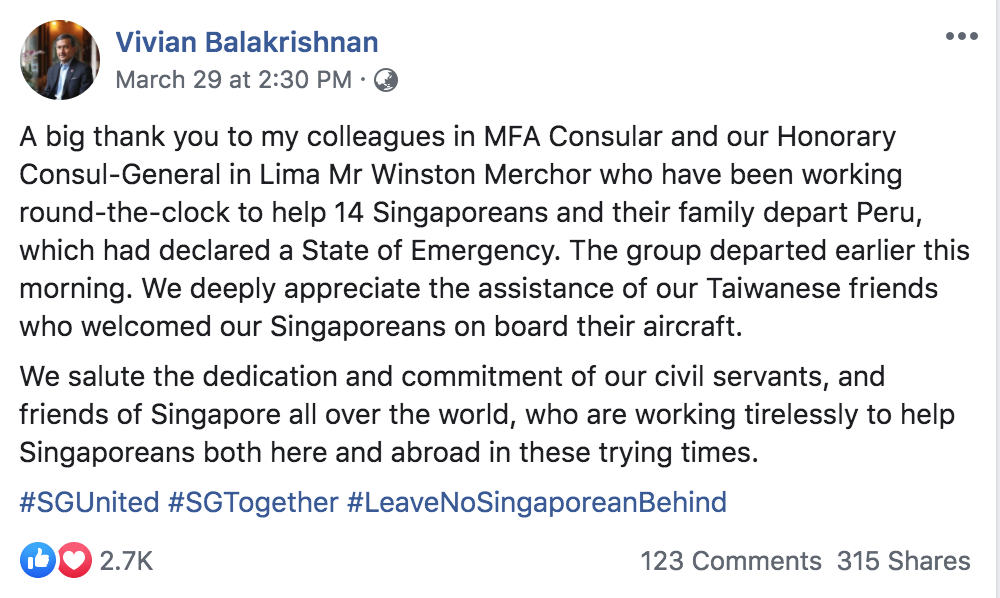 Top image adapted by Ho Ching/FB & Getty Images
Content that keeps Mothership.sg going
---
😢😫
Did you know? It's possible to develop eczema even at 25.
👁️‍🗨️💻
Have you ever been cyberbullied?
💥😨
What to do with your PMD during circuit breaker period.
🏠💼
We hate online meetings as much as you do.
If you like what you read, follow us on Facebook, Instagram, Twitter and Telegram to get the latest updates.