You may have received a WhatsApp message containing the following message: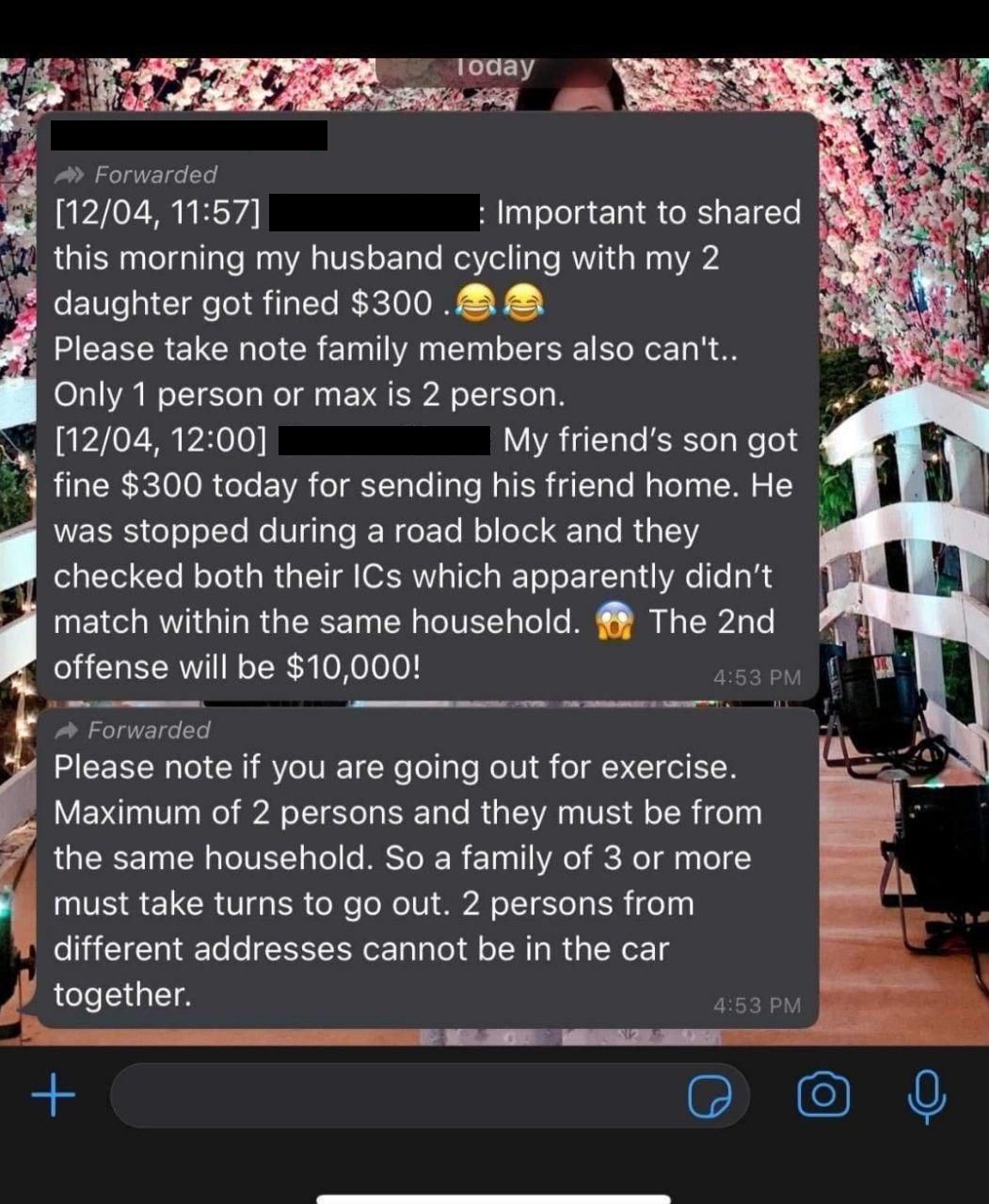 Two instances of fines issued for violating safe distancing laws
There are two claims in the message.
Claim 1: Fined for cycling: "family of three or more must take turns to go out"
The first claim says that a man was fined for cycling with his two daughters, presumably from the same household, because three of them were out at the same time.
The message added that only one or two family members from the same household are allowed to be out exercising at any given time.
Currently, according to safe distancing policies, Singaporeans are permitted to leave the house to exercise alone or with others that they live with.
However, safe distancing measures must be observed at all times and gatherings in groups in these places must be avoided.
The Singapore Cycle Federation has also advised a spacing of 20m for cyclists who aren't from the same household. All cycling should also be carried out alone or individuals of the same household.
We have reached out to the National Environment Agency for comment.
Claim 2: Friends fined for being in same vehicle
The second case involves a man and his friend who were stopped at a roadblock.
The message also claimed that a man was fined S$300 for being in the same vehicle because their IC stated different residential addresses.
In response to Mothership's queries, the police said that road blocks are conducted to detect offences such as drink-driving and for other law enforcement purposes.
They clarified that the police have not conducted road blocks specifically to enforce the elevated safe distancing measures.
However, they said that if the police come across motorists and passengers flouting the elevated safe distancing measures when conducting such road blocks, they may take enforcement action.
Top photo adapted via Singapore Police Force/FB
Content that keeps Mothership.sg going
---
👁️‍🗨️💻
Have you ever been cyberbullied?
🏠💼
We hate online meetings as much as you do.
If you like what you read, follow us on Facebook, Instagram, Twitter and Telegram to get the latest updates.