Asean should take up the issue of Chinese dams in the Mekong river contributing to severe droughts in downstream countries, Singapore's Ambassador-at-Large Tommy Koh suggested in a Facebook comment on Wednesday, April 29.
Koh: "China's behaviour is unacceptable"
Koh's comment was made in response to a post by retired diplomat Bilahari Kausikan, in which he shared an article from The Third Pole, a site that looks at water issues in Asia.
The article, first published on
China Dialogue
, talks about how Cambodia is facing problems with Chinese hydropower dams upstream that contributed partly to the "record droughts" in the Mekong region in 2019 -- the worst the region had experienced in a century.
Such water policies have also put a strain on the ecosystem of the Tonle Sap River, the article claimed.
Koh also added that China's behaviour is "unacceptable".

The 4,350km Mekong River runs through six countries.
Starting from China, it flows past Cambodia, Laos, Thailand and Myanmar, before joining the South China Sea through Vietnam.
Can Asean stand against China?
Asean has been criticised for failing to stand in unity against China, in light of the economic influence the latter wields over countries such as Cambodia.
For instance, for the first time in its history, the Southeast Asian grouping failed to issue a joint statement at its 45th Asean Ministerial in 2012, due to Cambodia's objection to the inclusion of the South China Sea issue in the final communiqué.
New findings claim China's holding back water from downstream countries in Mekong
According to Reuters, new findings from a study revealed that Chinese dams (Lancang dams) had held back the flow of large volumes of water from downstream countries during the drought, even though China had received unusually high levels of rain.
China rejects findings
China's government has since refuted the findings, saying they did not contribute to the drought, and attributing the phenomenon to low rainfall during last year's monsoon season on its portion of the river.
The explanation, however, was rejected by the American research company who conducted the study.
They said that satellite measurements of "surface wetness" in China's Yunnan province suggest the area had a combined rainfall and snowmelt that is higher than average during the May to October wet season.
Water levels downstream, on the other hand, were at times up to three metres lower than they should have been, the study concluded.
China accused of causing environmental damage elsewhere
China has also been accused of accelerating environmental damage to coral reefs in the South China Sea -- a region where China faces territorial disputes with other Asean countries -- and destroying its ecosystems, in the process of expanding and building on its artificial islands in the region.
Potential sticking point with China
The issue has already drawn ire among the people from the Lower Mekong countries, such as young Thais who brought the matter up with Chinese nationalists on Twitter in a altercation of words that resulted in a tongue-in-cheek "Milk Tea Alliance" being formed among Twitter users from Thailand, Taiwan and Hong Kong.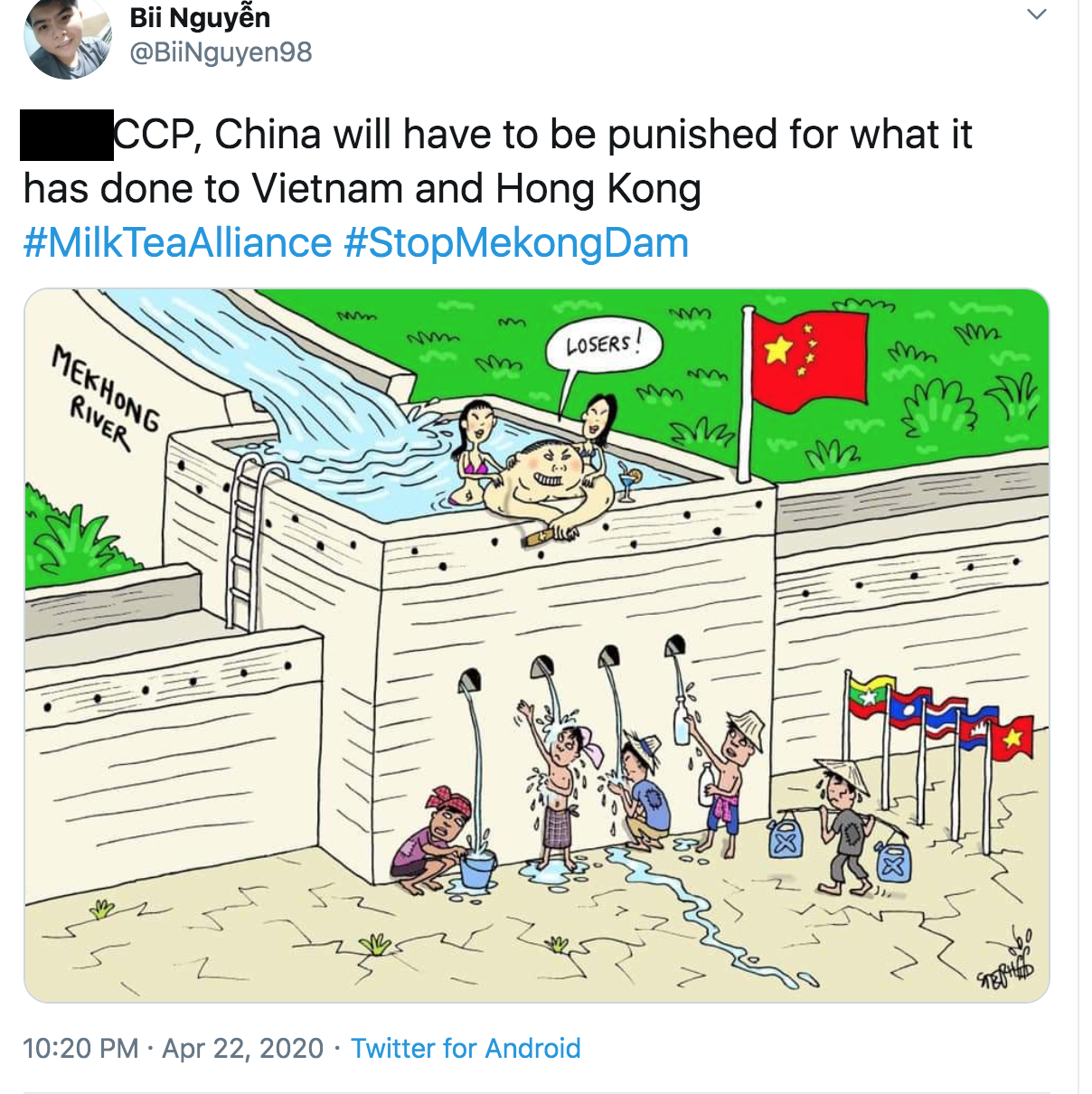 The frustration over the Chinese dams was just one out of the numerous issues that young Thais raised in their humorous and self-deprecating response to the insults lobbed their way by Chinese nationalistic social media accounts.
Such sentiments are part of the young Thais' dissent against the government, whom they felt was being overly cosy with the Chinese government.
As an indication of the extent the matter has caught on among Twitter users, the hashtag #StopMekongDam started trending on Thai Twitter on April 16, a day after the Chinese embassy in Bangkok reasserted its position and referred to claims by Thai Twitter users as "recent online noises".
China built many dams at upper Mekong. This behavior led to water shortage in downstream countries. The drought in downstream is mainly caused by reduced river flow, China explained.

But this picture below can show us something else. #StopMekongDam#MilkTeaAlliance pic.twitter.com/j5CBwES9o7

— Laure Sparkle (@LauraHJCA) April 15, 2020
Hong Kong Taiwan Vietnam our friend and friendship support #StopMekongDam Thai, Laos, Cambodian and Vietnamese people. We will die because there is no water. China is not a friend but our enemy.#ชานมข้นกว่าเลือด#MilkTeaAlliance https://t.co/76azUkksdn pic.twitter.com/Ax9cPFb29l

— Soha (@tranngocsonha) April 15, 2020
While frustration against the Chinese government's policies in the area has so far been limited to digital spaces, it remains to be seen if such resentment has a wider, longer lasting impact in the regions' relations with China in the future.
Top image via Getty Images
If you like what you read, follow us on Facebook, Instagram, Twitter and Telegram to get the latest updates.