It was Mar. 16 when Malaysia's Prime Minister Muhyiddin Yassin announced that a lockdown would be taking place from Mar. 18 to 31.
In the wake of this announcement, there was a mad scramble on both sides of the Singapore-Malaysia border as Malaysians working in Singapore and their employers sought to deal with the new situation.
Some companies such as SBS Transit and SMRT have since succeeded in securing accommodation for their Malaysian workers at a hotel, with a daily allowance of S$20 per day.
Yet there have also been less-fortunate Malaysian workers who ended up camping out at Kranji MRT, at least for one night.
In the meantime, the Singapore government is working with private and public sectors to provide a range of short-term housing options.
Manpower Minister Josephine Teo has also announced that the government will be giving S$50 per worker per night, for firms with employees who are affected by the lockdown.
With such changes afoot, it is perhaps to be expected then, that the drastic change in the situation has taken an emotional toll on some workers.
Such was the case for R (not her real name), a 54-year-old Malaysian and mother of four.
R has been working in Singapore as a night shift security guard for 10 years, for six days a week.
R is part of an average 300,000 Malaysians who cross the Causeway daily.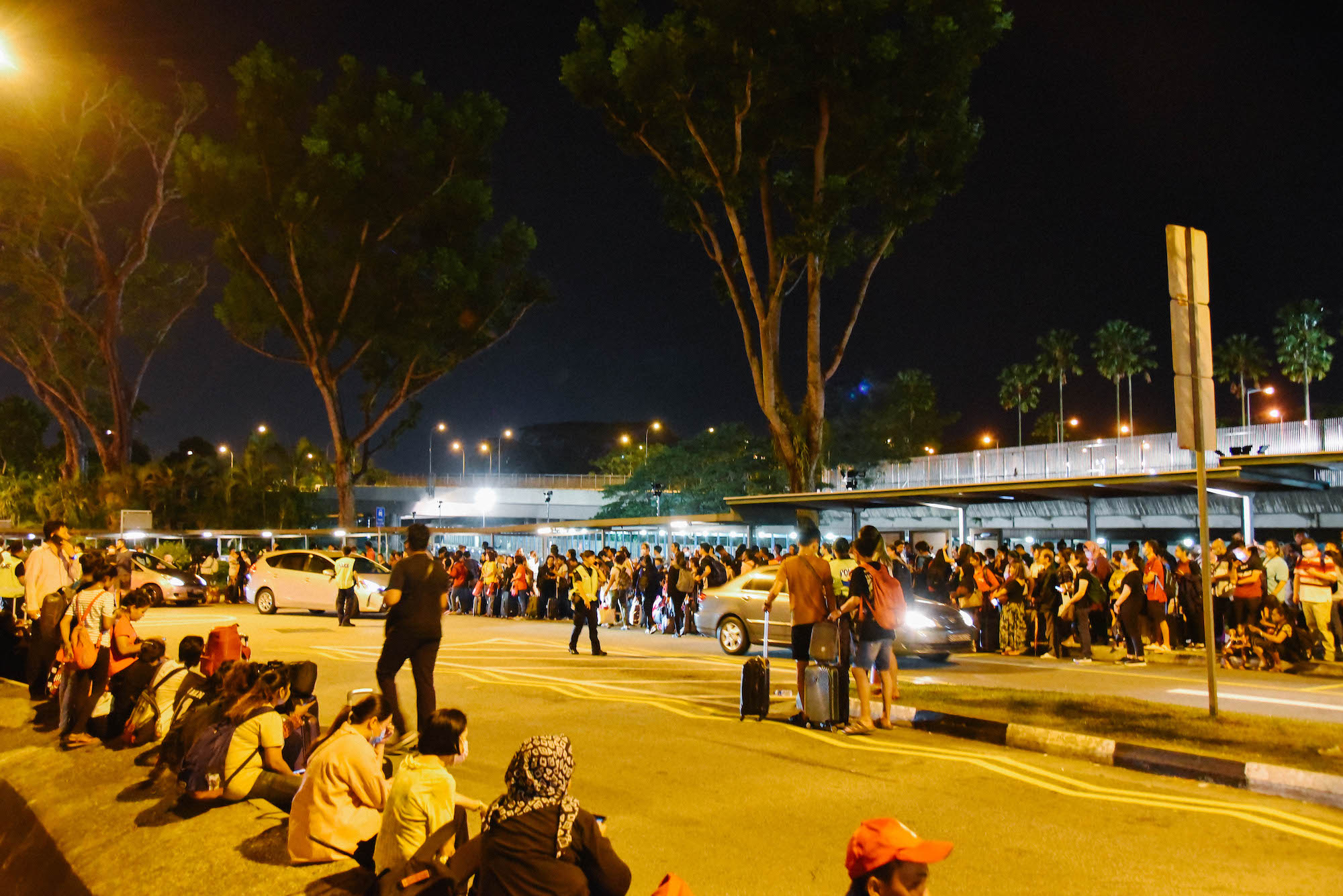 Speaking to Mothership, R shared that she usually spends an average of five to six hours travelling to and fro her home in Johor Bahru via Woodlands, with each leg of the journey taking up to three hours.
"I work six days a week, 12 hours. In the security line it's 12 hours. I'm permanent (night shift).
Night time, my husband (who works as a machinery mover in JB) will be at home, so morning at least I can go back and see my kids going to school, then after that I have a nap.
So at least someone is there to take care of my kids all the time."
At the time of Muhyiddin's announcement of the lockdown, R was on her shift in Singapore.
Unsure about the situation and whether it affected her status as a work permit holder, she asked a checkpoint officer at Johor Bahru, as she headed back to Malaysia in the morning of March 17.
She was told that work permit holders would not be affected.
CNA reported that as of noon on the same day, it was unclear as to how the lockdown would affect the approximately 300,000 Malaysians who travel across the Woodlands and Tuas checkpoints for work.
Even so, many workers were already acting under the assumption that the lockdown also applied to them.
Then in the afternoon, R added that "the head of the JB checkpoint" -- immigration director-general Khairul Dzaimee Daud -- officially confirmed that the lockdown also
applies to Malaysians who commute daily to Singapore for work
.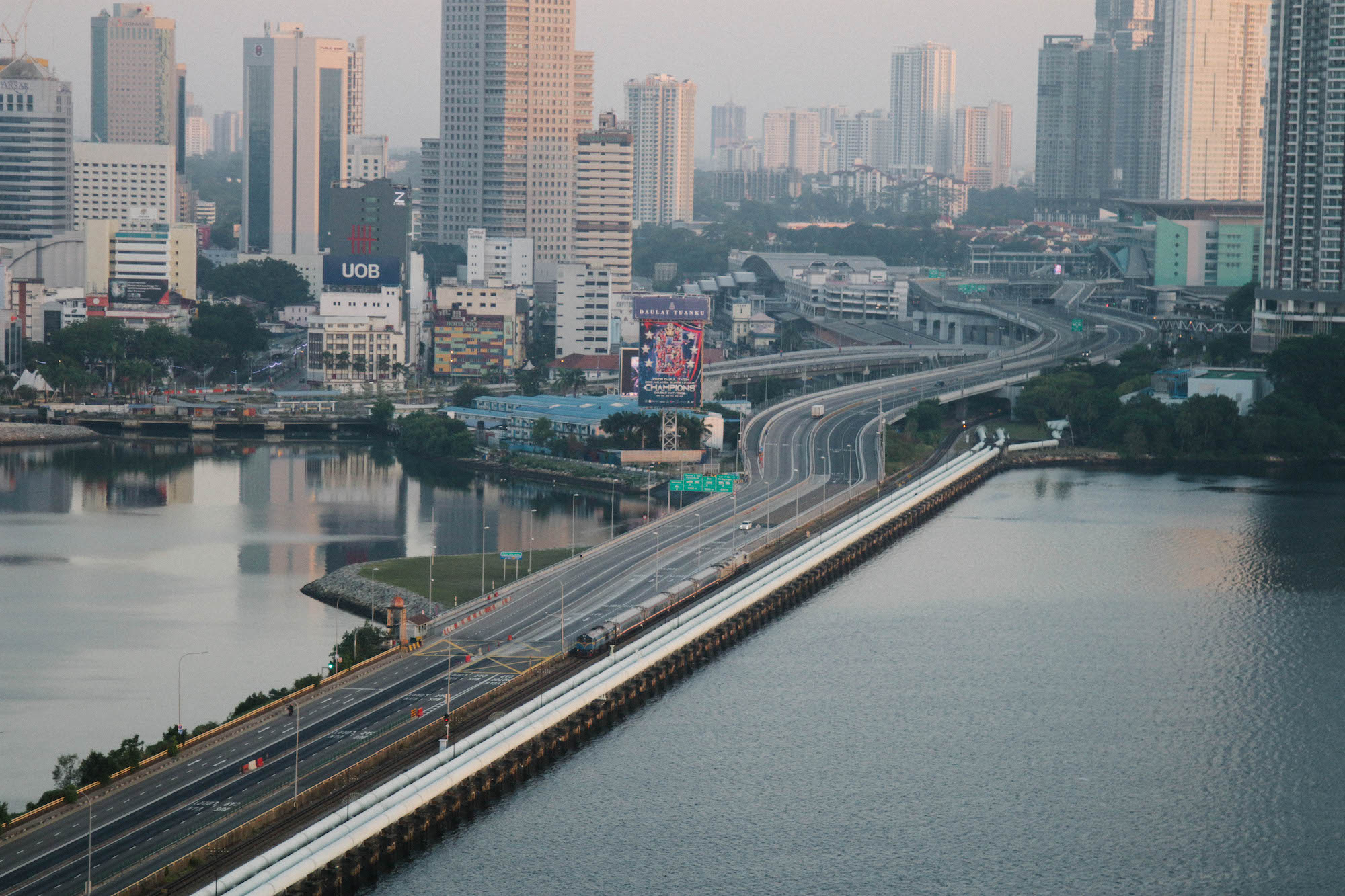 Daud also stated that the lockdown was going to happen at midnight.
"I felt panic and angry.
(Both governments) should sit and talk nicely... Singapore got no issue on us coming in. But Malaysia say they want to lockdown then lockdown. Both sides should have talked about it in advance to let people plan ahead."
R then called her company and eventually ended up speaking to her operations manager who then allegedly gave her two options:
Stay in a space within her company's office block, shared with others and segregated by gender, where she would be given a mattress and pillow with access to a common bathroom in the building. S$10 would be deducted for each day, so a total of S$140 would be deducted from her pay at the end of the month.

Find her own accommodation, in which case the company would offer to pay her S$10 per day.
At that time, it is likely that the company had not yet applied for the relevant Ministry of Manpower grant yet.
Considering having to share a sleeping space, bathroom and toilet with other colleagues for two weeks, R gestured towards what she sees as a potential danger -- because "not everyone can get along".
As such, she decided to pick the second option and headed to Singapore, packed and prepared to not see her family until March 31.
However, upon reaching Singapore she was hit with more bad news.
Her management (the firm where she carries out her security duties at) said her company had messaged them instead, to say that her daily allowance of S$10 will be paid to the management, at the end of March as a reimbursement.
"I was in a position where I cannot go back and I'm stuck here, the job I need. Because of this job I already come in. I got no choice. So employers should help us.
We cannot go elsewhere and ask for help, even (from) our management."
She considered going to the kopitiam to rest in the day until her shift starts, as she cannot afford to find her own accommodation.
But some relief came in the form of her management, who kindly allowed her to use their facilities to rest, for the first day of the lockdown.
Even so, this situation remained untenable in the long-term, with her management writing in to her company on March 18, to inform that they were unable to accommodate her as they only had a recliner for her to rest in the day.
"But they were scared that I might get sick, without getting a proper rest, proper bed to sleep, because I was just resting on a recliner.
On the 18th, I was talking to my OM, I was checking with him, how is it, now management doesn't provide accommodation for me. How? Then he asked me to go and rest in the place (the common space) in the building. So I agreed because I got no choice."
Asking her company about the daily S$50 per employee grant for firms, R's operations manager told her to come back to the office to see the common space they had set up for their employees and said that they were still "investigating" with regard to the grant.
At this point, R broke down again over the hopelessness she felt.
"It's not that I'm condemning my company. But the way they do this, the feeling that I was having, is very painful...I want other bosses to know how their own employees also feel...so that they can consider.
I thought, why did I come here instead of staying at home with my family?"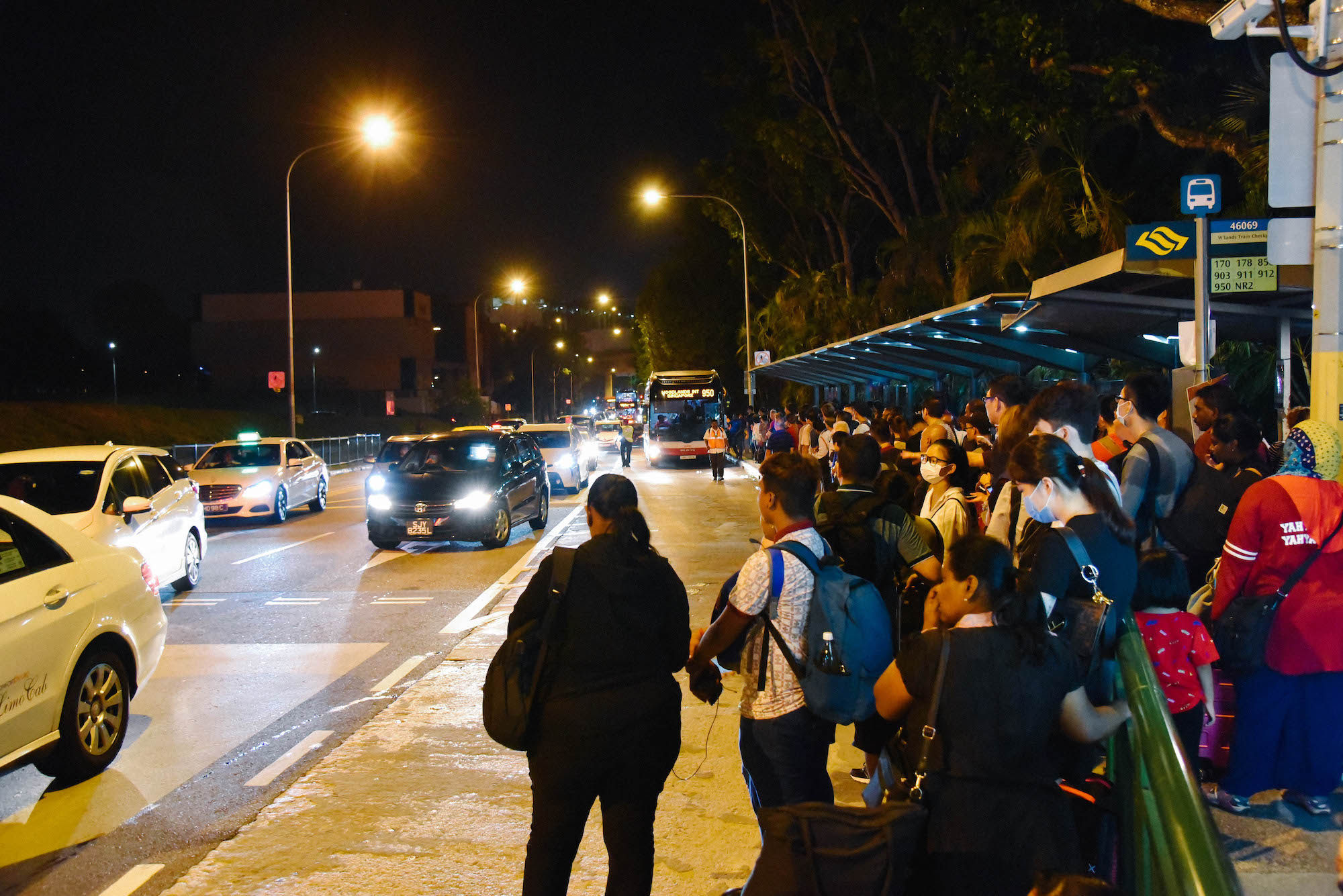 Thankfully, for R, her company eventually put up her in a hotel near Clarke Quay, together with some of her other Malaysian colleagues, on the second day of the lockdown.
She also said that she was not being charged S$10 per day as her company has supposedly applied for MOM's grant, based on what she has heard from her colleagues.
Referring to the workers who slept rough at Kranji MRT, R acknowledged that her situation was far from the worst since her employers eventually provided her with accommodation.
But the future remains uncertain for R, who also expressed her insecurities with regard to the movement restriction order imposed by Malaysia -- what if the border doesn't reopen, for instance?
But that will be a problem for another day.
"(I'm) praying it will be open on March 31 but if they want to extend, I don't know, I have no idea.
When I wanted to come, (told my children to) just bear 14 days until I come back. If they extend some more, I don't know."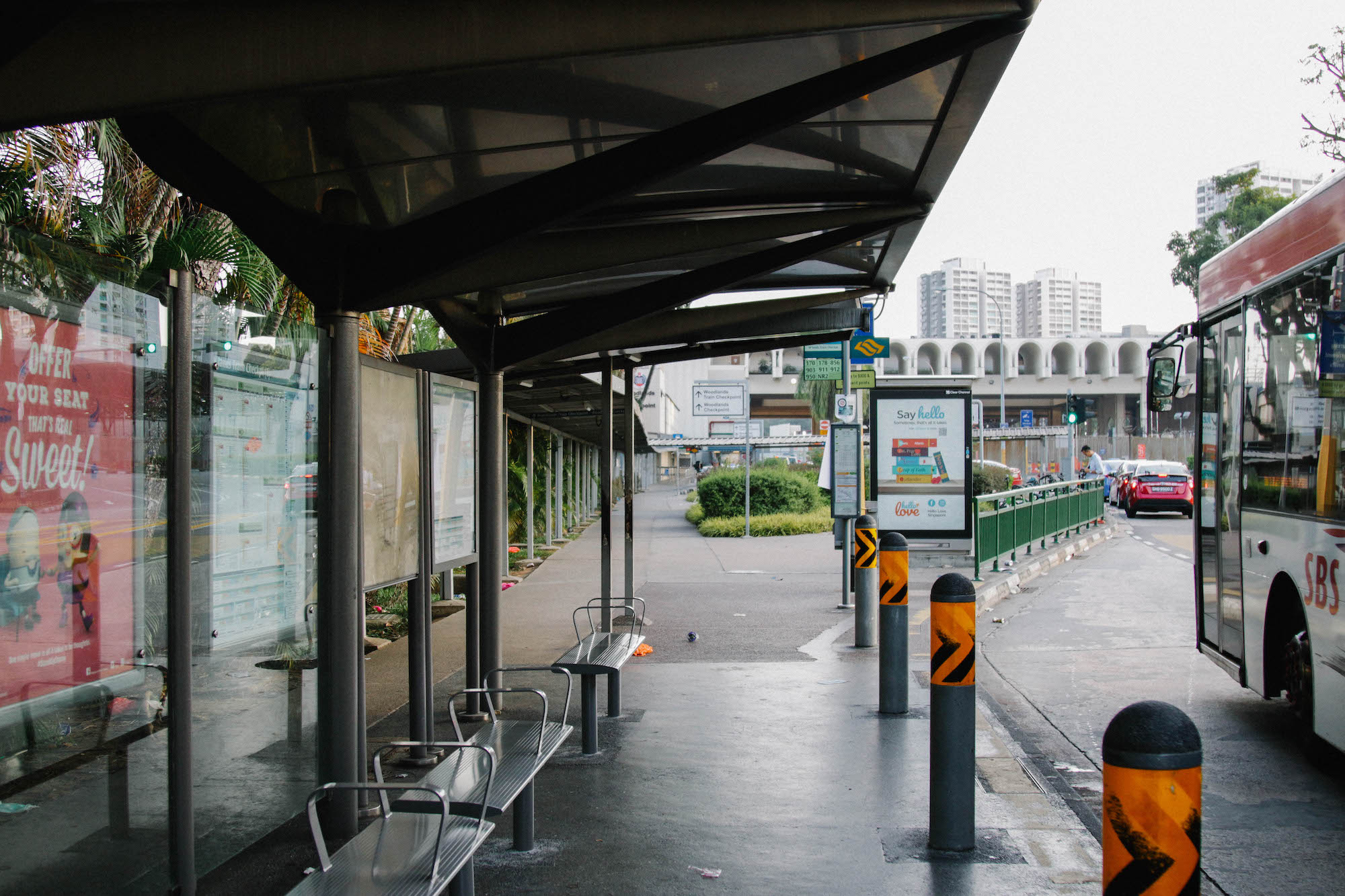 Top image by Nigel Chua
If you like what you read, follow us on Facebook, Instagram, Twitter and Telegram to get the latest updates.