The local Red Cross chapter in Wuhan has been criticised for failing to get much-needed supplies to hospitals working on the front line to fight the novel coronavirus.
Hospitals lacking supplies
Hospitals in Wuhan were widely reported to be lacking essential supplies such as masks and protective suits to avoid getting exposed to and infected by the virus.
Wuhan Union Hospital has appealed for donations from the public, saying on Jan. 31, 2019, that they require 3,000 protective suits, 5,000 N95 masks, 8,000 surgical masks and 3,000 disposable protective suits, The Paper reported.
In areas outside of Wuhan, health workers have even resorted to wearing protective suits fashioned from disposable rain ponchos, and protecting their feet with garbage bags instead, Yicai reported.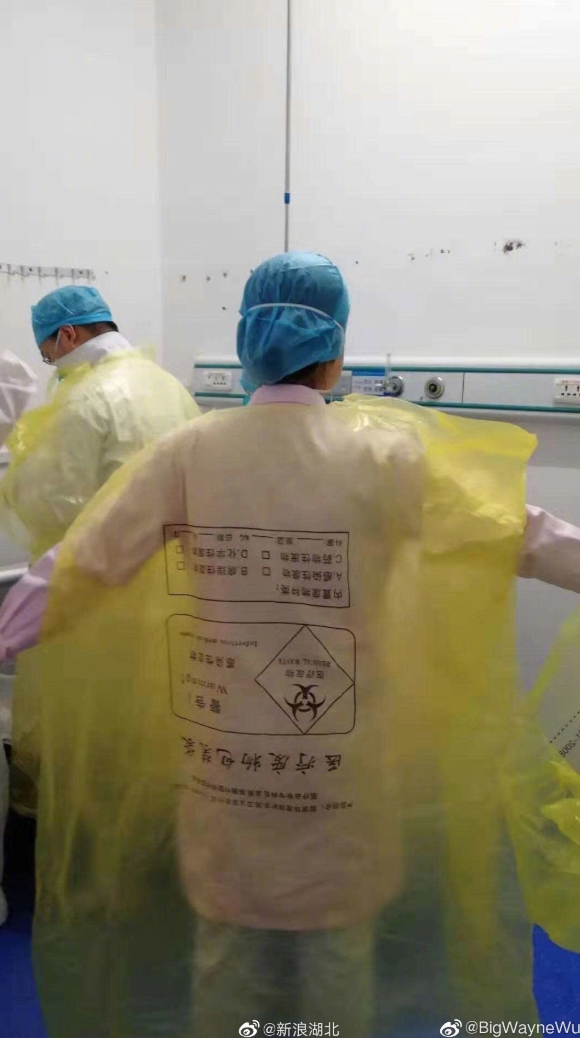 In response to appeals for donation, masks and other supplies have poured into hospitals in Hubei Province, but mainly Wuhan, from all over China through campaigns started on Weibo and WeChat, Al Jazeera reported.
Videos show boxes of supplies at warehouse
Videos circulating on Twitter reveal stacks of supplies in the Wuhan Red Cross warehouse, sparking anger from Chinese nationals and foreigners alike on the social media platform.
全球捐的医用物资
都被武汉红十字会囤积在国博A1仓库里

内部员工都看不过去
拍出视频曝光于世

pic.twitter.com/kR3OJiOyAH

— MrdoorVPN.翻墙梯子官方 (@Mrdoorvpn) January 31, 2020
https://twitter.com/Lionmountains1/status/1223230788621090816
A healthcare worker at Wuhan Union Hospital told pro-Falun Gong media outlet New Tang Dynasty Television that supplies were perhaps withheld from the hospital as they had inadvertently offended the political leadership by being the first to report on the virus outbreak.
Chinese social media users angered
News of the Wuhan Red Cross failing to distribute donated supplies to medical facilities were widely reported and discussed on China's Twitter-like Weibo.
For instance, Chinese commenters could not wrap their heads around reports of the chapter sending supplies to places that did not need them urgently, instead of giving them to hospitals battling the virus on the front line.

"I'll never donate to the Red Cross ever again."
---
"Return the money I donated to me."
---
A report from Al Jazeera also claimed that plenty of masks were sent to hospitals that do not treat coronavirus cases, while a smaller number of masks were sent to Wuhan Union Hospital -- a hospital at the front line that received its first coronavirus patients in December 2019.
Unsuccessful media attempts to probe into the matter also sparked speculation among social media users that the organisation is harbouring corruption within its top management.
Commenters on Weibo went wild when a CCTV livestream at the chapter's facilities where the reporter was attempting to find out more about the situation was abruptly cut off.

"The Red Cross is so amazing my entire family was shook."

Reply: "I'll let you guys in on a joke. CCTV reporters could find their way to a Brazil drug cartel, but are unable to enter its own country's Red Cross warehouse."
---

"They even dare to obstruct a livestream that's viewed by 13 million people, who exactly is backing this Red Cross!"
---

"If he stopped the reporter (from entering the warehouse), he would lose his job in the worst case scenario, but many people would thank him. If he doesn't stop the reporter, he would be screwed by the upper management."
---

"You've forced some people into hiding inside, how could they let you in?"

Reply: "No wonder I saw that some supplies being sold on Taobao were distributed from Wuhan, I was surprised during that time, but Wuhan kept lacking resources, yet people from Wuhan are selling stuff on Taobao, alright I get it now."
---
"I suggest dissolving the Red Cross after this is over."
Red Cross defends itself
Jagan Chapagain, the new secretary-general of the International Federation of Red Cross and Red Crescent Societies (IFRC), has rejected such accusations against the Wuhan Red Cross.
According to AFP, he said it was "not totally unnatural" for the local chapter to have some shortcomings as they had not dealt with "this type of situation recently", and had to "massively scale up in a short period of time".
However, he did not refute claims that the chapter had chosen to withhold the supply of masks donated, saying such a "deliberate" decision was because they felt the masks were not safe for use by health professionals.
He further urged donors to ensure the quality of the equipment that they donated to the Red Cross.
Wuhan Red Cross has also refuted allegations of corruption, telling Caixin that they must be "mental" to have taken the masks and sold them off.
The local government also explained to Caixin that the Wuhan Red Cross experienced difficulties in distributing the supplies due to the sheer volume of donations they received, as well as the difficulties in sorting out the different types of supplies.
Private firm roped in to help out
In the wake of intense criticisms, the chapter has since roped in external assistance to help manage its resources.
According to The Beijing News, Jointown Pharmaceutical -- a private retail pharmacy company -- was able to get emergency supplies ready to be delivered within two hours from the time they arrive at the warehouse.
A representative, however, told National Business Daily that the company is simply responsible for managing the supplies, and not distributing them.
Top image adapted via @MrdoorVPN & @Lionmountains1 
If you like what you read, follow us on Facebook, Instagram, Twitter and Telegram to get the latest updates.