It has been exactly a week since personal mobility devices (PMDs) were banned from public footpaths.
The decision, of course, was largely met by vehement disagreements from plenty of PMD users, especially the food delivery riders who depend on their devices to make a living.
"I think this matter would have blown over by now," I, a non-PMD user who is the least affected by this ban, naively said to my colleagues while walking towards a Meet-the-People session in Woodlands.
But boy, was I gravely wrong.
30 over PMD riders gathered
When we arrived at Block 366 Woodlands Avenue 5 at around 7:45pm, we were met with the sight of over 30 PMDs parked neatly at one corner of the multipurpose hall.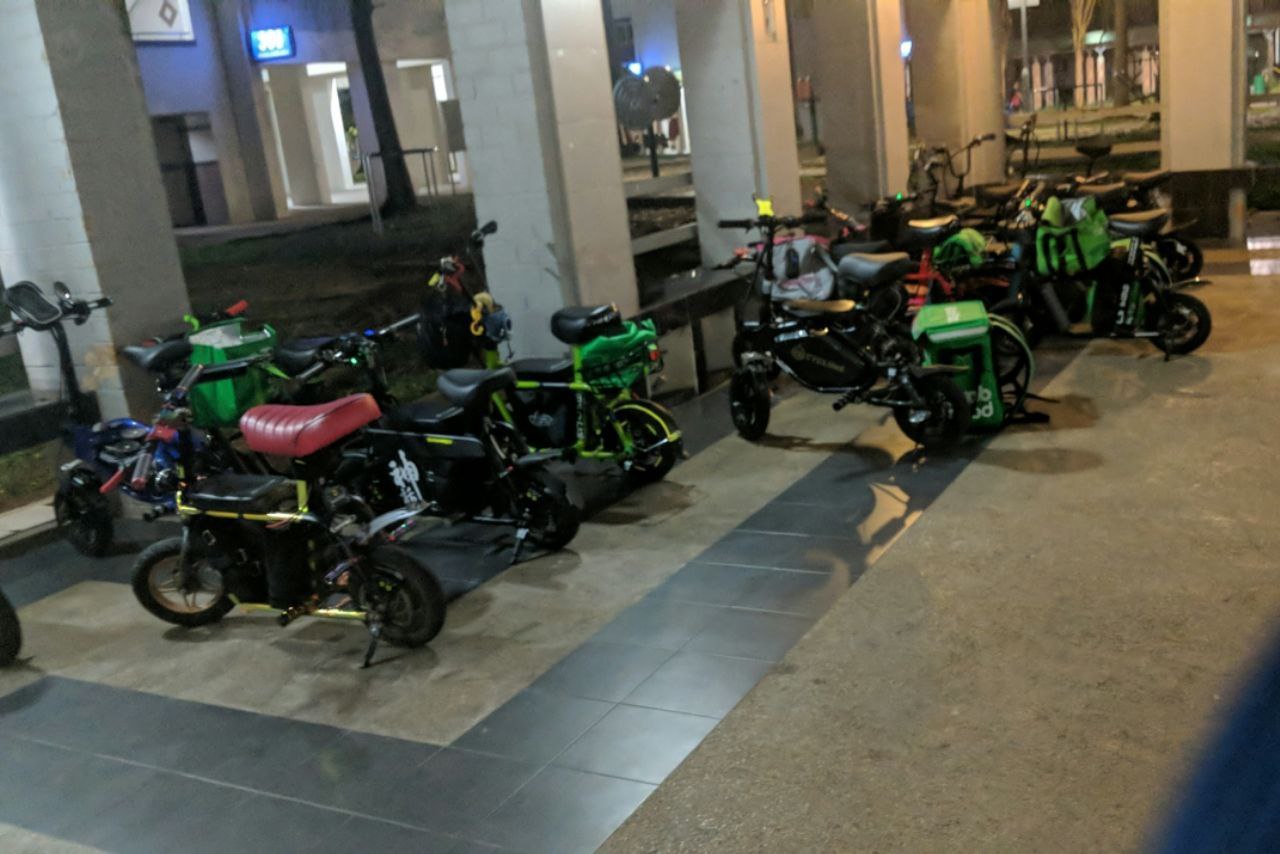 The crowd consisted of a handful of teenagers as well as adults in their 30s who brought along their young kindergarten-going children.
The last thing these people looked like they were going on was a rampage.
The congregation of warm bodies looked exactly like how friends would gather.
While waiting for the Member of Parliament (MP) to arrive, some of them were playing rounds of Call of Duty: Mobile, while others discussed the deliveries they had done for the day.
"Today not so bad lah, not a lot of 'green men' (their code name for LTA's Active Mobility Enforcement officers)," I overheard one of the riders said.
But when MP Ong Teng Koon walked over to the multipurpose hall, they quickly and civilly gathered around him, ready to share their grievances and see what he had to offer.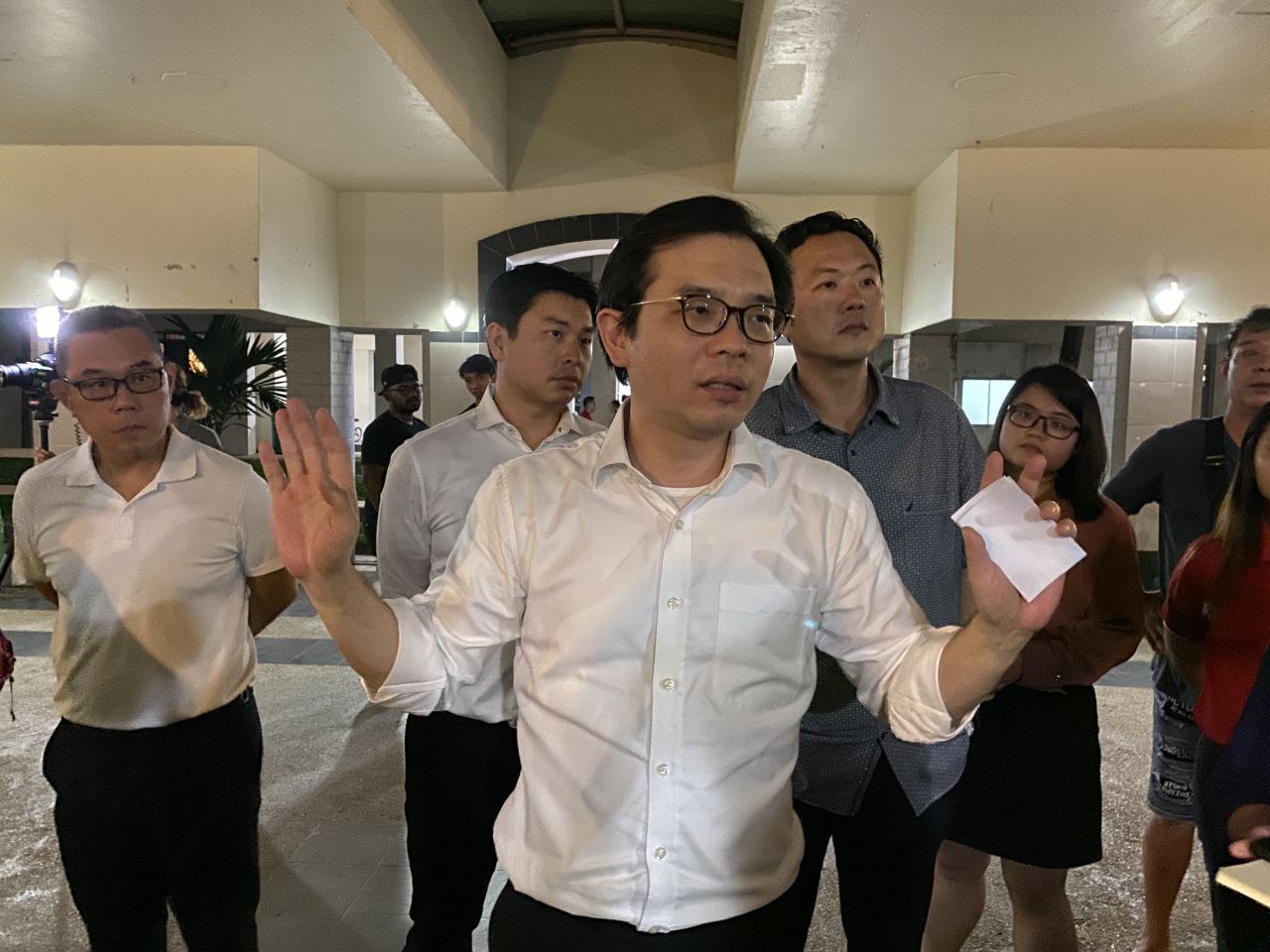 Suggested working as postman
After exchanging pleasantries with the troubled riders, Ong gave a plethora of suggestions, and even brought along of posse of people from NTUC and e2i (Employment and Employability Institute), whom he said he had brought along in hopes of helping those gathered find an alternative job.
At one point, he even asked if they were open to working as a postman for SingPost.
At least one person, however, maintained his loyalty to continue as a food delivery rider:
"Can... If we (become) postman, then other people don't need to eat lah, don't need to other makan."
But as it turns out, a lot of the food delivery personnel only resorted to doing food delivery because they couldn't find any other jobs in the first place.
Speaking to Mothership, 34-year-old Khid shared that he has been to several job interviews only to be put on hold since he was retrenched from his forklift operator job a few months ago.
"That's what I'm going through. From June, I've been looking for a job through proper channels, everything I go. But I cannot find a full-time job, all are contract jobs for three or six months period. How like that?"
Offered Class 3 license
Apart from that, Ong had also suggested for them to look for other alternatives to the PMD, such as a bicycle or even applying for a Class 3 license instead.
He even offered to write in to help some of them get a Class 3 license that will be paid for. (The MP might have meant to say Class 2B, which is a motorcycle licence, as Class 3 is for cars.)
But when we spoke to some riders afterwards, one of them thought of the suggestion as "a joke":
"Now you ban the PMD and ask everyone to take the license, isn't it funny? That's more money we have to fork out by the way."
Different circumstances
Another person then asked how he could help the single parents who require the flexibility of the job to be able to care for their children while working at the same time.
To this, Ong replied: "I'm doing my best to try to help you, we'll solve each case one at a time. Everyone has got a different situation, everyone's family is also different. For single parents, we'll try to solve it one case at a time. I don't think there's going be one solution for everyone."
And that's the thing: Every rider has their own circumstances and reasons as to why they would want to continue doing this job.
No matter what their circumstances are, delivering food with their PMD has lifted huge burdens off their shoulders and gave them the opportunity to turn over a new leaf.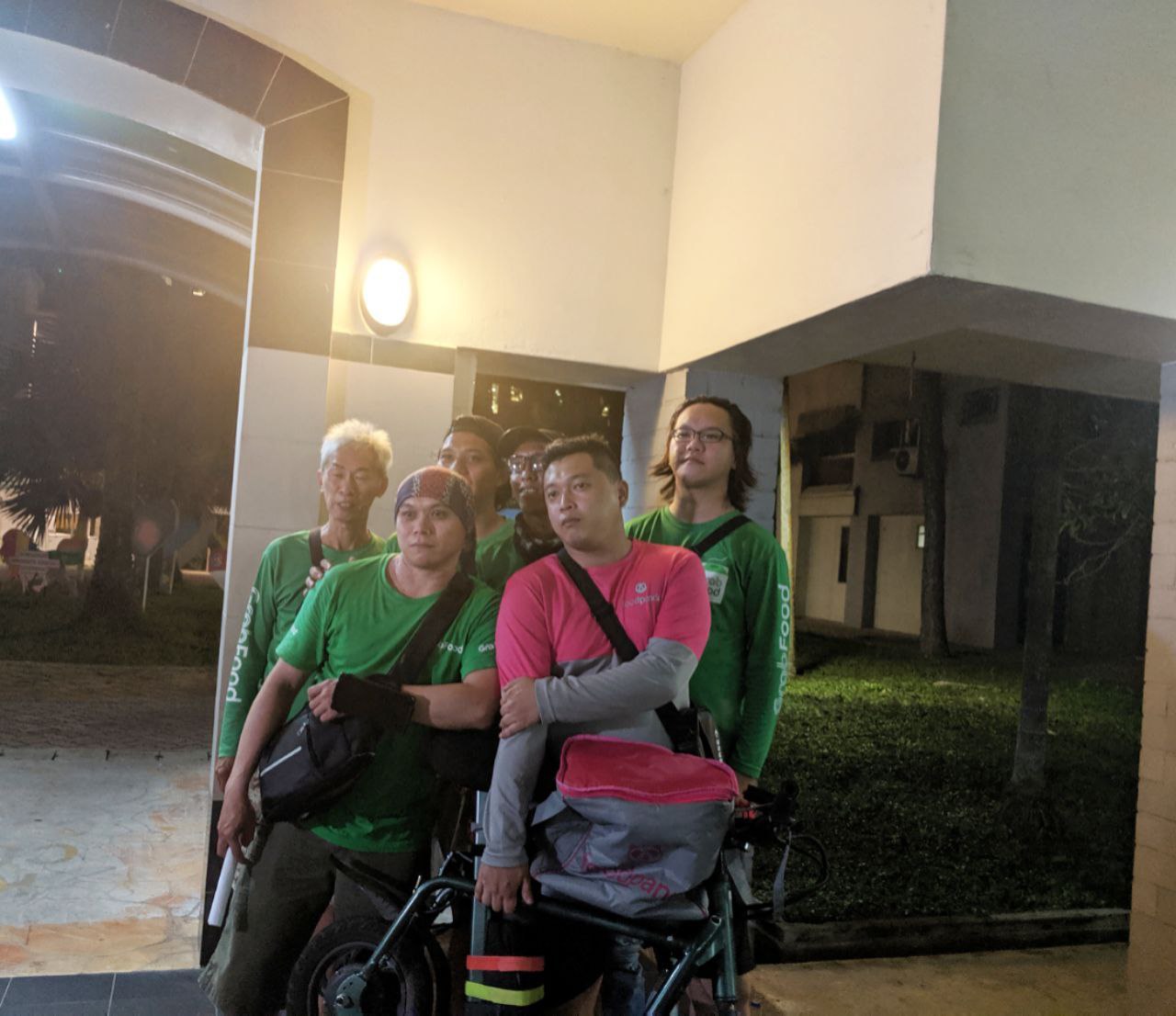 Apart from being newly-retrenched, Khid was previously jailed for a drug offence and is a single father to a 15-year-old, to whom he has to provide S$400 in child support per month.
He feels that being a delivery rider is the best job for him right now as he needs the flexibility to take care of his child and to also provide his tri-weekly urine test.
"Every Monday, Wednesday and Friday, I have to go for my urine test. Who else want to hire me (apart from Grab), like that?"
The life of 32-year-old Muhammad Zailan, on the other hand, was literally saved by becoming a food delivery rider.
The father-of-two fell into depression and tried to commit suicide three times because of the financial difficulties he was facing.
"I was released from prison and every three months is a struggle because they have to keep checking my financial statements despite knowing my status. Even with government help, it is still a struggle. "
However, working for GrabFood became a feasible solution as he can work and earn to buy necessities almost immediately.
Zailan and his wife would take turns delivering food and taking care of their children. He would deliver food with their PMD in the day, while his wife would do it at night as he also suffers from night blindness.
Receiving less orders
Oh Kuang Wee, 38, on the other hand, wanted to be a law-abiding citizen and tried delivering food with a bicycle following the announcement of the ban.
That, however, didn't turn out well for the sole breadwinner of his elderly parents:
"I cycled until my leg cramped, too long never cycle then suddenly need to cycle so much in a day, even a machine would also break la! 10 trips my legs also cannot already."
Despite their differences, they all share a huge problem following the PMD footpath ban: A substantial paycheck cut.
After shaking his head calculating the loss of income, Khid shared: "After the ban, people cancel more frequently because of the long distance. From about 20 deliveries a day, now we do about half of it only. Each delivery about S$5, can you imagine that?"
More regulation needed
When asked about what should have been done instead of a ban, a lot of them answered that PMDs required regulation.
In fact, one Xiao He suggested limiting the usage of PMDs to those aged 21 years old and above:
"Some of them above 21 years old have the maturity of the safety because most of the time they actually ORD from the army so they have this opportunity. Rather than those 18 years old that are still young, some of them don't have the thinking at all."
Business as usual
Alas, these decisions are not up to these riders to decide.
Even Ong, the person whom they were hoping to receive help from, can only do so much.
Before going on to give his name cards to the riders in case they need more help, he said: "In the short term, I will try to help you. I will try to help you find a job. But in the long term, I have to submit this to the minister and let him figure out what to do because it's not my area (of expertise)."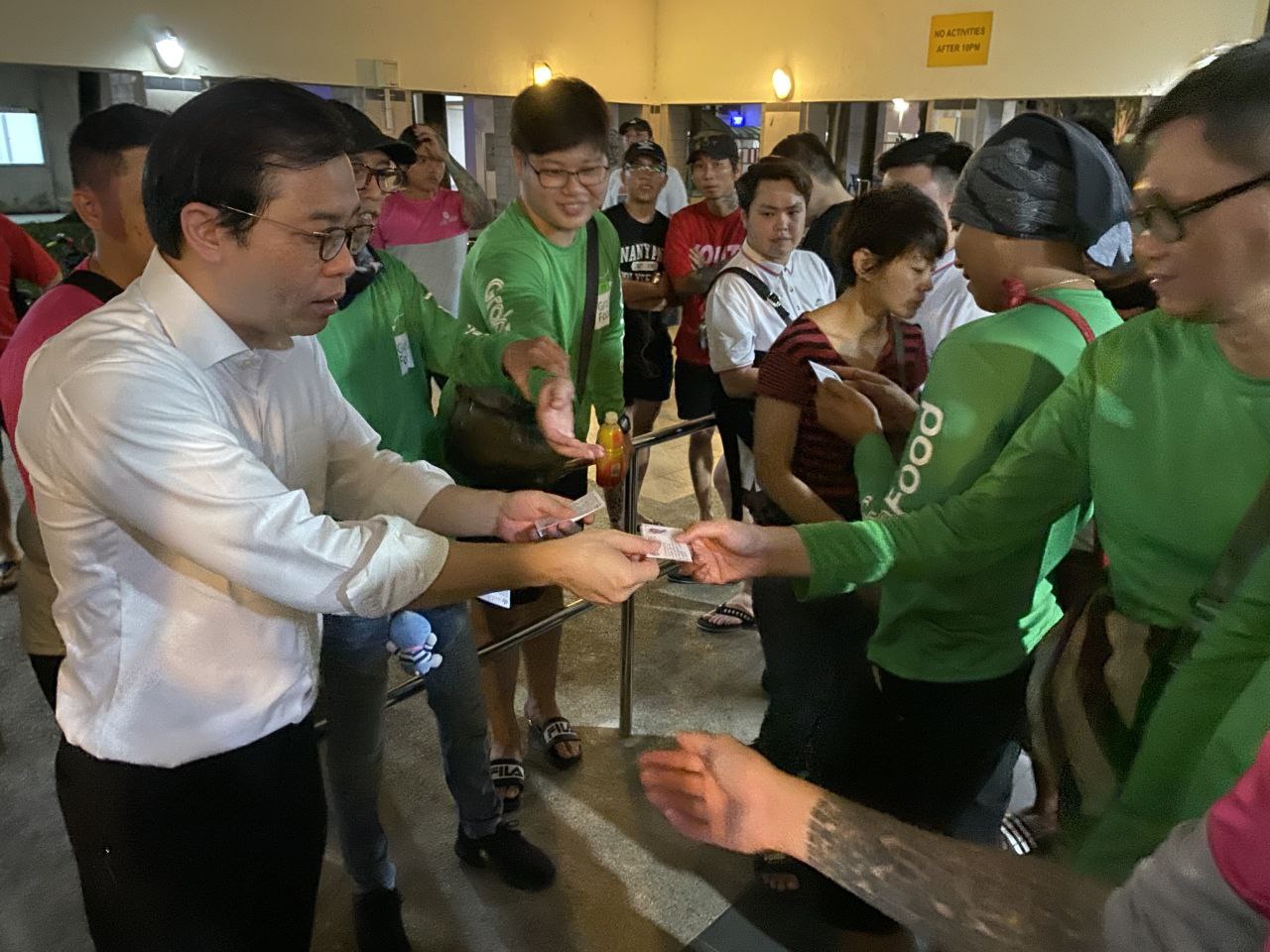 The night ended civilly with them shaking hands with Ong.
However, the night didn't end with what they wanted in mind.
But after a five-minute smoke break, a lot of these riders switched on their delivery app and it was business as usual for them again.
Before scooting off on his UL2272-certified device, Khid said:
"I have to make up for (loss) time, so I am going to work maybe until 5am. GrabFood is 24 hours now, if we don't deliver their food, then who will?"
Top image by Lauren Choo
If you like what you read, follow us on Facebook, Instagram, Twitter and Telegram to get the latest updates.