Following the recent spate of personal mobility device (PMD) tragedies, the Land Transport Authority (LTA) is prohibiting all electric scooters (e-scooters) from public footpaths.
This ban will take effect from Tuesday, Nov. 5, 2019, meaning that from tomorrow onwards, they will only be allowed on cycling and park connector network paths.
This was announced by Senior Minister of State for Transport Lam Pin Min in Parliament on Monday (Nov. 4, 2019).
Lam said that while the government has put in great efforts in promoting the safe use of PMDs, there continue to be errant riders who use non-compliant devices and ride dangerously.
On average, about 370 active mobility offenders are caught each month and the number of accidents involving motorised PMDs continues to rise.
Advisory period from Nov. 5, 2019 to Dec. 31, 2019
LTA is giving an advisory period from Nov. 5 to Dec. 31 to allow e-scooter users time to adjust to said ban. During this period, people caught riding e-scooters on public footpaths will be issued warnings.
From Jan. 1, 2020, all users caught riding e-scooters on public footpaths will face fines of up to S$2,000 and/or imprisonment of up to three months.
The ban only covers e-scooters. Bicycles and personal mobility aids such as motorised wheelchairs will continue to be allowed on public footpaths.
So where can e-scooters be ridden?
With this ban, e-scooters are now not allowed on all footpaths and roads. If an e-scooter user encounters a public footpath, they will need to dismount and push.
E-scooters can only be used on shared paths, cycling paths and Park Connector Networks. If you don't know what these look like, here you go: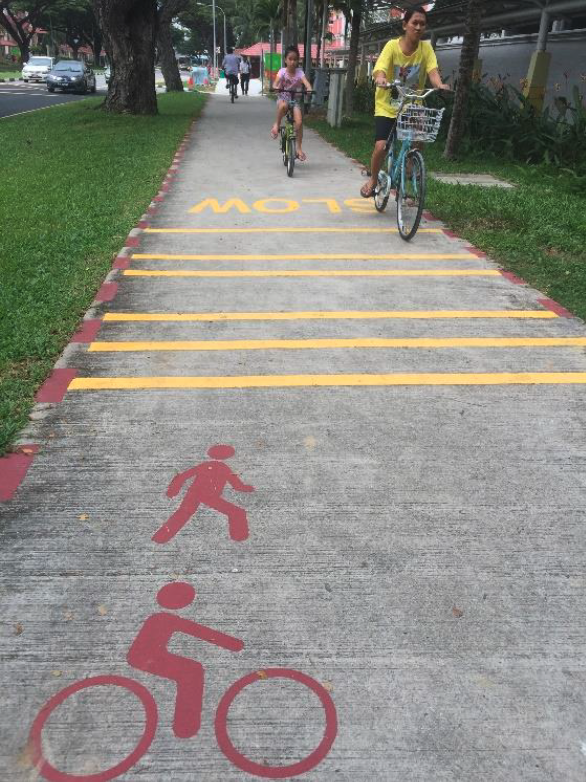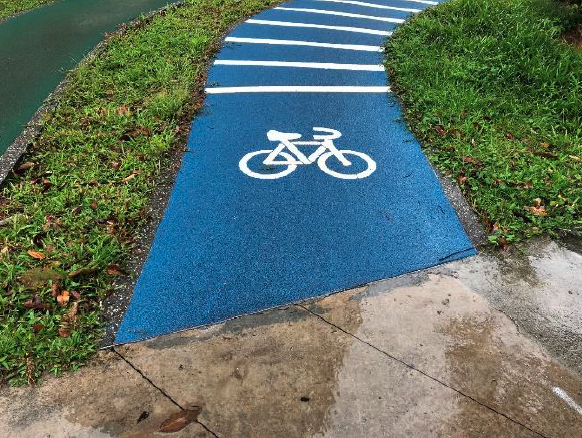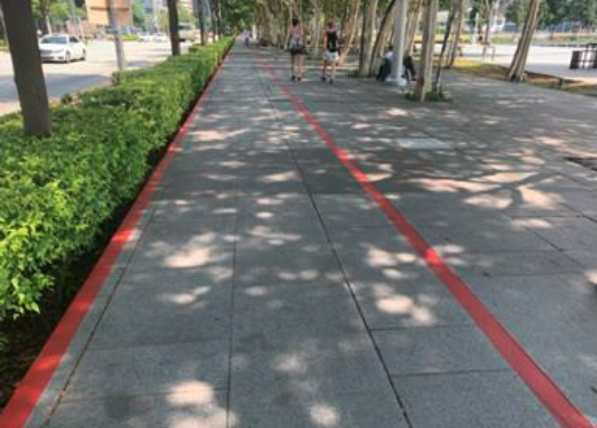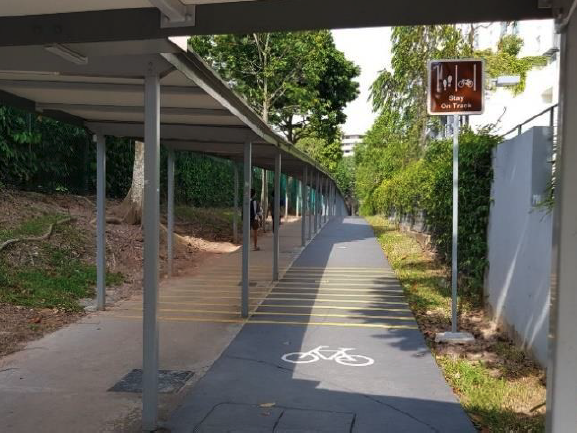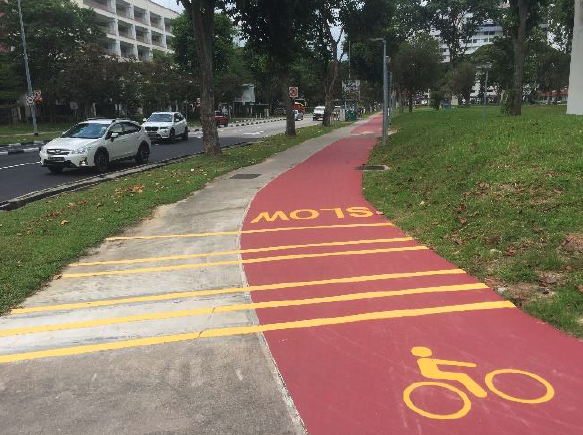 Here's a chart summarising it: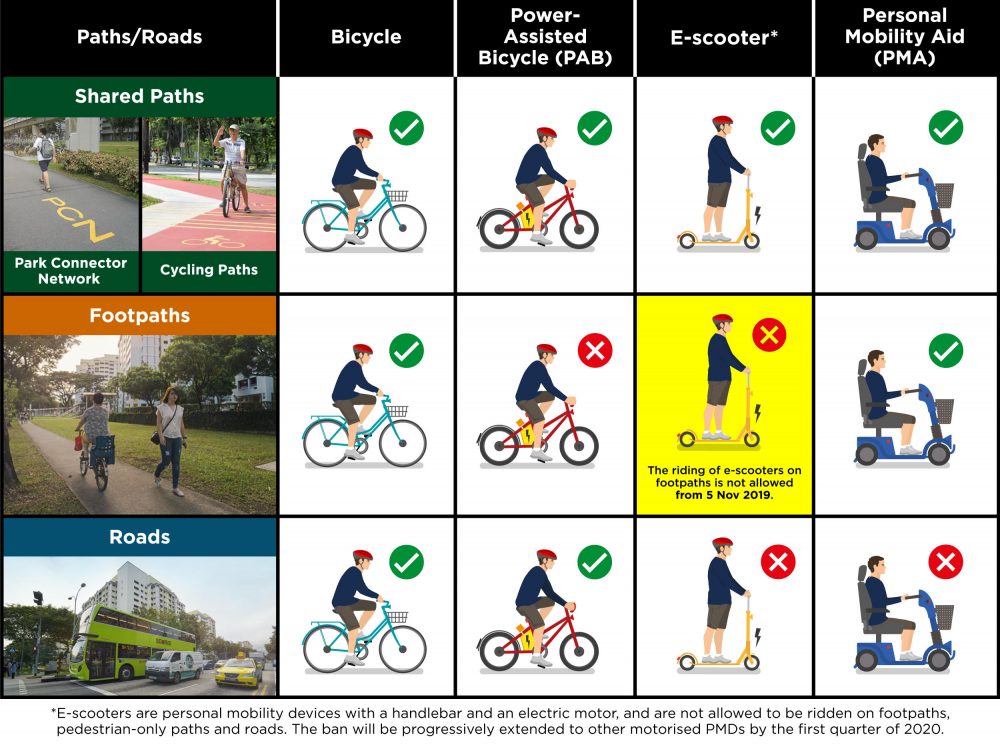 Lam also said that the government is stepping up the construction of dedicated cycling paths, and intend to extend the network of dedicated cycling paths from 440km today to 750km by 2025.
More cycling networks are being constructed in existing Housing & Development Board (HDB) towns today. For example, residents in Ang Mo Kio, Bishan, Bukit Panjang, Taman Jurong, and Tampines will see cycling paths constructed in their town in 2020.
New precincts like Kampong Bugis, Tengah, and Woodlands North Coast will have cycling paths built on both sides of the road.
But what about food delivery riders who use PMDs?
According to Lam, food deliveries by major food delivery companies are largely done by motorcycles and delivery vehicles.
"Less than 30 per cent of Deliveroo and FoodPanda's riders use e-scooters," he said.
When contacted Grab declined to comment to Mothership how many of their delivery riders use e-scooters.
However, Lam added that LTA will be working with food delivery companies to allow as many of their delivery riders to switch to motorcycles or bicycles.
Early disposal scheme extended until Dec. 31, 2019
Separately, the minister of state also said that about 4,800 non-UL2272-certified e-scooters have been disposed since the rollout of the early disposal scheme by LTA in September. Lam added that this early disposal scheme will be extended from Nov. 30, 2019 to Dec. 31, 2019.
"We strongly urge the owners of noncompliant e-scooters to dispose their devices early to protect themselves and their neighbours from unnecessary fire risks," he said.
Top image by Joshua Lee.
Content that keeps Mothership.sg going
---
??
This event teaches you how to be your own farmer in the comfort of your own home!
?⚓
A hipster's dream Europe itinerary that excludes the big major cities.
?✈️
Hell is an actual place on earth, and it's only a flight away.
If you like what you read, follow us on Facebook, Instagram, Twitter and Telegram to get the latest updates.