A vegetarian food stall that has been giving discounts and free food to those who need them in Singapore, has expanded its operations of helping the underprivileged here.
In June 2019, Mummy Yummy branched out and opened its first V4vegetarian food stall in Ayer Rajah Food Centre.
It was started to test the idea of having the public, who are willing and able, give small sum donations once a month to keep the stall afloat by simply covering costs as it goes about providing food for the less well-off.
The goodwill initiative is a branching out of its regular business of providing affordable hawker food for the masses.
The experiment proved successful, as any shortfall in funds was picked up by the public via donations once a month so the hawker stall did not suffer any major losses by socialising its charity work.
After the first two months of operations where no losses were registered, plans were made to expand and a second V4vegetarian food stall opened in Amoy Street Food Centre in October 2019.
Mummy Yummy used to operate at Shenton House, but closed by end-September 2019.
Goodwill giving
The way they operate is simple.
Mummy Yummy will put up Facebook posts every month, showing in a transparent fashion the exact costs of running each hawker stall.
This is an example of its latest post: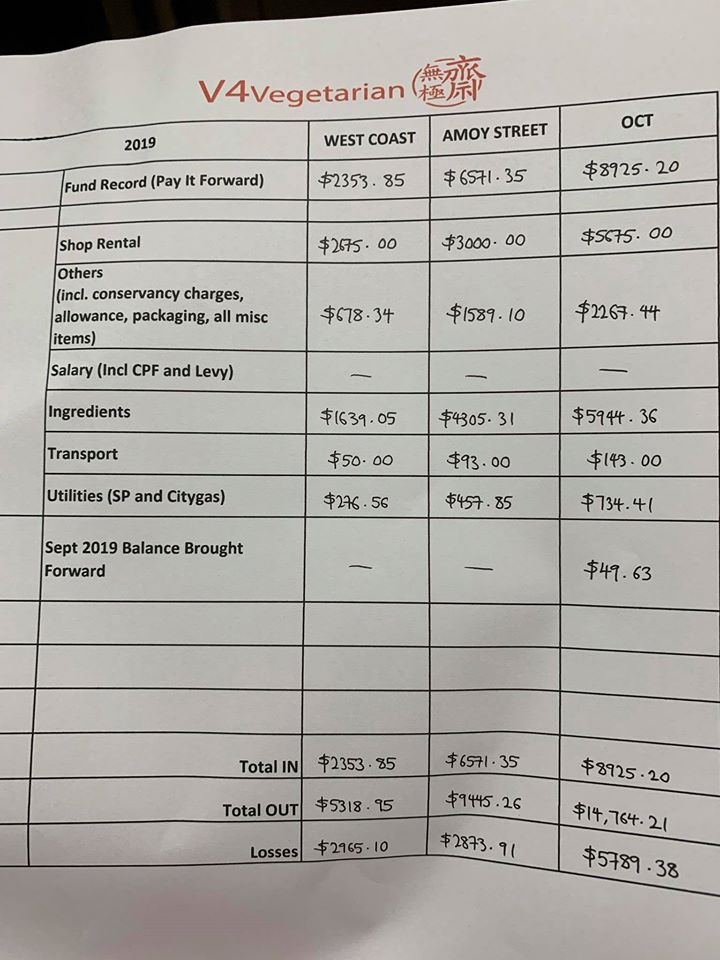 The breakdown is itemised, showing the exact costs paid for rent, raw ingredients, and even transportation.
For example, the cost of the stalls rental are S$2,575 (Ayer Rajah) and S$3,000 (Amoy Street) respectively.
There was a shortfall of S$5,789.38 for the month of October 2019.
The public can then do a fund transfer of any amount to Mummy Yummy's bank account.
Since June 2019, they have used this method to raise money each month.
Initially when it was first started in June, Mummy Yummy only allowed donations of fixed S$100 amounts.
This was to limit the total number of donors, which also made accounting easier.
However, after receiving public feedback, they have allowed donations of any amount.
Mummy Yummy also wrote that it would stop receiving donations the moment the shortfall amount is met.
Mummy Yummy has been doing food donations for the longest time.
The process of preparing 1,000 packets of bee hoon for those in need was recently shared on Facebook:
Content that keeps Mothership.sg going
---
??
This event teaches you how to be your own farmer in the comfort of your own home.
???
Jio all your friends to see the northern lights in this city in Norway!
?⚓
A hipster's dream Europe itinerary that excludes the big major cities.
??
Did you know these are the most happening places in Singapore?
If you like what you read, follow us on Facebook, Instagram, Twitter and Telegram to get the latest updates.