Personal mobility device (PMD) riders, mostly food delivery workers, have been among the greatest affected by the recently-announced ban of e-scooters on footpaths.
And almost every evening since Tuesday, when the ban took effect, numerous PMD delivery riders have gathered to attend meetings with Members of Parliament, some of whom are ministers, to voice their concerns.
Closed-door meeting with Senior Minister Teo Chee Hean
On Friday (Nov. 8), a small group of 15 food delivery riders and PMD retailers met with Senior Minister and Coordinating Minister for National Security Teo Chee Hean at his Meet-the-People Session at Blk 738 Pasir Ris Drive 10.
They entered a room together for a closed-door session that lasted about 50 minutes.
Members of NTUC's Employment and Employability Institute (e2i) and Deputy Speaker Charles Chong, MP for Punggol East SMC, also attended the meeting.
Safeguard lives & livelihoods
Teo later said to reporters that the government's priority was to "safeguard lives as well as trying to safeguard livelihoods."
He added that it was a "difficult decision for MOT (Ministry of Transport)" to make as both are important, and that there have been a number of PMD-related accidents, with some still recovering after three years.
Said Teo:
"So you can understand the concerns of residents especially those who use it, footpaths, particularly people with young children, and the elderly as well. So they actually want to feel safe on the footpath.

But at the same time we also understand the livelihood issues of our food delivery riders. So what MOT is doing is basically trying to offer them some alternatives, viable alternatives to help them continue to make a livelihood, make a living from this either full time or part time."
LTA grant
Teo mentioned the new S$7 million grant announced just a couple of hours prior by the Land Transport Authority (LTA).
Under this scheme, delivery riders may receive up to S$1,000 to trade in their e-bike for regular bicycles, power-assisted bicycles (PABs) and personal mobility aids (PMAs).
Useful meeting
Said Teo of his meeting with the group:
"So it was a useful opportunity to have a chat with some of the retailers and some of the food delivery riders as well, hear some of their concerns and also explain to them some of the things they can do themselves."
He added that some "proposed alternatives" but understood and accepted that this was a "safety issue".
Teo also said that some of the riders expressed their hope for "mutual consideration" from pedestrians and others who used shared paths.
When asked about the concerns of riders who did not wish to use PABs or bicycles, Teo said that there are "other options", adding that e2i Singapore would help those who wished to pursue a different career.
When asked about the concerns of retailers, some of whom have stockpiled PMDs in anticipation of end-of-year sales, Teo said he would convey them to MOT.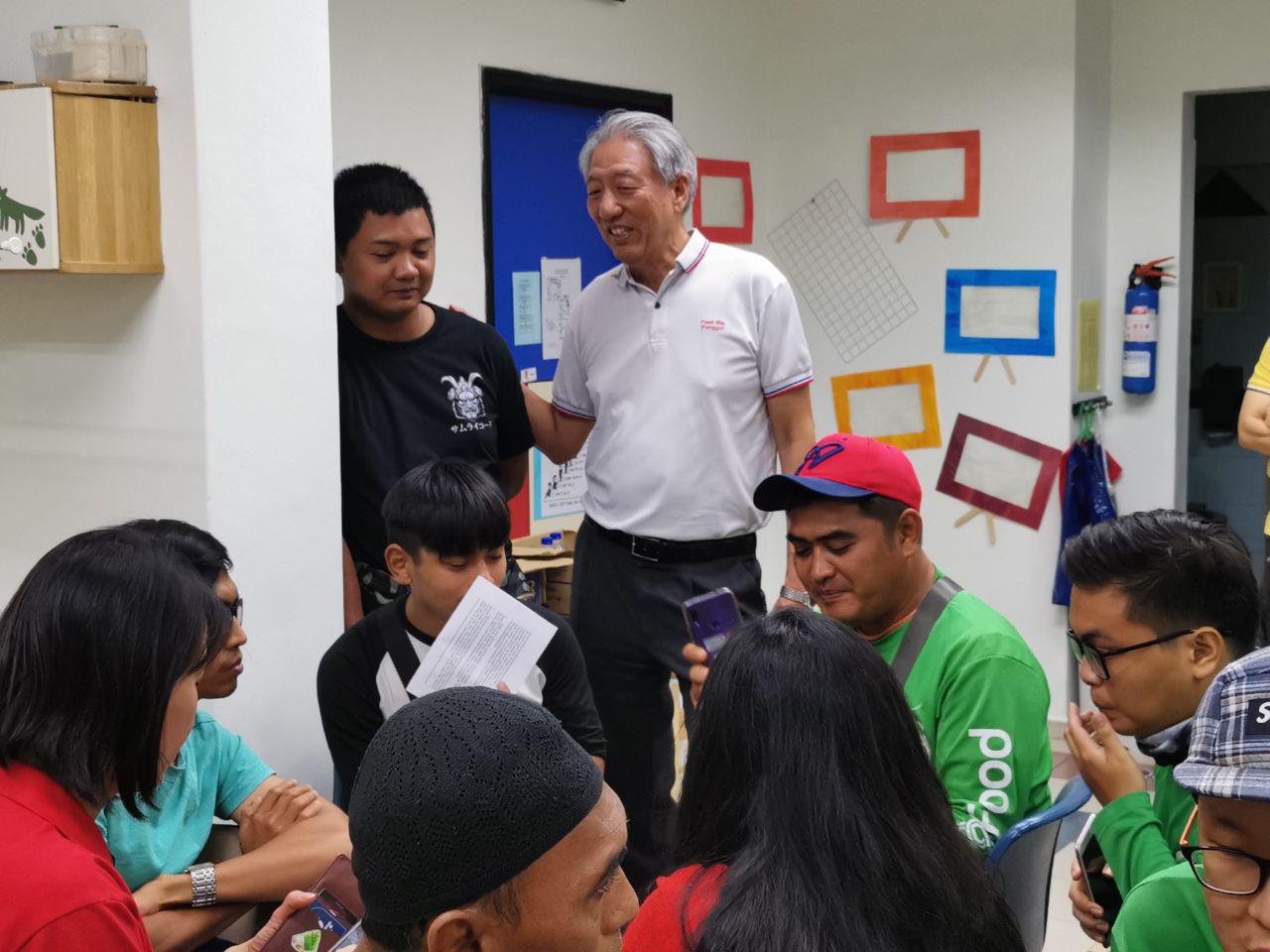 You can read SM Teo's Facebook post on the evening's meeting here:
34 PMD retailers appeal for policy "refinements" in letter hand-delivered to SM Teo
A businessman in his 40s who wanted to be known by his surname Ng, attended the meeting to pass the senior minister a letter from some 34 local PMD sellers expressing their concerns about the footpath ban and its impact on their businesses.
In the letter seen by Mothership, the retailers argued that PMDs have become an important transportation option for over 90,000 Singaporeans, and that many PMD riders relied on them to support their livelihoods.
It made the following suggestions in lieu of a full footpath ban:
Allowing PMDs to be used on the roads, capped at 25 km/h.

Bridging the last-mile connectivity gap by adding more shared paths, and converting some existing footpaths to shared paths.
Ng told Mothership that he personally used a PMD to get to work, and was able to stop driving a car thanks to it.
He said he has saved more than S$500 a month in fuel and season parking costs, adding that using a PMD was better for the environment.
Better to go on the road than to overturn footpath ban
When asked why he wanted to meet with Teo in person, Ng said that it showed that the group was "sincere and serious" about the issue.
Ng said that if he personally had to choose between overturning the footpath ban or allowing PMDs on the road, he would opt for the latter.
He felt that riders would be more careful about safety if they were on the road, and that the roads allowed more access for delivery riders.
Ng added that he was in favour of licensing and safety regulations for PMD riders.
Said Ng of the meeting:
"The conversation with Mr Teo Chee Hean is overall constructive. He took his time to explain to both retailers and riders.

Representing the retailers, I brought forward some suggestions. And he said he will bring it up to MOT."
Some riders have injuries preventing them from riding bikes or PABs
However, there were mixed reactions from some of those present at the meeting.
Full-time GrabFood delivery rider Nor Affendy Salleh, 51, said he hoped the shared path ban can be overturned.
"The government has to pull back what they just implemented. I believe that this is really unfair to us," he said.
Nor Affendy said that delivery riders were also concerned about safety, but felt that there were inconsiderate users of shared paths who either wear noise-cancelling earphones or are so focused on their phones that they cannot hear any amount of warnings.
He also feels that the speed of the implementation of the ban was unfair and did not give riders enough time to adjust.
Nor Affendy said that the new trade-in grant would not be useful to him either, as he previously suffered a knee injury and says he will not be able to ride even a power-assisted bicycle (PAB) easily.
Fear of travelling on the roads
Another full-time Grab and Foodpanda delivery rider who attended the meeting, Imran, said Teo outlined the details of the new LTA grant and asked for the group's views on the footpath ban.
The 28-year-old told Mothership that the group had "negative reviews" for the ban, but understood that the government had to balance the needs of PMD riders with the safety of pedestrians.
Imran paid S$899 for his PMD, and did not want the ban overturned, but said he did not intend to make use of the grant either.
His reason, instead, is his fear of riding on the road.
"I think I'll just stick to PMD, but I'll just need to look out for shared paths and cyclist paths," he said.
He added that he told Teo that it "takes two hands to clap", and that pedestrians should also have "mutual understanding" to look out for PMD riders on shared paths.
"That's where we can balance the safety of everybody," he said.
Related stories:
Top image by Tan Guan Zhen.
If you like what you read, follow us on Facebook, Instagram, Twitter and Telegram to get the latest updates.