You might recognise the iconic phrase: "Eh sial ah what I do, I just came."
Those words, coupled with a skid for dramatic entry, made Muhammad Ramdhan Othman an internet sensation after he featured in a viral clash between a pedestrian and personal mobility device rider (PMD).
i really can't get enough of this sequence.
the slide and stop
the "sialah what i do, i just came"
a god amongst men pic.twitter.com/5eIu4FISon

— dylan (@bongprophet) July 23, 2019
And now the recent ban on PMDs from footpaths has affected the livelihood of riders such as Ramdhan, who uses the device everyday as a food deliveryman.
The 27-year-old told Mothership that he has been working as a full-time GrabFood delivery rider since April 2018.
Can't do deliveries, can't feed kids
"I felt like throwing my PMD out the window," he said, recalling his first thoughts after hearing about the ban.
But he didn't do it, after realising how tough his life would be without his PMD.
Ramdhan doesn't just use his PMD for his work — he also needs it to send his kids to school.
"Without my PMD, I can't do my deliveries and I can't feed my kids, especially my one-year-old baby girl."
He has six kids in total, with another one on the way.
They are of ages one to seven.
His PMD is presently his only mode of transportation, and thus the only way he can complete deliveries.
"Currently, I do about 28 (deliveries) per day if I'm not too tired. But normally, I target at least 10 to 15 orders per day."
For Ramdhan, that works out to about S$1,100 to S$1,200 a month.
He admits that the amount is just enough for him and his family to get by.
However, his income will be greatly reduced if he is forced to walk his PMD on footpaths, as there are currently not many park connectors or shared paths in the areas he does deliveries.
Reluctant to part with his PMD
A solution that's been put forth by the government has been to buy the PMDs back from delivery riders.
However, Ramdhan is not inclined to take part in that scheme, as he is reluctant to part with his e-scooter.
"I put in a lot of hard work to buy my own PMD. I borrowed my friends' PMD to do deliveries to save up to get my own. And the PMD is my first vehicle."
He is in the process of getting a motorcycle license, but is still some way from completing his lessons.
As a delivery rider, time is of the essence, which is also why his PMD means a lot to him.
Alternative jobs?
When asked why he didn't find an alternative job, Ramdhan said that his education level makes it challenging for him to apply for jobs.
His highest qualification is an N-Level certificate.
"With my education level, I only can work F&B or delivery or cleaner."
He hopes that the ban will ultimately be overturned, with many PMD riders turning up at various meet-the-people sessions (MPS) to voice their concerns.
"I didn't get to go to the Ang Mo Kio MPS," he said, explaining that he was working late that evening.
"I needed (to fulfil a certain amount of deliveries) to buy my daughter milk and pampers."
Getting a motorbike licence
Since the ban, he's carried on riding on footpaths, albeit at a very slow pace.
"If the pedestrians still want to stop me, then I'll just listen to what they say. I will also try to finish getting my motorbike license before January (when flouting the ban will result in punishments).

So I have to push myself, work more. Now, primary school is about to close so I have a bit more time. I will just work more."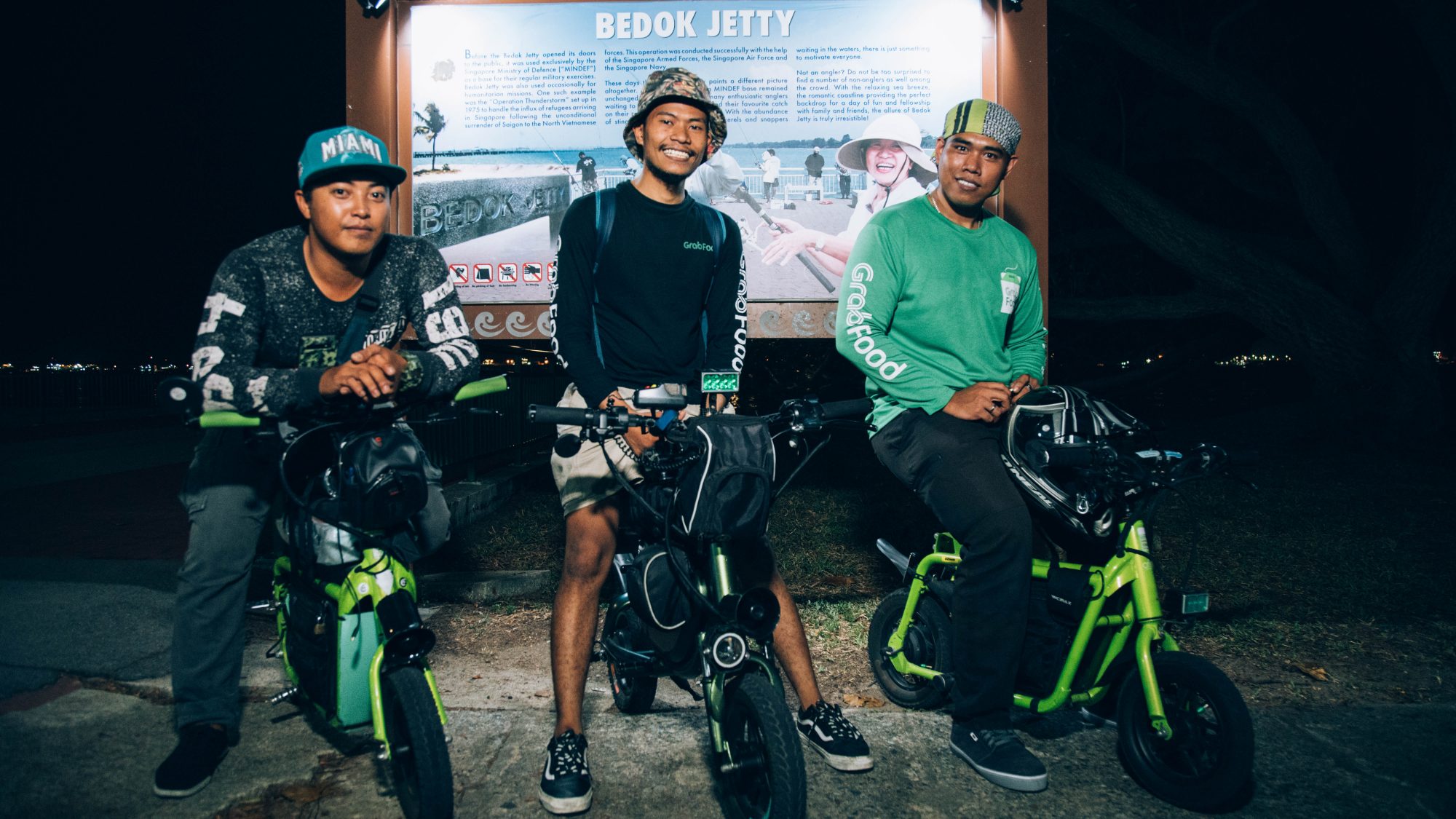 Ramdhan also noticed that pedestrians were giving him a hard time following the ban.
"When I was riding back home after sending my kids (to school), the pedestrians all stare at me like they wanted to beat me up. I never do anything, I just send (my kids) then go back home. (sic)"
The stern looks from pedestrians made him feel insecure.
He ended up not working for two days after the ban was announced.
But he knew that he had to get back up and perform his duties as a father.
Looking for his kids
He has had other encounters with pedestrians before the ban.
Besides the incident that led to his internet fame, Ramdhan once accidentally hit an old lady while he was riding his PMD.
But he was not sending a delivery at that time.
Two of his younger kids were missing and he was in a state of panic, speeding and rushing to try to find them.
He was too focused on finding his kids that he didn't even realise he hit the lady.
"I saw my two kids at the road so I quickly brake. (sic) That's when I didn't notice that I hit the old lady."
Fortunately, the old lady was not injured and she was not angry at him after realising that he was rushing to get to his kids.
However, a pedestrian who witnessed the incident approached Ramdhan to point out his negligence, an interaction he accepted gracefully.
"If I did (anything wrong), I would say sorry now. If anything happened to my kids, will you want to give me a new kid?"
Ramdhan confesses that he is worried about his future, especially with the new ban being implemented.
But one thing's for sure, he will do whatever it takes for his family, and he won't give up easily.
"I just do whatever I can do just to support (my family). That's the only way. I try not to think about my kids or my home situation while I do my deliveries because when I ride my PMD, anything can happen.

So if I want to earn more, I have to focus and push myself."
Top photos via Mohamed Shamirrudan/FB & Andrew Koay.
If you like what you read, follow us on Facebook, Instagram, Twitter and Telegram to get the latest updates.