"Say no to CECA! Say no to 6.9 million! Say no to the PAP!"
That was the chant that rang out throughout Hong Lim Park on Sunday, Nov. 3 at an event organised in the wake of the now-infamous Eight Riversuites condominium incident, where a video that captured a resident berating a security guard became linked to antecedent issues pertaining to immigration and job security in Singapore.
Organisers estimated that almost 1,000 people turned up at the event's peak to voice their anger at a variety of issues.
Reuters reported the figure as between 300 to 400.
Over the course of the event between 4pm and 7pm, eight speakers spoke out about topics.
These included:
the India–Singapore Comprehensive Economic Cooperation Agreement (CECA)

the government's plans to expand Singapore's population

mandatory national service

and Ramesh Erramalli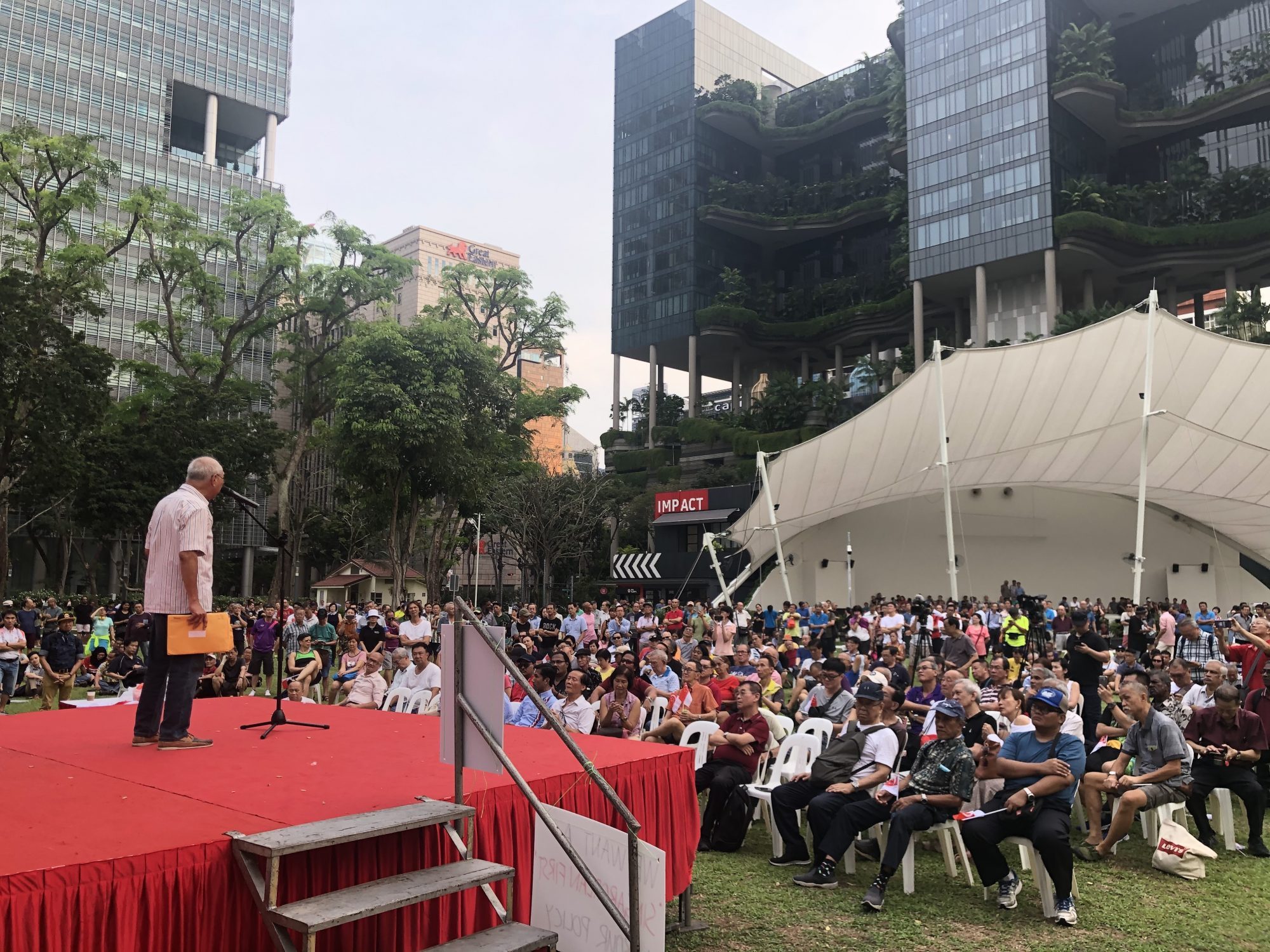 However, the main sign at the event showed one word redacted.
It read: "NO to CECA, ██████ and 6.9 million population."
The event was originally called, "NO to CECA, Ramesh and 6.9 million population."
The organiser said the name was redacted for fear of getting into legal trouble.
Taking aim at CECA and population growth
CECA and population expansion took centre stage for much of the day, as various speakers decried the effects they have had on the employment of Singaporeans.
"I feel very strongly about CECA and the 6.9 million population because I love my country like every one of you and I care! That's why I'm here!" said Simon Lim, echoing the sentiments of many other speakers.
He also said: "A lot of our people were displaced, replaced — ended up as Grab taxi drivers. It is very very sad."
Though not scheduled to speak on the day, opposition politician Lim Tean of The People's Voice party also took to the stage.
In a short impromptu speech, Lim said that Deputy Prime Minister Heng Swee Keat had asked Singaporeans to be welcoming to foreigners and to integrate with them.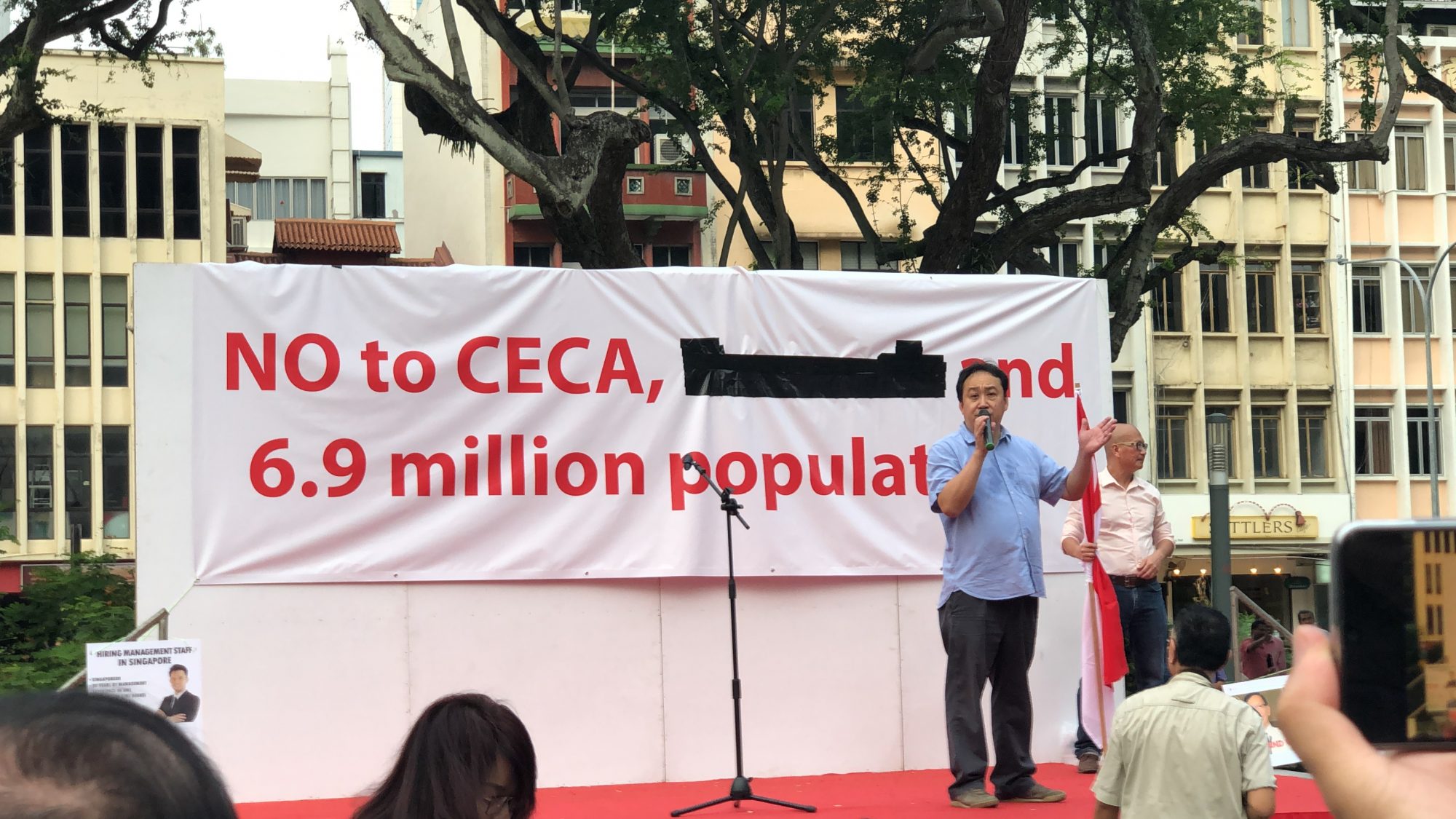 "I think he's got the order wrong," said Lim.
He added:
"I think it is not unreasonable when we expect foreigners who come and live and work in our country to respect our way of life and to adopt our way of life, and it is not the other way round. So I tell the PAP, it's not the other way round! You better start respecting Singapore citizens first before you tell us to respect others."
Anger at condominium resident
Another speaker on the day was former presidential candidate Tan Kin Lian.
He took aim at the condominium resident as the event got personal.
"I find his behaviour too arrogant, abusive, deplorable. Do you agree?" he said, speaking about Erramalli, the resident at the centre of a video that showed him berating a security guard at his condominium.
Tan perhaps drew the biggest cheer from the crowd when he declared:
"A ministerial statement from Home Affairs said Ramesh is a Singaporean citizen. It does not make any difference to me because Ramesh did not serve National Service."
Less than five minutes later he also managed to draw the ire of some by saying that he believed Erramalli's subsequent apology to the security officer to be sincere.
"I believe he has learnt his lesson," Tan said to a spattering of boos.
National Service
"I am angry at National Service," Tan added, pointing to the "small allowance" that national serviceman receive throughout their two years of serving the country.
Tan further called for a shortening of the national service period and the reservist obligation, saying "if we had reduced reservist duty to three or five years, our dear Aloysius Pang would be still here with us today".
This followed an earlier speech in which a mother of two sons Carena Tan called for the abolition of mandatory national service.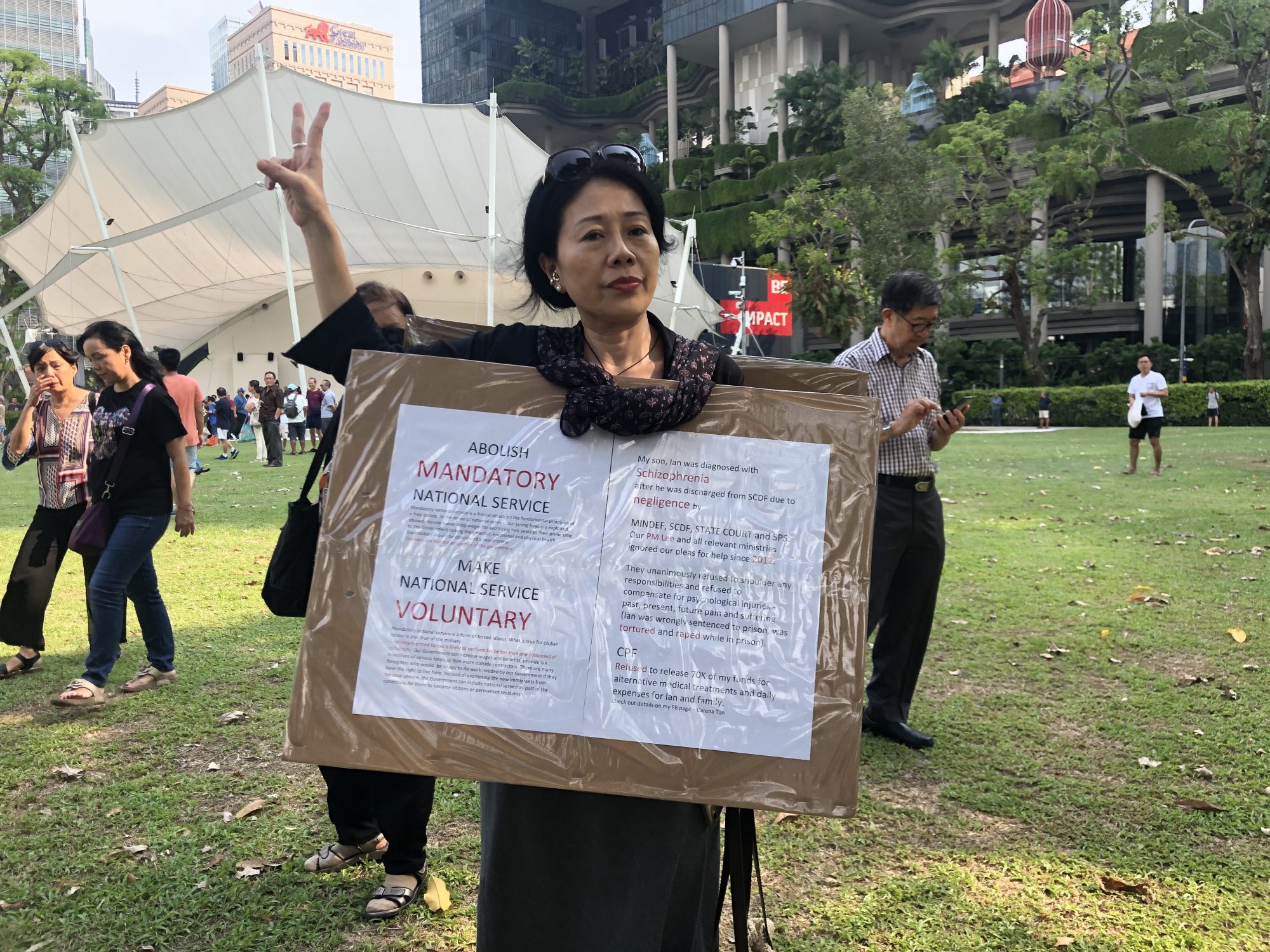 Wearing a poster bearing her message, Carena told the crowd about her elder son, who had been diagnosed with schizophrenia.
"Mindef (Ministry of Defence), shockingly, do not have the expertise to diagnose people with mental problems," she said before recounting her son's difficulties with illegal drugs throughout his time in national service and beyond.
"I get very angry"
Speaking to Mothership, a 78-year-old attendee who wanted to be known as Mr Lee said that he wanted to support the event even though he was not personally affected by CECA.
"I get very angry, you know, that the people lost their jobs," he said.
Another attendee, 58-year-old A. Thiyaga Raju said that he had lost his job in a bank because it was outsourced to an Indian company.
He expressed his opinion that the influx of foreigners was eroding the Singaporean's national identity.
One attendee even showed up bearing a placard looking for a wife: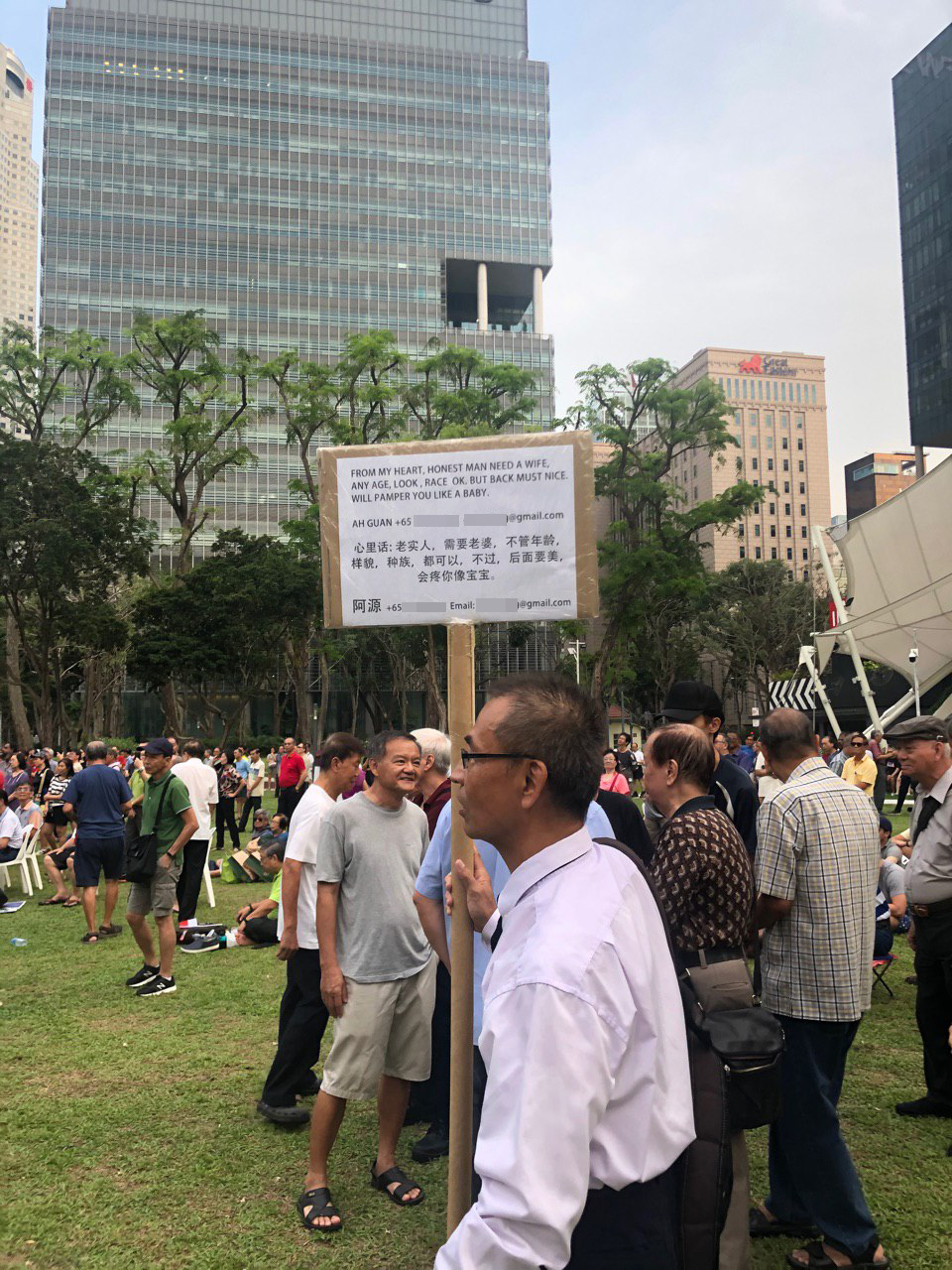 He was spotted by the public in Bencoolen, which is about 15 minutes away from Hong Lim Park: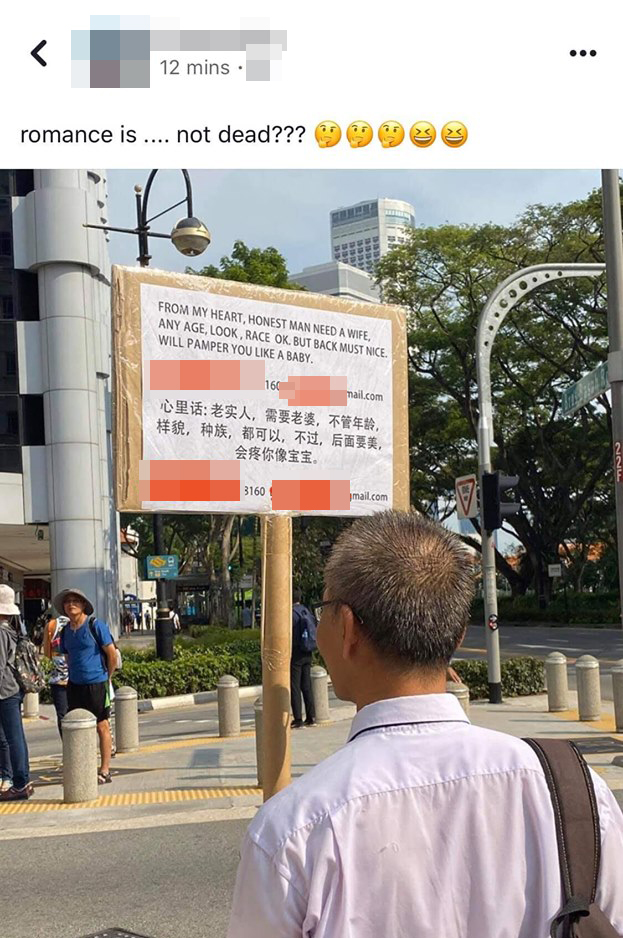 He was even invited on stage for a poster competition:
[video width="848" height="464" mp4="https://static.mothership.sg/1/2019/11/poster-competition.mp4"][/video]
Those on stage were given red packets believed to contain a prize money.
S$2,000 to set up event
Gilbert Goh, the organiser of the event, told Mothership that he had spent over S$2,000 from his own pocket to put up the event.
He said: "People are angry, you know?"
Goh, who runs an NGO counselling unemployed Singaporeans said that he had seen many unemployed professionals, managers, executives and technicians in the last few years:
"A lot of them do Grab. When they've lost their job, Grab is the next thing that they will do. There's no other alternative."
Top image by Andrew Koay
If you like what you read, follow us on Facebook, Instagram, Twitter and Telegram to get the latest updates.