Deepavali is meant to be a time of celebration.
Yet, for at least one man and a condominium security guard, the long weekend has gotten off on the wrong foot.
A video circulated on social media showed man, who identifies himself as Ramesh in an altercation with his condominium's security guard.
The video can be seen here:
[video width="220" height="400" mp4="https://static.mothership.sg/1/2019/10/Angrydeepavali.mp4"][/video]
Allegedly paid S$1.5 million
The altercation, which appears to have taken place at the Eight Riversuites condominium, was seemingly sparked by a rule that visitors must pay S$10 to use the car park.

That proved a problem for Ramesh, who was receiving visitors over the Deepavali long weekend.
"I buy your f*cking property for $1.5 million. This is $1.5 million you know?" said the irate Ramesh.
According to numerous listings on PropertyGuru, the South-east Asian online realty company, the price for a property at Eight Riversuites ranges from $707,000 to $2.45 million.
The security guard replied calmly that he was "just enforcing the rules", and that did not placate Ramesh:
"You're putting my visitors in such a position and telling me that for Diwali they can't visit after 11 o'clock?"
Ramesh then turned to his visitor and commanded him to leave the car in the lobby and follow him, presumably to his house.
Not staying in a HDB
He proceeds to tell the security guard that they will leave the car here.
"You can do whatever you want to do, f*ck off," he said before walking away.
Responding to Ramesh's decision to walk off, the security guard told the angry resident that he would have to inform the condominium's management.
Conveniently, Ramesh also had a message he wanted the guard to pass on to the management:
"Tell the management f*ck off!"
In an effort to calm the situation, another security guard tells Ramesh and his visitors that they could consider "pay(ing) $10 and then you can go inside".
But this just infuriated the condominium-dweller even more:
"Visiting $10? We're not staying in a HDB you know?"
The situation seemed to find a temporary compromise when the security guards appear to let the visitors into the carpark in exchange for Ramesh's details — which will be handed over to the management.
"Don't be angry," said the security guard before he is cut off by a shouting Ramesh.
"You're making me angry! In front of my visitors! Stopping my visitors here."
Cultural education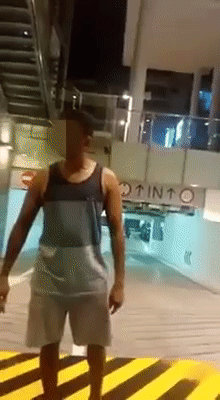 Towards the end of three-minute forty-second video, Ramesh also took the time to educate his condominium's security about the custom's of Deepavali.
"This is Diwali weekend you know? There will be a lot of visitors visiting Indians."
Needing to illustrate the point further he then tries to present the Chinese security guard with a culturally equivalent situation — "You celebrate Chinese New Year right?"
"I teach you okay?" he says pointing to himself.
"I'm an Indian. I'm teaching you. Indians — people will visit."
The lesson is then ended as Ramesh gets into his visitor's vehicle and they drive into one of the 854 carpark lots available there.
¯\_(ツ)_/¯
Top image screenshots from the video and Google maps

If you like what you read, follow us on Facebook, Instagram, Twitter and Telegram to get the latest updates.