National water agency PUB has advised e-scooter users not to ride their devices on drain covers as it can lead to a S$40,000 fine.
The Straits Times on Nov. 8 sought PUB's response on this issue after it was reported on Nov. 6 that some personal mobility device users were trying out a new loophole of riding on drain covers to circumvent the ban on footpaths.
PUB response
PUB, which oversees drains in Singapore, told ST: "PUB does not recommend riding PMDs on drain gratings, which are an essential part of the drainage system that ensure effective stormwater management."
And it appears the punishment is the most severe for this supposed loophole of riding on drain covers, especially if the act of doing so results in damages.
PUB also said: "Damaging any drain or stormwater drainage system is considered an offence under the Sewerage and Drainage Act. Those convicted may be fined up to S$40,000 or jailed up to three months, or both."
Second loophole
This is the second loophole that the authorities has reminded the public had been all along closed.
Previously, e-scooter users tried to circumvent the footpath ban via the first loophole, which was to ride on grass turfs because footpaths were out-of-bounds since Nov. 5, 2019.
But riding on grass turfs elicited a response from the National Parks Board (NParks), which said those who flout the rule can be fined up to S$5,000.
A third loophole of riding on the kerb will likely elicit a response from the authorities too.
What the riding on drain grating video showed
A 23-second video skit was posted on Facebook by Leonardo Clyde Alfonso, which showed a PMD rider riding on the drain gratings beside a regular footpath.
The rider said: "Government never say drain cannot".
He then continued riding on the drain covers.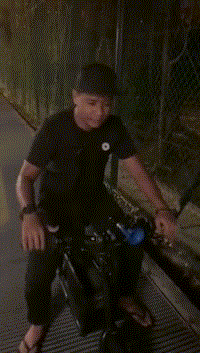 [video width="362" height="640" mp4="https://static.mothership.sg/1/2019/11/pmd-drain-cover.mp4"][/video]
If you like what you read, follow us on Facebook, Instagram, Twitter and Telegram to get the latest updates.