On the evening of Oct. 2, I got to meet local director Anthony Chen at the lobby of a rather swanky hotel in Orchard.
He looked pretty hip, dressed in a striped shirt and a bomber jacket.
But his youthful dressing couldn't hide how tired he was, especially with the heavy bags beneath his eyes.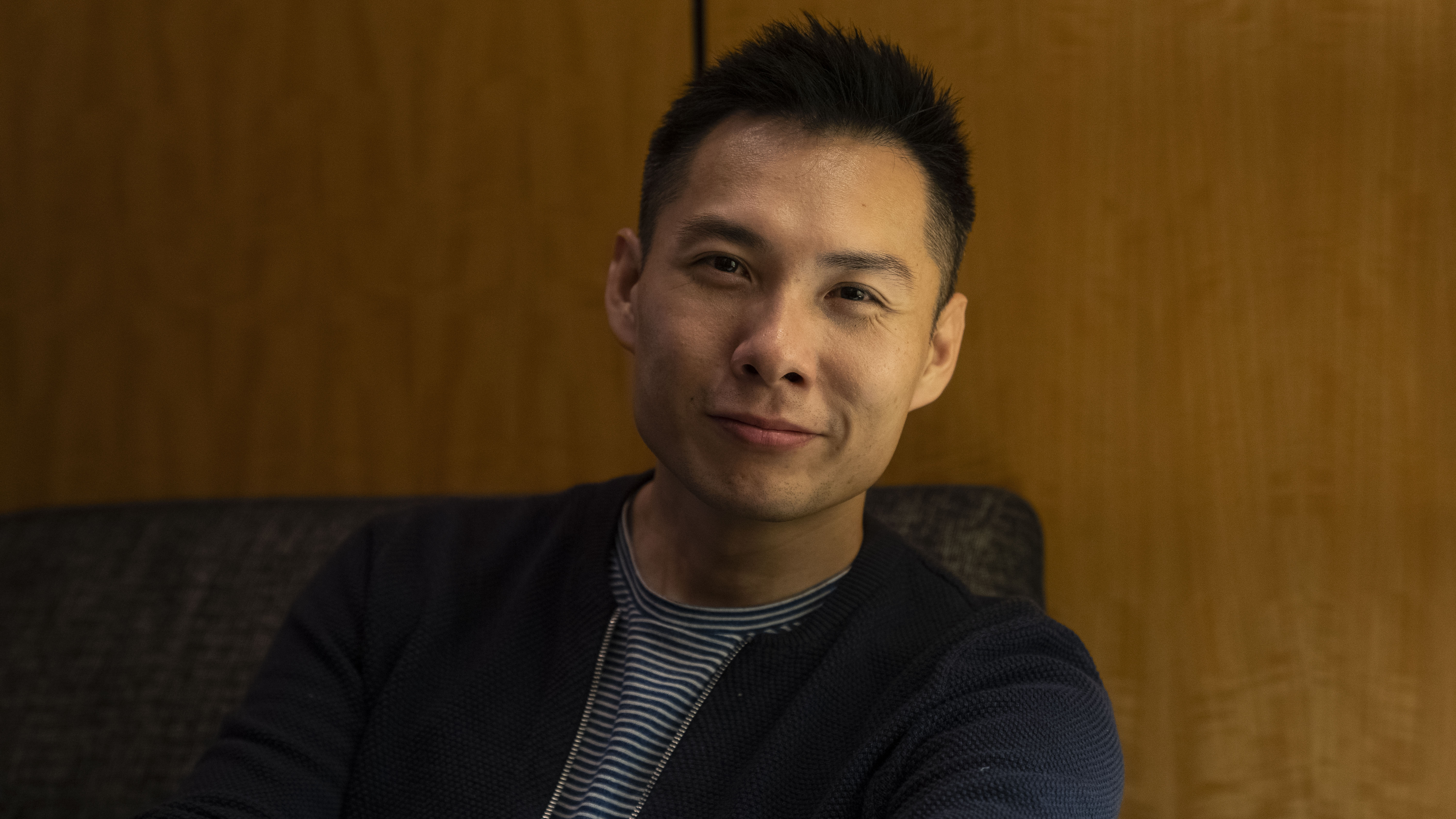 He did, after all, had a whirlwind of a day.
The 35-year-old told me that he landed in Singapore from London that very morning and then headed straight to Funan for the advanced media screening of his latest feature film, Wet Season, followed by a slew of media interviews all the way until the evening.
Thankfully for him, mine happened to be the last one for the day.
But as if that one day wasn't jam-packed enough, he had to catch an early flight to Jakarta the next morning for another work commitment.
A day in the life of a filmmaker, perhaps.
Couldn't get Shakespeare
But here's a lesser-known fact: Chen hasn't always wanted to make films.
Instead, at one point in his life, he had his heart set on becoming a thespian.
"I've always been involved in Chinese children's theatre since a young age of around 10 years old. I was on stage a lot, so I thought I would pursue theatre."
But that ambition dissipated when he had to take English literature as a subject in secondary school.
He said: "I struggled with Shakespeare. I don't get his English, I don't get his prose. And Shakespeare is one of the world's greatest playwrights, right? If I didn't get him, then why should I do it?"
Coincidentally, it was also in secondary school that he began to grow an interest in the world of filmmaking, especially after watching foreign-language films and growing up on a lot of Jackie Chan action films.
Wanted to be a filmmaker at 15
At 15, the go-getter knew that this was something he wanted to pursue and went ahead to email several film schools, including those in the U.S. and Europe.
The kicker? Overseas film schools were too expensive.
"Film school was really expensive. (It) easily costs S$200,000. That's almost as expensive as medical school or law school."
When he was in secondary four, he decided to enrol into Ngee Ann Polytechnic's School of Film and Media Studies, which according to Chen, was the only institution in Singapore that had film studies during his time.
"You're going to be so poor"
However, he had another setback.
As the eldest grandson of the family, some of his family members had reservations on him following his dreams of becoming a filmmaker — an occupation that was (and still is) thought to be a less-than-viable career.
According to Chen, they would ask him questions like: "What are you doing with your life? Are you serious? You're going to be so poor."
He, however, likes to identify himself as a "rebel" and went ahead to get his film studies diploma instead of going to Hwa Chong Junior College -- a rite of passage expected from Chinese High School (now Hwa Chong Institution) students like himself.
"I'm probably the only one from my cohort (to go to a polytechnic). I've always been a rebel. Whenever people tell me not to do something, I was definitely going to do it."
Stuck to his roots
And it helped that back then, at least there was someone rooting on him from the sidelines: His mother.
Attributing her as one of his pillars of strength, he said: "My mum has always been supportive of whatever I do."
Now, the London-based film director is the proud recipient of two Golden Horse Awards and the prestigious Camera d'Or at the Cannes Film Festival in 2013.
He won these accolades from his first feature film, Ilo Ilo.
After a pregnant pause, the humble man said that it still "feels like a dream" to him even though it has been years since he received those awards.
When I asked if he thinks he has already proved his naysayers wrong, he eloquently put it this way: "I don't think 'prove them wrong' is the right phrase. Rather, I think I stuck to my roots all this while."
Why did it take six years?
Chen's second feature film, Wet Season, will open in cinemas on Nov. 28, 2019.
Many wondered why did it take him six long years to make produce his second feature film.
Could it be the pressure to make sure that his subsequent works live up to his critically-acclaimed first film, perhaps?
However, he simply answered that he has been busy working on other things.
Since Ilo Ilo wrapped up, he has travelled to Taiwan, China, and Thailand for work, and was even the producer for Pop Aye, directed by fellow Singaporean filmmaker Kirsten Tan.
He also said that it took so long for Wet Season to come out as he is a slow writer.
"I took two years to write Ilo Ilo and I took two years to write this (Wet Season). My mantra is this: Until I can really understand something (the emotions or relationships of the characters), I can't set myself to execute or capture it."
But you've got to give the slow writer some credit: Wet Season has received nominations for this year's Golden Horse Awards, including the following categories: Best Feature Film, Best Director and Best Original Screenplay.
His actors, on the other hand, were nominated for Best Leading Actress and Best Supporting Actor.
But Chen is not just thinking about himself.
"My biggest hope is not for myself to win those awards but for my actors win the awards."
Coincidental casting
Here's another interesting trivia: The lead actors in Wet Season are played by Yeo Yann Yann and Koh Jia Ler, the same mother-son pair from Ilo Ilo.
The casting of these actors, however, was purely coincidental.
In fact, he never intended to cast Yeo or Koh again as he wanted to see some fresh faces.
According to him, the screen testing process took months, which required the crew to go to different schools in Singapore to find the perfect male lead.
And that's when he met Koh again.
He said: "Somehow he had a certain raw talent, he was very instinctive. I knew I was going to cast him."
And here's a little spoiler to make sense of what Chen had to say about casting Yeo: In Wet Season, a teacher (played by Yeo) forms an unlikely relationship with a student (played by Koh).
And there's a sex scene.
"Right away, I didn't want to cast Yeo Yann Yann. Because, obviously, it's almost incestuous. I didn't want to watch it also! She was very angry at me for a long time because I didn't offer her an audition for it."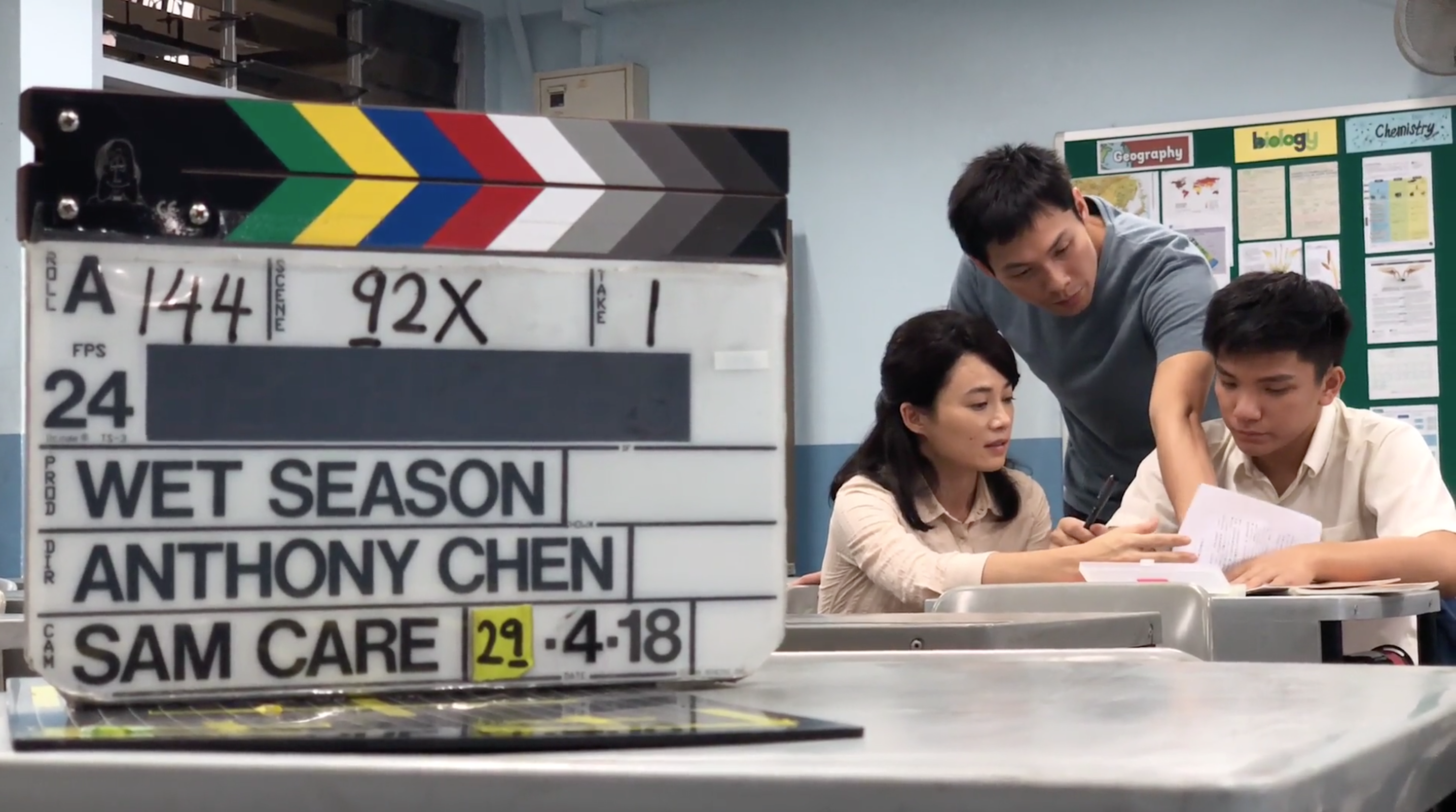 We hope Yeo has forgiven him, since he told us this: "She is probably the best option, and I believe she has proven it as well. I think it's one of her best performances I've ever seen."
Koh was also banned from calling Yeo "mummy", a name he was very used to calling her since they filmed Ilo Ilo together.
"It was so off-putting that I basically set the ground rule to stop calling her mummy because I can't work."
A personal touch
Apart from the forbidden teacher-student relationship, the film also depicts the struggle of conceiving a child — something that Chen himself has experienced with his wife of 10 years.
"My wife and I struggled for a long time. She had some health issues and we had problems having a child."
Now, however, they are proud parents to a one-year-old boy.
When he's at home, he would spend as much time as he can with his wife and son.
Son refused to be carried after four days apart
However, Chen's career also requires him to travel for long periods and to this day, he still feels guilty for being away on production for the first five months of his wife's pregnancy.
He was especially gutted when his son refused to be carried by him after just four days of being apart:
"Last week, I was in Vancouver for just four days... Just four days and the baby wasn't as close to me and was very sticky to his mummy. It made me so upset."
Which is why he treasures however little time he gets to spend with his son and would bring his son to work whenever he can.
Gushing about his son, he said, "We're very hands-on. When we were doing Wet Season, I carried him to post-production. He has been to the sound studio when he was only six or seven months old, he's a very calm child."
Pursue what you love, provided...
Successful Singaporean filmmakers like Chen, Kirsten Tan and Yeo Siew Hua serve as an inspiration for budding filmmakers in Singapore.
But in an industry that is still often seen as "unviable", does Chen still encourage the young ones to pursue their filmmaking dreams?
The short answer is yes, but here's the longer answer:
"I think it's very important to pursue what you love. But one needs to be prepared that it's going to be difficult and painful. If you love it enough, you're going to have to be willing to go through the pain and ride it out."
And we're pretty sure he's going to cruise through it for a while more.
"I've fallen in love with cinema and I'm damned. It's like an addiction, I can't live without it and I can't see myself... maybe I can see myself doing something else, but I'm already addicted to this."
Top image by Rachel Ng
Content that keeps Mothership.sg going
---
??
This event teaches you how to be your own farmer in the comfort of your own home.
???
Jio all your friends to see the northern lights in this city in Norway!
?⚓
A hipster's dream Europe itinerary that excludes the mainstream cities.
??
Did you know these are the most happening places in Singapore?
If you like what you read, follow us on Facebook, Instagram, Twitter and Telegram to get the latest updates.