Singaporeans are said to be afraid of losing out (kiasu), and dying (kiasee).
Singaporeans fear drowning the most
But a recent survey conducted by British international pollster YouGov revealed even more fears that Singaporeans are harbouring.
Turns out most Singaporeans are frightened of drowning.
In a news release on Thursday, Oct. 31, which coincides with Halloween, survey results reveal that 54 percent of 1,033 respondents fear drowning the most.
Fire (48 percent) comes next on the list of 15 phobias that respondents were presented with, followed by reptiles (47 percent) and cockroaches (42 percent).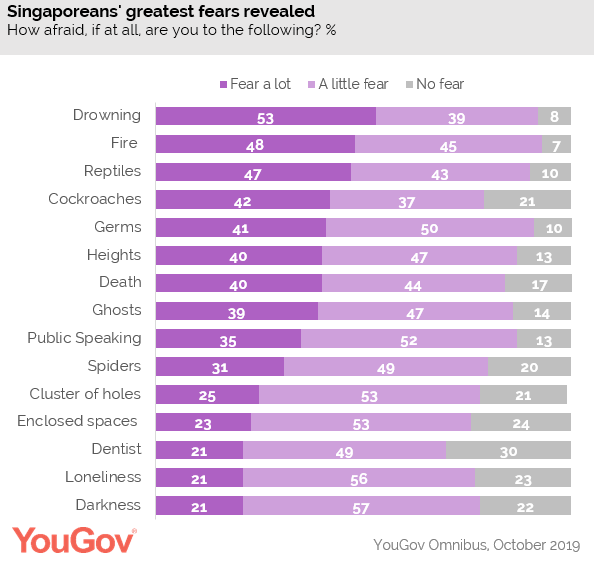 In contrast, Singaporeans are less likely to be afraid of the dentist (21 percent), loneliness (21 percent) and darkness (21 percent). But they still round up the top 15 fears nicely.
Women more likely to be afraid of reptiles & roaches than men
The survey also revealed that women as a whole are twice as likely to be very afraid of reptiles (61 percent versus 32 percent).
They are also more likely to fear roaches (56 percent versus 28 percent).
However, both men and women are equally likely to fear death (40 percent).
Different age groups fear different things
In addition, the survey revealed that people of different age groups have different fears.
For instance, those aged 18 to 24 are very afraid of roaches (53 percent).
As for those aged 25 to 34, they fear death the most (53 percent).
Finally, for those aged 35 and above, their greatest fear is drowning (56 percent).
Also, survey results found that younger Singaporeans, who are between the ages of 18 and 24, are more likely to fear spiders than older Singaporeans, who are aged 55 and above (42 percent versus 25 percent).
On the other hand, older Singaporeans are more likely to fear germs than younger Singaporeans (51 percent versus 22 percent).
Top image by Dirk (Beeki®) Schumacher via Pixabay 
Content that keeps Mothership.sg going
---
??
This event teaches you how to be your own farmer in the comfort of your own home!
??️
Do you agree that FOMO really isn't a thing?
?⚓
A hipster's dream Europe itinerary that excludes the big major cities.
?✈️
Hell is an actual place on earth, and it's only a flight away.
If you like what you read, follow us on Facebook, Instagram, Twitter and Telegram to get the latest updates.