Japan is providing athletes competing in the 2020 Tokyo Olympics and Paralympics with recyclable cardboard beds.
This is another environmentally-friendly measure the country has carried out to show its unwavering commitment to stick to using recycled products for the once-every-four-years meet that is bound to generate a lot of waste.
The lightweight beds will enable athletes to easily rearrange the room layout as they like, the organisers said.
For extremely tall athletes, 20cm extensions can be attached to the 210cm by 90cm bed frames, which are 40cm high.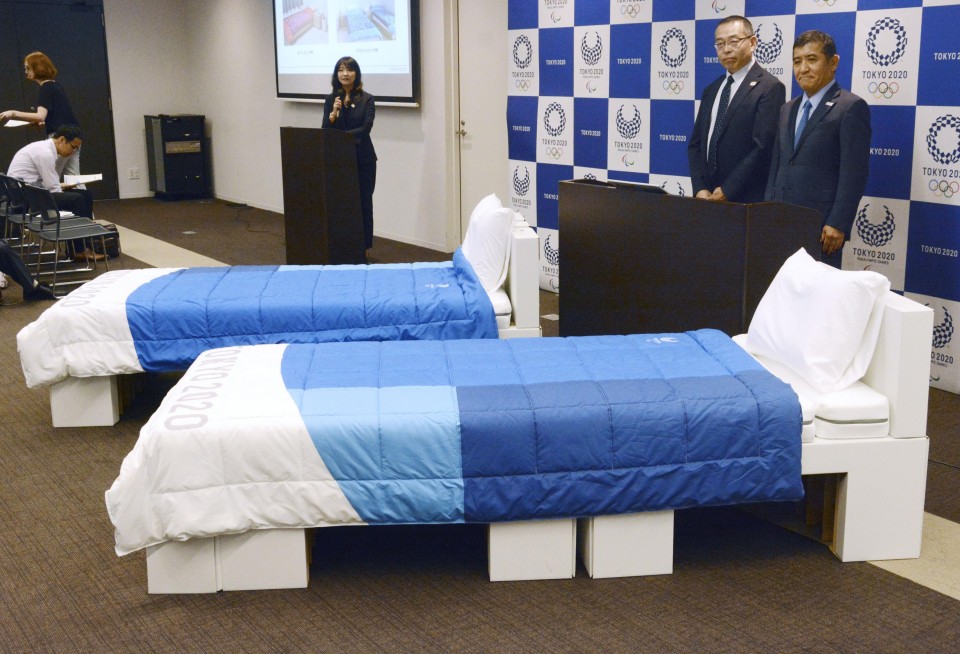 The cardboard beds can support up to 200kg -- keeping in mind that athletes do get bored and do interact with each other, especially when a congregation of the world's fittest people happens.
This is despite the cardboard bed frame being light enough to be held and moved around with one hand.
The bedding will be provided by Japanese bedding company Airweave.
The mattresses have sections to support the shoulders, waist and legs.
The level of hardness varies in the top and underneath layers for each of the three sections of the mattresses, so athletes can adjust them to suit their body type.
For example, swimmers may want to make the shoulder parts soft.
A total of 18,000 "high resistance lightweight cardboard" beds with polyethylene mattresses will be provided for the Olympians.
An additional 8,000 beds for the Paralympians will also be provided with designs that slightly differ.
Recycled into other products after the game
Takashi Kitajima, a Tokyo 2020 organiser in charge of the Athletes' Village, said in September the aim of the cardboard beds was to provide comfort for the athletes while securing sustainability -- one of the main themes of next summer's Games.
The beds will be recycled into paper products after the Olympic Games, according to the news release.
The mattress components will be recycled into new plastic products.
"This will be the first time in Olympic and Paralympic history that all beds and bedding are made almost entirely from renewable materials," the news release said.
The Tokyo 2020 Olympic Games medals are made of donated recycled electronics.
If you like what you read, follow us on Facebook, Instagram, Twitter and Telegram to get the latest updates.