Most politicians are associated with one party throughout their lives. Some, like Sir Winston Churchill and Tun Mahathir Mohamad, are famously linked to two.
In his political career, Chiam See Tong has played major roles in three such organisations:
Founder and former Secretary-General of the Singapore Democratic Party (SDP).

Former leader of the Singapore Democratic Alliance (SDA).

Secretary-General of the Singapore People's Party (SPP).
Oct. 16 will be another milestone in Chiam's political career, which began over 40 years ago in 1976, when he stood for his first election as an independent candidate in Cairnhill.
The SPP will hold elections to choose a new leadership team during its Ordinary Party Conference.
Chiam, who is still Secretary-General, will be stepping down from his position due to his declining health.
SPP's history
The SPP itself owes its existence to the controversial circumstances surrounding Chiam's departure from the SDP.
The acrimonious split involving current SDP party leader Chee Soon Juan led to Chiam's resignation from his position as SDP Secretary-General in 1993, and from the SDP altogether in 1996.
However, a number of pro-Chiam SDP members also left the party. In 1994, they registered the SPP.
Although expectations were high for Chiam to join the SPP, he was in the awkward position of having to serve out the remainder of his term in Parliament as an SDP member.
Otherwise, he would have been disqualified from his seat.
Chiam's record as SPP leader
Heading into the 1997 General Election, Chiam seemed set for a new chapter in his career.
He stood as a candidate in Potong Pasir, the constituency he previously represented in SDP colours.
Despite the fallout from the split and a strong challenge from the PAP, Chiam managed to win by a comfortable margin.

Chiam was the first SPP Member of Parliament, but he set his sights higher.
In order to achieve his dream of winning a GRC, he began to discuss the possibility of forming a coalition with other opposition parties.
By April 2001, Chiam managed to convince the National Solidarity Party (NSP), the Singapore Malay National Organisation (PKMS), the Singapore Justice Party (SJP) and the Singapore National Front (SNF) to join him in his endeavour.
They registered this coalition as the Singapore Democratic Alliance (SDA), although the SNF would back out.
Chiam was appointed the chairman of the fledgling alliance. But he wanted more alliances.
Possible alliance with the SDP and WP
Despite their differences, he invited the SDP to join him. And he also sent out overtures to the new leader of the Workers' Party (WP), Low Thia Khiang.
Low "seriously considered" the offer, according to The First Wave: JBJ, Chiam & the Opposition in Singapore, a book by London-based political analyst Loke Hoe Yeong.
Loke also wrote a biography of Chiam in 2014, titled Let the People Have Him.
Low said in a 2016 interview that he was under "immense pressure" to join the SDA, but ultimately decided against it as he felt that the WP had to forge its own path.
As the SDP predictably declined Chiam's invitation, the SDA would contest the 2001 General Election with the parties it already had.
The election of 2001
2001 saw its fair share of controversy, with a clash between Chee and then-Prime Minister (and current Emeritus Senior Minister) Goh Chok Tong in a public space over an alleged loan to former Indonesian President Suharto.
Chiam distanced himself from Chee's actions, and saw a new challenger in Potong Pasir, PAP's Sitoh Yih Pin.
When the dust settled, Chiam held on to his Potong Pasir seat by less than a thousand votes.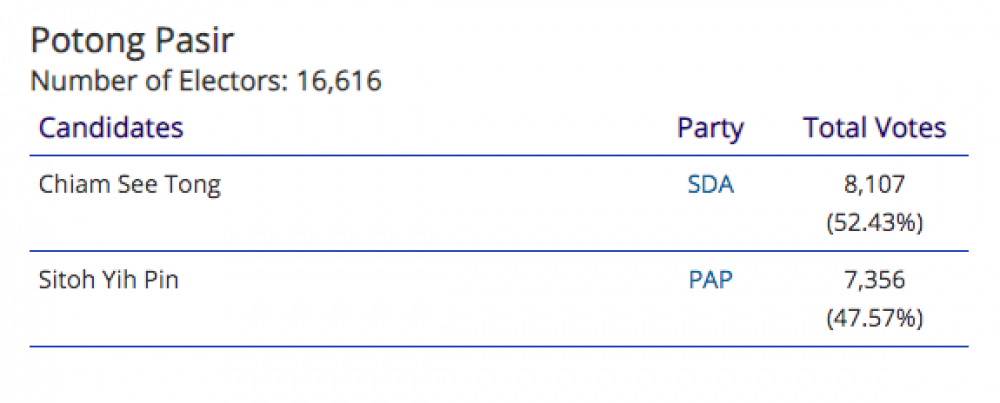 In a blow to the SDA's hopes, none of the other candidates managed to win their own contests, although NSP/SDA's Steve Chia did well enough to qualify as a Non-Constituency Member of Parliament (NCMP).
In the next General Election in 2006, Chiam tried again to team up with Low to take on a GRC together.
But according to Chia in First Wave, the sticking point was that the WP did not want to join the SDA as a component party and fight under the SDA banner.
Chiam would not contest a GRC, and stayed in Potong Pasir. However, he did manage to increase his margin of victory.
SPP exits the SDA
By 2011, cracks were beginning to show in the SDA's united front.
Chiam suffered a stroke in 2008, but recovered and resumed his political activities.
He suffered another setback in 2010, when Kenneth Jeyaretnam's Reform Party chose not to join the SDA. It also led to infighting within the alliance.
In Feb. 2011, the other SDA leaders relieved Chiam of his duties as Chairman of the SDA. In response, Chiam withdrew the SPP from the alliance, ending his party's decade-long association with the SDA.
Aiming for a GRC
Despite these bumps in the road, Chiam still had not given up his hope of contesting and winning a GRC.
He decided to leave Potong Pasir and venture out to challenge the PAP in the Bishan-Toa Payoh GRC.
But he faced difficulty in finding candidates to form a team.
Chiam even considered the possibility of returning to the SDP, but the talks between him and Chee fizzled out.
However, with the addition of Singapore government scholarship holder Benjamin Pwee into the SPP's ranks, Chiam finally had enough teammates to do battle.
Considering Chiam's advancing years, there was a sense that this was a "now-or-never" moment for Chiam's ambitions.
Chiam came up short
Despite his best efforts, Chiam could not pull off the triumph he hoped for.
The SPP team lost by over 5,000 votes.
2011 would indeed be remembered in Singapore history for the fall of a PAP GRC to the opposition -- but in Aljunied to the WP, not Bishan-Toa Payoh.
The only saving grace for the SPP was that Lina Chiam did well enough in Potong Pasir to qualify as an NCMP.
Chiam would not contest in the 2015 General Election, and Lina Chiam was defeated by Sitoh in Potong Pasir.
The Chiam See Tong legacy
How does one assess Chiam's legacy? According to Loke, Chiam will be remembered for "transforming" opposition politics in the eyes of Singaporeans.
Speaking to Mothership, Loke said:
"In his usual self-effacing manner, Chiam once said his contribution in life has been to show that any Singaporean can stand for elections and win, including the opposition.

In fact, he has completely transformed what the opposition means to Singaporeans, in the course of his 40 years in politics. He has made them so much more electable since the days they were shunned.

When he first started campaigning in the 1970s, he used to have doors slammed in his face literally, whenever he introduced himself as the opposition candidate. It was a mixture of fear and disdain for the opposition. These days, the doors open wider."
Loke even contended that Chiam's example inspired politicians in other parties, such as the WP and the newly-minted Progress Singapore Party (PSP).
PSP founder Tan Cheng Bock, former Presidential candidate and PAP MP, visited Chiam in hospital after his fall in 2013.
Added Loke, "I know of people in those parties who greatly admire Chiam and the values he stands for, and who seek to further his vision for the opposition as a whole."
However, it must be said that Chiam never achieved his aim of winning a GRC, despite his long career.
Lee Kuan Yew, in his book From Third World to First, contended that Chiam could have done better.
Speaking of the 1991 General Election, he wrote:
"The SDP led by Chiam won three seats, becoming the largest party in opposition, with Chiam the official leader of the opposition. The new SDP MPs were lacklustre and did not measure up.

Chiam was constructive and could have built up a sizeable political party had he been a shrewder judge of people.

In 1992 he proudly produced a plausible young lecturer as his prize candidate for a by-election. Within two years, his protege had ousted him as the leader and forced him to form a new party."
"Decent and honest politician"
Emeritus Senior Minister Goh Chok Tong had kind words to say about Chiam during the gala dinner fundraiser for the Chiam See Tong Sports Fund on Aug. 22.
Goh said that he respected Chiam as a "well-meaning, decent and honest politician".
He also considers Chiam a "friend", as he mentioned in his biography, Tall Order.
Prime Minister Lee Hsien Loong appears to have a cordial relationship with Chiam, despite clashing during a debate on the elected presidency in 1988.
In 2015, he thanked Chiam for paying his respects at Lee Kuan Yew's funeral.The question of who will replace Chiam as the SPP's Secretary-General is up in the air.
TODAY speculated that Chia could get the nod, or possibly Jose Raymond, the former Singapore Environment Council executive director and press secretary to Minister Vivian Balakrishnan.
Whoever it is, the SPP will likely be associated by Singaporeans with the Chiam name for a long time to come.
Top image from Singapore People's Party's Facebook page.
If you like what you read, follow us on Facebook, Instagram, Twitter and Telegram to get the latest updates.