Top photo by Bernice Wong
One of the most unforeseen amazing stories this past General Election 2015 hustings week: The rehabilitation of Singapore Democratic Party's chief Chee Soon Juan's public image.
Singaporeans have, almost overnight, come to embrace the most idealistic left-wing politician Singapore has ever seen.
And this sea change in attitude is beyond comprehension given that barely three years ago, Chee was pretty much written off as a contender for a seat in parliament and was, by and large, shunned by fellow Singaporeans due to his past where he was making headlines for all the wrong reasons.
Vilified by the mainstream media as a human rights obsessed crazy and written off by the previous leaders of the incumbent People's Action Party (PAP) as a hack activist who relied on civil disobedience for the sake of it, the 53-year-old's 180-degree about-turn and resurrection means he is officially a dark horse in this election, where he is currently leading a team of four in Holland-Bukit Timah GRC.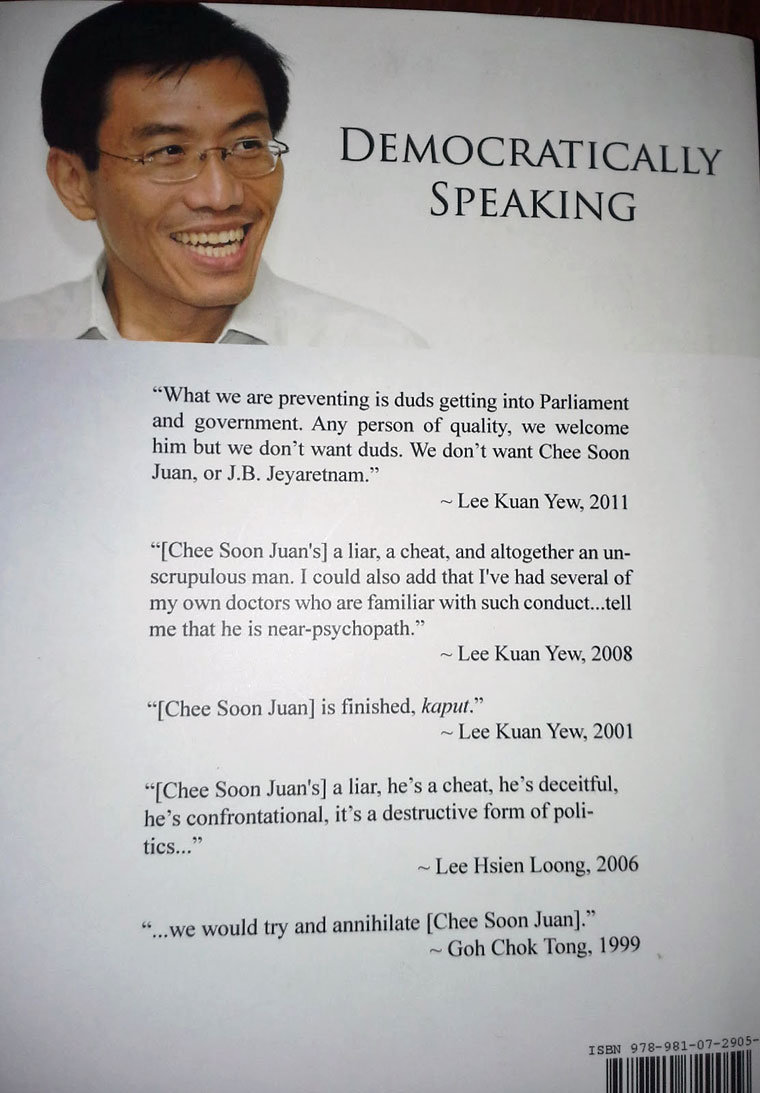 What do people remember about Chee Soon Juan the politician?
Chee made his debut in politics when he was only 30 years old. In 1992, he contested in the Marine Parade by-election, which was called by then Prime Minister Goh Chok Tong. His initial presence in the opposition camp drew considerable public interest as it was the first time an academic was standing against the PAP. SDP lost.
Since then, his political career had more downs than ups as he practised a form of politics that many thought was untenable for this part of the world, or more charitably put, it was ahead of his time.
But among a few things he is remembered for: In 1993, he went on hunger strike to protest against his sacking as an academic at the National University of Singapore -- claiming it was politically motivated, his alleged ouster of one-time mentor Chiam See Tong from the SDP also during the 1990s and being found in contempt of Parliament for providing false data to a parliamentary committee tasked to verify healthcare subsidies of polyclinics and public hospitals.
And in 1997, he contested in MacPherson against PAP's Matthias Yao. He lost again.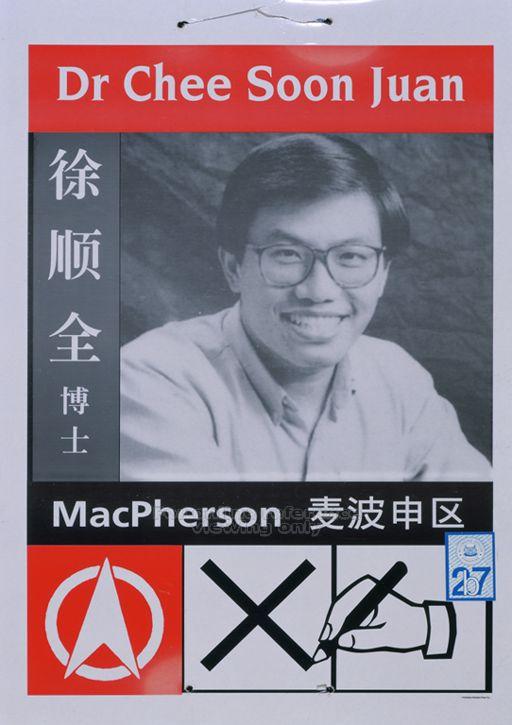 He last took part in the election in 2001.
And that was the year he was sued for defamation by former prime ministers Goh Chok Tong and Lee Kuan Yew for remarks about an alleged loan to former Indonesian president Suharto. He lost and that led to his bankruptcy which disqualified him from the 2006 and 2011 elections until 2012, when he made a S$30,000 offer of compensation that was accepted by Goh and Lee.
So, barely three years ago, Chee was not even on the radar of the voting population and the SDP came out of GE2011 losing a few prominent candidates, such as Tan Jee Say, Ang Yong Guan, Vincent Wijeyshingha and Michelle Lee.
Besides these antics, Chee has gone to jail for holding a rally and speaking in public without a permit, a law of the land he was perceived to have been breaking knowingly -- sealing his fate as that guy who promotes his brand of confrontational politics.
Rehabilitation of Chee's public image in GE2015
Coming into this electoral battle, Chee's first in 14 years, he has seen a dramatic newfound appreciation by the populace for his speeches, his books, his presence and his appearances in general.
So, what exactly happened? How do we even try to wrap our minds around this phenomenon that has been labelled as a turning of the tide, a tsunami of sorts, or maybe even, a Chee-nami?
It really depends on your frame of reference and how far back you want to look.
If we were to step back to 2013, we would go back to the year Chee was finally able to get out of bankruptcy. This was when he was able to pay off all his debt via a goodwill payment of S$30,000 to the late Lee Kuan Yew and current ESM Goh Chok Tong, which made him eligible to run again -- his re-entry to the political scene proper.
Or we can zoom in on last week: The turning point for Chee began a day before Nomination Day on Sept. 1, 2015. This was when an 18-minute short film, Behind The Man, was uploaded to YouTube (close to 300,000 views in one week). It shed light on him and his family, and how he is not really all nuts.
Or we can look at how he has conducted himself thus far, riding his higher-than-thou moral high horse: He has been repeatedly poked by PAP candidates Sim Ann, Lawrence Wong and Vivian Balakrishnan, but he has been perceived to have kept a cool head on his shoulders by denouncing such antics and then reminding his supporters never to stoop to those PAP lows.
In short, he may have risen to the heights of some of his inspirational figures he has written about - Aung San Suu Kyi and Kim Dae-Jung.
This change from heel to face is nothing short of what you'd be expected to see in the movies.
Some reasons
However, it is evident many factors might have contributed to this: Most importantly, social media which has caused the disruption of the monopoly mainstream media outlets have on Singapore's collective consciousness.
And here's a bunch of other (non-exhaustive list of) reasons we can come up with:
- His lean, chiselled, evergreen countenance (he still looks 45)
- His ability to capture the audience's imagination via his eloquence and glint in his eye
- His family man status
- His perceived seasoned politician image having earned his political stripes after all these years of trials and tribulations
- His reputation, which naturally precedes him
- His unwavering adherence to democratic ideals of justice and equality, even now, albeit played down a lot more than during his younger days
- And, most probably, the general selective forgetfulness of the populace. (Who remembers what occurred twenty years ago, except the ruling party politicians and a certain Chiam See Tong?)
This is not to discount the fact that the embrace of Chee reflects a populace that is grappling with a growing confidence in themselves and its collective judgement, and the belief Singaporeans' have that people might deserve a second chance.
And what does Chee have to say about the perception he is a changed man?
He insists he is still the same person, just that people now get to see different sides of him.
Objectively-speaking, the following pictures show to what extent Chee's public image has been rehabilitated:
Then: Chee speaking to ants, some reporters and members of the public in 2006
" width="760" height="428" frameborder="0" allowfullscreen="allowfullscreen">
Now: Causing a Chee-nami and getting mobbed during SDP's lunchtime rally in GE2015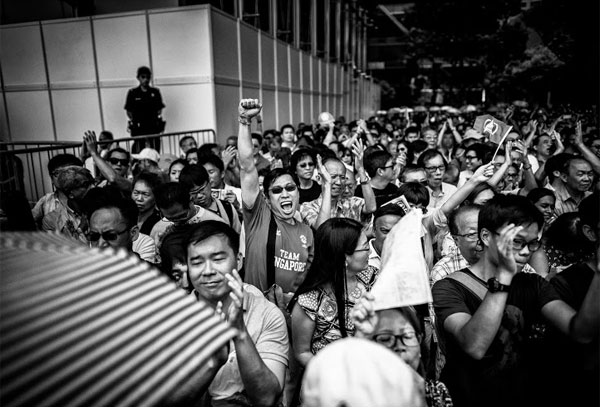 Then: Chee's children helping him was a politically-charged image
Now: His kids are seen as possessing his steel and his pillar of strength
Then: Reduced to talking to not many in Hong Lim Park
Now: Chee blowing the crowd away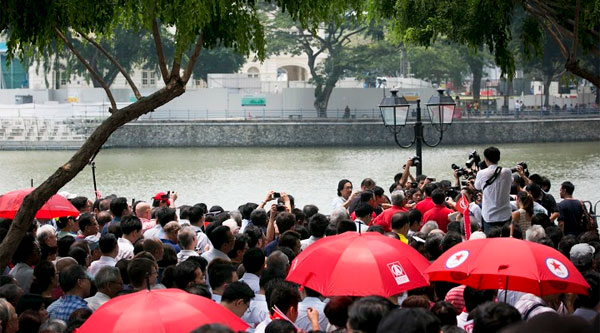 Then: Provocateur outside Istana in 2007
Now: Crowd-puller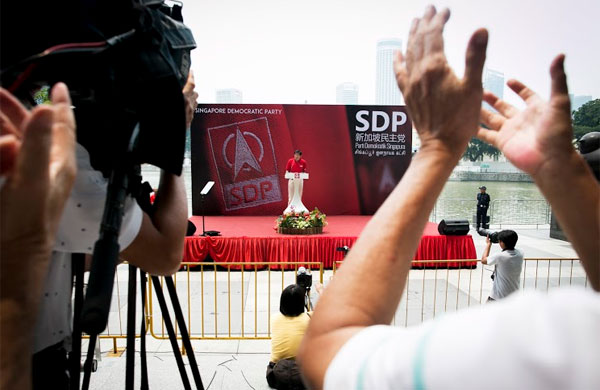 Then: How people saw Chee
Now: How people see Chee now
Then: Chee speaking in Raffles Place in 1998
Now: Chee speaking in Raffles Place in 2015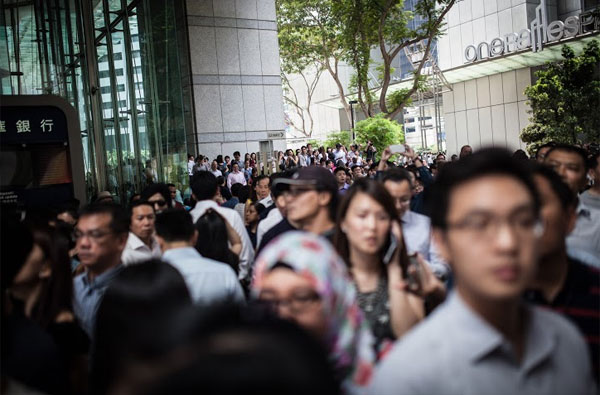 Then: Chee surrounded by police
Now: Chee surrounded by love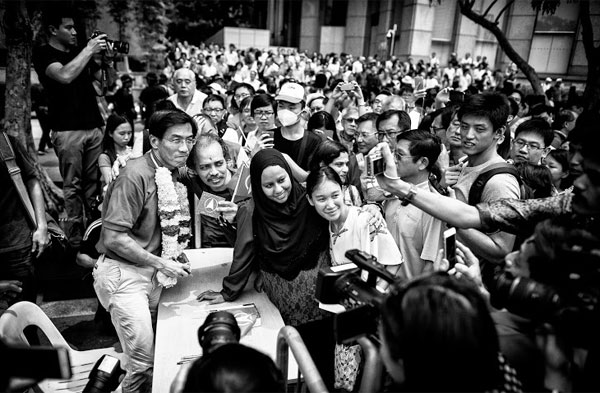 Then: Chee selling books in 2006
Now: People buying Chee's books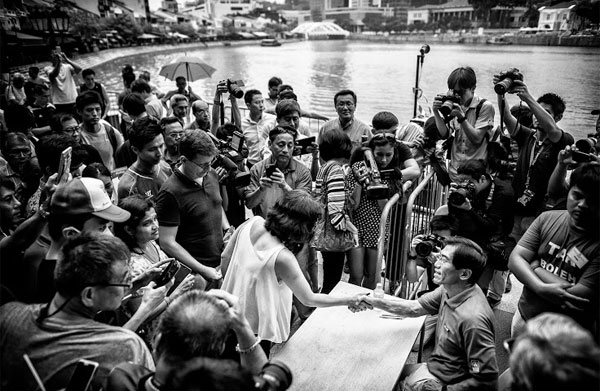 Then: Chee Soon Juan public speaking
Now: Chee Soon Juan public speaking
All photos via HardwareZone Forum unless otherwise stated
Click here to go to our GE2015 microsite for the juiciest election-related news on Mothership.sg.
If you like what you read, follow us on Facebook and Twitter to get the latest updates.