A fire broke out at a ground floor HDB flat unit in Block 842 Woodlands Street 82 on Sep. 23 afternoon after the air conditioner burst into flames.
Air conditioner on fire
The 24-year-old granddaughter of the four-room flat owner told the Chinese daily Lianhe Zaobao that the air conditioner that lit up was fixed on the wall in one of the bedrooms.
There was no one in the room, but the air conditioner was turned on and the door was closed.
She added that everyone was in the living room when they heard some noises coming from that room.
When they opened the door, the room was already in flames.
Seeing that it is too late to extinguished the fire, the owner immediately closed the door and evacuated the family of six.
Among them was a wheelchair bound 73-year-old, an 82-year-old elderly and a five-year-old child.
Black smoke from the fire rising high
The family stayed at a safe distance away from the house and waited for help.
The Singapore Civil Defence Force was alerted at around 4:04pm and put out the fire using one water jet.
Black smoke could clearly be seen coming out of the unit:
https://giphy.com/gifs/Rghx2Rmuqp0GIiK4At
There were a few onlookers nearby watching the firefighters extinguish the fire.
https://giphy.com/gifs/ftNidJqH6QVKmqx1Vf
Here's the full video:
[video width="224" height="400" mp4="https://static.mothership.sg/1/2019/09/10000000_2495038047229764_8340196653352878080_n.mp4"][/video]
Cause of fire uncertain
The granddaughter also told the Zaobao reporter that the air-conditioner was from a well-known brand and they had used it for the past six years.
The main switch was in another room and the family has since checked that the electric plug and air compressor were fine so they suspect that the problem lies within the air-conditioner.
The fire destroyed almost everything in the room.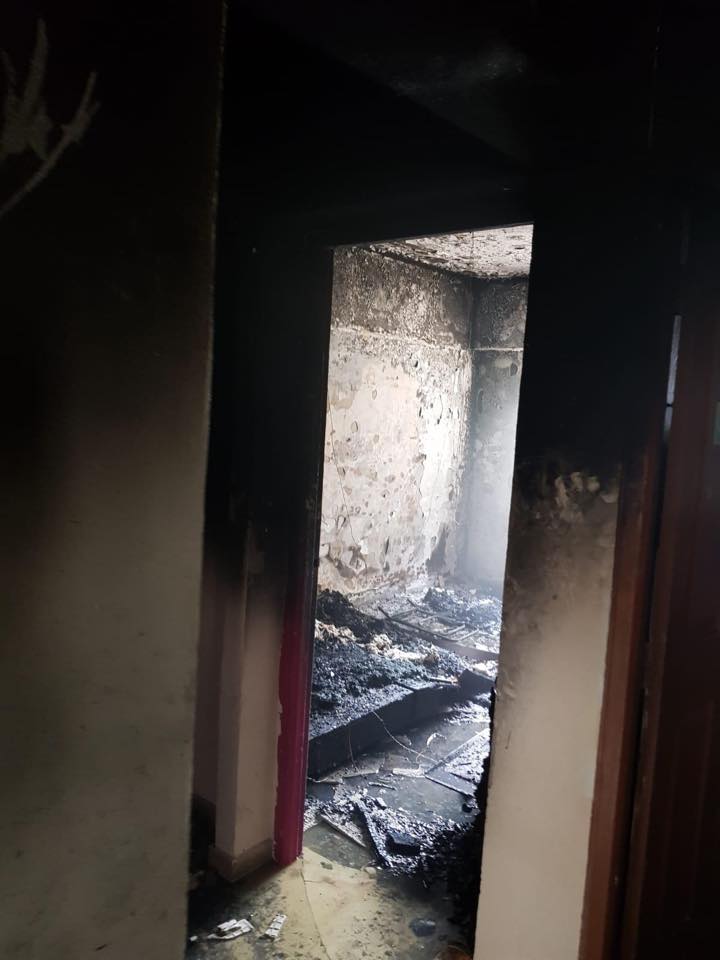 Fortunately, no one was injured in this incident.
Investigations are ongoing.
Content that keeps Mothership.sg going
---
??
Do you remember the last time you used a passbook?
??
What's it like to be a 22-year-old with depression and anxiety?
??️
Limited 40% off vouchers for fine dining here!!! Don't say we bojio.
??
Learn the secrets behind magic tricks. Spoiler alert: it's science.
If you like what you read, follow us on Facebook, Instagram, Twitter and Telegram to get the latest updates.