It might look like a scene out of The Office with the same camerawork, but no, that Greta Thunberg sneering at President Donald Trump video or gif you came across online is real.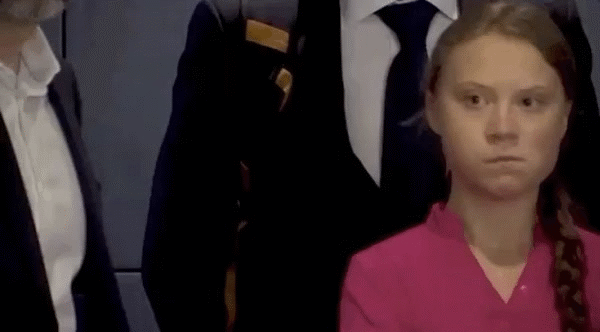 What happened there?
Greta Thunberg, 16, from Sweden delivered a sharp rebuke to world leaders in an emotional speech delivered at the opening of the United Nation's climate summit.
"People are suffering, people are dying, entire ecosystems are collapsing. We are in the beginning of a mass extinction and all you can talk about is money and fairytales of eternal economic growth." Watch Greta Thunberg speak at the UN Monday morning. https://t.co/Akkxm9sXdr pic.twitter.com/ahHKlhbYaE

— WIRED (@WIRED) September 23, 2019
On Monday, she briefly crossed paths with Donald Trump, as he arrived to attend a meeting on religious freedom.
The US president had decided to snub the major UN climate summit, held on the same day.
Trump was not scheduled to speak, but he suddenly and unexpectedly showed up and made it into the audience mid-morning, entering the UN general assembly hall and sitting with the US delegation, as other heads of state delivered climate speeches.
"Good to see you joined us," quipped former New York mayor Michael Bloomberg, from the stage, where he was giving his address, acknowledging the US president's presence.
"Hope you listen to conversations and find it helpful as you formulate your climate policy."
The president listened while Indian Prime Minister Modi made his speech.
"The world needs to act now," Modi said, with Trump joining in the applause.
The US is the most conspicuous absentee from the speaker line-up at the climate summit, which included more than 60 other countries.
President Trump has said he plans to withdraw from the Paris climate accord, and has pursued measures to support the coal industry.
The president reportedly then left to join the religious freedom meeting.
When Thunberg arrived in New York late in August, she said she had little hope she would be able to convince the president to take action on the climate emergency: "I say 'listen to the science' and he obviously does not do that. If no one has been able to convince him about the climate crisis and the urgency, why would I be able to?"
Trump trolls
Trump subsequently trolled Thunberg with this tweet:
She seems like a very happy young girl looking forward to a bright and wonderful future. So nice to see! https://t.co/1tQG6QcVKO

— Donald J. Trump (@realDonaldTrump) September 24, 2019
World leaders divided
World leaders were divided over Thunberg's speech.
French leader Emmanuel Macron said Thunberg's rage at countries such as France and Germany were misplaced, and he characterised her cause as a "very radical" approach because some Western countries were already taking steps to fight climate change.
German Chancellor Angela Merkel posted a photo of her and Thunberg meeting on the sidelines:
https://www.instagram.com/p/B2wlwspIDOK/
Earlier, before Trump's tweet, Thunberg tweeted that she and 15 other children from around the world had filed a legal complaint, claiming that some countries have violated an approximately 30-year-old human rights treaty.
"Today at 11:30 I and 15 other children from around the world filed a legal complaint against 5 nations over the climate crisis through the UN Convention on the Rights of the Child," Thunberg tweeted.
The complaint was filed against nations who have ratified the treaty and have the largest emissions, she wrote.
Those nations are Argentina, Brazil, France, Germany, and Turkey.
Several days ago on Friday, Thunberg led 150 countries in a youth-led Global Climate Strike, which saw millions taking to the streets around the world to demand action and an end to the era of fossil fuels.
Analysis
Talk about Thunberg and her ways have exploded online as soon as she finished her speech.
The Atlantic wrote a piece about why a teenager like Thunberg makes adults uncomfortable.
The short answer: Thunberg embodies the innocence of a child, while her politics and cause is mature beyond her years.
She can afford to be direct and present the issues without the baggage of someone considered an adult with an agenda.
However, she is not shielded from rebuke as many have accused her of being used by and making use of adults.
CNBC wrote that her anger is not enough, and Thunberg is pretty much presenting the child version of Elizabeth Warren's tweet.
This is exactly what fossil fuel industries want us to talk about—they want to stir up a lot of controversy around your light bulbs, straws, cheeseburgers. But 70% of the pollution comes from three industries. We can set our targets and say no more by 2035. #ClimateTownHall

— Elizabeth Warren (@ewarren) September 5, 2019
There is also the danger that environmentalism as an issue will only become more divisive than ever, especially in the United States, where it might become as polarised an issue as gun ownership or abortion, where there is no way back.
The BBC has charted the short-term outcomes in the aftermath of Thunberg's climate summit "outburst".
If you like what you read, follow us on Facebook, Instagram, Twitter and Telegram to get the latest updates.