Tiger is commemorating National Day by paying homage to Aug. 8, the day before National Day, because while everyone celebrates the actual day of our achievements, it's the days before that matter. As part of this, Mothership speaks to the KEK brothers, whose food is available Tiger Street Lab, to find out about how it is what we do today that we will celebrate tomorrow.
Walk around Alexandra Village and one would surely be acquainted with the unmistakable waft of wok hei in the air.
Wok hei -- loosely translated as the smell of the wok -- can be described as a smoky, charred aroma and is a cornerstone for any self-respecting tze char stall.
And mention Alexandra Village, there could only be one tze char stall.
Keng Eng Kee Seafood -- or simply KEK to the long-time customers or residents of the Bukit Merah area, is an institution.
It has been in Alexandra Village for some two decades.
Why sleepy Alexandra Village?
Paul Liew, 38, co-owner of KEK, answers with a chuckle: "It's near our home lah."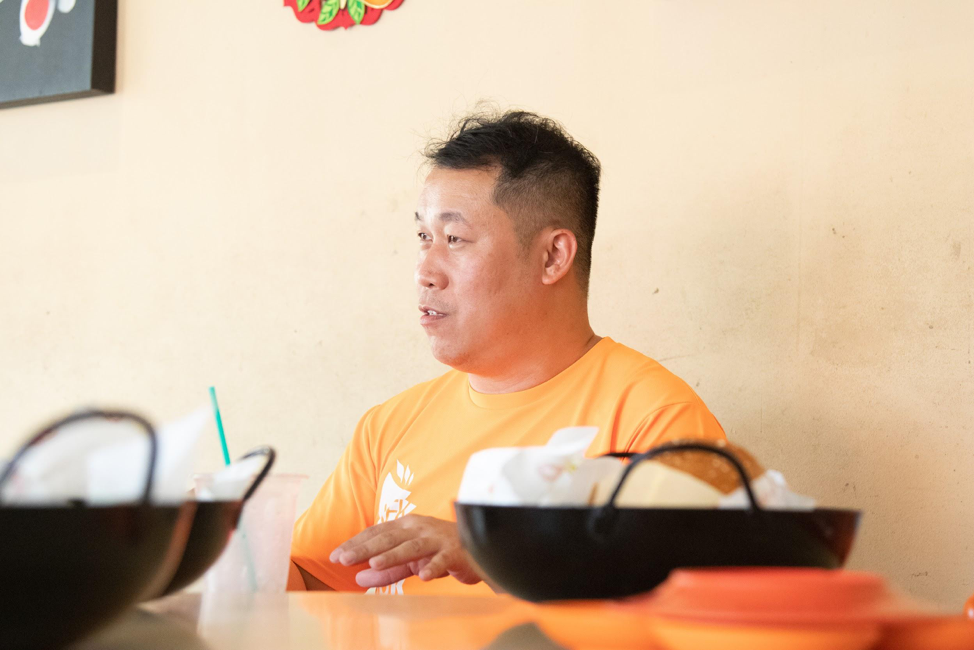 An answer as straightforward and practical as it gets --  just like tze char cuisine.
It's a family business.
To understand KEK's popularity, one must look at its origin story.
Started by Paul's grandparents who came to Singapore from Hainan Island, China, in the 50s, KEK first operated at a coffeeshop at Old Havelock Road.
As business started to boom, their daughter -- Paul's mum -- started to help out at the stall and a new chef hailing from Ipoh was employed. 
Like most love story goes, love is heating up somewhere among the woks.
One generation later, third-generation owners Paul, who oversees the operations, and younger brother, Wayne, 35, also the head chef, are now manning the fire.
Both brothers spent their formative years surrounded by the unforgiving heat of the kitchen and often helped out even when they were still schooling -- doing everything from folding takeout boxes, taking orders and serving food.
It's no easy feat keeping the family business going for three generations. So what makes KEK an institution?
The answer, Paul explains, is the KEK dining experience.
"There are times that they (the customers) will say to me, 'You don't know, I want that auntie, she knows what I want.'"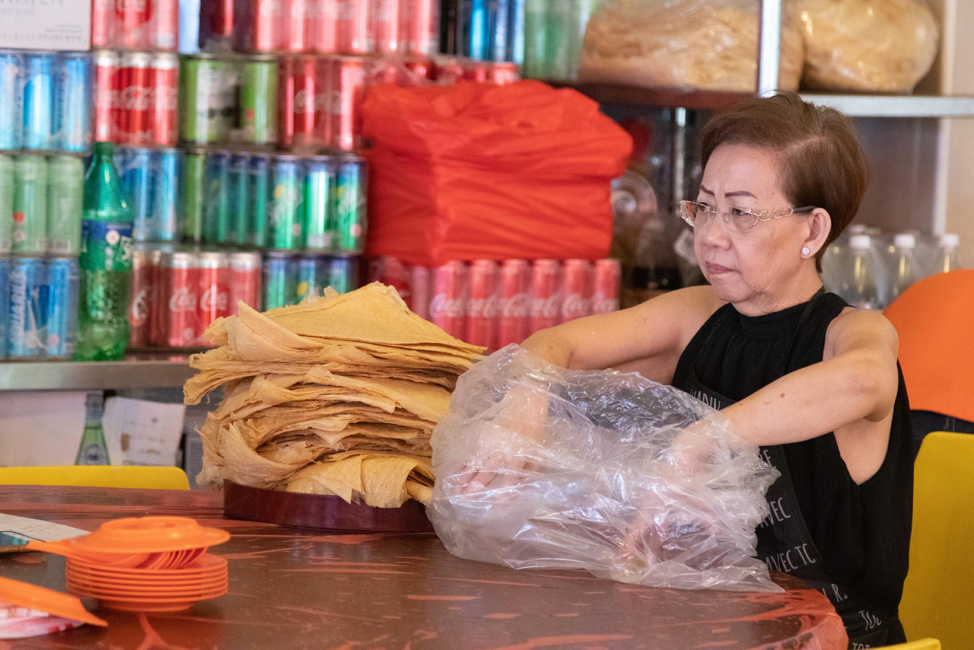 The familiarity, down to what regular customers normally order or what ingredients to omit, makes people come back. 
And customers don't even mind getting their hands dirty during peak hours.
Paul says: "Sometimes they see that we are very busy, they will set their own tables, take their own chairs. They will say 'It's okay you go and cook I will do it myself.""
Talents are in short supply.
Now, asking for customised dishes is as common as hor fun in a tze char menu. 
It takes chefs and not just cooks who follow recipes, to create a bespoke dish. And in the tze char discipline there are so many types of cooking methods used.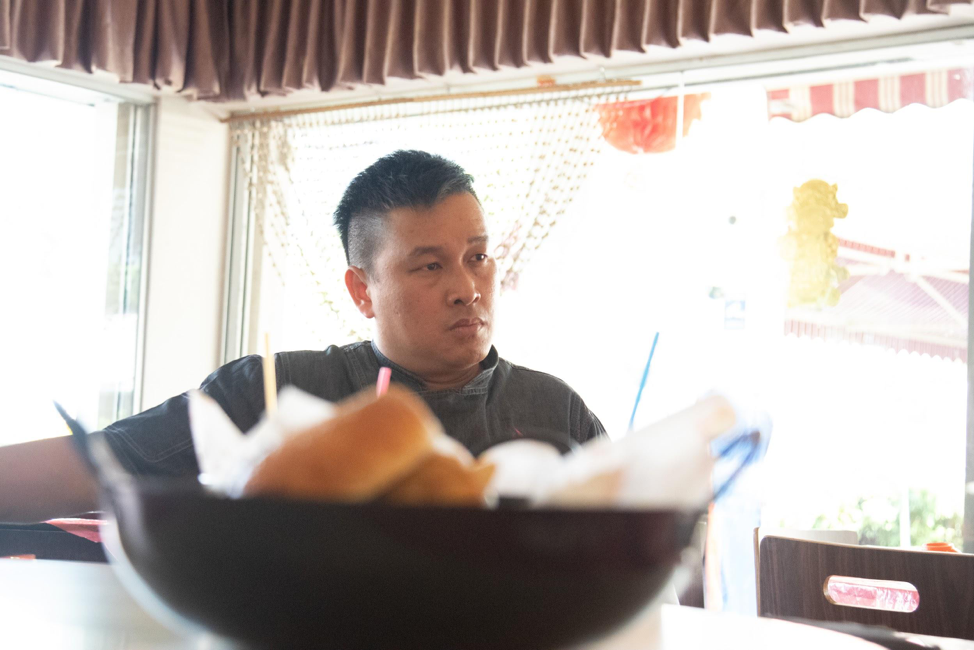 Wayne explains: "In tze char there is everything. Need to fry, steam and even boil. Then also there is last minute reaction. Like maybe someone says that today he cannot eat a certain ingredient. Or if he's a vegetarian, cannot eat egg. Then you have to think of something on the spot."
Indeed, the quickness of mind comes from understanding the entire cooking process -- a must for tze char chefs but it's something most young aspiring chefs don't appreciate.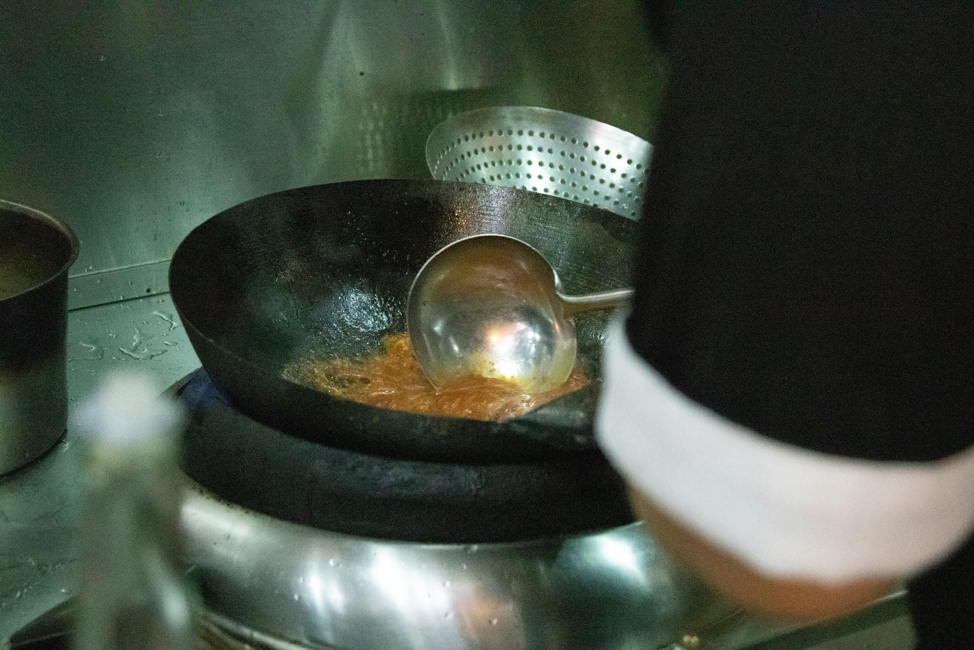 "If you want to learn, I will ask you to learn from the beginning, the basics. It's not that I want to use you as a free labour. Because everything starts from the basics. So when you are cooking you will know better."
"For example, this ingredient is very difficult to get so cannot be wasteful or how to make full use of the ingredients, how to fry a scallop or cook it so that it will taste the best, how to clean and wash the scallop. If you don't know all this procedure, you only want to cook, then anyone can cook. A lot of Singaporeans cannot accept this because I always ask them to start from the basics. Then they will tell me, 'I already know.'"
Hell's kitchen?
What really goes on behind the scenes of a tze char kitchen? 
Paul sums up perfectly: "The tze char kitchen is not a place to learn. It is a place to deliver."
Sensing that the relentless pace might worsen the manpower situation, the brothers started Wok In -- a burger joint located in the main restaurant that serves up tze char inspired flavours such as salted egg yolk.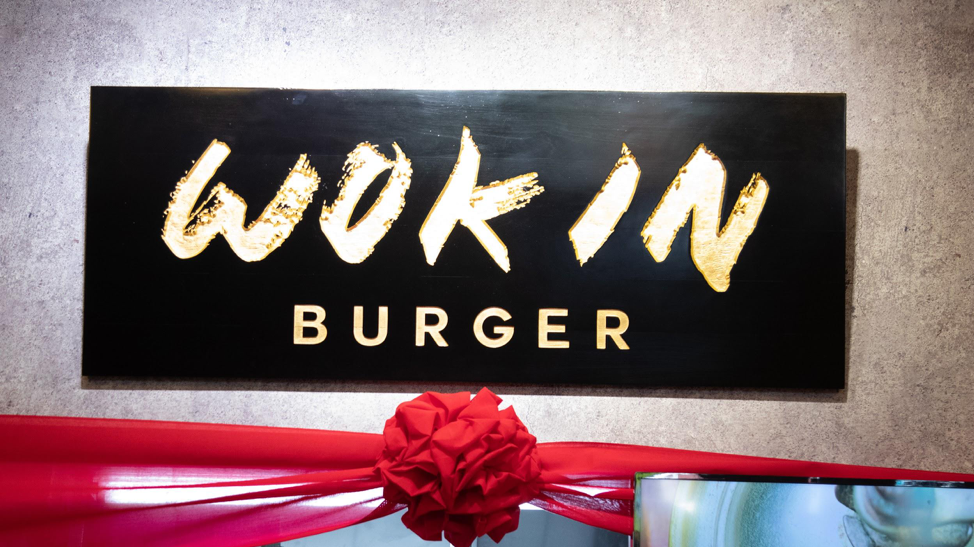 Such fusion offerings, they opine, is a good gateway for aspiring chefs to pick up the fine art of tze char cooking. They even offer internship to ITE students.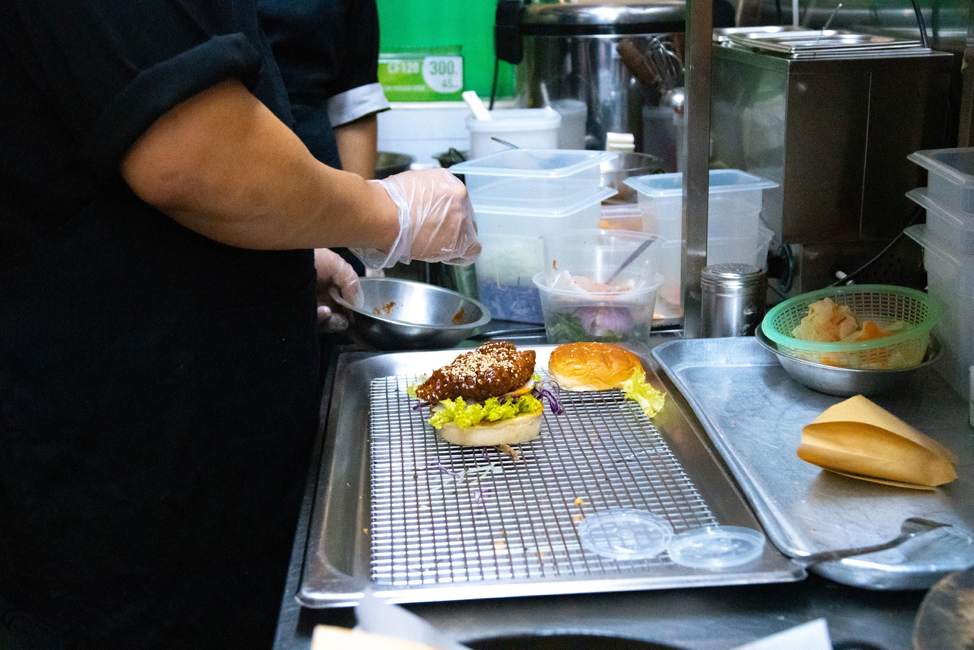 Wayne says: "They are very passionate, very hard working kids. But maybe our place is too fast paced… So we sensed that and that's why we came up with the Wok In burger. It gives them a place to learn wok skills and also understand flavours from the very beginning. Then if they are okay then they can level up."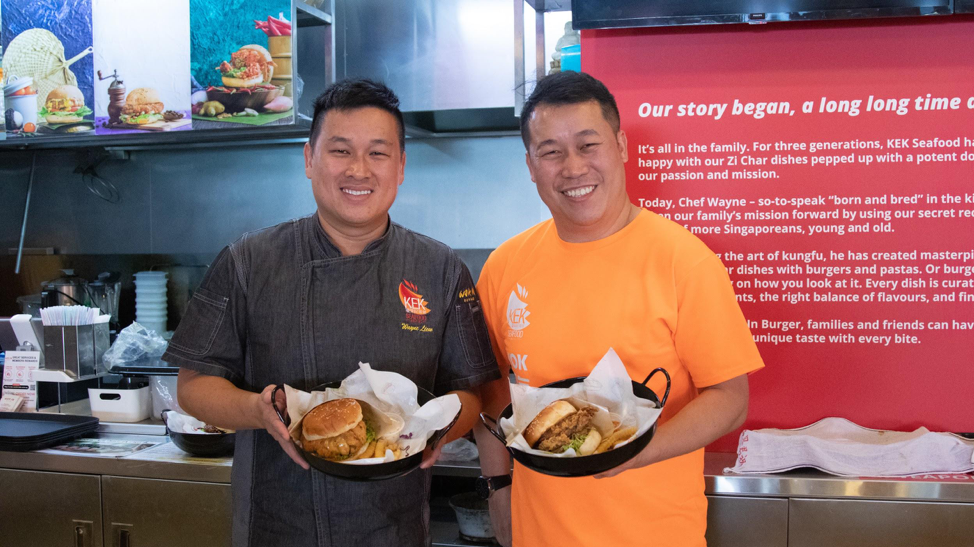 "Nowadays even Malaysians don't want to work in tze char. So we really need local people
On a bigger picture, on the more noble side, that's our approach. To do our small part to help this industry."
The future
The brothers have five children -- coincidentally all girls -- and I wonder will there be a fourth-generation owner somewhere.
Wayne's eldest daughter has been helping out -- serving, taking orders and cashiering.
But being a doting dad, he's quick to add: "She's a girl and you won't want to let your own daughter to go in and cook, injure herself, then if she doesn't have time to get a boyfriend blame who?"
"Blame me." 
What's next for food?
Constant innovation is a must, Wayne says.
For instance, the current menu consists of dishes from three generations: The grandparents' eggplant with minced pork and salted fish; the parents' moonlight hor fun; and the current generation's coffee pork ribs.
Wok In, he says, is a good testbed for ideas.
Speaking of which, a new Wok In outlet will open in J Cube this September, with a glass kitchen to attract foodies and talents with the theatrics of tze char cooking.
And that unmistakable waft of wok hei in the air.
--
KEK Seafood has been part of Tiger Street Lab's menu since its launch in April this year. Foodies can look forward to Tiger-inspired dishes such as Tiger Radler Lemon Chicken and Claypot braised White Tiger Chicken.
Paul tells Mothership: " As Tiger Beer had been embarking on this journey to support local street food, KEK is honoured to be their partner." 
Indeed, the quintessential tze char experience is not complete without another local pride -- ice cold Tiger beer.
In celebration of Singapore's birthday, for one day only on 8 Aug, a 6 can pack of freshly-brewed-in-Singapore Tiger beer can be enjoyed at only $8.80. This promo is available at all major supermarkets, online stores and convenience stores island-wide. Perfect drink for the tze char experience.
Why Aug. 8? Each year on Aug. 9, the nation gathers in the biggest celebration of what is deemed the most important day in Singapore's history - National Day. Yet, it's actually the day and days before our success that really matters.
As such, Tiger is commemorating the 8 Aug with the tribute video, "The Day Before", which features Paul and Wayne Liew from Michelin-Plated Keng Eng Kee Seafood alongside founder of design retailer Naiise Dennis Tay, Hokkien opera singer Lee Ah Lek, pop-rock band TKB, and fashion designer Amos Ananda Yeo.
[embed]
After all, it is what we do today that we will celebrate tomorrow.
This sponsored article by Tiger Beer makes this writer hungry for tze char.
If you like what you read, follow us on Facebook, Instagram, Twitter and Telegram to get the latest updates.