Tan Cheng Bock, Secretary-General of the Progress Singapore Party (PSP), was so overwhelmed with emotion while speaking at the launch of his party that he paused twice, choking back tears.
In a more-than-40-minute speech during the opposition party's launch event on Saturday, Aug. 3, the veteran politician found himself pausing when touching on the issues of political succession in his newly-formed party, as well as at its tail-end.
Tan's "genuine" fear
During his speech, he said he wanted to address the topic of his "succession plan".
"I said that one of my greatest fears was that I would no longer be around. Would PSP collapse? Would there be no more PSP?

That fear was one of their considerations that held me back from forming a political party. It's a genuine fear on my part."
But he then explained the reason why he no longer held this fear.
"But what has since happened is that many men and women came forward to join me. They wanted to build a stronger Singapore. They convinced me to come back and their presence gave me hope. And confidence."
Volunteers gave him confidence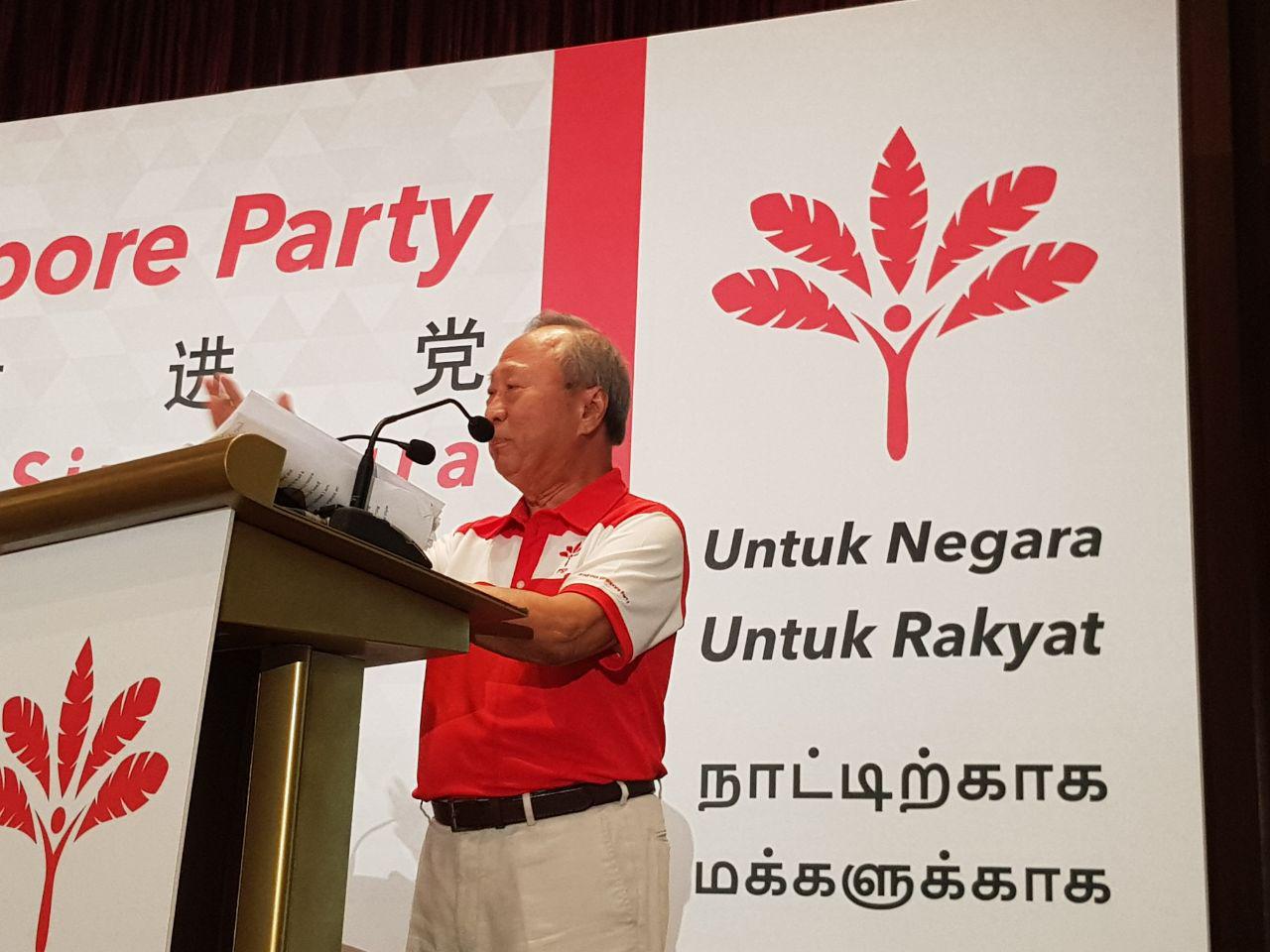 At this point, Tan appeared overwhelmed with emotion and appeared to tear up.
After a pause, he continued:
"Confidence I needed to go ahead and start this party. It's their commitment and courage that made it possible for this launch to take place today. I realised I did not fear anymore.

Look at all these... but these are young Singaporeans. They have come to me now. And they cheer me, they give me confidence to do what I can in the short space of my life."
Tan then said he had no worries about the capabilities of these volunteers:
"This courageous band of men and women... are people of courage. Many have been criticised and ridiculed as untrained, raw.

But I said don't worry because these are brave and courageous people, and I call them champions of courage for the next generation."
Spoke with LKY about joining PAP
Tan also shared at two points of his speech his conversation with the late Lee Kuan Yew when joining the ruling People's Action Party.
"Speaking up is not in gratitude or betrayal. Lee Kuan Yew made it clear when he asked me to join him, to join his party, and he said when I told him I was not enamoured of the PAP.

He said "I don't want yes men," he said. So I joined him. And I did not hesitate to speak when I disagreed."
At a later point, he also touched further on the late LKY's case to him to convince him to join the party.
"I was called by him to join the work of nation building. I remember we spoke for quite some time because I told him I was not enamoured with the PAP, but he told me 'I need you to come forward. To take Singapore to the next level of growth.'

He impressed me with the passion to serve the country, to build the country up. That call was so touching, so strong that I joined him in spite of my reservations.

And he said, 'if you don't come up, don't blame me,' he said. 'If I take second-rate people to take your place.' That is a very powerful message."
Cried at second call to urge guests to join PSP
And in concluding his speech, Tan issued a rallying call for the more-than-300 supporters present to join his party.
"My call... is for Singaporeans to come up and join me. To form a good team that you all can be proud of, that can run the country well... Young and old doesn't matter. Passion to do something for the nation is very important.

This is a huge task, I see the need for more good people to come forward to join me and make a difference to Singapore.

Ask yourself, are you satisfied with the levels of transparency, integrity and accountability in Singapore? If not, what are you going to do about it?

Are you going to ignore it? And pass to our children? We have a moral duty, you and I. We have a moral duty to make sure that our children don't live in fear anymore.

So you all go home and think carefully, talk to your friends. Your country needs you. You all must come forward, so I invite you to come and join me. Let's work together on the many challenges for the progress of Singapore. For country, for people."
It was at this moment that he paused and his voice broke a second time, before he ended wishing those present a happy National Day.
At the event, the party re-introduced its central executive committee, fielded questions from members of the public on an e-polling system, and also took party membership registrations and donations from interested attendees.
Top photos by Sulaiman Daud & Matthias Ang
If you like what you read, follow us on Facebook, Instagram, Twitter and Telegram to get the latest updates.