Sheikh Haikel, 44, is a man that needs little introduction.
To the young, he is the owner of two popular halal eateries, FatPapas and Wakuwaku Yakiniku.
To the young at heart, he is known as the godfather of hip hop after releasing hits like Witulah.
Or even as an actor, having starred in well-loved shows like Army Daze and Under One Roof.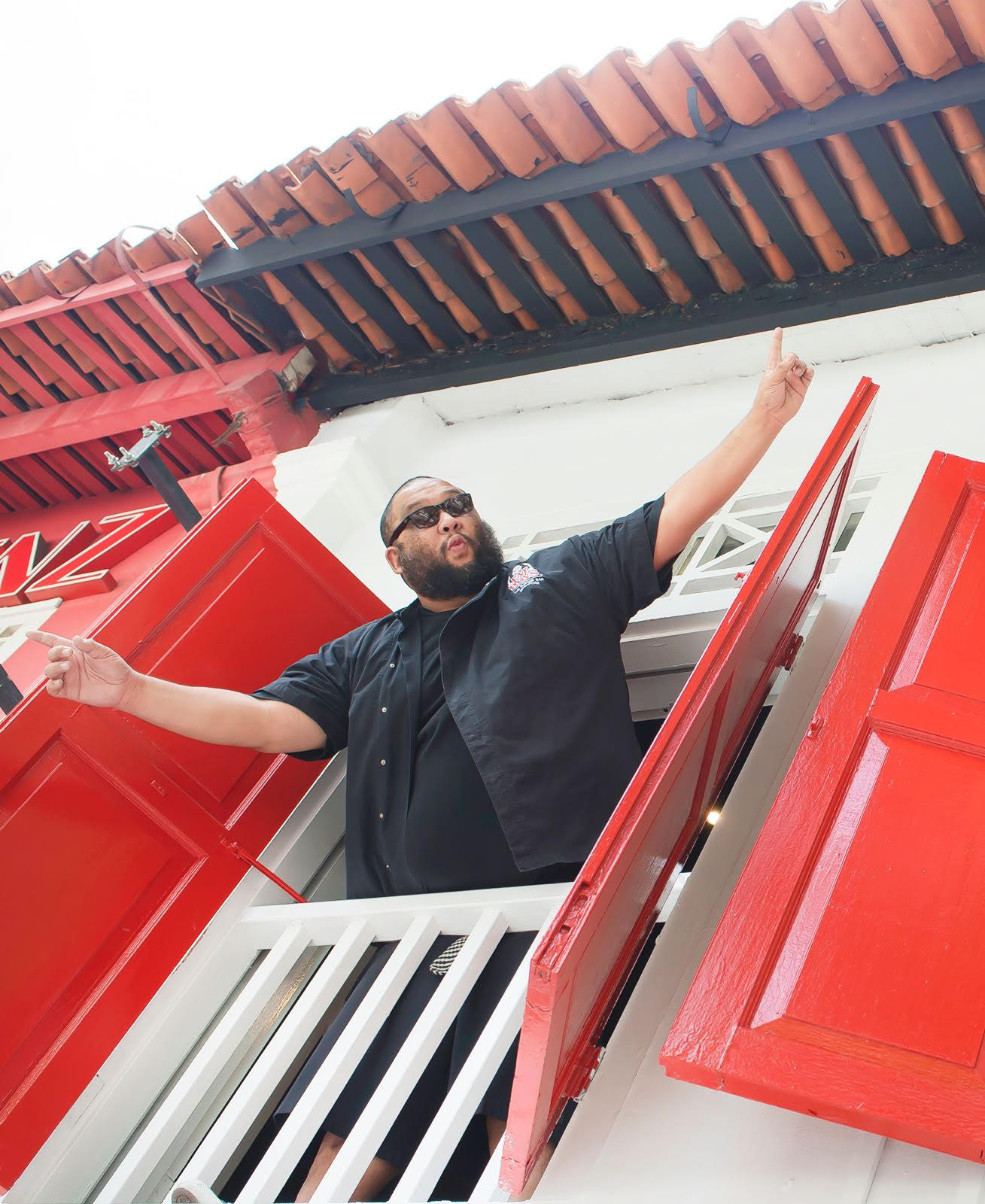 Origin story
When Haikel was 15, he was introduced to Najip Ali by his friend, Ashidiq Ghazali.
Coincidentally, Najip was then hosting Asia Bagus, a regional star search programme.
That's when he asked the two of them to join as part of the audience for the show.
Of course, they agreed because back in the day, live show audience were paid S$10 per episode.
"They would record three episodes a day and at 15 years old, S$30 was a lot."
Won Asia Bagus
While he was at the reception area of the studio, he was approached by a Japanese man along with his translator.
The man claimed to be the boss of Pony Canyon, the Japanese music company behind Asia Bagus.
He then asked Haikel to join the show after the latter showed showed him that he could rap and sing.
While Haikel was happy to have been discovered, he didn't think he could have done it alone.
"I can't do this by myself, so I asked Ashidiq whether we can do this together and he said 'Yeah, why not? We can just see ourselves on television.'"
The two then formed the hip hop duo, Construction Sight.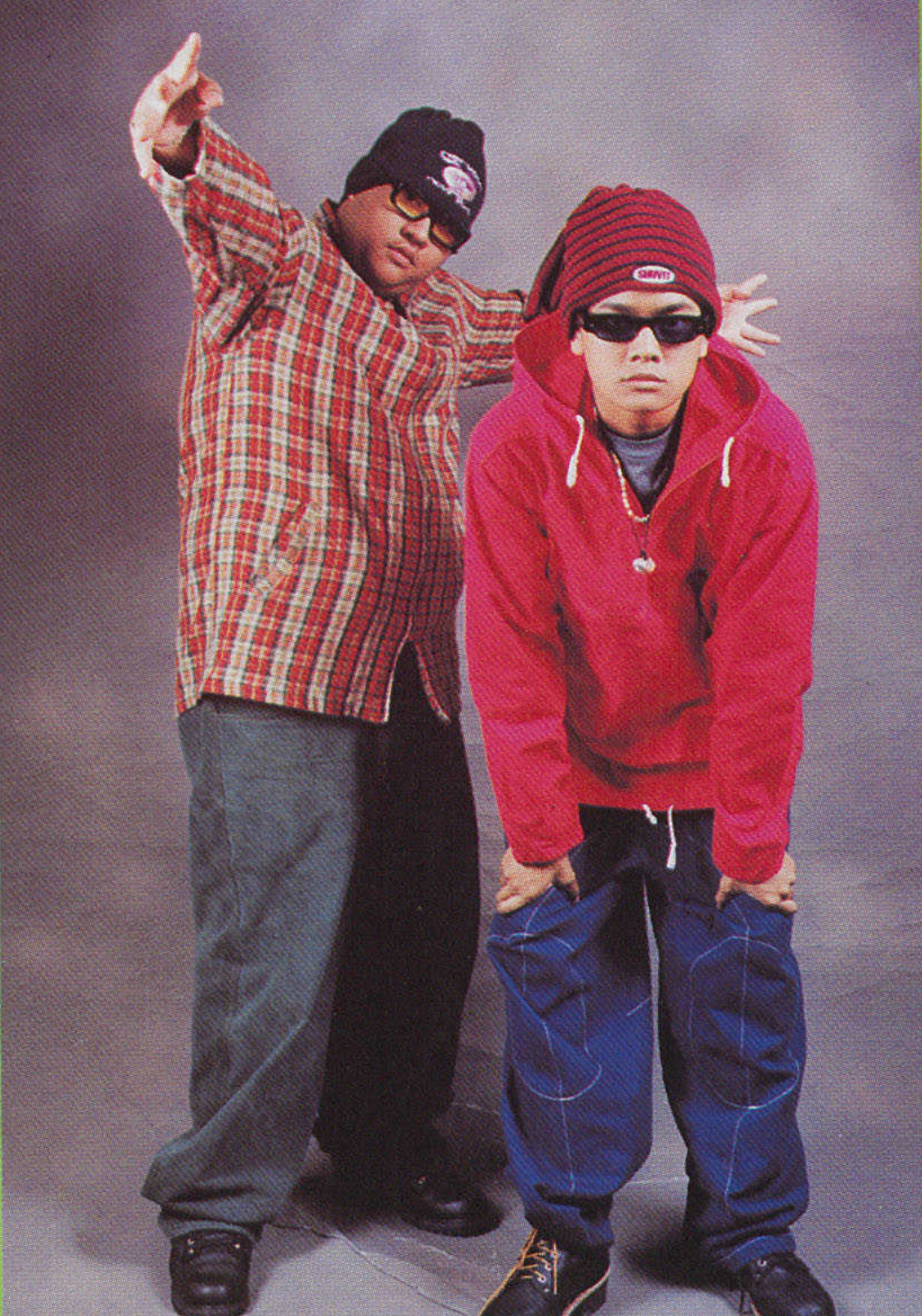 Haikel fell in love with hip hop at nine years old, when his mother accidentally bought for him a Run DMC cassette tape, thinking that it was Gladys Knight and The Pips.
While they joined for the fun of it, they ended up winning the competition in Japan in 1991.
"I started performing, recording and then one thing led to another, I started acting. It just snowballed from there."
Almost pursued law
While he has been in the hip hop scene since 1991, music wasn't something he thought he would have pursued.
He was, however, preparing for an entirely different career: To be a lawyer.
He wanted to follow in the footsteps of some of his relatives including his late grandfather, whom he shared, studied law together with Lee Kuan Yew.
In fact, the only time he showed interest in performing as a child was during primary and secondary school, but with a totally different motivation.
"I performed when necessary to get time off from school. But for it to turn out like this, I never thought it would happen in a million years."
Got a degree for his family
His career took precedence over his studies for a while, as Haikel peaked when he was fairly young.
His family, however, has been supportive from the very beginning.
"I earned and they were ok. It is the work with no earnings that will make them worry, but I was making a comfortable living."
This doesn't mean that he was putting his education on the back burner forever.
Haikel eventually graduated with a bachelor's degree in drama at the age of 25.
By then, he was already acting in two movies, and had starred in a local sitcom and produced three albums.
As a filial son, he shared that his degree was more for his family than it was for him.
With a chuckle, he said:
"If you ask me what I use the degree for, I really don't know. But my parents were very happy when I got my cert."
"Tummy rubs" from fans
Having been in the spotlight for 28 years, it is almost impossible to not have people recognise him whenever he's in public.
In fact, while I was interviewing him on a quiet Friday afternoon at his restaurant in Bali Lane, Haikel graciously acceded -- on two separate occasions --  to the requests of fans who wanted to take a photo with him.
One thing he cannot get used to, however, is when strangers touch his stomach.
"They come to me and just tap my stomach. It happens even when I'm going to my Friday prayers at the mosque."
While he thinks that it might be a form of endearment from fans who have grown up with him over the years, it is not something that he appreciates all the time.
"The first 50 taps is ok. But maybe on the 51st tap, I may not be having the best of days and think to myself: 'Do they really know me?' Of course, they don't know how I feel so I have to be very calm around them."
Thankfully, there have been nicer fan interactions.
"I've had a couple telling me that they liked my song, made love to it and then got pregnant."
Another anecdote he couldn't forget, however, was when his song caused a touching reunion to happen.
According to Haikel, he met another lady in Bugis who told him that she had been estranged from her father for while, until she listened to Ode to My Girl.
It was a song he had written for his then-unborn daughter.
"It's things like these that make me go forward. No money can buy this one."
Family life
His most cherished moment, however, was when he got the girl of his dreams.
Haikel is married to former television personality, Anna Belle Francis.
Together, they have three children aged between six and 15.
"It's very lonely to be famous. You've got people shouting your name but it's a very lonely place to be. Getting Belle for me to love and to go home to, it covers a lot of that. Once I married her, I wasn't alone anymore."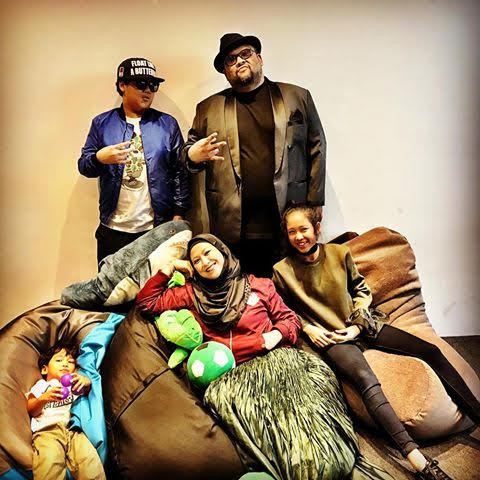 Despite having been married for 19 years now, love is still very much in the air for the couple.
Francis shared:
"He has so much effect on the people around him and that's exciting to witness. There's never a dull day when I'm with him."
Giving back to fans through food
Grateful to have received support from his fellow Singaporeans after close to 30 years in the industry, he wanted to give back to the people.
He figured the best way to thank his fans was through food, which was how FatPapas came about.
"I was already speaking to Bernie Tay, the owner of FatBoys. I asked him many times whether we could do a halal version. The challenge for us was to have the same taste and menu, but it has to be halal."
From figuring out the substitution of ingredients and getting the taste right, it took them seven years before the inception of FatPapas.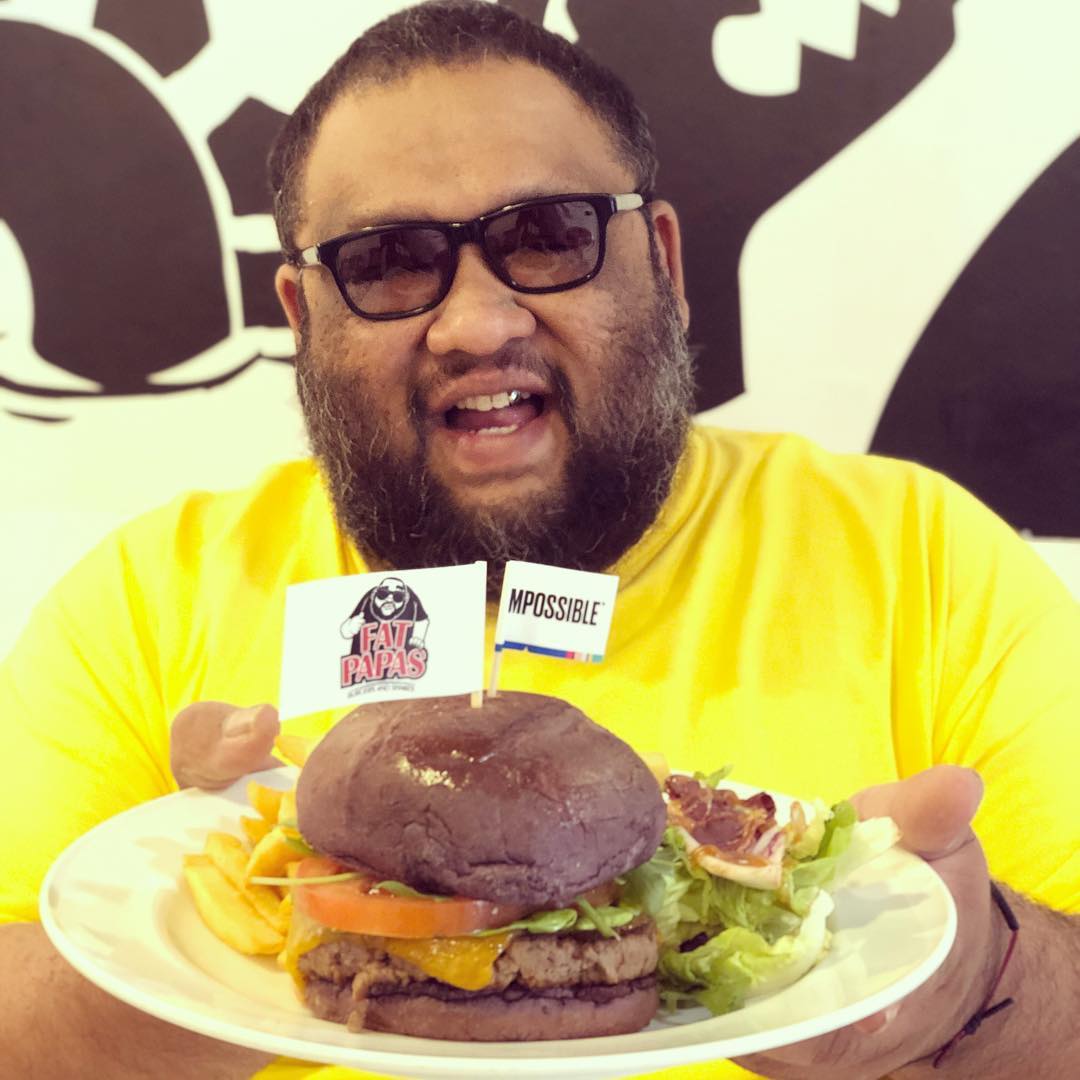 But it was worth the time as they not only managed to break even within a year, but also gave Singaporean Muslims the opportunity to try something that was once not halal.
Because of the burgers, he even had a baby named after him:
"A woman was pregnant and she would go shopping at Thomson, where FatBoys was. She wanted to try it so badly, but it wasn't halal. A few weeks before she gave birth, we opened. She came here everyday for a week and thanked me every time. She was the second person to come to me and said that she named her baby after me."
Now, there are four FatPapas outlets in Singapore.
One final album
As of late, Haikel has been busy with his two eateries.
What people don't know, however,  is that with the pockets of time he has between his F&B business and spending time with his family, he is also in the midst of producing his final album.
The album, which he hopes to release in 2020, is his way of saying "thank you" to the hip hop fans.
"I'm 44 years old, the stomach is heavier than the rest of the body. For me to bow out, I thought I'd do one last one."
Calling himself a "big fan" of the local artists, Haikel has a list of artists he hopes to collaborate with for this album, including Charlie Lim.
"It's their time. It's very clear that they are the tomorrow."
Always here for the fans
But this doesn't mean that you won't get to see Haikel anymore after the album.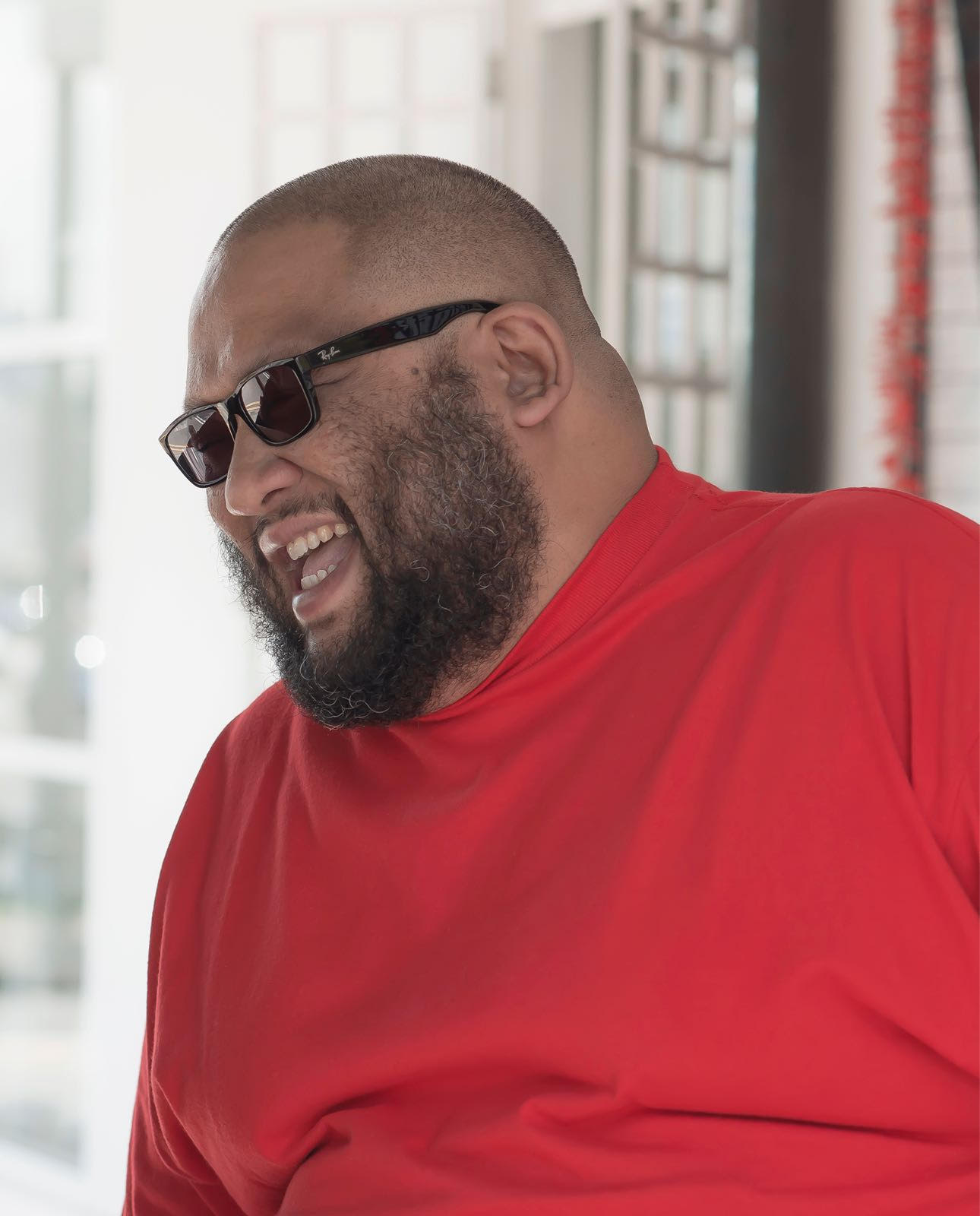 In fact, he promised his fans whom he fondly calls his "people", that he's never too far away.
"You can always see me at my restaurants. I will always be here for my people. I'm too big to ever move fast, anyway."
Top image from Sheikh Haikel's Facebook page
If you like what you read, follow us on Facebook, Instagram, Twitter and Telegram to get the latest updates.