Singapore has always been known for embracing all sorts of food cultures and sometimes creating new dishes by combining different cuisines.
Gino Goh, the co-founder of Chop Chop Biryani & Meats has taken this aspect one step further, by combining Cantonese roasted pork belly (Siew Yoke) with Indian biryani.
https://www.instagram.com/p/BsZwlexHb-j/
Besides the Siew Yoke Biryani, the stall is also famous for its pork masala and char siew biryani. The best part? It's all under S$10.
Here are some photos to whet your appetite:
https://www.instagram.com/p/BsZmcgrAHOT/
Prior to the opening of Chop Chop Biryani, Goh worked his way up from a restaurant waiter to a junior sous chef, eventually founding the hawker stall in 2017.
Too far?
Pork in biryani might raise some eyebrows, but the stall has undoubtedly garnered some popularity among Singaporeans.
In an interview with Channel 8, he said:
We've seen multiple platforms discussing how we've screwed up biryani by putting pork inside a good dish. Interestingly, we've gotten more positive feedback from the Indian community. Some of them even said that it's similar to their mothers' cooking.
Mind-blowing marriage of Chinese and Indian cuisine
Goh explained that the idea behind the bizarre marriage of roasted pork belly and biryani struck him during a potluck party with his friends.
One of (my) friends, he brought biryani rice. And then, I roasted a small slab of pork belly. We ate them together and it actually worked - the crispiness of the pork belly with curry and biryani...It was mind-blowing.
Having been in the culinary industry for over a decade, Goh has high expectations towards the ingredients which he uses to cook with.
He purchases his curry paste from Kaladini Curry Spices at Tampines Round Market and Food Centre, which he regards as the best curry paste available in Singapore.
He also claims to be the first in Singapore to sell pork biryani.
Reactions from diners
Admittedly, such a concept may have been rather strange for some people.
According to Goh, his stall attracted many "weird gazes" at first. He said:
On the first day that we opened Chop Chop, a lot of people just walked past, giving us a weird gaze. A few daring souls, they joined the queue...Thankfully, most of them loved it.
His statement checks out with online reviews regarding the cuisine: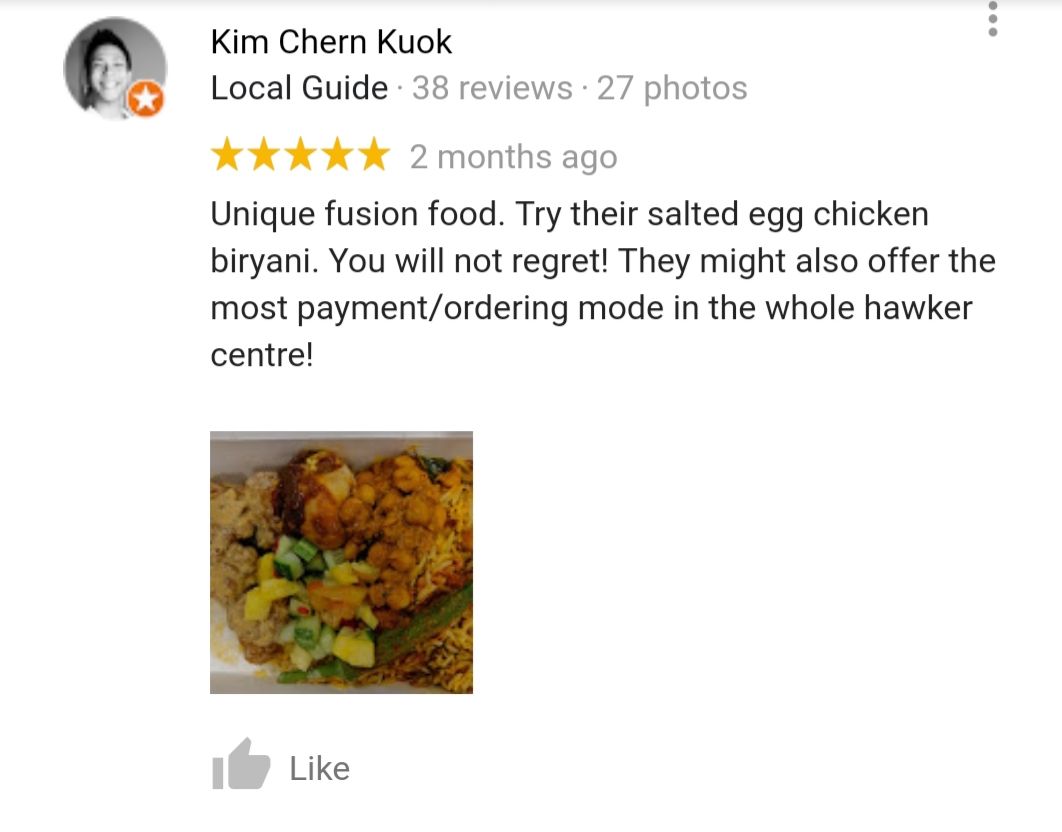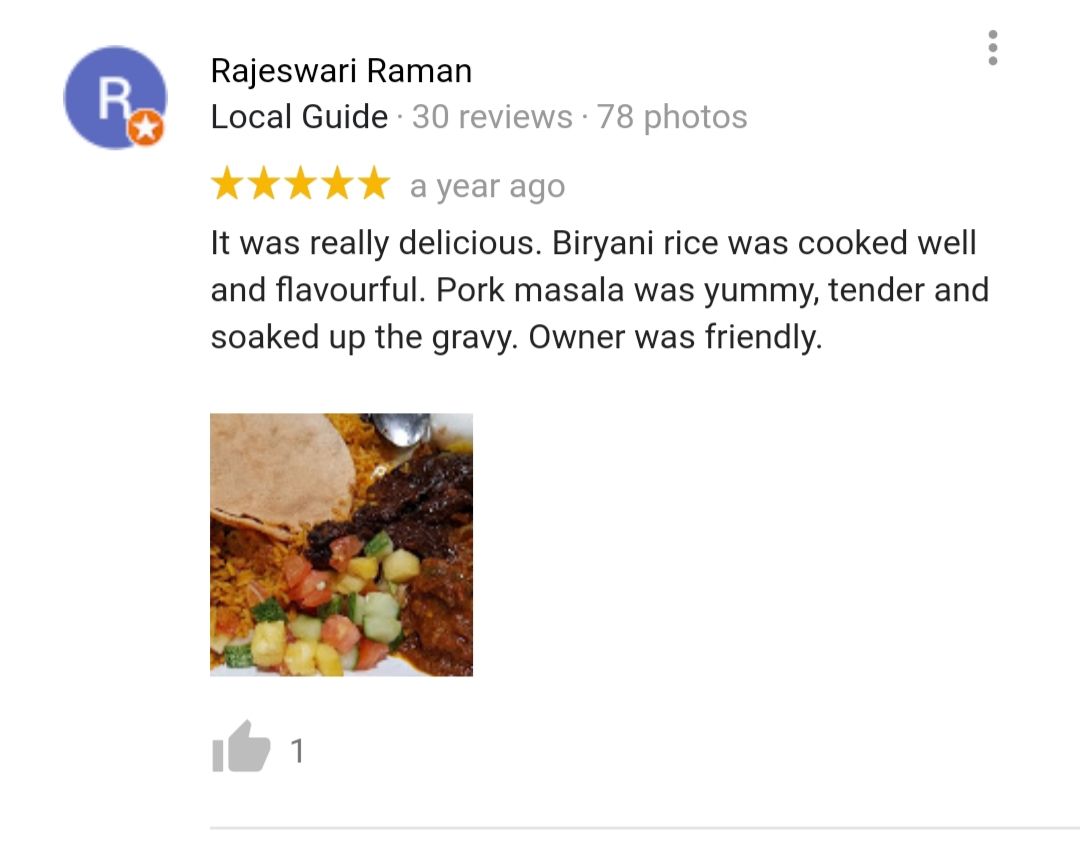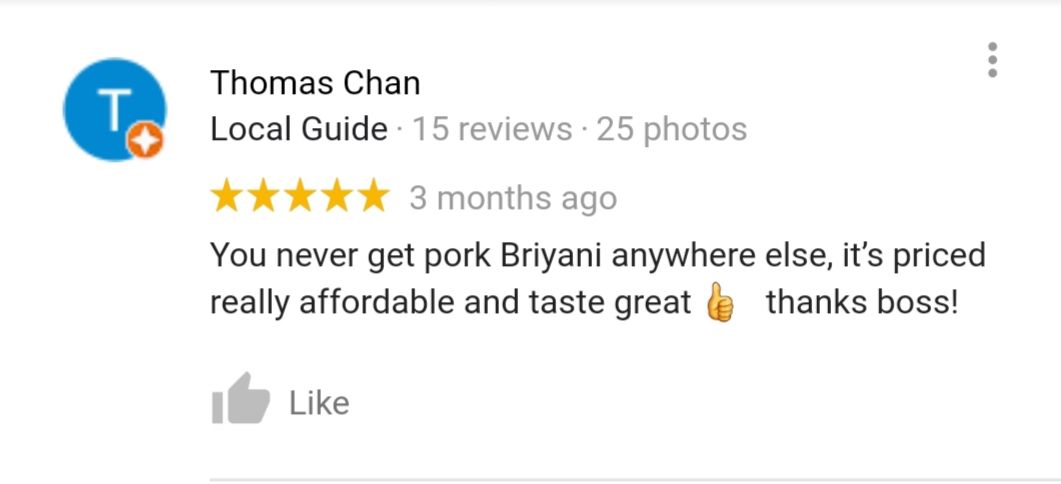 And this was what the single 1-star review had to say about Goh's stall: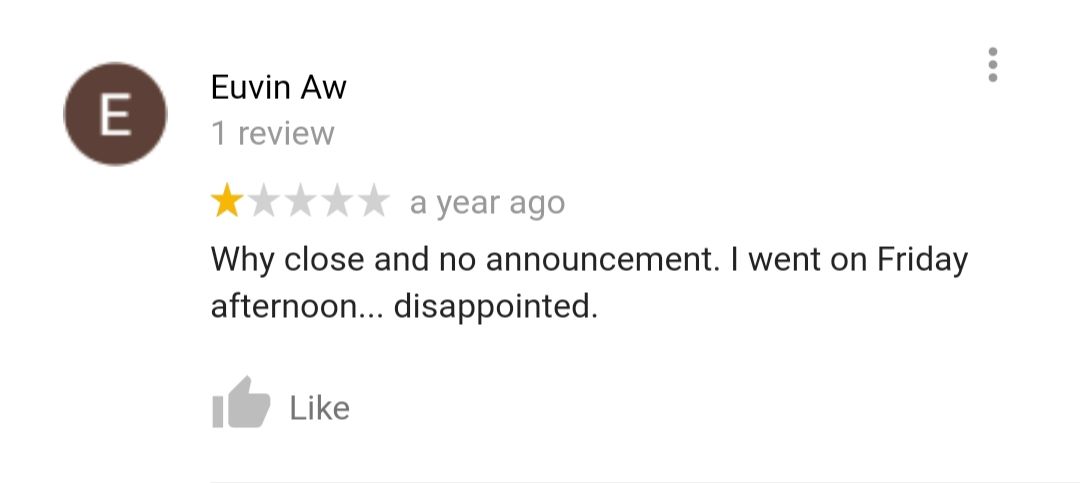 Guess he was too excited for biryani.
If you're interested in trying their pork biryani, here are their details:
Location: 7 Maxwell Rd, #02-101, Singapore 069111 (Amoy Street Food Centre)
Related article:
Cover photo via WowTomas, @Lostcloudsjr/IG
If you like what you read, follow us on Facebook, Instagram, Twitter and Telegram to get the latest updates.