Short-term topics dominated the chatter going into this year's National Day Rally.
But amid concerns over a possible recession, and speculation of an upcoming general election, Prime Minister Lee Hsien Loong instead chose to focus on the long term.
After mentioning the past by referencing Singapore's ongoing Bicentennial commemoration, PM Lee unveiled his plans for "renewing the city for the next century", in terms of both its infrastructure and the people.
The much-speculated announcement on changes to retirement ages was made, but climate change and education were also emphasised in his 2019 address.
Education
1. Preschools are the new starting point for education in Singapore
PM Lee emphasised the importance of education, and allowing anyone who works hard the chance to succeed, regardless of their background.
Instead of primary school, preschools will now serve as the new starting point for education, since a child's early years are crucial.
PM Lee went over what the government has done to improve early childhood education, including doubling full-day preschool capacity to almost 180,000 places since 2012, and establishing the National Institute of Early Childhood Development (NIEC) to train preschool teachers.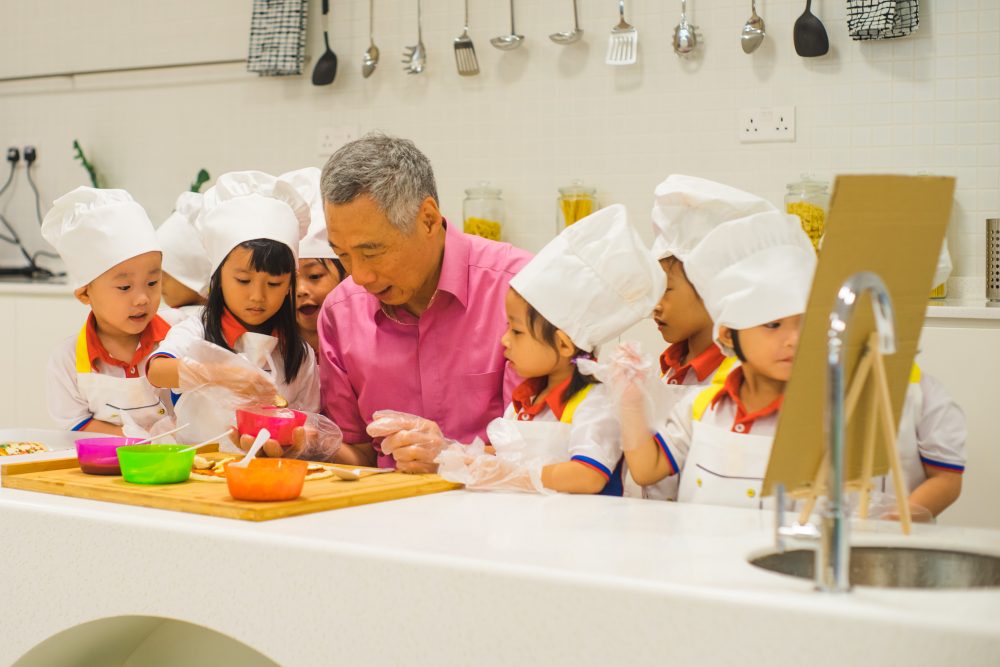 2. Financial support for preschool
Despite financial support for childcare, PM Lee noted that preschool fees could still be a significant expense.
Going forward, preschool subsidies will be enhanced.
The income ceiling for additional means-tested subsidies will be raised from S$7,500 to S$12,000, which will allow 30,000 more households to qualify.
The quantum of preschool subsidies "across the board" will also be increased, with the KidStart programme expanded to help lower-income families.
3. Preschool should be treated like housing and healthcare
PM Lee drew a comparison between preschool, housing and healthcare, and said that all Singaporeans should have a good and affordable government-funded option for all.
While about 50 per cent of all preschool places are currently government-supported, he aims to increase this to 80 per cent, similar to the HDB situation.
The government will more than double its current annual spending of S$1 billion on early childhood education over the next few years.
4. More financial support for tertiary education
MOE conducted a review of tertiary fees and bursaries, to assess whether Singapore universities can operate more economically.
Certain universities are more applied and conduct more industry attachments and internships, thus their operating costs can be lower.
So, annual fees for for a full-time degree programme in the Singapore Institute of Technology (SIT) and the Singapore University of Social Sciences (SUSS) will be reduced from S$8,000 to S$7,500.
MOE will also enhance government bursaries for the general degree fees for universities and polytechnics.
Bursaries for university students will increase from 50 per cent to 75 per cent.

Bursaries for polytechnic students will increase from 80 per cent to 95 per cent.

Diploma and degree students at ITE, NAFA and LASALLE will also be covered.
The fee and bursary adjustments will apply to both existing and new students, from the next academic year.
By making the education system as accessible as possible, it will help maintain Singapore as an open meritocracy, said PM Lee.
5. More support for medical students
PM Lee then focused on a specific university course -- medicine.
Despite government subsidies, medical school fees stand at almost S$29,000 per year at NUS and S$35,000 at NTU.
He said that high fees should not deter good students from becoming doctors.
To encourage more students from lower-income families to study medicine, government bursaries for medical courses will be enhanced significantly more than bursaries for other courses.
Lower-income students studying medicine will pay only S$5,000 per year, with the rest covered.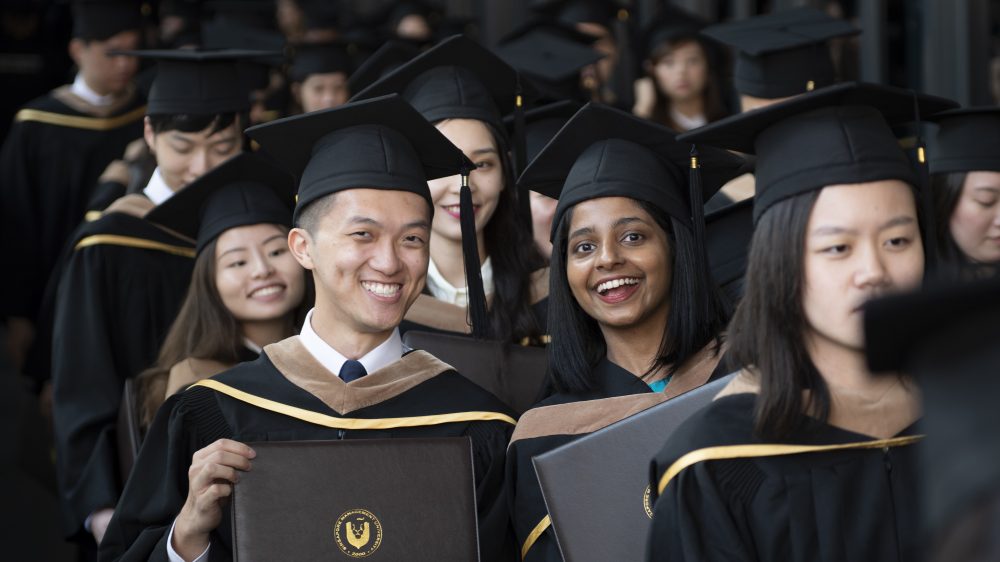 6. Schools should set up their own bursaries
PM Lee also encouraged schools to raise funds for their own bursaries.
Besides government bursaries, the various tertiary institutions can also set up bursaries of their own in people's names.
According to PM Lee, this will in turn strengthen the community's sense of obligation to each other, and the bonds between people in society.
He hopes that alumni and the community can contribute generously, and said that the government will match these donations, up to three times for newer universities, and up to 1.5 times for the rest.
Older worker reforms
7. Workers living longer, highest life expectancy
Turning to the issue of older workers, PM Lee highlighted that Singaporeans had the highest life expectancy in the world at 85-years-old.
According to PM Lee, most seniors actually do not wish to stop working, and would rather build a bigger nest egg for retirement.
8. Both employers and employees need to help seniors work productively
During the speech, PM Lee emphasised that employers needed to redesign their training, jobs and careers around the abilities and strengths of older workers.
While older workers might not be as strong or as quick, it will not be a problem in jobs which make use of technology or can be redesigned.
As for employees, they must have the right mindset, to adapt, learn new things, and take on different responsibilities.
PM Lee highlighted how one cannot be satisfied with doing one's old job well, given that jobs will either change or disappear, as in the case of typists and telephone switchboard operators.
9. Raising retirement and re-employment age, along with CPF contributions
The Ministry of Manpower (MOM) established a Tripartite Workgroup on older workers, which recommended the following:
Raise the retirement age from 62 to 65.

Raise the re-employment age from 67 to 70.

Increase CPF contributions of older workers.
PM Lee said the government accepted the recommendations in full, and will be achieved in gradual steps by 2030.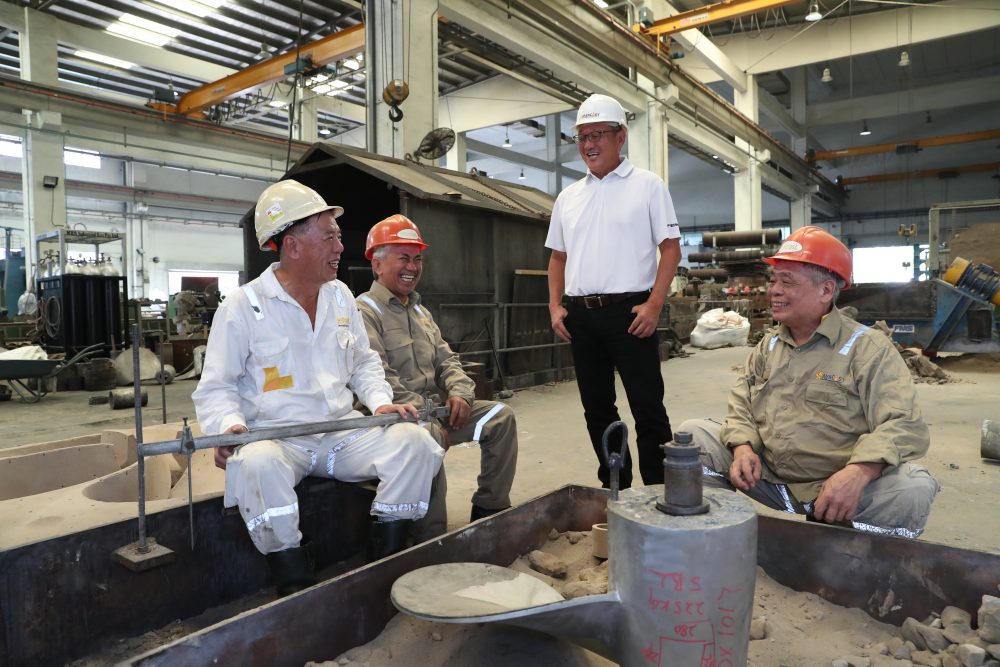 10. Gradual increases in retirement age
In 2022, the retirement age will be raised from 62 to 63, while the re-employment age will be raised from 67 to 68.
This will be implemented earlier in the public service (2021), as the government is a major employer.
The age of retirement will be pegged at 65, and the re-employment age pegged at 70 by 2030.
The government will prepare a support package for businesses to adjust to the new changes, with DPM Heng Swee Keat making the full announcement for Budget 2020.
11. Increase CPF contributions for older workers
The increase in CPF contributions will apply to workers above 55, as their contribution rates begin to taper down after that age.
The first increase will come in 2021 and is expected to take a decade.
Upon completion, those aged 60 and below will enjoy full CPF contribution rates, while the CPF rates will only taper down after 60 and level off after 70.
12. CPF withdrawal policy to remain unchanged
These measures are aimed at supporting older workers to continue working longer and be more financially independent.
PM Lee clarified that no changes will be made to CPF withdrawal policies or CPF withdrawal ages. "Let me make one last point here to be absolutely clear," he said.
This means:
Some money can still be taken out at the age of 55.

CPF payouts can be started from the age of 65.

Rumours about changes to the CPF withdrawal policy and age should be ignored as they are fake news.
Climate change
13. Singapore's "gravest" threat
Describing climate change as one of the "gravest challenges" facing humankind, PM Lee elaborated how Singapore was already feeling the effects of extreme weather.
"Our weather is palpably hotter, rainstorms are heavier, and this will very likely worsen over the next few decades, within the lifetimes of many of us."
Aside from consequences such as food shortages and new diseases, the gravest threat Singapore faces as a low-lying island is rising sea levels.
Despite Singapore's efficient drainage system, which has generally kept flooding to a minimum, more needs to be done to prepare for a future of higher tides, heavier rains and higher sea levels.
14. Treat climate change defences like how we treat SAF
PM Lee compared Singapore's climate change defences to the Singapore Armed Forces -- both were "life and death matters".
"Work steadily at it, maintain a stable budget year after year, and do it over many years and several generations. Keep your eye on the target.

These are life and death matters. Everything else must bend at the knee to safeguard the existence of our island nation."
However, as opposed to the uncertainty of war, rising sea levels are a given, with the only uncertainty being how soon they would rise.
Hence, Singapore has to implement its climate change plans "progressively, and keep them flexible". PM Lee stressed the need Singapore to "make this effort" for future generations' sake.
"We must make this effort, otherwise one day, our children and grandchildren will be ashamed of what our generation did not do."
15. Redeveloping and revitalising the Greater Southern Waterfront area
Aside from climate change, PM Lee touched on possible areas for redevelopment.
He cited the Greater Southern Waterfront (GSW), an area comprising 30km of Singapore's southern coastline and spanning up to 2,000ha of land, as another major location for redevelopment.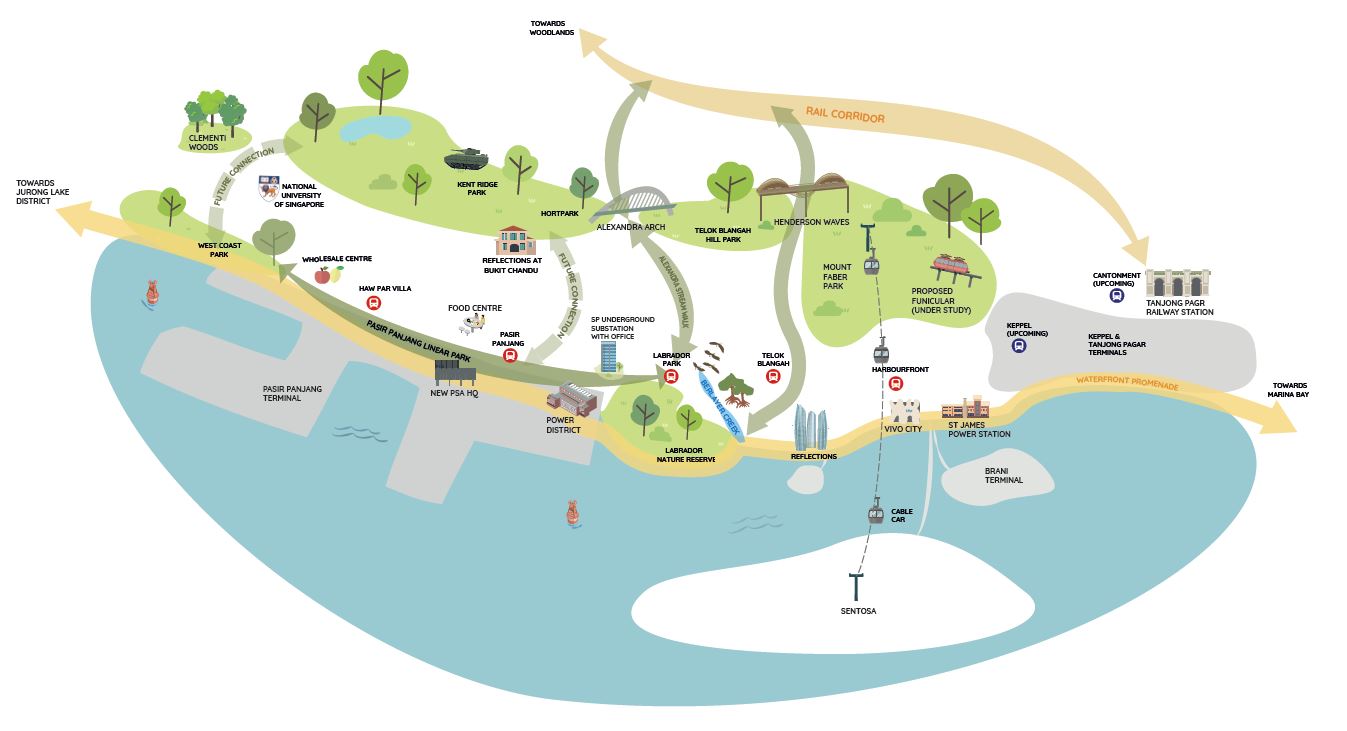 As the PSA city terminals at Tanjong Pagar, Keppel, Brani will move to Tuas by 2027, and the Pasir Panjang terminal to Tuas by 2040, space will be freed up to reshape the GSW as a new place to "live, work and play".
Dubbing it as a potential "Punggol by the Bay", PM Lee added that HDB and private housing, new offices, and recreational areas like "Downtown South" resort by NTUC could also be developed.
16. Looking back and looking forward
Before ending, PM Lee highlighted the many changes Singapore had undergone since its colonisation, including rebuilding "generations of buildings".
He explained how Singapore would experience an evolving cycle of growth and redevelopment, referencing the development of Marina East, Central and South from an empty space 40 years ago to the financial hub it is now.
As Singapore creates and realises more new projects, such as Jewel Changi Airport, the new generation of Singaporeans will "have another opportunity to imagine and build part of their vision" for the country.
Top image by Rachel Ng.
If you like what you read, follow us on Facebook, Instagram, Twitter and Telegram to get the latest updates.