Even as the international arena continues to play host to large scale conflicts and tensions between superpowers, there are still a few issues that foster international cooperation.
One of them is cancer research.
And recognition is given to the efforts of Singapore-based charity VIVA Foundation for Children with Cancer to encourage collaboration between China and Singapore.
It comes in the form of the Shanghai Jiao Tong University School of Medicine's Love Ambassador award being presented to Jennifer Yeo at a ceremony on August 11 at Capella Hotel Sentosa.
Yeo is the chairwoman and founder of VIVA and the wife of former foreign minister George Yeo.
Fostering international cooperation
Chen Guoqiang, the Vice President of Shanghai Jiao Tong University and the Chancellor of its School of Medicine, presented the award to Yeo, calling her not only the mother of her four children, but the "mother of all Chinese children who suffer from leukemia".
The award recognises those who have contributed or donated for the development of medical care and education towards Shanghai Jiao Tong University School of Medicine and its affiliated hospitals.
In a post on Facebook, Yeo said that the award was given to her for contributing to the collaboration Jiao Tong University School of Medicine and Singaporean tertiary institutions.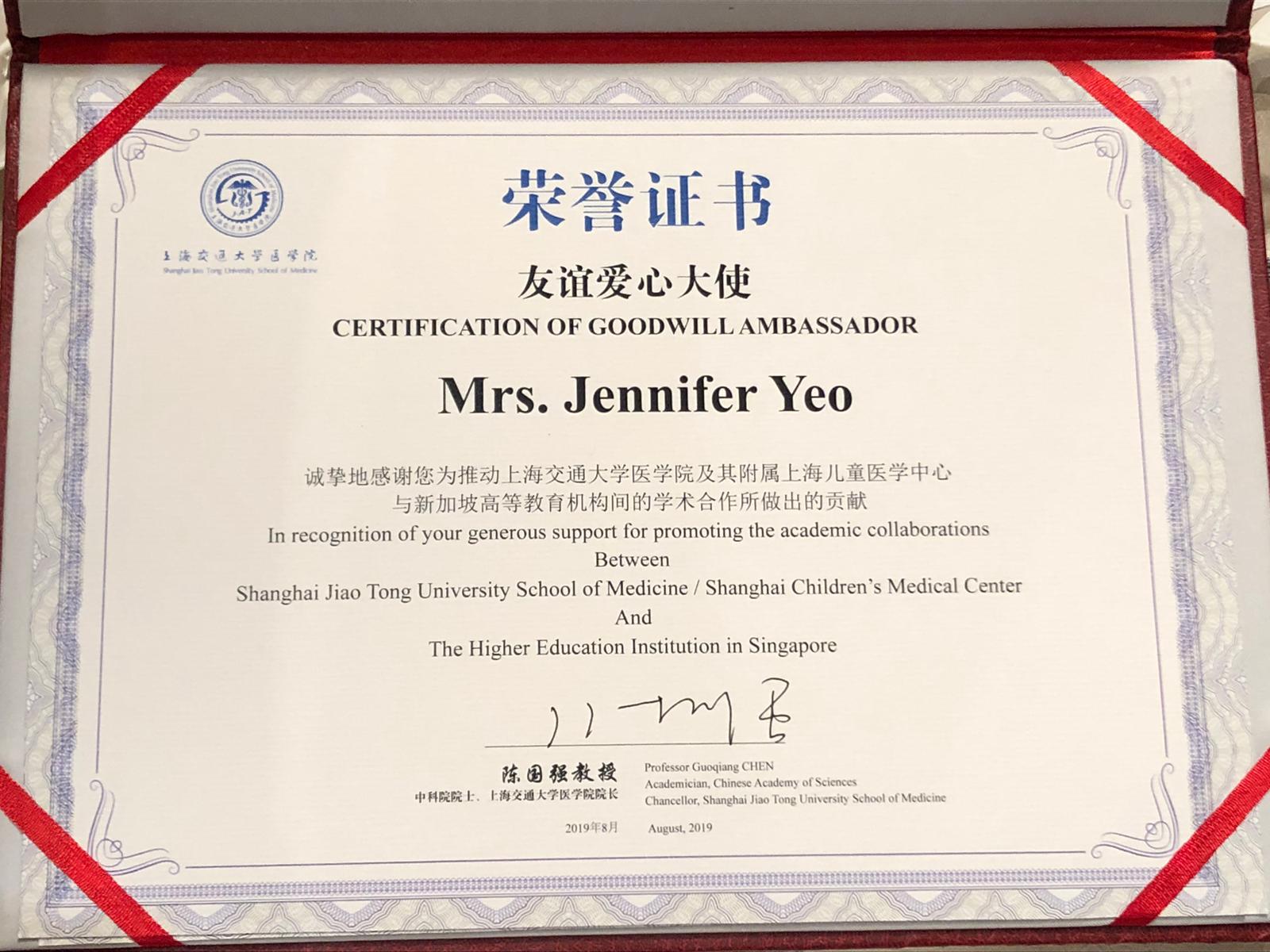 In her speech, Yeo expressed her pride at helping to nurture collaborations that transcended international rivalries.
"The human life is most important. It is VIVA's dream to play catalyst to collaborations that are beyond boundaries of geographies and politics"
Yeo said that her charity, based in both Singapore and China, hopes to be "two ends of our little bridge to bridge Singapore and China" in cancer research.
According to Yeo, its flagship programme, the China National Multi-center Childhood Acute Lymphoblastic Leukaemia Study Group, now in its fourth year, sees a 92.4 per cent survival rate with over 5,000 patients from 20 hospitals across China.
International partnership
Earlier this year in March, Yeo had announced a partnership between six different parties from Singapore, the U.S., and China.
Yeo had said that the partnership was "to spread knowledge, expertise and technology" between the three nations.
VIVA had spearheaded the collaboration which involved the six parties signing a memorandum of understanding to boost advancements in children's cancer research.
Among the signatories was the Shanghai Children's Medical Center, which is a university hospital associated with Shanghai Jiao Tong University.
Visit by university representatives
The ceremony is part of an itinerary organised for the visit of senior-level representatives from the Shanghai Jiao Tong University to Singapore.
They are also joined by a delegation from the Shanghai Children's Medical Center.
Top image from VIVA Foundation for Children with Cancer 
If you like what you read, follow us on Facebook, Instagram, Twitter and Telegram to get the latest updates.