Bubble tea fans are sometimes spoilt for choice, given the astounding range of teas and toppings that are widely available.
Someone, however -- most likely a troll with a sweet tooth -- decided to take it to the next level by choosing all the toppings available.
Milk tea with 13 toppings
Julie Cheng, an employee working at bubble tea chain Kung Fu Tea, shared a photo to Facebook group Subtle Asian Traits, saying that someone ordered a large milk tea with every single topping they had.
Here's a photo of the milk tea: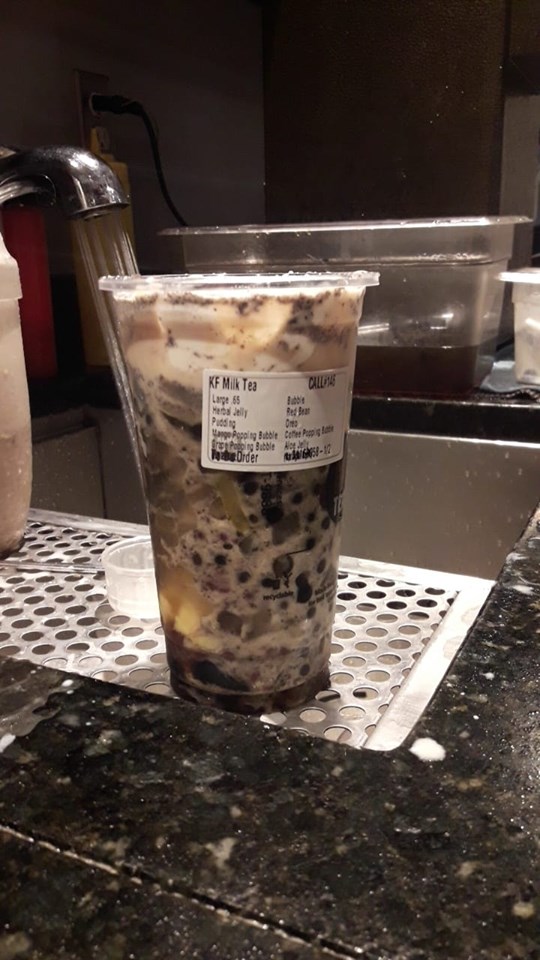 And here's the full list of toppings in this absolute monster of a drink:
-Boba
-Mango popping boba
-Grape popping boba
-Coffee popping boba
-Oreo
-Herbal jelly
-Aloe jelly
-Fig jelly
-Nata jelly
-Mango jelly
-Red bean
-Pudding
-Milk cap
Cheng said that she has been working at Kung Fu Tea for the past 1.5 years and has never encountered any order like that.
"My coworkers and I literally lost it," she added.
This is her post: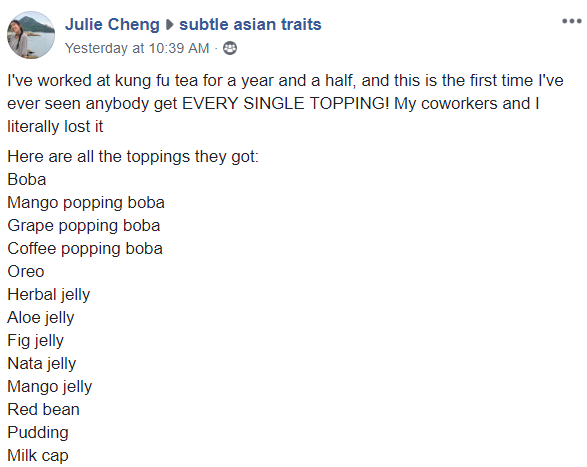 Order probably cost around S$18
It is unclear which outlet Cheng was working in.
Kung Fu Tea has stores in the U.S., Australia, Canada, Vietnam, Taiwan and Cambodia.
The first outlet opened in New York in 2011.
According to this menu, a large Kung Fu milk tea costs US$4.50 (S$6.30). The cost of each topping ranges from US$0.50 to US$0.75 (S$0.70 to S$1).
A large milk tea with all 13 toppings is estimated to cost around US$13 (S$18).
Top photo via FB/Subtle Asian Traits, Julie Cheng.
If you like what you read, follow us on Facebook, Instagram, Twitter and Telegram to get the latest updates.