Singapore's economy shrank 3.4 percent in April to June 2019 from the previous three months, and grew by only 0.1 percent year-on-year.
This means that a technical recession is going to be harder to avoid and it will be deeper.
The latest figures were released by the Ministry of Trade and Industry (MTI) on July 12.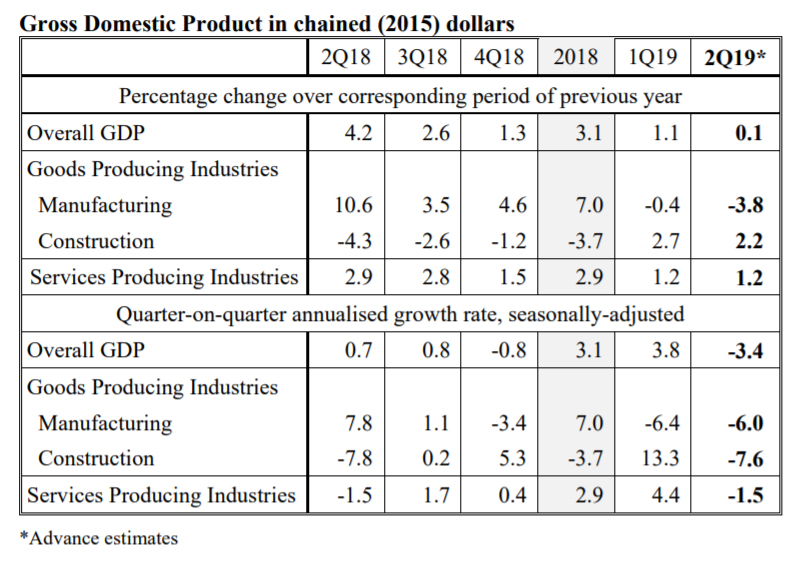 Such a figure marks the lowest rate of growth since the last financial crisis in 2009, in which the economy contracted by 1.2 percent.
Previously, the first quarter of 2019 saw the economy grow annually by 1.1 percent (refer to table above).
Sectors that shrunk quarter-on-quarter
The latest 3.4 percent shrinkage is compared to a growth of 3.8 percent in the first quarter, on a quarter-on-quarter seasonally-adjusted annualised basis (refer to table above).
The key sectors of manufacturing, construction and services have contracted from the previous quarter.
These sectors shrunk by 6 percent, 7.6 percent, and 1.5 percent respectively (refer to table above).
Manufacturing shrunk 6.4 percent from January to March (refer to table above).
MTI said the latest contraction in manufacturing was a moderation of the previous quarter's figure.
It attributed the causes of the contraction to output declines in the electronics and precision engineering clusters, which more than offset output expansions in the rest of the manufacturing clusters.
As for construction, the contraction of 7.6 percent reversed the previous quarter's growth of 13.3 percent (refer to table above).
Services producing industries
Meanwhile, the services sector recorded a growth of 4.4 percent (refer to table above).
Manufacturing sector has been the worst hit
The manufacturing sector has been particularly badly hit, given that it also reported a negative 3.8 percent figure over an annual period from the second quarter of 2018 (refer to table above).
Meanwhile, both of the construction and services sectors reported positive figures of 2.2 percent and 1.2 percent respectively, for the same period (refer to table above).
MTI reported that the construction sector's figure was due to the support provided by an increase in public sector construction projects.
The services sector was supported primarily by the finance and insurance, "other services industries", and information and communications sectors.
Bloomberg reported that this makes the likelihood of a deep technical recession all the more likely in the third quarter of 2019, according to Maybank economist Chua Hak Bin.
What is a technical recession?
A technical recession is defined as two straight quarters of quarter-on-quarter contraction.
The current projections suggest between zero and negative 0.5 percent quarter-on-quarter growth in the three months to September 2019.
Top image from Flickr
If you like what you read, follow us on Facebook, Instagram, Twitter and Telegram to get the latest updates.