Zulhaqem Zulkifli, 27, is a philosophy student at Nanyang Technological University (NTU).
Come September 2019, he will be pursuing a master's degree in Buddhist Studies at Oxford's St Peter's College.
And he would be doing so under the highly coveted Public Service Commission (PSC) Scholarship.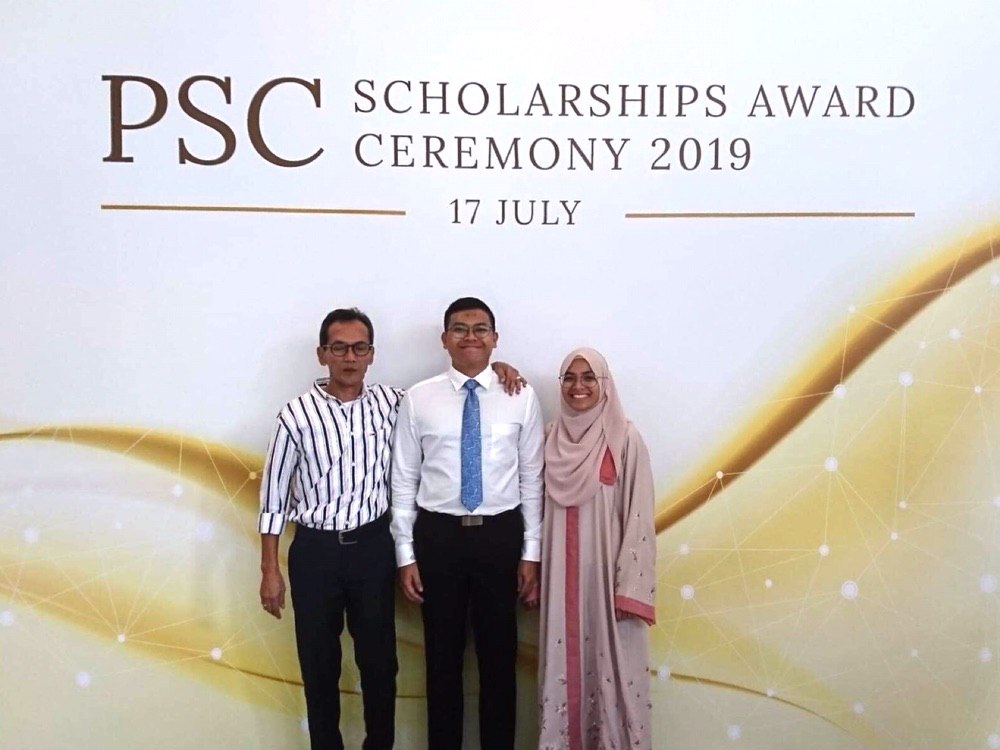 Awarded PSC scholarship
Zulhaqem was one of 93 individuals awarded a PSC scholarship on July 17, 2019.
Compared to his fellow scholars, his journey has been oblique, arduous and highly unconventional, as he comes from the humblest of backgrounds, but he kept going despite the odds.
Since his story was first published in The Straits Times on the same day he received his scholarship award, it has been met with awe, hearty congratulations, as well as some tsk-tsking, owing to his eventual choice of study at Oxford.
The spotlight was shone on Zulhaqem's background, highlighting how he effectively struggled from the Normal (Academic) stream to being conditionally admitted into a three-year A-level institute where he was constantly at risk of flunking out, and finally now, progressing to Oxford.
His personal story was flashed out, especially focusing on the parts about how life has been throwing multiple curve balls his way.
The ST reported noted that home for him, his father and three other siblings is currently a humble two-room rental HDB unit.
Public debate about his choice of Buddhist studies
Two ST forum letters were published subsequently (here and here), questioning Zulhaqem's choice of Buddhist studies at Oxford.
They asked aloud if he was doing so out of self-fulfillment, and even hinted that his education might be a waste of public resources, if it is part of his own vanity project.
The PSC then came out to defend Zulhaqem's Oxford studies, but without sounding defensive.
The argument was that Singapore is a secular society, but not religion-less.
Moreover, not all scholars have to hail from the hard sciences or with a grounding in economics.
PSC said it looks for "authentic, open-minded individuals with clear thinking, who are aligned with public service values".
And the basis of the defence is rooted in the documented facts of the case of why Zulhaqem makes a viable scholar.
His work ethic, resourcefulness, sheer grit, people skills and altruism, are now a matter of public record since he has been interviewed and featured by the press that delved significantly into his past. (Details of his story can be found below. He also answers the burning question about why a Muslim is pursuing Buddhist studies.)
And this precedent PSC is setting will speak for itself, if not now, then in time to come.
Breaking the scholar mould?
PSC's choice of Zulhaqem as one of its more unconventional scholars perhaps addresses the low-fi grumblings over the years that scholars in Singapore are picked from the same homogeneous group to fit the same mould (i.e. the top 5 percent of each cohort with elite backgrounds).
It is almost as if Zulhaqem is the scholar that Singaporeans cannot help but root for given his background.
This is, of course, extrapolating why he got chosen eventually without the benefit of the full knowledge of what really goes on during the selection process for PSC scholars each year.
However, a third ST forum letter was then published in response to the brouhaha, and it shot down both previous letters from the naysayers.
Its compelling argument was essentially speaking out against the myopic and rigid compartmentalisation of knowledge, while making the case that scholars should not all be technocrats and that the PSC is moving past its outdated modes of thought.
In other words, with Zulhaqem, the idea that a scholar is of the people and for the people, has been crystallised.
Unconventional education route
Here is Zulhaqem's background and his longer-than-usual route to a scholarship:
Zulhaqem's arduous journey can be traced to more than a decade ago.
As he did not fare well for his Primary School Leaving Examination (PSLE), he was posted to the Normal (Academic) stream in Gan Eng Seng School.
He knew he was a late bloomer as he had to re-take his O-level Mathematics three times.
He was not able to go to any other schools besides the Institute of Technical Learning (ITE) or Millennia Institute (MI), after failing the subject the first time.
Zulhaqem eventually made it to MI -- a three-year A-level institute -- as a conditional student.
MI allowed students to re-take their O-level English or Mathematics examination for a maximum of two times.
He failed Math again in his first year, but cleared it in his second year.
If he had failed it the second time, his stint in MI would have ended prematurely.
And he managed to pass, despite the domestic issues he was facing.
Worked part-time
Growing up, Zulhaqem did multiple odd jobs to get by, including being a bookstore assistant.
He always applied for scholarships and bursaries to fund his studies because that was the only way his family could get by.
He did whatever he could to supplement his family's income.
Picked through dumpsters and left homeless
He and his father used to spend Sundays rummaging through dumpsters for scrap metal and cardboard boxes to sell.
He has three younger siblings, who look up to him for financial, moral and emotional support, especially after his parents divorced in 2010 and sold their marital home in 2011.
This left the family homeless at one point.
For many months he and his younger siblings slept in the void deck.
His father lost his technician job at around the same time.
After the divorce, the four siblings lived with their mother, who did hospital administrative work.
His mother subsequently left the family's interim Housing Board flat about three years ago after suffering a stroke.
The children were left to fend for themselves.
The four siblings moved with their father, 59, who was working as a cleaner, into a two-room rental flat, which is where Zulhaqem is still staying now.
Zulhaqem said it was his duty as the oldest child to hold the family together.
He said: "They were very dependent on me after the divorce and looked to me as a figure of support."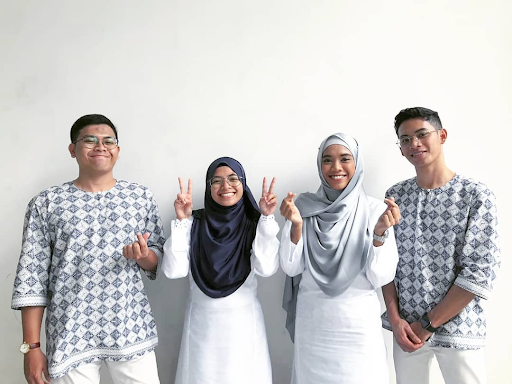 Doing volunteer work past 9 years
Despite his own difficult position, Zulhaqem has been volunteering the past nine years with Engaging Hearts, an informal volunteer group.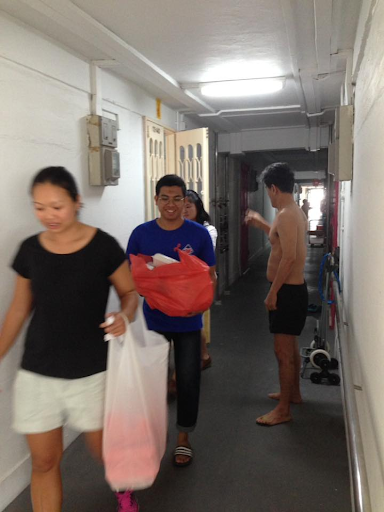 As Zulhaqem was already deeply involved in volunteering work with the underprivileged, his father encouraged him to apply for the PSC scholarship.
The group he volunteers with visits rental flats every week to befriend residents and help them with their needs.
Zulhaqem is also a volunteer para-counsellor with the Singapore Anti-Narcotics Association.
He believes, as a future civil servant, he would be in a better position to improve the social work system.
Zulhaqem said he wants to shore up support for single fathers like his own dad.
Family situation has stabilised
Zulhaqem is thankful his family situation has stabilised these days.
His two younger siblings are now working full time.
His younger sister, Zulayqha Zulkifli, 25, is a social work associate.
His younger brother, 23, is a pastry chef.
His youngest sister, 24, works several part-time jobs.
Zulhaqem said his successes won't go to his head.
He said his father would previously sit him down often after going through trash to remind him to stay humble.
"He would say to me, the next time you think that you are all high and mighty, remember that you used to sit here and pick up rubbish," Zulhaqem said.
"He would also say: 'Now you suffer, so next time you make sure other people don't go through this suffering.'"
Zulhaqem credits his father for keeping his children inquisitive and reflective about their lives, as well as always encouraging them to read to gain knowledge.
Zulhaqem said his second home was the library: "If you don't have a lot in life, you turn to books. Through books you can gain knowledge and they are also an outlet for escape."
Read also:
If you like what you read, follow us on Facebook, Instagram, Twitter and Telegram to get the latest updates.