In what continues to be quite an absurd day for everyone involved, a video has surfaced showing a skirmish inside a Huawei store in Jurong.
Here is the video:
The incident apparently happened at JEM.
In case you can't see it.
[video width="400" height="220" mp4="https://static.mothership.sg/1/2019/07/Kenny-Low-People-fighting-with-police-in-Huawei-SG.mp4"][/video]
The video basically shows the woman in the shop tangling with a few police officers.
At one point, the woman appeared to squirm her way out of the grasp of the police.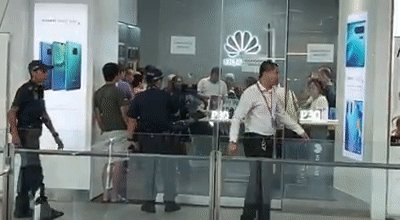 And ended up flopping her way under the table.
All this played out with disbelieving bystanders providing their running commentary right alongside it.
Here is what the disbelieving voices were saying.
"Fight already...

Just for a phone...

It's only that they made a wasted trip la

(Female intercepts) Looks like they don't have stock already la

No need la, hundred over dollars kind of phone"
Us too, disbelieving voices, us too.
Image from Facebook video
If you like what you read, follow us on Facebook, Instagram, Twitter and Telegram to get the latest updates.