An adage for dating goes something like this: Plenty of fish in the sea, other trees in the forest, etc.
But for one anonymous confessor on NUSWhisper, a platform for anyone to confess random thoughts, regardless if one is or was from the National University of Singapore, it seems like Singaporean women in general do not make a good catch.
This is, of course, based on irrefutable evidence from the male person's dip in the Tinder pool.
"Dog of Isles"
According to the confessor, who claimed to be an NUS graduate, Singaporean women are "either not able to hold conversations, or have a very huge ego".
If their ego is not huge, then it is fragile, he asserted.
These are observations he ostensibly gathered from chatting with local women on the app.
Here are some examples he gave of the phenomenon:
His Tinder matches were incapable of answering simple questions like, "Which movie do you like and why?"

The Singaporeans he conversed with could not provide a "simple answer", even though "I like Dog of Isles (sic), it is a love letter to Japanese culture" would have sufficed.

Conversations with matches usually revolved around what they did over the weekend (e.g. dinner with friends, lunch with parents).

Singaporean women tended not to give their opinions on other women.

In comparison, Chinese, Malaysian, or Vietnamese women can say a lot on the subject, such as, "We come from a village, so we learnt to be independent."
The writer then clarified that he is not ugly, and that the well-spoken women from other countries were prettier than the local women he chatted with.
He then ended the post asking for an "objective opinion":
"Those who want to comment, I'd ask you to think about what is wrong with our society. Is narcissism a growing issue? Does our work environment kill our social skills?

Please do not spew hate on any gender or sexuality. Someone give me an objective opinion."
Both sides of the camp
Both Singaporean men and women provided a variety of responses to the post.
Local DJ Jade Rasif explained why the NUS grad might have found his matches slightly stale, so to speak.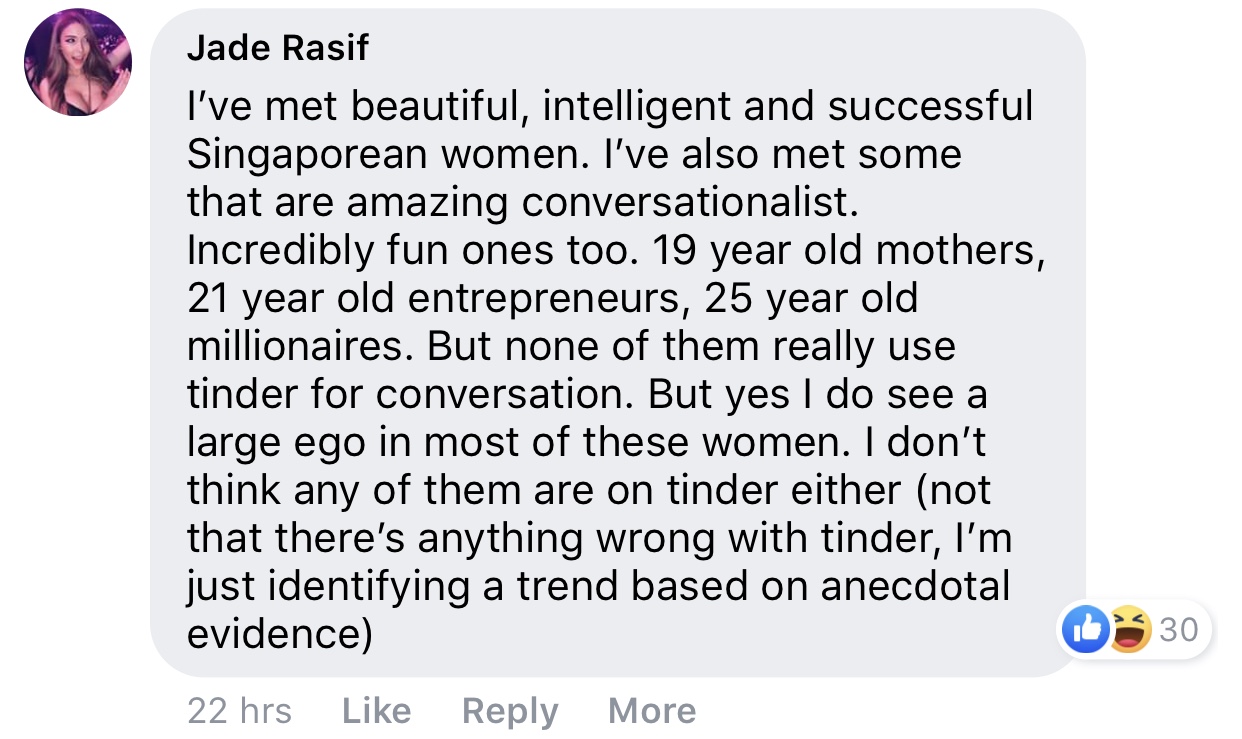 Another female, who didn't say if she was local, shared hert theory as well: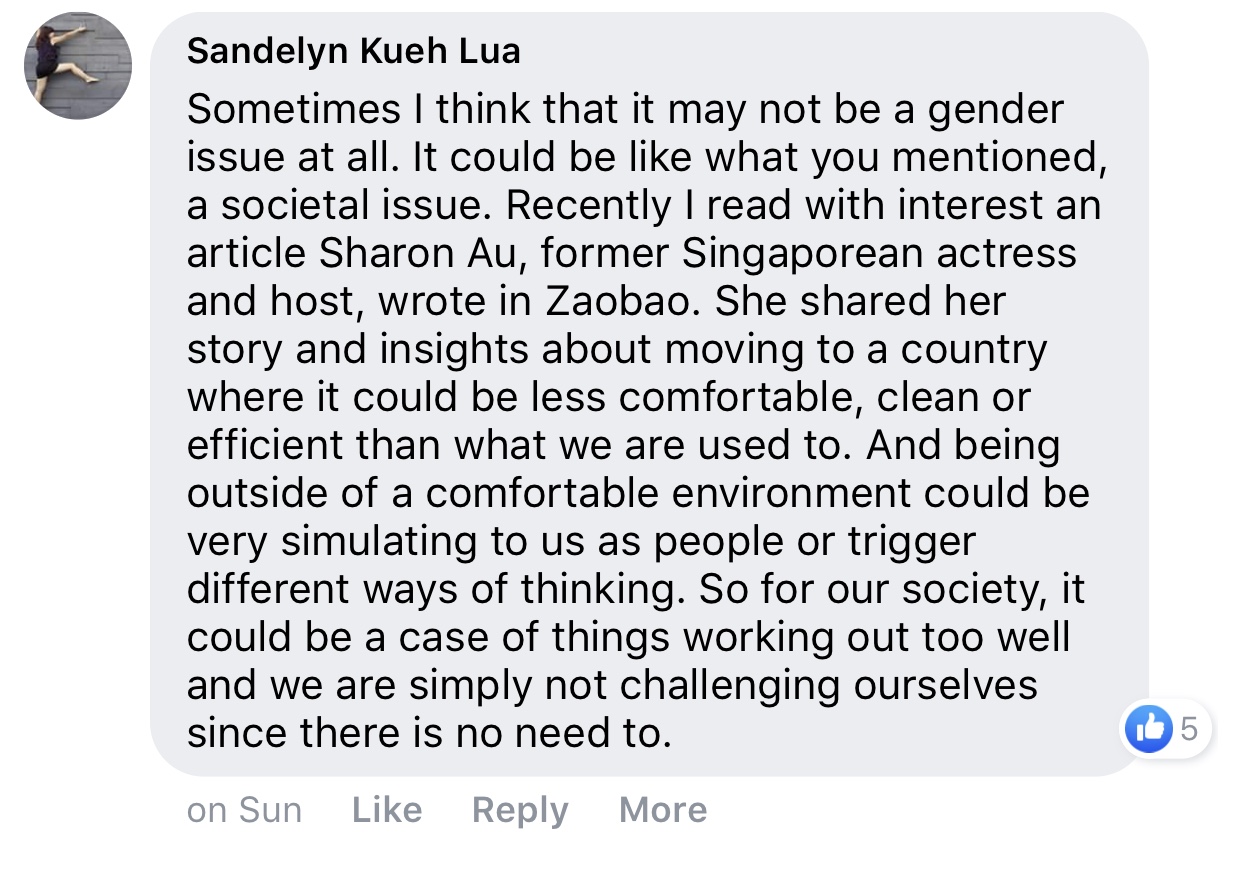 While others felt that the writer's observations might not be the most accurate: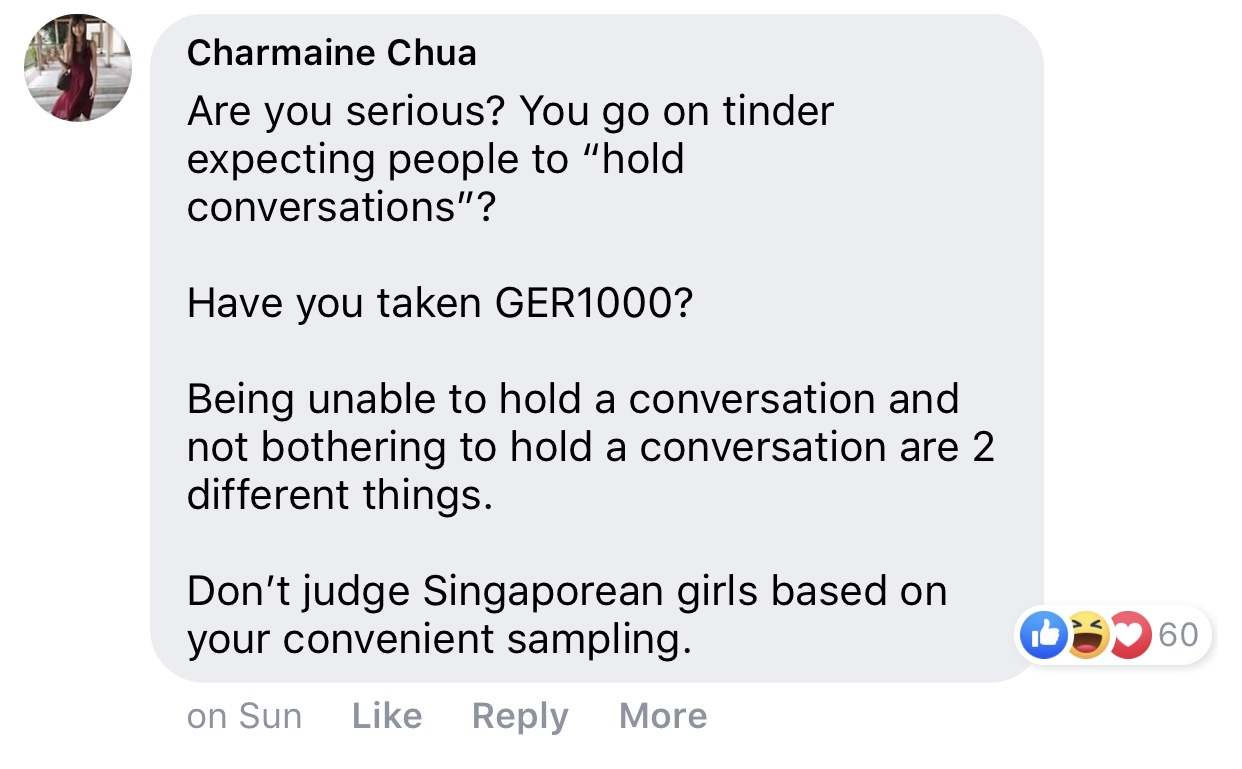 Some advice, from one bro to another: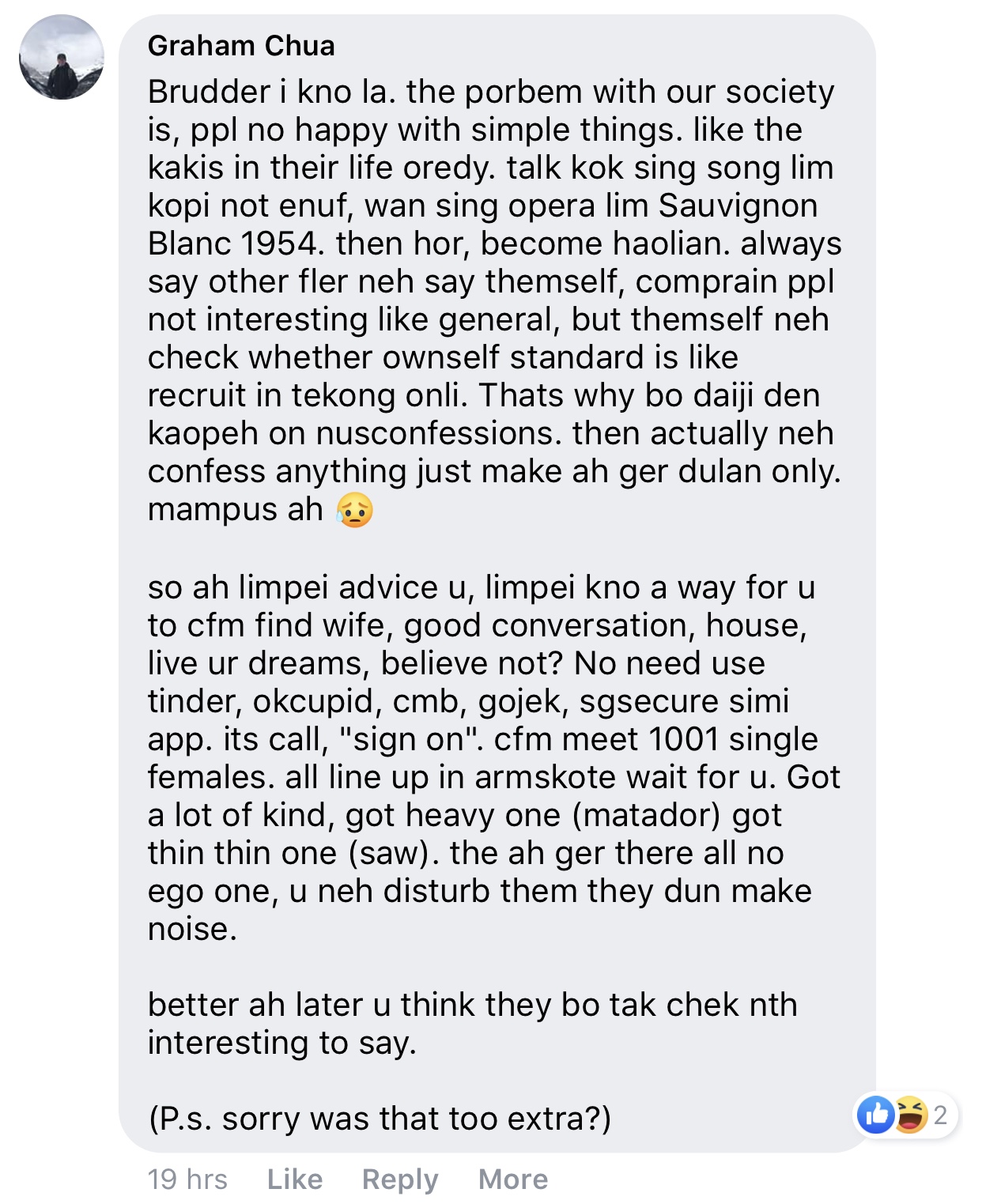 One person, however, pointed out a really serious issue with the post:

You can read the original post here:
Photo by Yogas Design on Unsplash
If you like what you read, follow us on Facebook, Instagram, Twitter and Telegram to get the latest updates.