For some, getting a tailored suit can be a troublesome process.
You have to travel to the tailor after work, and stand awkwardly while he or she takes your measurements. That is, of course, if the tailor is still open after you get off work.
Mobile showroom
A Gentleman's Tale seeks to solve that, by providing a mobile tailoring service that goes right to your doorstep.
The company has a bus showroom  equipped with a walk-in wardrobe and a 3D body scanner.
This bus also doubles up as a mobile fitting room.
How the 3D scanner works
According to CNA, the 3D body scanner measures 127 points of the body, which is then projected into a computer rendering on an iPad.
Customers are advised to wear form-fitting clothes, as baggy clothes may cause the measurements to be less accurate. Stripping down to one's undergarments produces the best results, and the bus has curtains to provide privacy.
All this takes place in just two seconds.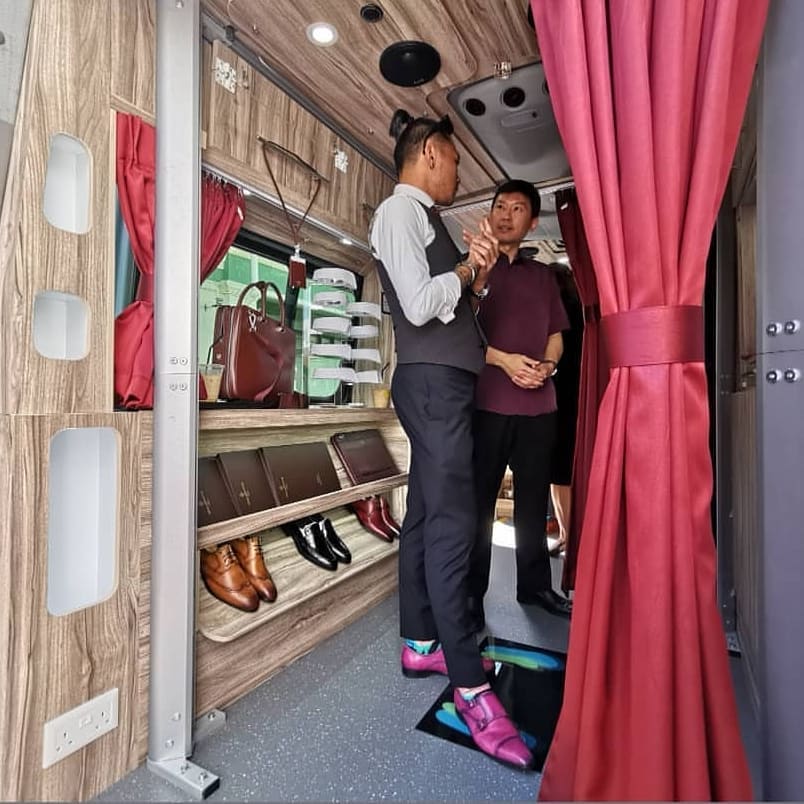 The 3D body scanner boasts a 98 per cent measurement accuracy.
However, although a 3D scanner is faster and more precise, there are still advantages to having a human tailor take your measurements.
An experienced tailor will also be able to adjust the fitting based on an individual's body shape or lifestyle. For example, a person who works out a lot may prefer a different fitting.
Prices from S$600 and up
Prices for an entry-level suit starts at S$600, and can go up to S$1000 for more expensive fabrics.
For shirt and pants, one should expect to fork out between S$130 to S$350, depending on the materials used.
There is no additional fee for the bus house call.
Humble beginnings
The business was founded by Kenneth Chia, 34, and Lyn Chan, 40.
CNA reported that they initially travelled around Singapore on public transport, lugging a backpack and cabin luggage.
However, this meant that they could only meet several customers a day, and travelling to customers living in inaccessible areas was inconvenient.
The duo eventually saved up enough money to get a van, which functioned as both transport as well as their office. The van was customised with a pop-up changing room, shelving units as well as a small office space.
Other than the mobile van, customers can also go for a fitting at their container office, which is located at River Valley.
Cool.
Top image from A Gentleman's Tale/FB
If you like what you read, follow us on Facebook, Instagram, Twitter and Telegram to get the latest updates.