No, for the last time, the Ministry of Foreign Affairs has not just opened a new "consular office" on the 35th floor of Johor Bahru City Square just up north across the Causeway in Malaysia.
The "consular office", which is really the Consulate-General, has already been opened there for close to 10 years.
The latest poorly-worded Facebook post to announce this misinformation on June 27, 2019 has been shared some 3,200 times -- as it is written to suggest that the Consulate-General is something entirely new.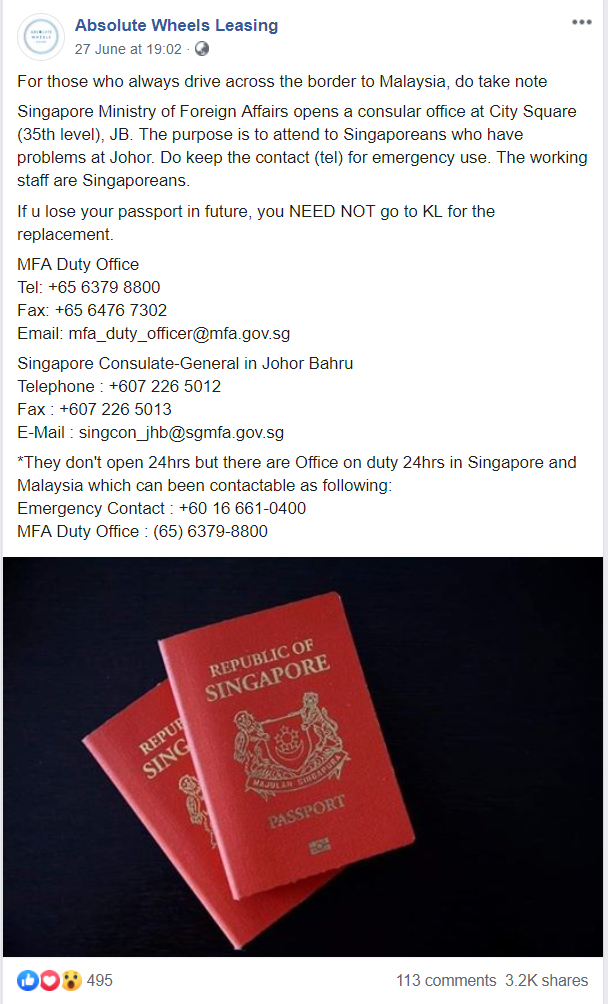 MFA debunked message
A year ago, on June 21, 2018, MFA had already addressed the misinformation by posting an announcement on its Facebook page informing the public that this message was not sent out by them.
More importantly, the consular office is not operating 24 hours -- although assistance can be rendered by calling the MFA duty office (Look under Mission Contact Details).
What are the facts
✅ Consulate-General in Johor Bahru City Square has been opened since Nov. 2009
✅ It is not operating 24 hours
✅ The Singapore High Commission in KL and Consulate-General in JB share one verified Facebook page: https://www.facebook.com/SingaporeHighComKL/
✅ Singaporeans who have lost their passports may apply for a Document of Identity (DOI), valid for a Single Journey to travel back to Singapore, at the Consulate-General during opening hours (8.30am - 5pm) from Mondays to Fridays, except public holidays. (Information here.)
Origins of fake message
The origins of this fake message can be traced to late June 2018, exactly one year ago.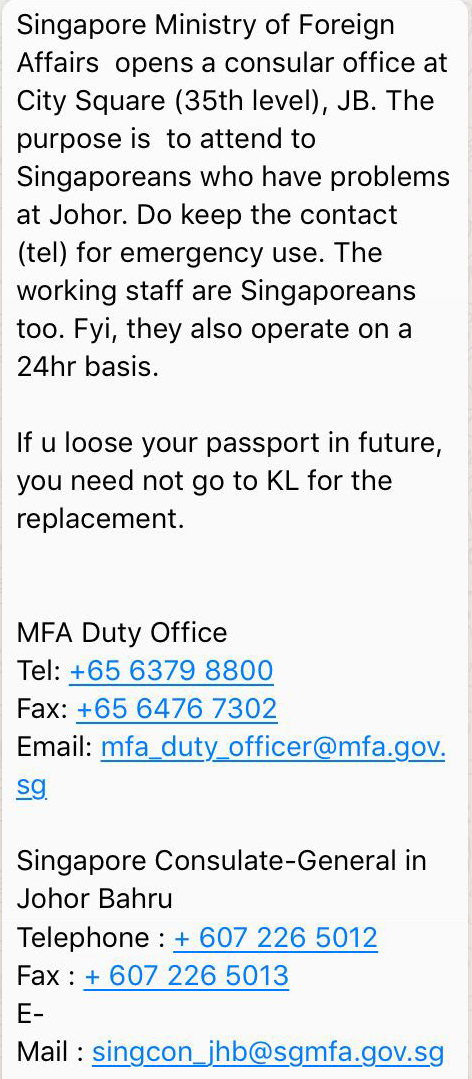 It was sent via messages on WhatsApp and spread like wildfire, which prompted MFA's quick response.
News of the Singapore Consulate-General in Johor Baru opening was officially put out in January 2010.
If you like what you read, follow us on Facebook, Instagram, Twitter and Telegram to get the latest updates.