The Singapore police has refuted allegations that its Public Transport Security Command (TransCom) officers had conducted checks on two madrasah students because they had a quota to hit.
This was after a photo circulating online showed a pair of students from Madrasah Al-Ma'arif talking to TransCom officers.
The police called the allegations "untrue and irresponsible".
"Such comments that seek to stir up racial sentiments are uncalled for and unhelpful," it added.
What were officers doing
The officers in the photo were engaging the students on the new Riders on Watch (ROW) initiative, police said on Tuesday, July 16.
The ROW scheme aims to rely on Singapore's commuters to be first responders to potential threats on public transport.
It was launched on July 2.
This was what the police posted on Facebook:
The madrasah, which is a religious institution, has also responded:
This was the original post: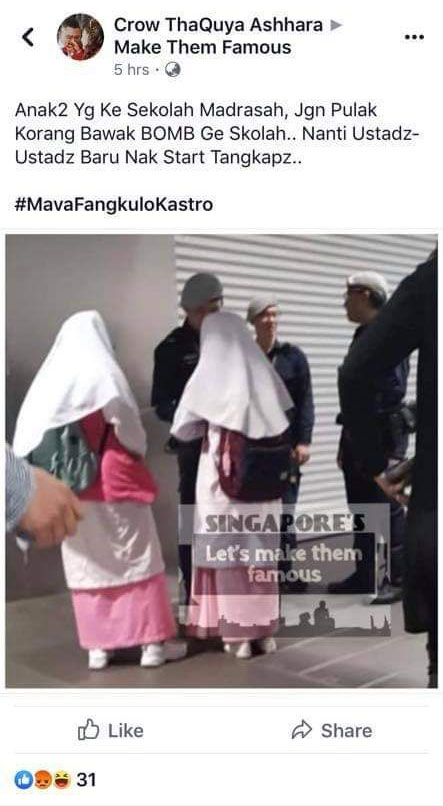 The Malay words roughly translates to: "Children who go to religious school, please don't bring bombs to school. Later the ustadz will catch you."
The hashtag #MavaFangkuloKastro either does not have an English translation equivalent or is unintelligible.
TransCom in spotlight
Recently, the TransCom officers have been accused of stopping people based on their ethnicity:
This was refuted by the police:
If you like what you read, follow us on Facebook, Instagram, Twitter and Telegram to get the latest updates.