The first time Julian Koo had to call an ambulance was for an elderly man living alone in a rental flat in Redhill.
The 31-year-old had known the man for quite some time now. He was known as "Moustache" among the volunteers who served at the Redhill estate because of his thick and white facial hair.
At that moment, Moustache had fallen off his wheelchair and was sprawled on the floor.
Koo tried the gate handle. It was locked. Panicking, he pulled out his phone and dialled 995. The SCDF came and forced their way into Moustache's house.
He was sent to Singapore General Hospital to be treated and subsequently, to a nursing home to recuperate.
"That took a bit of his freedom from him, because you know he loved going out to drink coffee every Sunday evening. Obviously that had to change," says Koo, who would go on to visit Moustache frequently at the home as well.
"Care is now so medicalised; as long as they are medically well and we can tick boxes off a checklist, we think that we've given them good care," says Koo. "But what do they really want? What's important to them?"
Koo believes that this is something doctors and nurses cannot provide, like community, freedom and the human connection.
"How can we make care as accessible as running water in a house? Because then, you don't need to worry about it and you can then focus on what is irreplaceable."
Enter Jaga-Me
Koo's answer to that is Jaga-Me.
Inspired by the Malay word jaga (to keep watch), Jaga-Me is tech platform that connects patients with freelance nurses and medical doctors to provide timely medical and caregiving services.
This service is for people who are in need of simple medical procedures such as the changing of surgical dressings or feeding tubes, the removal of stitches, and also the administration of injections.
Instead of going down to the hospital (where one is more likely than not to end up waiting for hours and incurring hefty fees), Jaga-Me sends qualified nurses to perform these procedures in the comfort of one's home.
Launched by Koo and his friends Aaron Lee (a software engineer) and Kuah Ling Ling (a nurse) in 2016, the platform now has about 500 nurses on their roster supplemented by doctors, and about 20 full-time staff.
The service also partners organisations like the Agency for Integrated Care, AWWA, and Touch Community Services to provide care for the elderly at home.
To date, Koo says the Jaga-Me app has served more than 2,000 patients.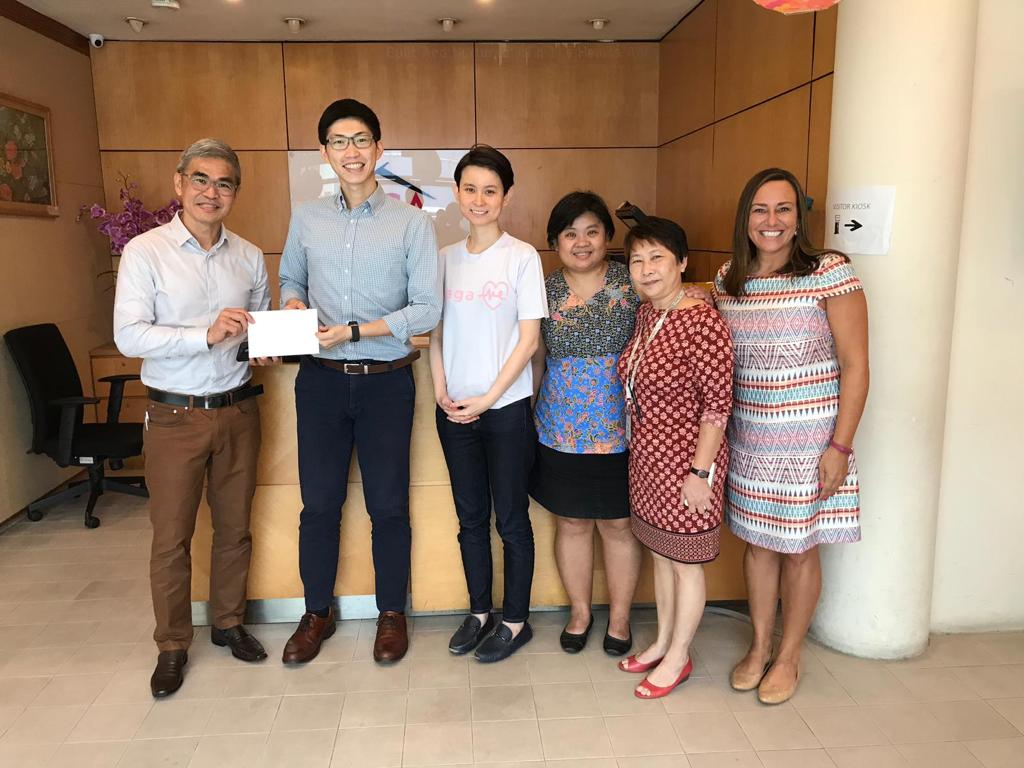 Volunteering with elderly
Koo's Jaga-Me journey started around six years ago.
"People think that starting a company is one point of inspiration, one point of getting that awareness, when you realise you want to do something. But I think in most ideas, you recognise that it is actually a journey. You'll never know if something you're doing today has some relevance to to what you're doing three years from now."
His began with the time he spent volunteering in rental estates in Redhill between 2013 and 2016.
His job — picking up the elderly and ferrying them in a van — was fairly simple. He handled wheelchairs, making sure his passengers were well supported and helping them board and alight safely.
"It was just something I did to help, but never knew that it would impact me," he says.
But more than that, these volunteer sessions connected Koo with the residents themselves — many of whom live with chronic conditions that require frequent medical attention.
"Moustache" is one of these residents whom Koo got to know well — hence his familiarity and shock when he discovered he had a mishap — and used to tell Koo stories about his past visits to City Hall, the Capitol Theatre, and Saint Andrew's Cathedral.
"I could see that his life and my life aren't all that different, except that they're decades apart,"Koo says.
Searching for social justice
Going down the healthcare tech route was certainly not part of Koo's original plan.
An engineer by training, the NUS undergraduate scholar had completed stints in India and Silicon Valley before landing a job as an innovation consultant in the U.S. in 2013.
It meant, in his words, building "cool funky products" for big brands like Disney and Nike.
"But in the consulting world, you don't have a lot of ownership and sometimes you just do things because people pay you do it," he says.
If the client wanted a floating castle in the sky, he would do it, no questions asked.
The job was exciting and mentally stimulating (and he chalked up many glowing recommendations from the people he worked with and for, by the way), but soon Koo realised that he wanted to do something that makes an impact — in particular in an industry that benefits Singaporeans.
He then joined the Industry Identification and Incubation division at the Economic Development Board (EDB) less than a year later, where he was tasked to assess the emerging field of next-generation biotechnology.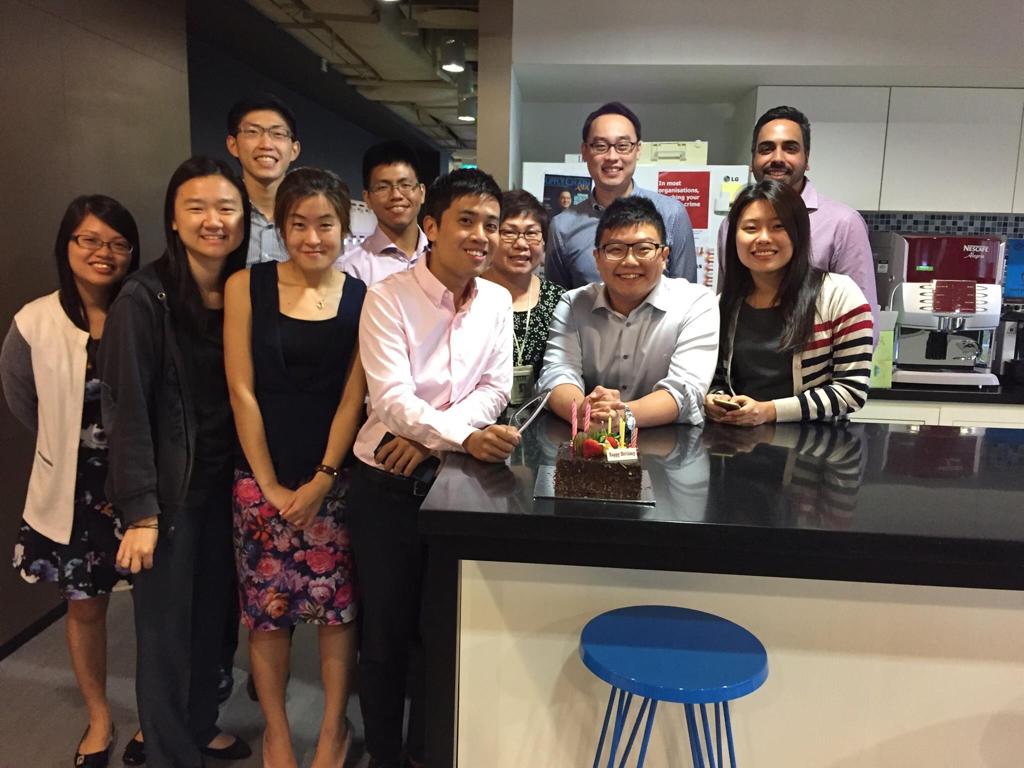 Essentially, Koo explains, what he did was to convince foreign companies that Singapore has something — be it infrastructure, technology or the talent — to offer.
But before that, his team had to put together the building blocks to create the necessary infrastructure — for example, working with schools to make sure there's a ready supply of talent with the required skill sets so they can get high-value, relevant jobs.
"More importantly, you're creating social impact which takes many years to see," he says with a smile. "The impact for me is seeing Singaporeans with that interest being able to fulfil their interest."
Taking the leap
Jaga-Me was conceptualised in a healthcare technology hackathon, the MIT Hacking Medicine, in July 2015 by Koo, a self-professed "geek", Kuah, and Lee, who worked as a team on it.
Kuah, who worked at the Intensive Care Unit at that time, observed that many who were admitted into the ICU were return patients.
"The question she was asking herself then, was, 'What was not happening outside the hospital?'" says Koo.
The solution: tapping on qualified, talented nurses outside of the hospital.
Originally meant to be a side hobby, the trio realised the app could become more when NTUC Income came knocking with some money.
"After some rounds, they said, 'Hey we're going to give you a grant. Are you guys going to take this on this full time?'" laughs Koo. "We were stumped!"
It was a big jump for Koo, who was at the time preparing for an internal rotation at EDB. After all, who in their right mind would want to leave a stable, very-well-paying government job for the unknown?
To his surprise, though, when he broached the idea of leaving EDB with his bosses, they were all supportive and even assured him that they will have a place in the team for him if he wanted to go back.
Koo's parents took it well too, he says, in part because they believed in his new venture and knew that Jaga-Me is a service that would be of use to them and many others.
"There are many, many parents who are staying in Singapore and their kids are either on exchange or working as long term expats overseas, or even migrated overseas. Who's going to look after them here?"
But what really sealed the deal for Koo was his grandfather.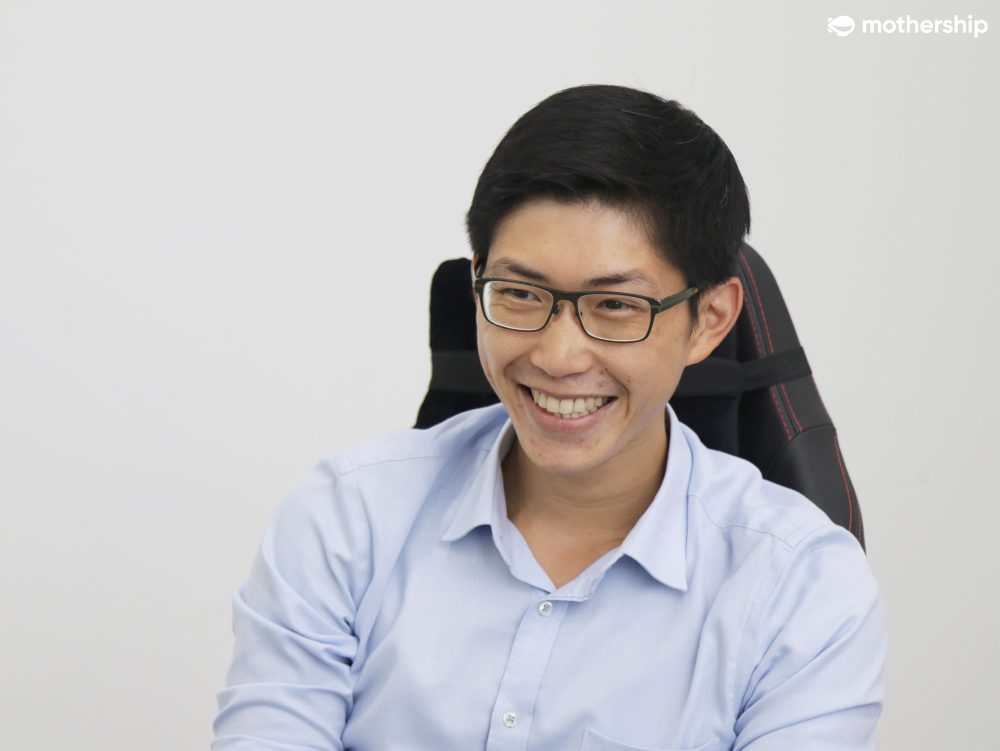 At that time, Koo's grandfather, suffering from bone cancer, was receiving palliative care at home.
"A man's home is his castle," says Koo. "So obviously the community, being near your family, that's irreplaceable and I saw that in my grandfather's case."
Koo's mother, as his grandpa's full-time caregiver, had to do everything from feeding to bathing him, applying medication, and just being a "mini medical professional", Koo shares.
The experience cemented Koo's conviction for Jaga-Me to be a mission — not a mere money-making innovation or venture.
Koo says many of Jaga-Me's staff have had encounters with patients with series chronic diseases, either from their own circles or through work.
He sends his staff to make regular visits to patients to listen to their needs — these visits build empathy among his staff and help them relate better to challenges on the ground.
"If you don't have empathy for the problem, people can smell it lah," he says.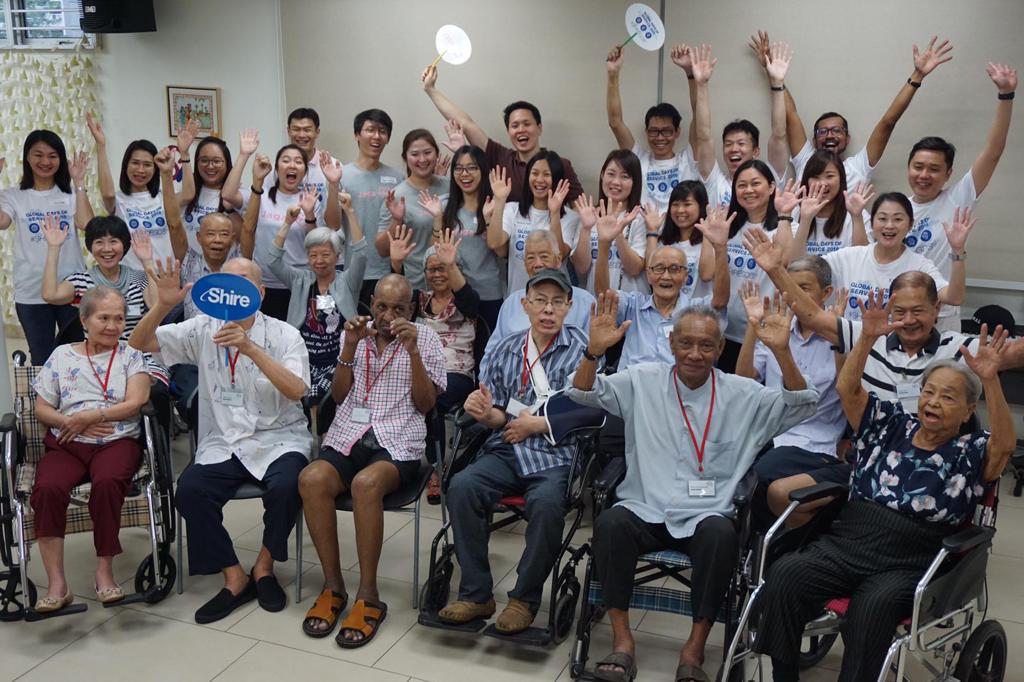 And then of course there were the sacrifices made by Koo, which he says were "too many".
He prefers not to share the company's financials, but he does say that the founders did not pay themselves a regular salary in the first year.
The recently-married Koo also had to postpone his own wedding when the company went through a very hectic spell last year.
"The amazing support from my wife and family have helped me endure tough times," he adds.
Starting the start up
Sacrifices aside, starting a healthcare tech platform was not easy.
Koo and his co-founders made visits to caregivers and patients to understand their concerns and needs. Armed with notepads and tissue boxes, they sat through long chats and listened to stories of grief, loss, fear and trauma.
From these conversations, the team came to learn more about the struggles caregivers and patients both face.
Where, for instance, would one get a change of tubes for a patient outside of hospital hours? They could go to A&E, but that would cost a lot of time and money.
In response to that, the Jaga-Me team created the JagaStore, which delivers medical equipment like catheters, feeding tubes, and wound dressings to one's home directly.
This was just one of a laundry list of improvements Koo and his team made to Jaga-Me after speaking to patients on the ground.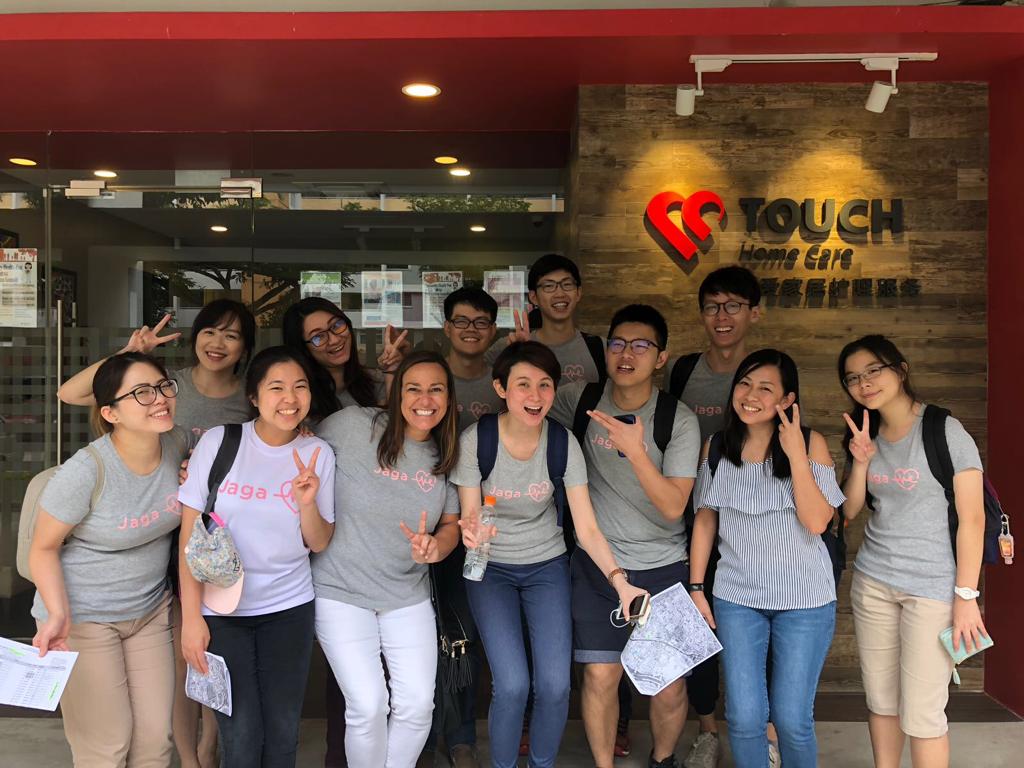 Considering that elderly people are usually the ones most resistant to technological change, it was of course difficult to convince elderly patients to "order" nurses on the internet.
"Starting anything is definitely going to be difficult because it is new. But over time our job was very easy because our co-founder (Kuah) was uncompromising on quality of care and patient experience. That is slow to scale but it has a big network effect."
He shares an anecdote about a patient who received care from Jaga-Me and eventually passed away from natural causes.
The family was so impressed by the quality of service the patient received, though, that they were recommending the platform to friends and family at their loved one's wake.
"When family members have a good experience and they know that you're trying to look out for them, word gets around, and they typically want to help to help other people," says Koo.
Jaga-Me has indeed proven itself. Koo shares that Jaga-Me today partners two local hospitals to help them discharge patients early (sometimes even on the same day) by ensuring that they can receive proper care at home.
This also helps to alleviate the bed crunch in hospitals and lower the risk of patients catching an infection from there.
Jaga-Me currently has a web app that you can use. The company is looking into pushing out a mobile app for users soon. For more information, you can visit their website here.
Top photo by Angela Lim.
If you like what you read, follow us on Facebook, Instagram, Twitter and Telegram to get the latest updates.