You might be forgiven for not knowing what a Y6 Pro was before this week.
Perhaps it is a really good Primary Six child, you might have thought.
But no, because Y6 is a phone by Huawei, and it has been out for quite a while.
The official launch date for the Y6 Pro in Singapore was on March 2019.
And you know what, it's actually quite a decent mid-range phone.
Here's a quick review of the phone by Gizmochina.
Great camera as always.
But by no means the newest toy on the block.
In fact, the Y7 is already out, and the Y9 Prime is out as well.
So, the fact that the Y6 Pro is the hot topic at the moment in Singapore is quite a surprise.
Mid-range phone
According to a mobile vendor Mothership spoke to, the Y6 Pro sold decently, but nothing really exceptional.
We reached out to Huawei for figures, but it declined to give the exact sales numbers.
But a quick gauge of the interest among Singaporeans can be gleaned by Carousell listings that are over two to three months old.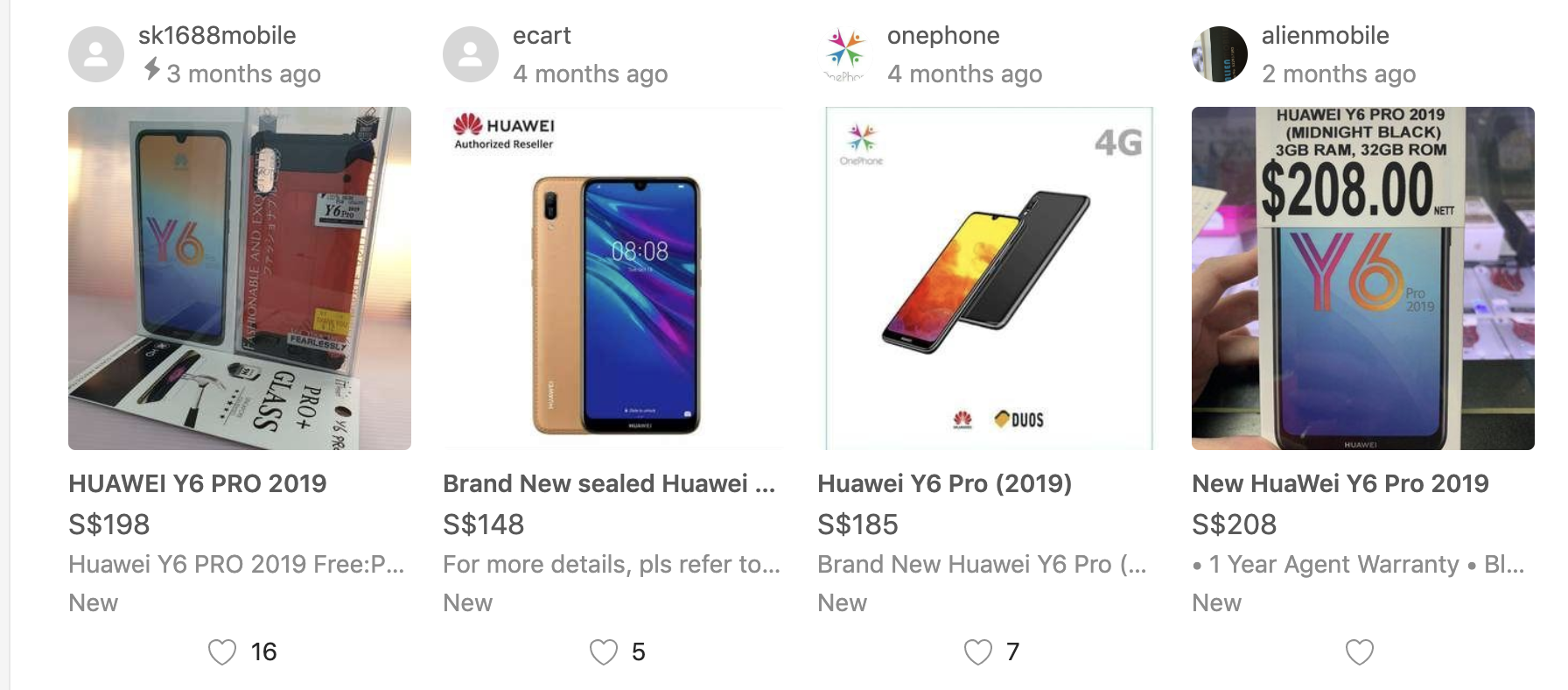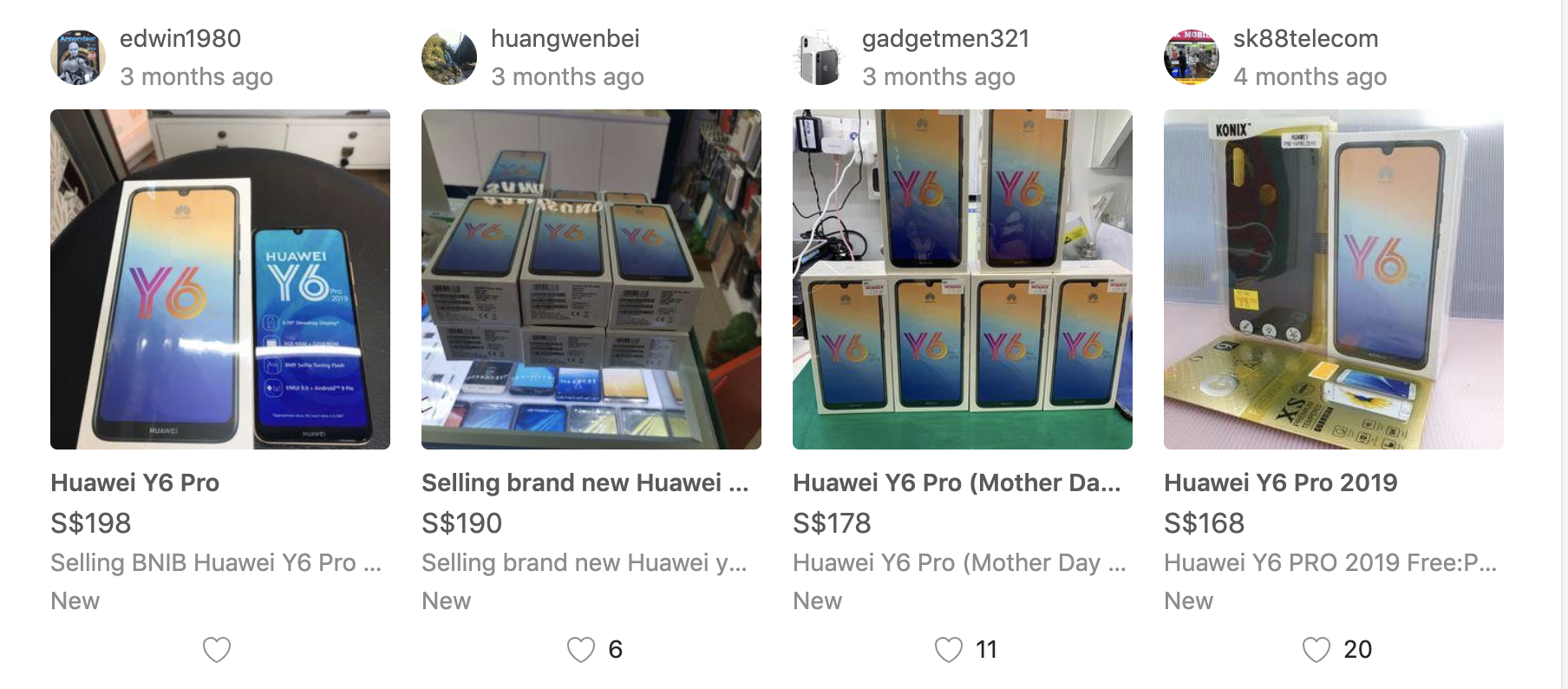 Basically, we have a mid-range phone, with what appears to be waning interest among consumers.
So how did it provoke such scenes of geriatric hysteria?
So how?
Here's what we think happened.
In a time when mid-range phones are a dime a dozen, how do you set yourself apart from the rest?
You slash your prices.
Down comes the S$198 price tag (which is a stretch if you take into account the Carousell prices), up goes a more palatable number, maybe S$50?
But see, everyone cuts their prices when there's extra stock, so how do you make your price cut looks less of a routine price slash, and have it be more meaningful?
Hey, Singapore's birthday, 54th by the way, is coming up. Maybe use that instead as a hook.
So a S$54 Y6 Pro is born, but that wasn't what the promotion ended up being.
In fact, the promotion was even more targeted than that.
Here is the poster announcing their promotion.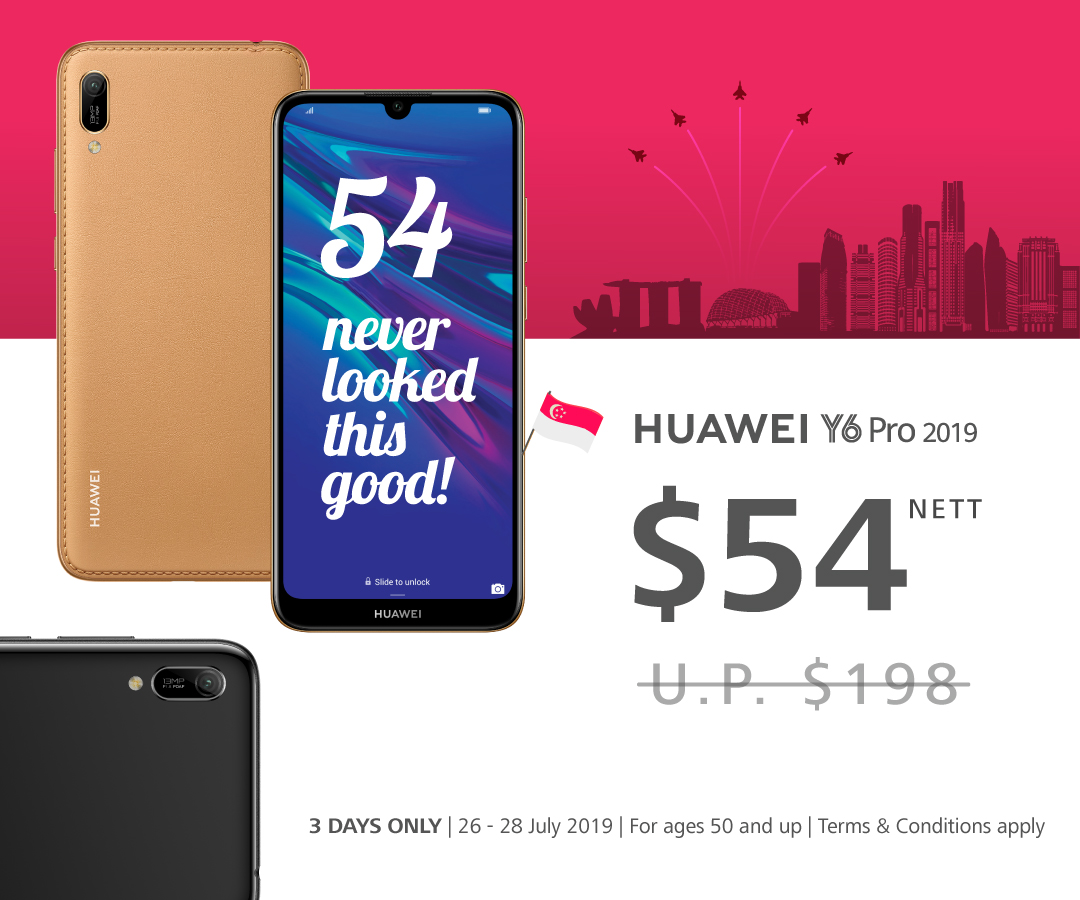 Ages 50 and up.
Yup, the older crowd, the crowd more likely to be tempted by a slightly cheaper mid-range option, and also unfortunately, perhaps the crowd least likely to really pay attention to the terms and conditions as well.
Again, no one forced anyone to queue up for the phone, or to persist even when queues became a snaking line of middle-aged discontent.
But Huawei is not some innocent peddler of great deals taken aback by the throng of middle-aged consumers looking for a similar ranged phone.
In fact, if one were merely going by the poster itself, one might assume the terms and conditions being merely the age restriction as well as the three-day limit.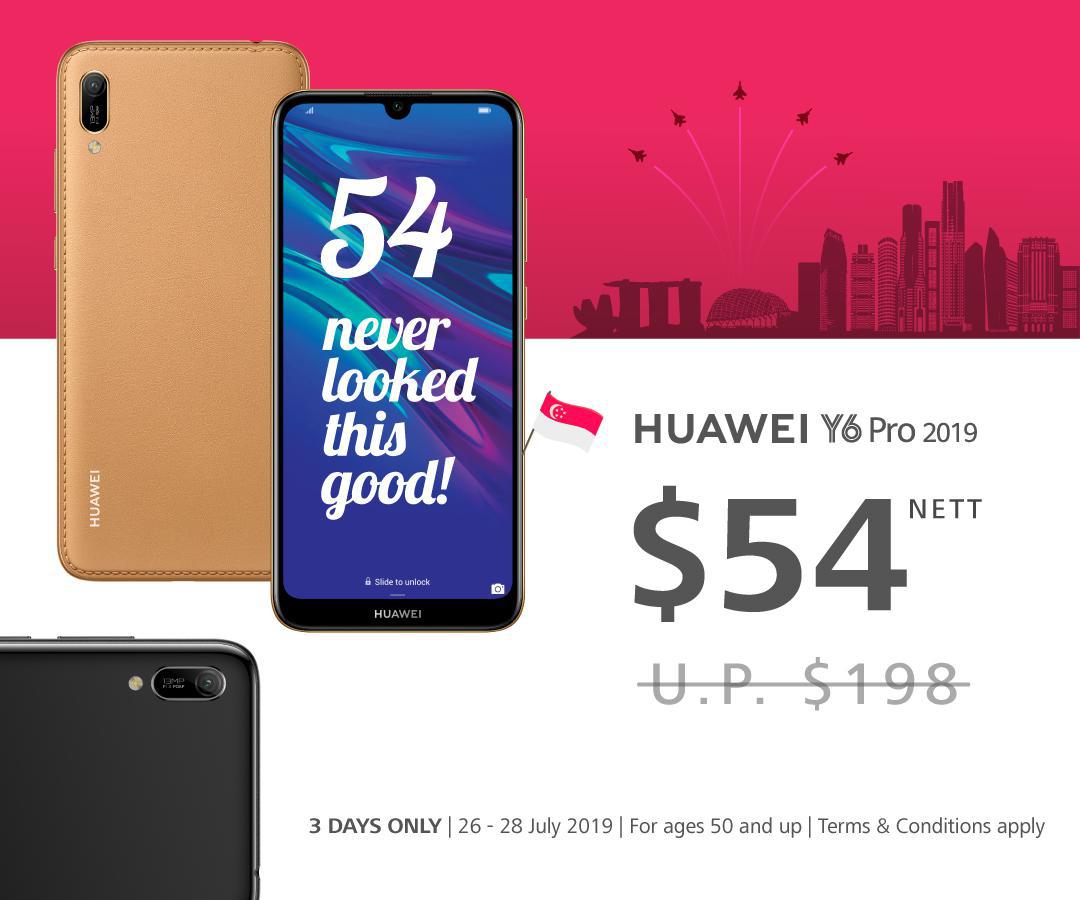 If say, the poster had been this, chances are the scenes on display today wouldn't have happened.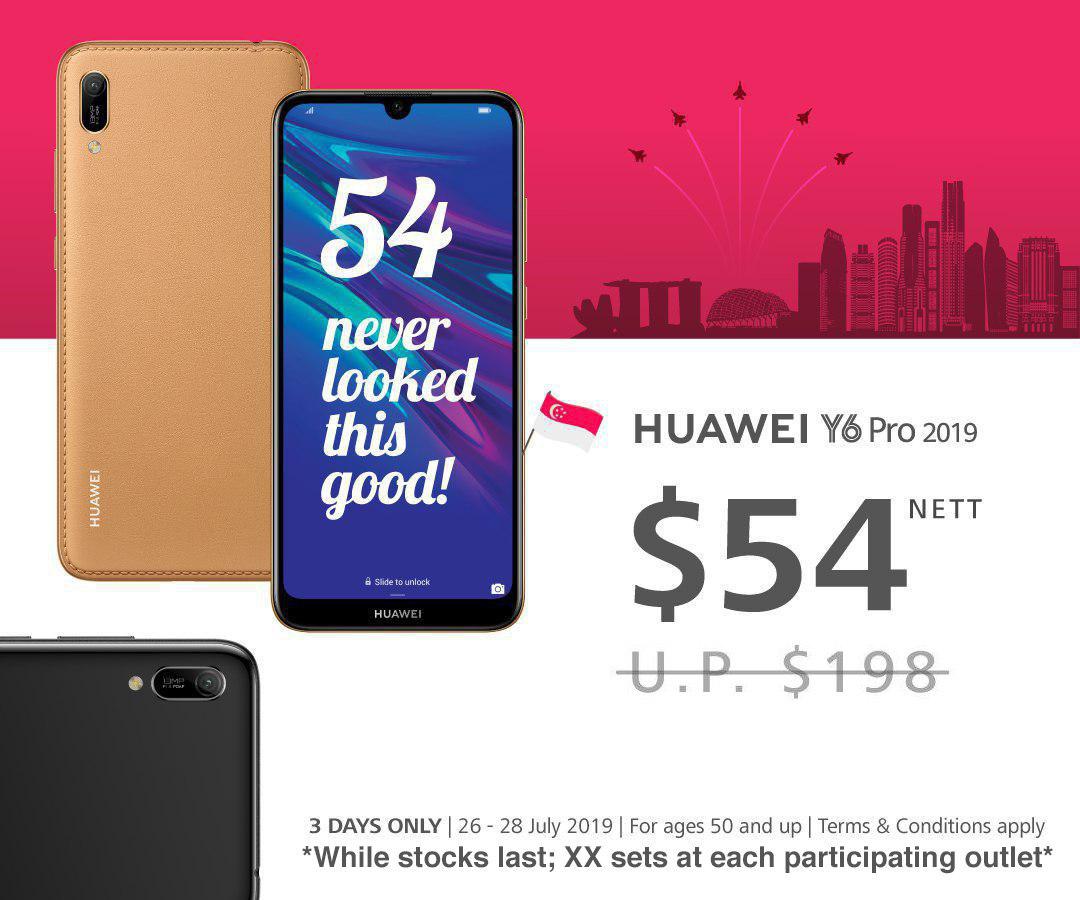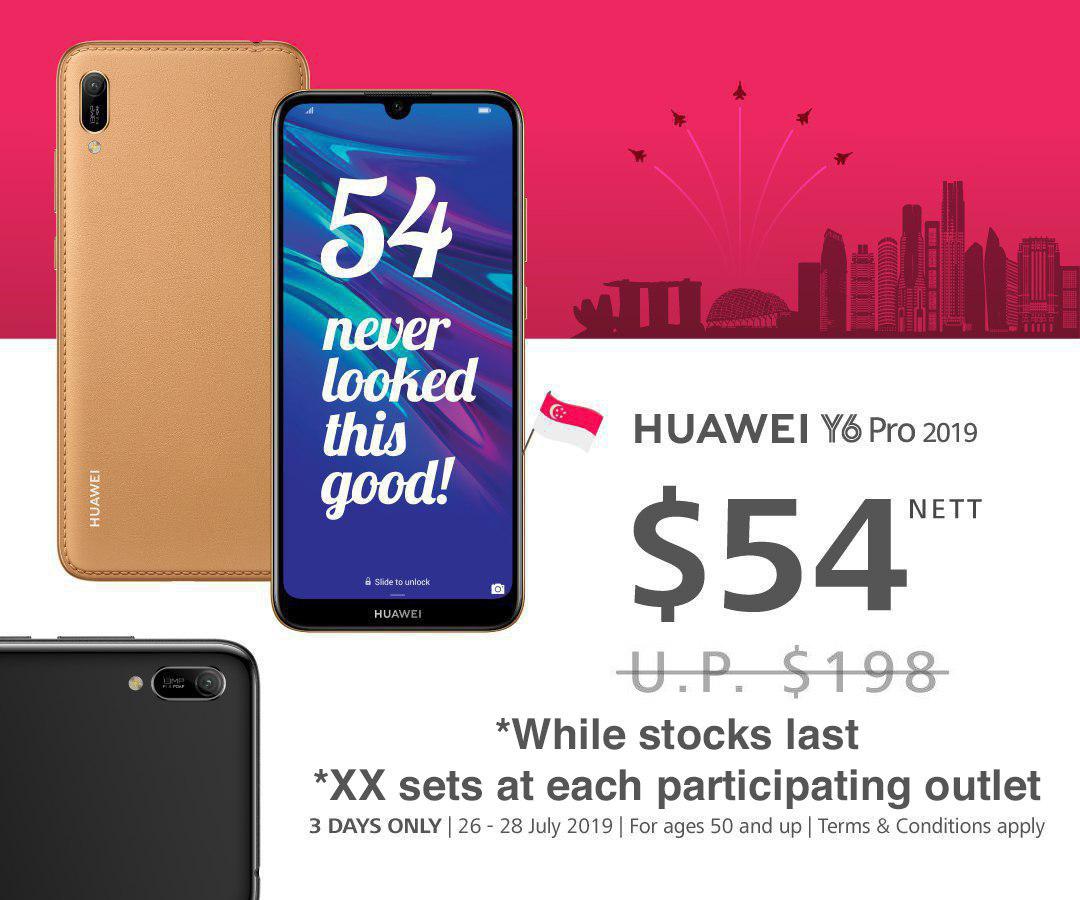 Small changes that take into account the propensity for those in that demographic to be swayed by incomplete information.
Penance
To make up for this kerfuffle, Huawei apparently offered a S$588 promotion (which has been suspended now) on their Huawei Mate.
But here's the thing.
The elderly queuing for the mid-range phone will probably not go for the high-end Huawei Mate.
So it is curious that a move to satiate those angry at the poor handling of the promotion for the above-50s, would appeal to a younger crowd.
Even their statement appear to be rather general.
"We are deeply regretful for an outcome that went against our intentions of providing a celebratory promotion.

Due to an overwhelming response, we are assessing other possibilities to address the situation and will continue to offer attractive promotions for all."
Their other apology letter wasn't much better as well.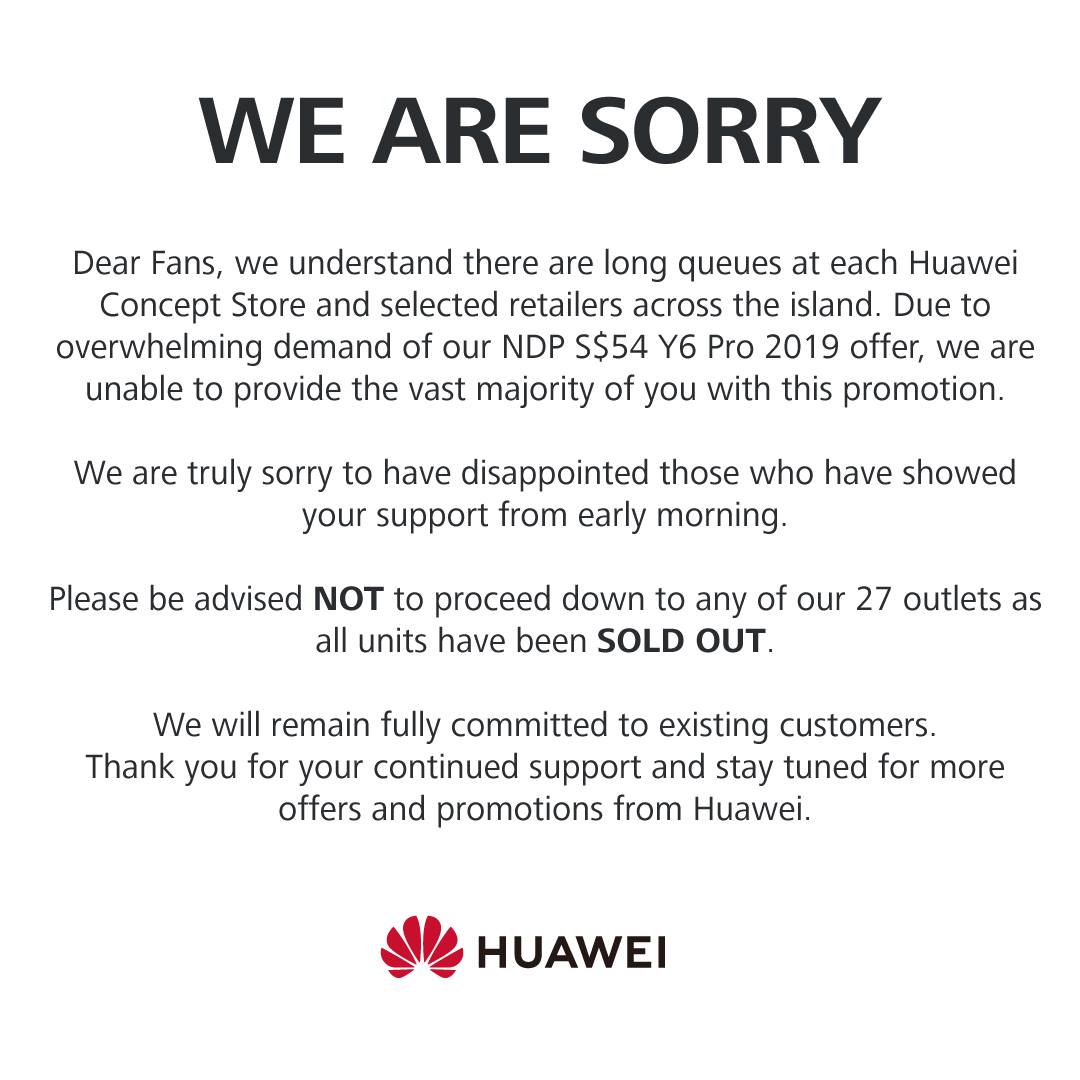 Promising to offer attractive promotions "for all". Apologising for their NDP promotion, instead of their 50-year-old promotion.
Which appears to generalise and even sometimes ignore the demographic they were so obviously targeting in the first place.
There is, of course, a tonne of blame to go around for the people involved in the queue as well.
There is no reason to absolutely lose your temper, and shout at ground staff regardless of whatever S$54 disappointment you might feel.
But as we showed earlier, better advertising practices, more proactive ground control, a better understanding of the expected number, or just more stock would have helped a lot.
And you would expect Huawei, of all people, to have a clearer picture of what they are doing.
Related article
Image by Sharon Ng
If you like what you read, follow us on Facebook, Instagram, Twitter and Telegram to get the latest updates.