Walls with messages of support for Hong Kong protests, protesters and democracy have sprouted up after a month of mass protests against the controversial extradition bill.
Nicknamed "Lennon Walls", after John Lennon and his message of idealism and peace, people in Hong Kong have been leaving sticky notes behind in a show of solidarity for their cause.
Fights break out over the notes
Even though posting notes appear peaceful enough, clashes between opposing camps continue to break out as some citizens have attempted to remove the notes.
HongKong police doing such childish job...tearing off memos for Lennon wall pic.twitter.com/Uao35PBdbW

— News Lau (@news_lau) July 10, 2019
The putting up and taking down of notes has led to clashes between opposing camps in a number of places, including at MTR stations.
Video of fight at Lennon Wall
But a recent video went viral on social media, showing a heavy-set man assaulting a younger man who consciously held back by not retaliating or even defending himself.
The altercation was apparently over their differing views on the extradition bill.
The incident took place at the Lennon Wall at Kowloon Bay at midnight on July 11.
Assault captured on camera
In the video, the assailant in the grey shirt, who was apparently drunk, repeatedly punched the young man's face.
The young man fell to the ground after taking a few punches, but stood up again and continued to face the heavy-set man, who went on to question the youth while swearing:
"[Referring to the notes] What the f*ck are these?

You can't even take a punch to your face, how can you start a revolution?

I'm drunk so I can do whatever I want, even stab you.

Why are you starting a revolution? What the f*ck is this? Young people shouldn't be doing things like this. Have you washed dishes before? Have you cooked before? Have you earned a living for the family before?"
However, throughout the whole video, the young man did not fight back at all.
Police arrived shortly after to attend to the matter.
According to the police, two men were injured from the incident and were sent to hospital right away, while the heavy-set man was arrested for assault.
What is a Lennon Wall?
A "Lennon Wall" is a wall covered in colourful Post-It notes with words supporting protesters.
It first appeared in Prague, Czech Republic, in the 1980s with lyrics and graffiti inspired by The Beatles.
It then became a feature of the Occupy Central movement in Hong Kong in 2014, when the wall next to a staircase at the Legislative Council building was plastered with post-it notes.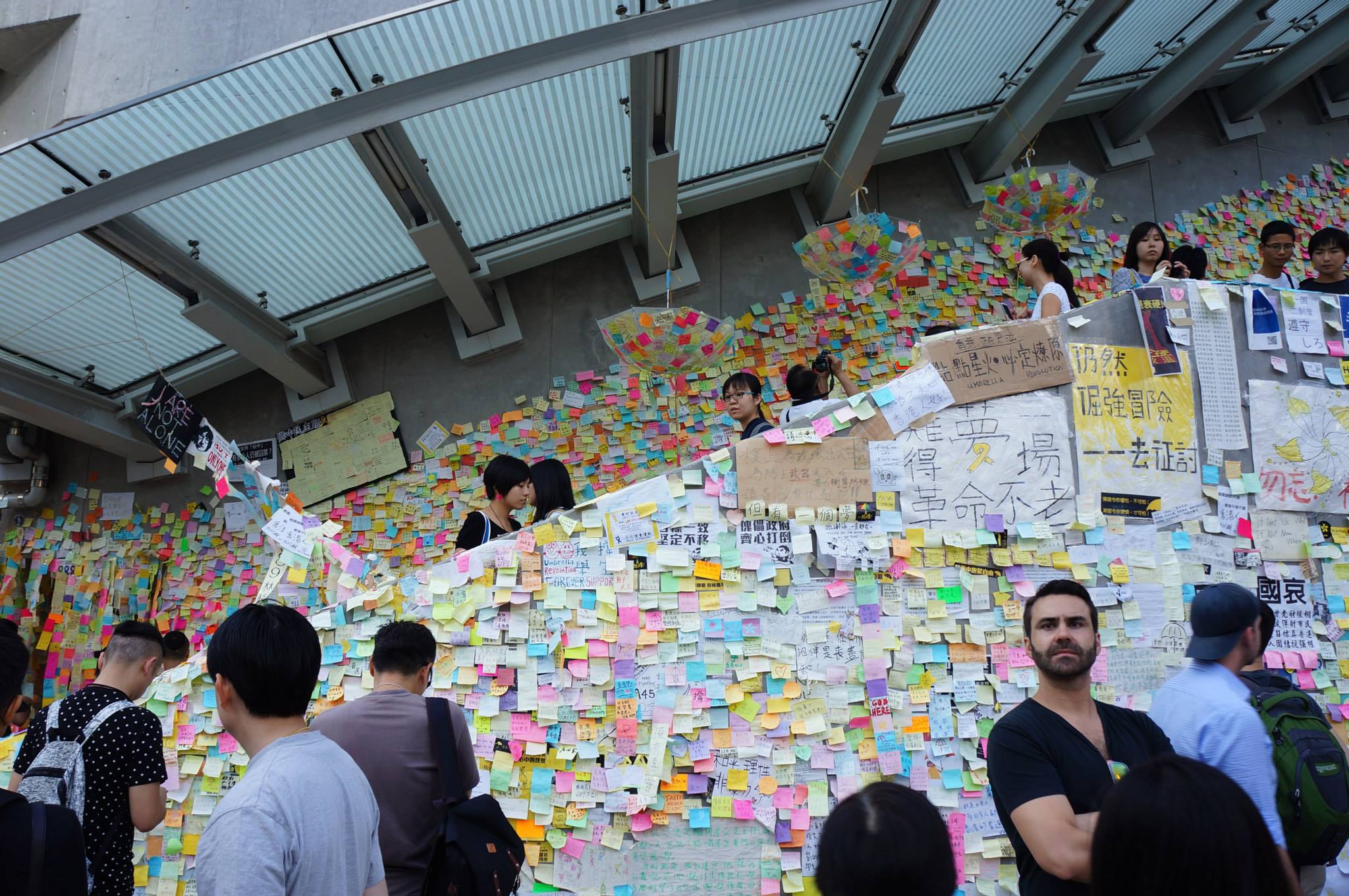 Following the anti-extradition protests in June 2019, Lennon Walls sprung up across the city, showing support for the protests.
In the evening, the Tsuen Wan Lennon Wall is seeing a lot of attention. Lots of people stopping to read the messages, and add more. Volunteers are offering sticky tape to ensure the notes stay up, and preserving those already placed. Everyone doing their part. pic.twitter.com/pbXWuDYhZj

— Hong Kong Hermit (@HongKongHermit) July 9, 2019
"Lennon Wall" in Tai Po, Hong Kong. #extradition pic.twitter.com/TCWxnl9IUe

— Phila Siu (Bobby) (@phila_siu) July 10, 2019
Police in riot gear removing notes
While most messages consisted of just words of encouragement for protesters and well-wishes for the city, some notes also revealed personal information of police officers, who had been accused of using excessive force against protesters.
One officer's face and other private information were included in posters pasted on the Lennon Wall in Tai Po.
The police officer became infamous after he was seen shouting, "F*cking remember me, fight me one-on-one", in a viral video on social media.
These notes and posters were later removed by groups of police officers wearing protective gear and shields, reported HKFP.
Top image via Edith Leung/Facebook
If you like what you read, follow us on Facebook, Instagram, Twitter and Telegram to get the latest updates.